As new parents, there will be moments that become engrained in your memory forever, and a baby's first bath is one of them. It's equal parts exciting, terrifying, and special. I remember being in the nursery when my firstborn was less than 48 hours old, and the nurse was so gentle and calm as she walked us through how to carefully bathe our daughter. Honestly, I was so scared to try. Bathing a tiny, slippery baby felt like an enormous responsibility! Among all her tips, she taught us that the best bathtub for newborns is a small tub or support seat that almost cradles the baby.
Her other pro-tip for bathing your baby? Drape a large washcloth or hand towel over the baby's body and gently pour warm water over the towel to keep the baby warm. Looking back, this tip seems so obvious. But as a new parent, I never would have thought to do that, and I'm so grateful for the tips our nurse shared! This is even more important than finding the best baby swing or best baby monitor, so let's find you and your little one the best baby bathtub!
Types of baby bathtubs
Similar to most baby gear and baby products on the market today, there's no shortage of options, and a baby bath seat or bathtub is no exception. Brands have designed several bathtubs suitable for any sink or tub, but the three most common types of baby bathtubs include:
Sink insert bath seats for either a single or a double basin sink
Basin bathtubs for traditional tubs
Baby bath support seats
Let's sink into what all three types mean (pun intended).
Sink Inserts
Exactly as the name suggests, these are usually foam inserts that you put into your sink that create a safe space to bathe your baby. When researching sink insert bathtubs, ensure you're looking for ones that will fit your particular sink. For example, the popular Blooming Baby Flower Bathtub Pad works in most kitchen sink sizes, but that's not always the case. If you prefer bathroom sink baths with your baby, it's a good idea to measure your sink and compare the dimensions to the baby bathtub you're interested in buying.
Basin Tubs
Basin baby bathtubs are traditional ones that can fit into a standard tub or sit on the shower floor. You can fill these tubs with warm water, and most basin baby bathtubs have a built-in supportive seat with a non-slip base. These tubs will also have drain holes, but it's a good idea to hang them up after each use to ensure they fully dry.
Support Seats
Baby bath support seats typically have mesh holes in which the water from your bath or sink seep through to fill the seat. These tubs dry the best since the water drains directly out of the sink or tub. The Angelcare Baby Bath Support Seat is a great example and can fit in single-basin sinks and fits equally well in full-size bathtubs.
What are the two types of baby baths?
Sink inserts and basin tubs are two of the most popular styles, but support seats are another great option for parents to newborns.
Which is the best bath tub for baby?
I wish I could answer this for you, but the truth is, there is no "best" option as it depends on personal preference and specific needs. To help you decide which one is best suited for your family, here are some key things to consider when buying or registering for your baby bathtub:
Consider the size and shape of your tub. Some bathtubs are designed for newborns and have a smaller, contoured shape, while others are larger and can be used for babies up to 6 or 12 months old.
Second, consider the material of the baby bathtub. Some tubs are made of plastic, while others are made of rubber. Do you have a preference?
Third, consider the price of the tub. While you don't want to skimp on safety, you also don't want to overspend on a tub that you won't use for very long. Think about ways you can use your particular tub once you know longer need it for its intended purposes.
As a mom of two, I've researched baby bathtubs extensively, and I've tried more than I care to admit! In an effort to save you time and overwhelm, here are the best baby bathtubs on the market today.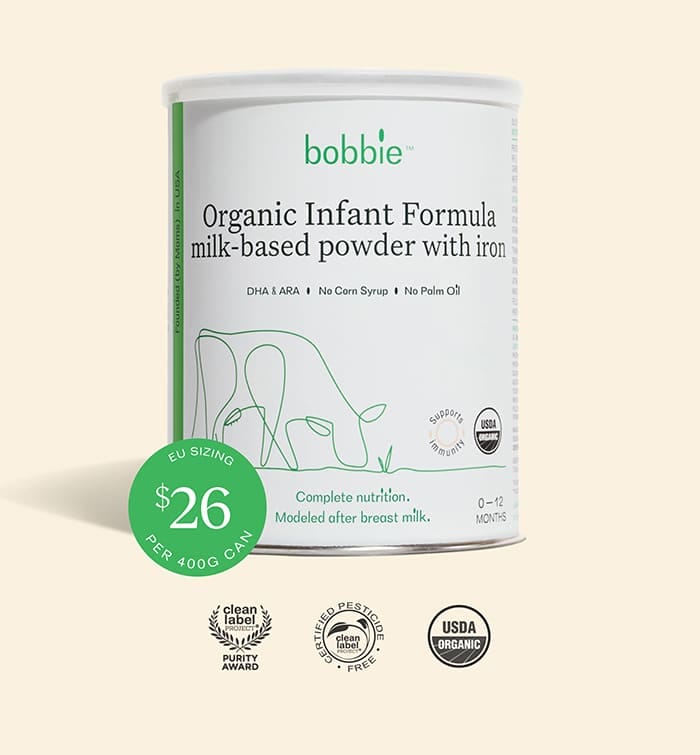 Shop Bobbie Organic Infant Formula
Bobbie Organic Infant Formula is a USDA Organic, EU-style infant formula that meets all FDA requirements. It is a complete nutrition milk-based powder modeled after breast milk and is easy on tummies. It is non-GMO and doesn't have corn syrup, palm oil, or maltodextrin. Learn more about Bobbie.
12 best baby bathtubs
4. Best Baby Bathtub for a Single Basin Kitchen Sink: Frida Soft Sink Baby Bath
Do you really need a baby bathtub?
A baby bathtub is not strictly necessary, but it can be a convenient and safe option for bathing your baby. As you know, a baby bathtub is specifically designed for littles and can provide additional support, stability, and safety. As a new parent, having baby gear and products that help make your life easier and safer for your baby are paramount. And I'd put a bathtub high up on that baby registry list!
What is the best way to bathe a newborn?
According to the American Academy of Pediatrics (AAP), newborns should receive sponge baths until the umbilical cord stump falls off and the navel has healed, usually within 1 to 4 weeks. After this, you can start giving your baby baths in your preferred bathtub.
The AAP also states that the water temperature should be no more than 97-100°F (36-38°C) as newborns have delicate skin that can quickly burn. It's also recommended to use mild and fragrance-free baby soap and shampoo. You can gently clean their face with a soft cloth or use your assortment of burp cloths (we love products with multiple uses!)
For more information on how to carefully bathe a baby, you can visit Healthy Children, which cites resources and publications directly from the AAP.
Best bathtub for newborns
No matter which bathtub you choose, know that all our recommendations offer a combination of safety, comfort, and convenience for both the baby and the parent. Only you know what's best for your family and baby, and we hope you've found the perfect bath time companion!
Enjoy these sweet moments with your baby. They sure do go by fast!