To build a baby registry for your second baby or not to build a baby registry for your second baby— That is the question! When I found out I was pregnant with my second, I felt relief knowing this baby wouldn't be as expensive as her older sister (no offense, Amelia!) And since it was also a girl, we had all the hand-me-downs ready for baby sister, making our second baby registry checklist even smaller.
But then I got to thinking— what items could we register for that would make life more efficient with two kids? I knew we needed tons of baby basics— diaper subscriptions, baby formula subscriptions, and anything we could click for Amazon Subscribe & Save. I also knew that 'brand new' wasn't as important this time around. I opened my eyes (and mind) to re-sale baby gear and now understood which tech devices really help with a newborn vs a toddler. As a mom of two, I've curated these 19 products for your second baby registry. A registry for the second baby is way more down to earth than the first!
Is it selfish to create a second baby registry?
Simply put, no. Expecting families create a baby registry to guide gift-givers in the right direction for pregnancy ideas. Everyone has unique lifestyles and needs, and it's ok to recommend products best suited for your family. Your needs are different, your family is expanding, and veteran parents know better the second time. Round two is about getting the right stuff, not more stuff.
Do people make a baby registry for the second baby?
Yes, they do. It's common etiquette for a friend or family member to offer to host you a baby sprinkle, which is a smaller, more intimate gathering of friends and family to help celebrate your second baby. Even if you don't have a sprinkle, you will still have people who want to buy you gift items, and it's a great idea to create a checklist for when someone asks what you need.
What do you need on registry for second baby?
Since you likely got lots of fancy products the first time around, this time is for basics and upgrades. If you wished you had that wi-fi monitor the first time around, go for it now. If you know having diapers and wipes delivered to your door each month is important, add that to the list!
Considerations before you build your second baby registry
Before you start building your second baby registry, here are five questions to ask yourself:
Do I need this now or in a year?
Can I borrow this item instead?
Can I buy this item second-hand?
Do I have the space to store this item when I'm not using it?
Do I already have something like this from our first baby that I can reuse or re-purpose?
Once you've considered these questions, you'll be ready to build a second baby registry best suited to help you welcome baby number two!
Five favorite second baby registry sites
The Amazon Baby Registry is convenient and a platform that we're all super familiar with.
Babylist Baby Registry is curated yet robust and has an unmatched universal registry tool.
Walmart Baby Registry has everything, and great prices across their brands and third party brands.
MyRegistry helps you create a universal baby registry, meaning they link to all of your favorite baby brands.
Poppylist Baby Registry is a curated, boutique registry which provides a seamless experience for gift-givers.
19 essentials for your second baby registry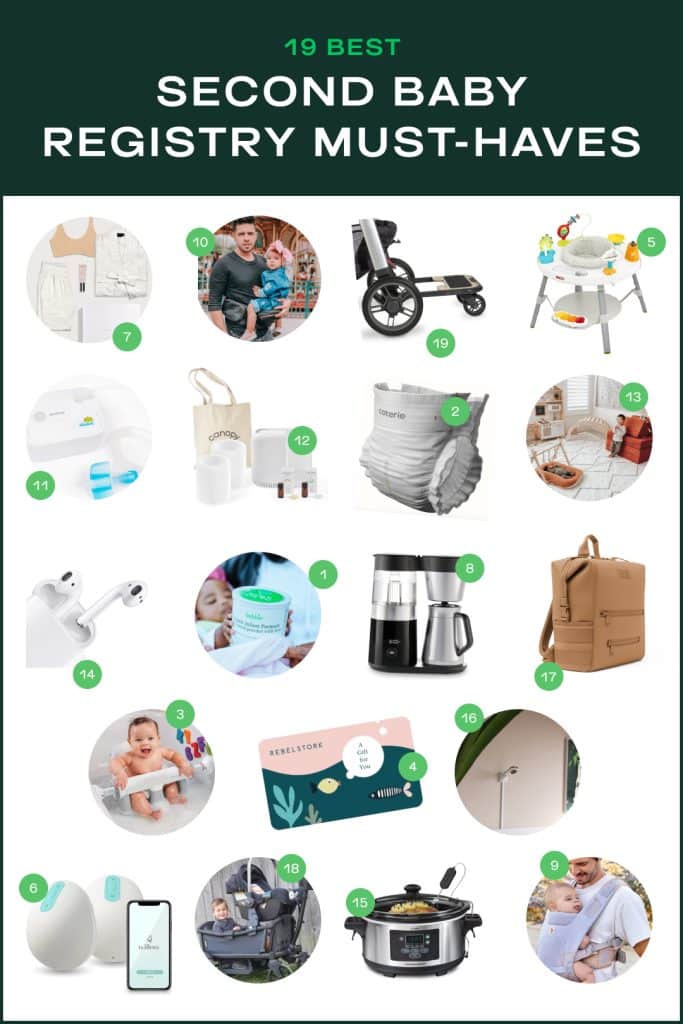 Best subscription gifts for second baby registry
Best gifts for the newborn from a second baby registry
4. Best Overall Option for Buying Second-Hand: Rebelstork Gift-Card
Best gifts for mom from a second baby registry
Best germ free products from a second baby registry
Best tech products for second baby registry
Best for two under two from a second baby registry
Where should you register for the second baby?
There are several registry platforms with different options for expecting parents. Once you decide on your needs, you can choose a baby registry provider that best fits you and your growing family.
A love note on becoming a parent of two
In the same breath, life with two is utterly chaotic and picture-perfect. You will have days where you feel wholly inadequate yet superhuman. It will knock you on your feet in the best way possible, but we hope this checklist will help you stand back up. On days when you're overwhelmed, this is a reminder to reach out to your village and ask for help.