Our editorial team personally selects each featured product. If you buy something through our links, we may earn an affiliate commission, at no cost to you.
Ever since my twin boys were in their bassinets (yes, twins!), I was a big-time stroller mama. We took all kinds of stroller walks through New York City. But once they became wild, full-blown toddlers, they were over their "baby" stroller — and that's how I fell into a search for the best baby stroller wagon. (Plus, because they're so new, you can't even find many baby wagons on the resale market.) Unofficially considered double strollers on steroids or the SUV of strollers, we did the heavy-lift research to find the 11 best baby stroller wagons. These baby wagons offer space, safety, and interesting extras suited for all different types of families.
What exactly is a stroller wagon?
Exactly as the name suggests, the stroller wagon is a thing of true beauty, offering double the benefits in the same shot. A hybrid of both a classic baby stroller and traditional wagons, the stroller wagon has risen meteorically in popularity for good reason: You can schlep everything you need for an outing — children included.
Stroller wagons feature push and pull options for either a stroller-like or wagon-like experience (how luxe for the kiddos, right?!), with room for growing kiddos — plus their snacks and drinks — along with a solid grocery haul and your much-needed cup of coffee. It also gives squirmy kiddos some room to spread out, particularly older toddlers who've grown out of a smaller stroller.
Are baby stroller wagons worth it?
As a new mom, it's hard not to want all the gear — I mean, here I am 3.5 years in, and I keep up with all kinds of baby product innovation. I was a first-time mom times two — so basically, twice as gear obsessed.
And because I specifically have two kids, there's more of a practical need for a get-up-and-go kinda wagon than with a singleton. (IYKYK.) In other words: Baby stroller wagons are designed for multi-kiddo households, but because of their versatility, parents of one are equally likely to fall for the best baby wagon that works for them.
What age can a baby ride in a stroller wagon safely?
The answer to this question depends on the baby stroller wagon model. Several have infant car seat adapters, which make popping a 1-year-old safely into the wagon (or earlier, but it took me about six months to even leave the house after having twins). Alternatively, if you've got toddlers in tow, you should be good to go — most wagon models suggest a minimum age of 18 months.
And, depending on how big the stroller wagon is, the kiddos will love being pushed or pulled in a bit more "mature" version of a stroller that feels far more "big boy" than it does "baby." Some of our selects can easily tote kids up to age 7, giving you serious longevity with what'll become your young-one's transportation staple.
What features should I look for in a baby wagon?
The features you want to find in your baby wagon entirely depend on what you're looking for. With plans to take "adventure walks" and a summer beach vacation, an all-terrain stroller wagon (think: SUV with all-wheel drive) was right for our family. Some other factors to consider:
How many kids do you have?
Are you planning on traveling with the wagon?
What about buckling them in — and, if so, which type of harness?
Do you live in a sunny area where a UPF 50 cover is top of mind?
Where will we be using the wagon?
Do you plan on traveling with the wagon?
Point being, there are a lot of different baby wagon options — and the best baby wagon stroller is different for all different kinds of families.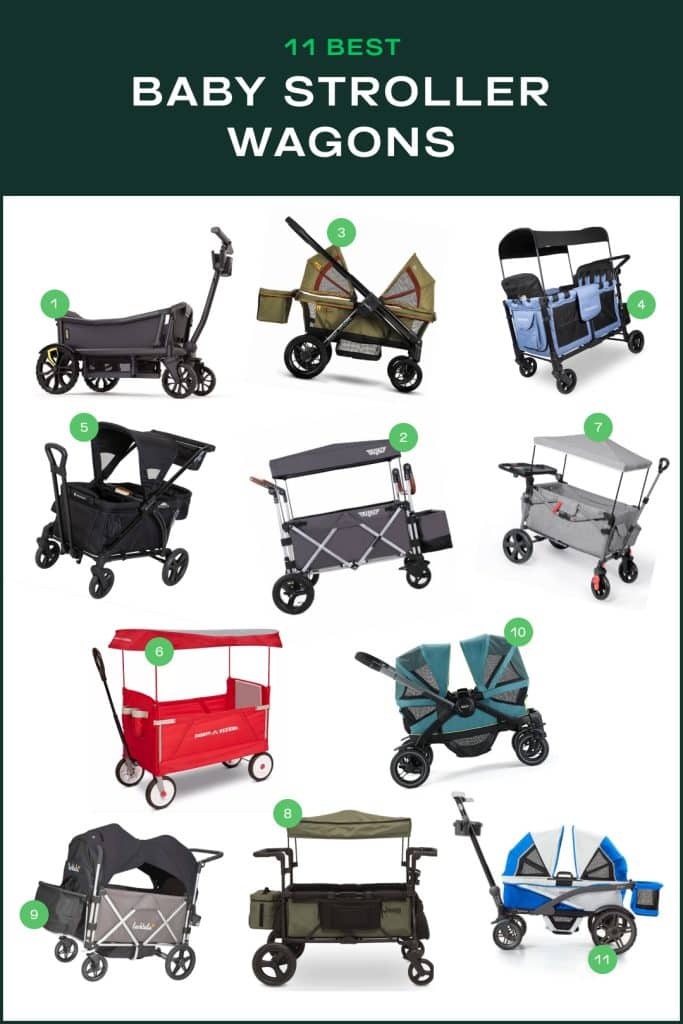 The 11 best baby stroller wagons for every family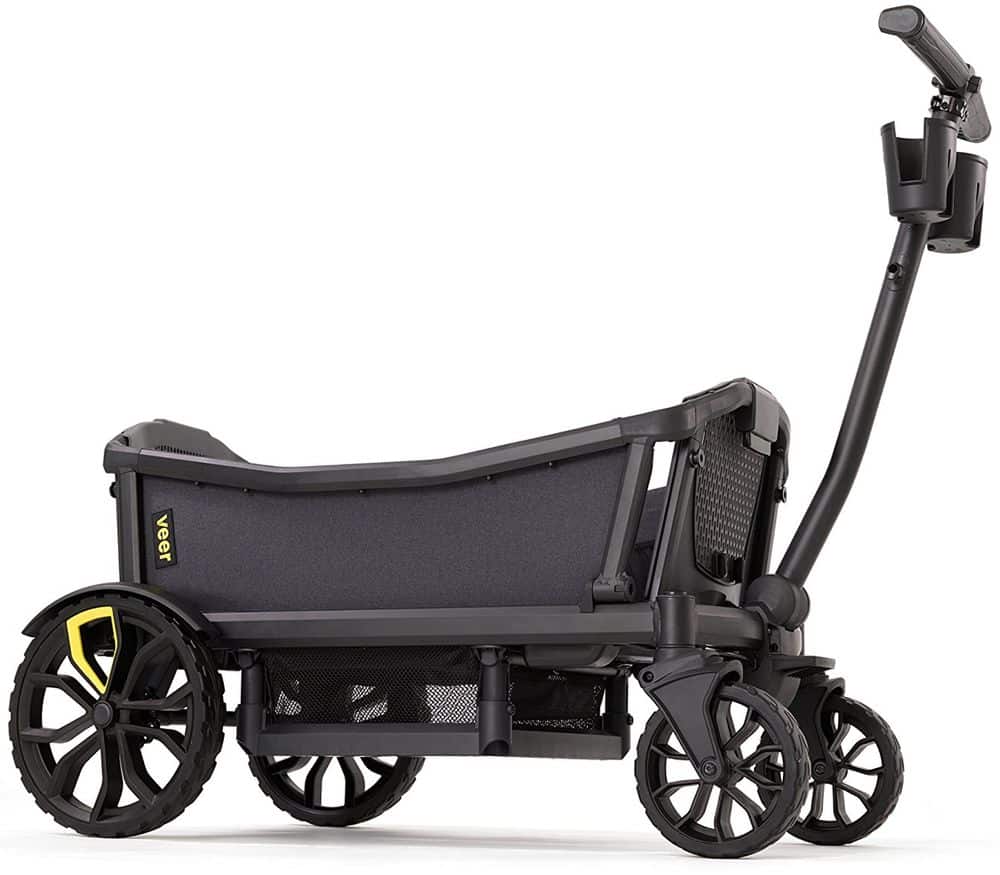 Definitely the most buzzy — and arguably the bougiest of the bunch, the Veer Cruise is beloved for a slew of reasons: The incredibly parent-friendly, one-handed open and fold and the ability to be gate-checked pre-flight the same way a traditional double stroller would. Talk about travel friendly! There are also a handful of Veer Cruiser accessories worth checking out — although at an additional cost — including a foldable storage basket, a retractable canopy, a travel bag, and shearling liners for chillier days.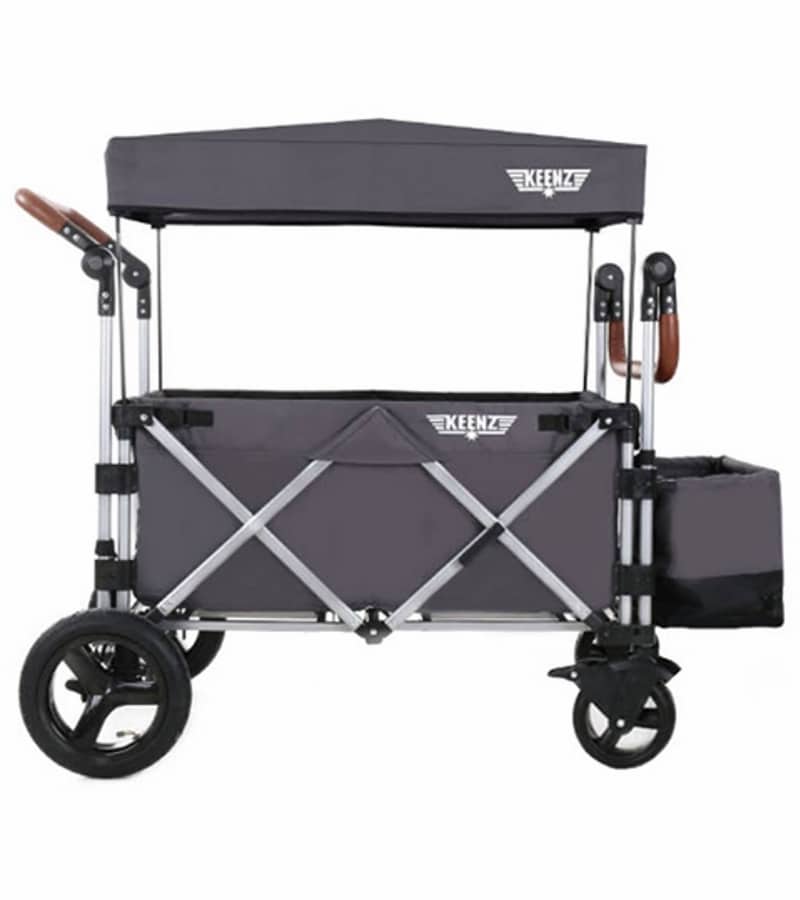 An icon in the newly minted stroller wagon industry, Keenz wagons are well-loved for a reason: They're thoughtfully designed for babies that are comfortably sitting upright. They can hold up to 110 lbs of children. (Although we're shouting out the 2-seater here, the 4-seater version of the 7S is just as exemplary — if you have a few more kiddos to take care of). Plus, it's prepackaged with all the accessories: the canopy system with travel bag, cooler, cup holder, and storage cover for your wagon without the extra cost.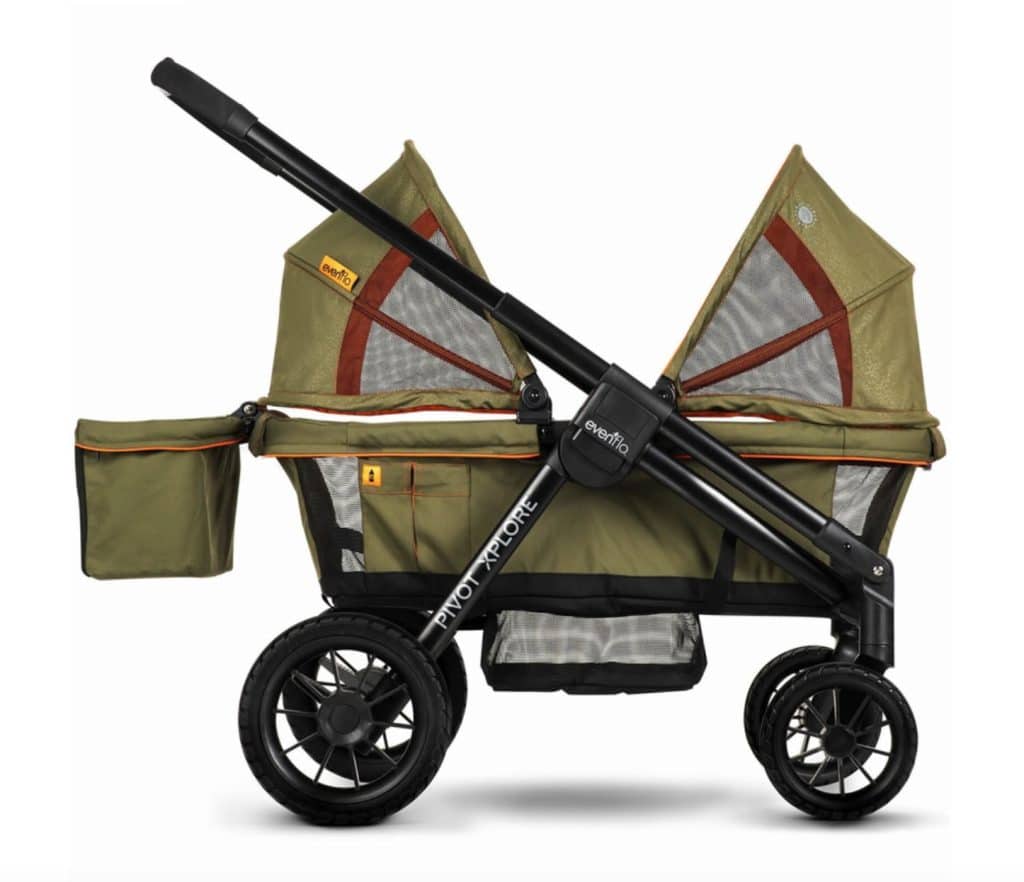 Ready to go on a family adventure? Forget the sidewalk and hop onto a hiking trail with this beast of a wagon that boasts incredibly sturdy all-terrain wheels and a dual-brake system for extra security. Remove the UPF-protective canopies for some sightseeing — or invest in the separately-sold, second toddler seat to give each of your kiddos their own special view. My kids love the deep footbed, and I love the removable basket to stash the many essentials three-nagers "need" at any given moment.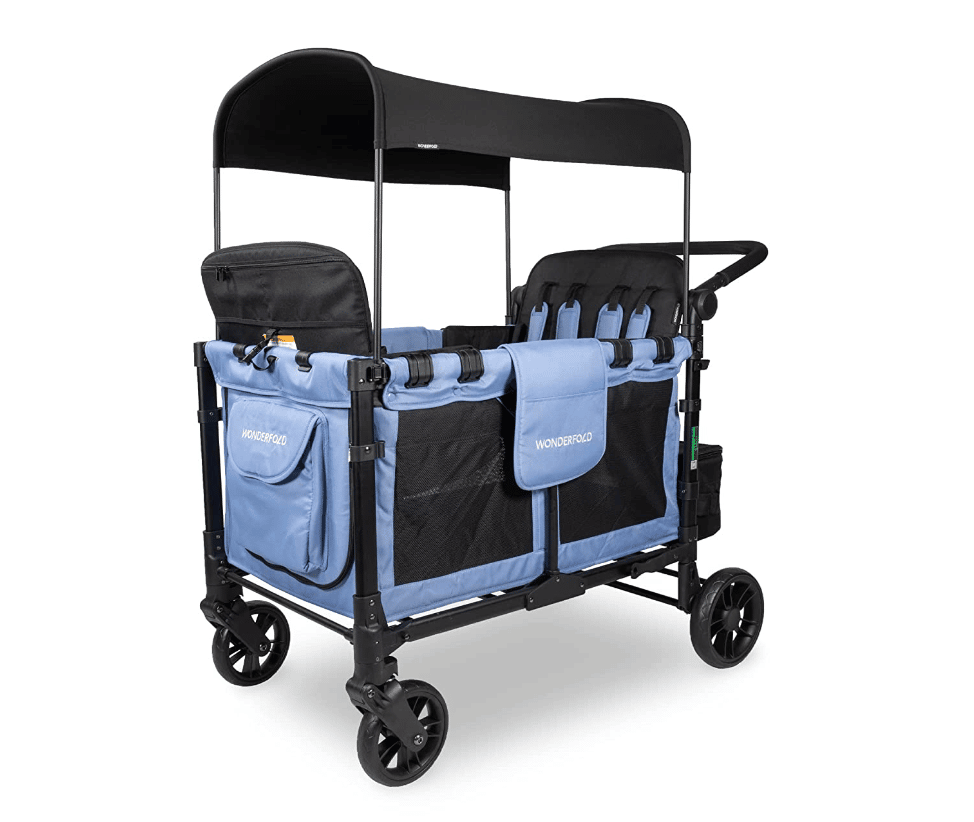 If you've got a big crew — think more than two kids — the Wonderfold W4 Elite is worth the investment. You can recline or fold down some of the seats should anyone wants to nap while keeping everyone safely in tow with 5-point harnesses. But what makes this the most kid friendly is the easy-access front zipper door to allow your big ones to get in and out. The Wonderfold W4 Elite is safe for babies as young as 6 months and can hold a weight of up to 300 lbs. When the kids are too old to be carted, remove the seats and use it as a wagon!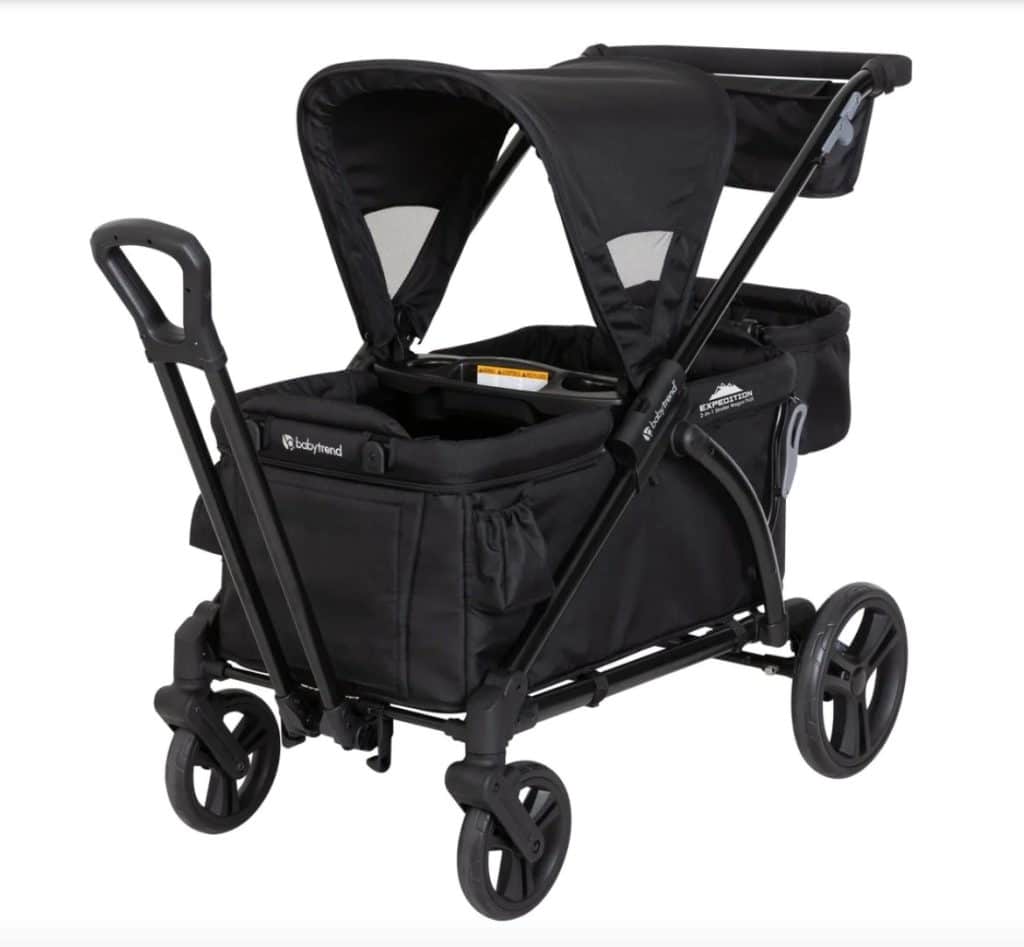 The original best baby wagon, this Baby Trend stroller wagon offers everything you'd want from a stroller wagon with a completely palatable price tag. It includes two parental cup holders, two kiddo cup holders, a UPF 50 canopy, and mosquito netting (a summertime must have with little ones, IMO). It seats two and can hold up to 110 lbs. Using the Hideaway Pull Handle, you can easily switch the "Push" stroller into a "Pull" wagon. The best part is that it's compact and can be easily stored and transported.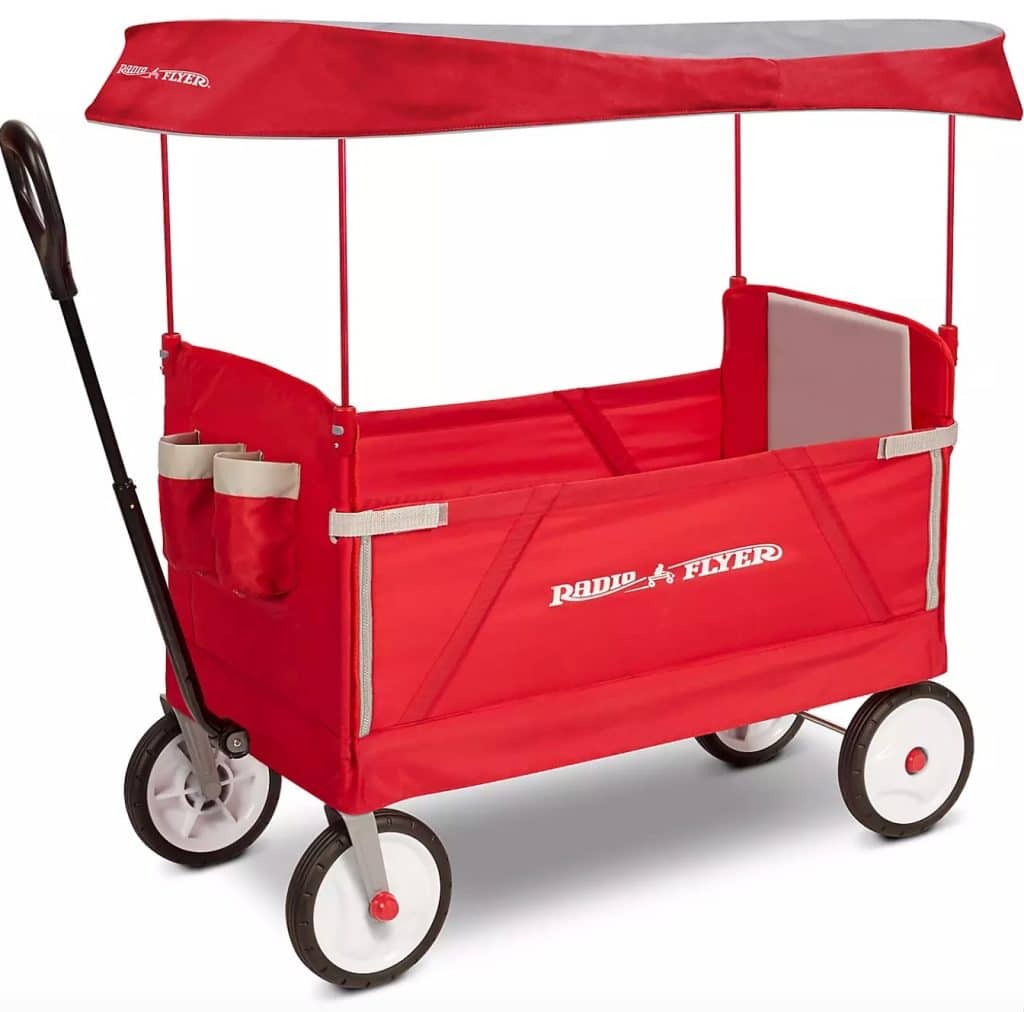 With an iconic vintage look and feel, this Radio Flyer wagon is a solid choice if you want something for cruising around the neighborhood versus rougher terrain. That said, the red color and nostalgic vibes make this wagon a perennial parent favorite. Stash anything from formula-filled baby bottles (several of my friends are currently into Bobbie baby formula) and toddler sippy cups (big fan of the much-debated Munchkin Weighted Straw Cups over here) to an emotional-support water bottle and that oh-so-necessary cold brew.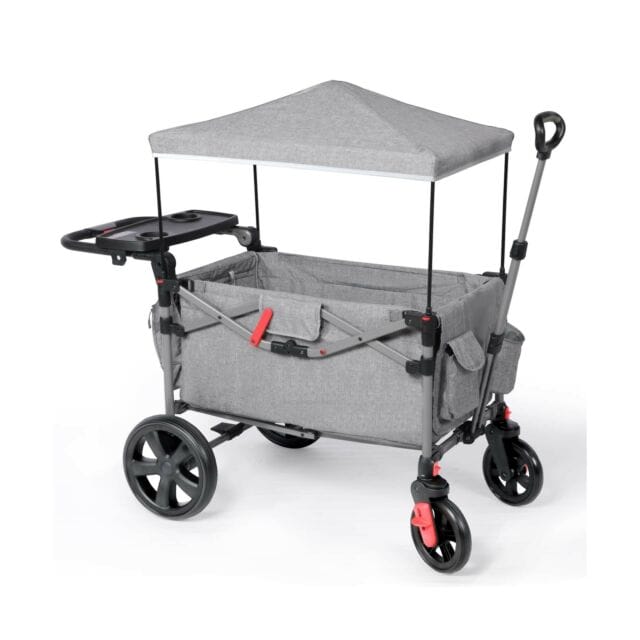 Big-time bougie moms are huge fans of this well-priced stroller wagon, which comes in at about $300 total yet enough bells and whistles to make it seem like its pricier, prestige counterparts. Think: A lightweight, folding aluminum frame, 360° rotating front wheels, and a single-step open and close. It even comes with a carry bag so you can take it with you in the car and on the plane for spring break.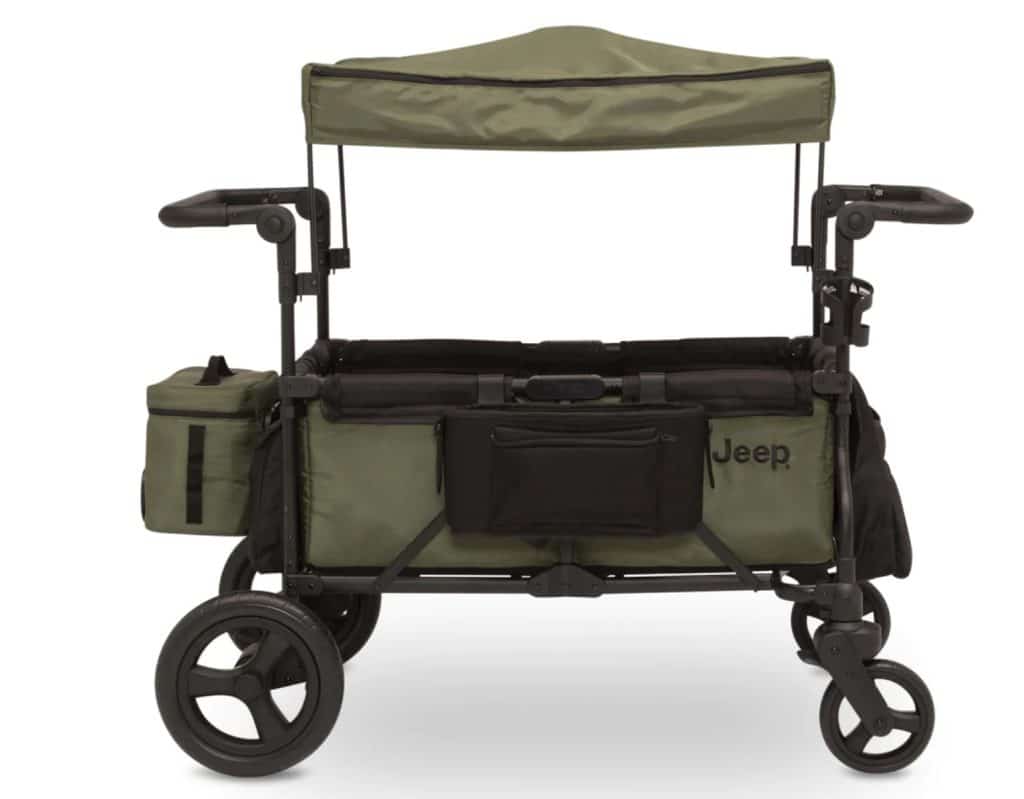 While a handful of our winners have infant car seat adapters, none were universal (team Snap 'n Go forever), but this baby wagon accepts 4 commonly bought car seats from well-known baby brands. Now, you can snap in one of the following car seats:
Graco SnugRide Click Connect 30, 35, and 40 models
Evenflo Nurture and Embrace models
Britax B-Safe 35
Chicco KeyFit 30
It's also worth calling out the infant car seat adapter that comes with the wagon, rather than being an extra accessory add-on. (Translation: You're saving like $50 right there alone.) Did we mention the attached cooler bag? Yup.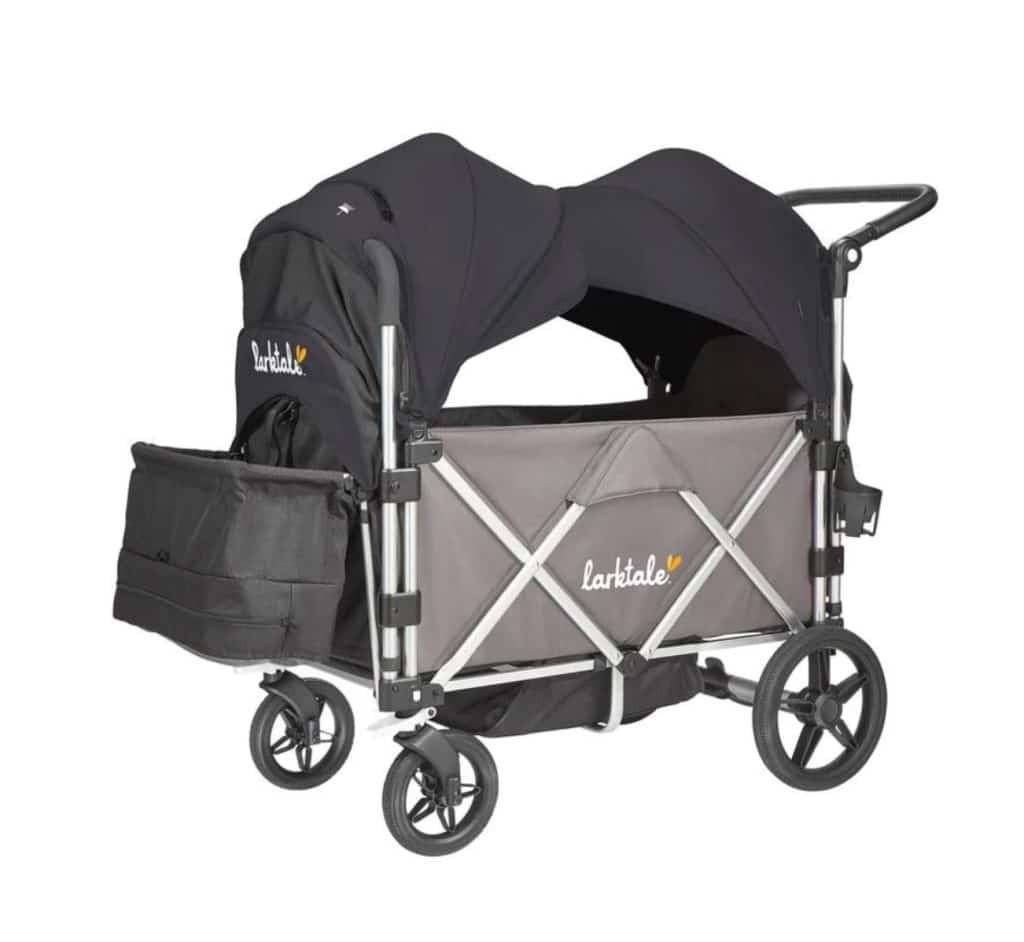 This stroller wagon is particularly spacious, with room for not only two kids, but a few beach chairs, a sizable cooler bag, and other extras — ideal when you're spending the day on the sand. It also features all-terrain wheels to seamlessly transition between surfaces and a fold-down seat to create a nap setup. Go for the protective UPF 50 sun canopies if you are going to be pool or beach-side. You can also splurge on the all-weather cover (sold separately) that provides incredibly solid protection from rain, wind, and snow.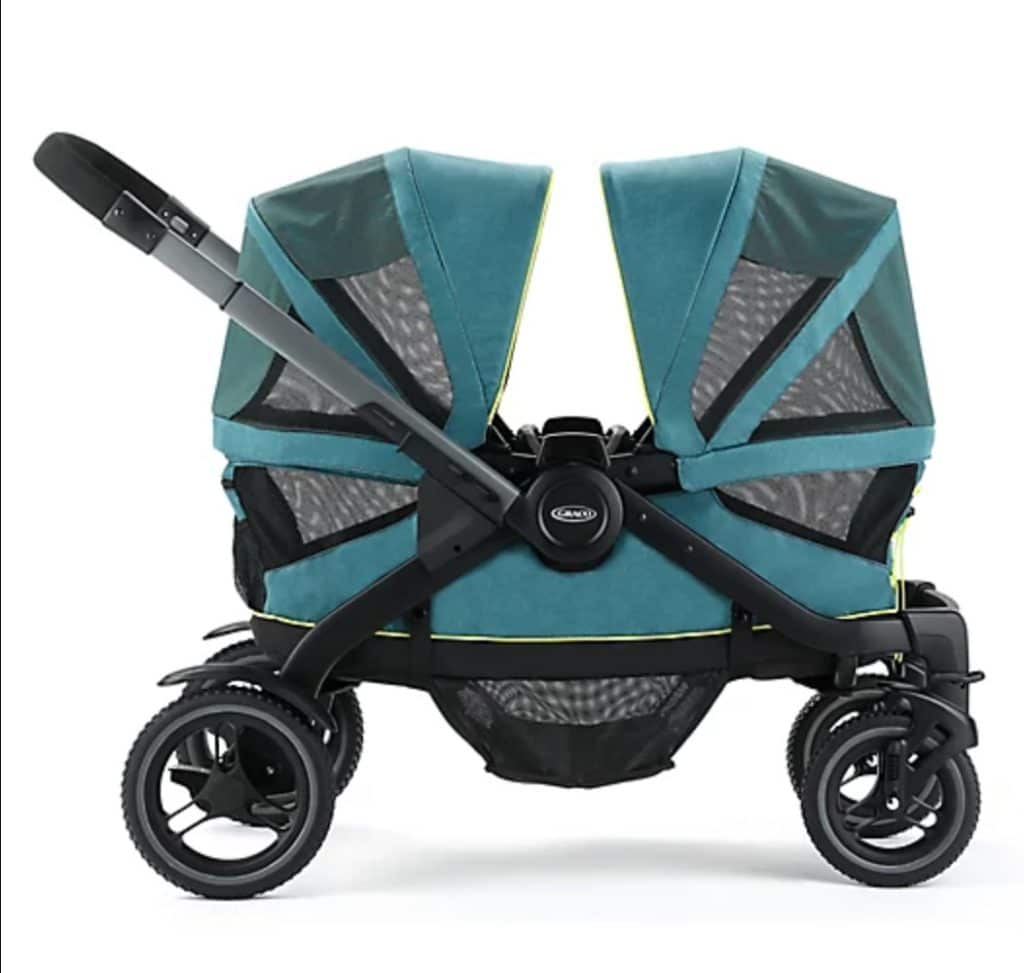 Don't let its pint size fool you: The Graco Modes Adventure Stroller Wagon is a high-performing hybrid. The two toddler seats are extra wide for extra comfort while folding up 30% smaller when compared to other stroller wagon competitors. It features front-lock wheels, baby friendly seating — the available-for-purchase infant car seat adapter accepts all Graco infant car seats — and has a height-adjustable handle for parents, too.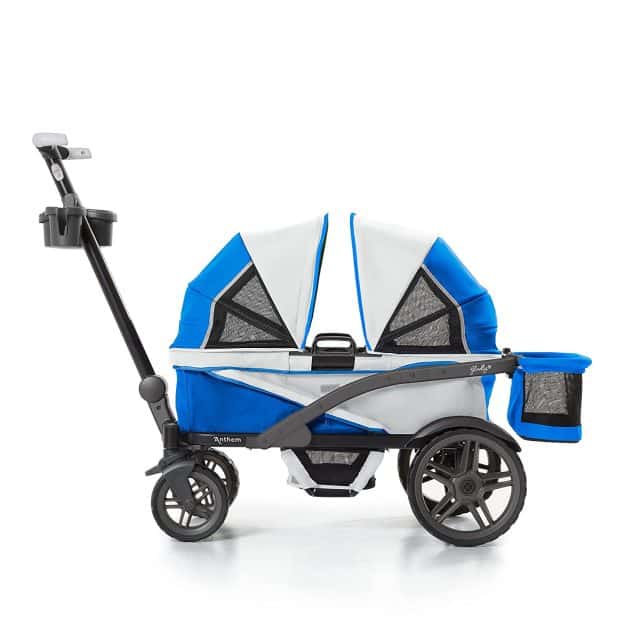 If UV protection is your top concern (which I totally get — both of my boys have super-sensitive skin), it's worth considering this Gladly baby wagon. Not only does it offer the standard UPF 50 one would come to expect, but the canopy wagon also includes extra-large double canopies, mesh side panels for air circulation, and a zipper to close the kids in should the weather truly take a turn for the worse. It also happens to be easy to stow away in your car or at home, making for a small footprint amongst a whole bunch of kid things. Right?!
Choosing the best baby stroller wagon for your family
These are the 11 best baby wagon strollers, but different families need different things from their multi-kid ride. Each wagon stroller offers its own unique set of benefits — think price tag, included accessories, infant-friendliness. Yet they're all stroller wagons, offering that deep-set, hybrid push-and-pull experience that you'll end up getting solid use out of for years to come. Ours already has serious miles on it.
The content on this site is for informational purposes only and not intended to be a substitute for professional medical advice, diagnosis or treatment. Discuss any health or feeding concerns with your infant's pediatrician. Never disregard professional medical advice or delay it based on the content on this page.