Ever since my twin boys were in their bassinets (yes, twins!), I was a big-time stroller mama. We took all kinds of stroller walks through New York City. But once they became wild, full-blown toddlers, they were over their "baby" stroller — and that's how I fell into a search for the best baby stroller wagon. (Plus, because they're so new, you can't even find many baby wagons on the resale market.) Unofficially considered double strollers on steroids or the SUV of strollers, we did the heavy-lift research to find the 11 best baby stroller wagons. These baby wagons offer space, safety, and interesting extras suited for all different types of families.  
What exactly is a stroller wagon?
Exactly as the name suggests, the stroller wagon is a thing of true beauty, offering double the benefits in the same shot. A hybrid of both a classic baby stroller and traditional wagons, the stroller wagon has risen meteorically in popularity for good reason: You can schlep everything you need for an outing — children included.
Stroller wagons feature push and pull options for either a stroller-like or wagon-like experience (how luxe for the kiddos, right?!), with room for growing kiddos — plus their snacks and drinks — along with a solid grocery haul and your much-needed cup of coffee. It also gives squirmy kiddos some room to spread out, particularly older toddlers who've grown out of a smaller stroller.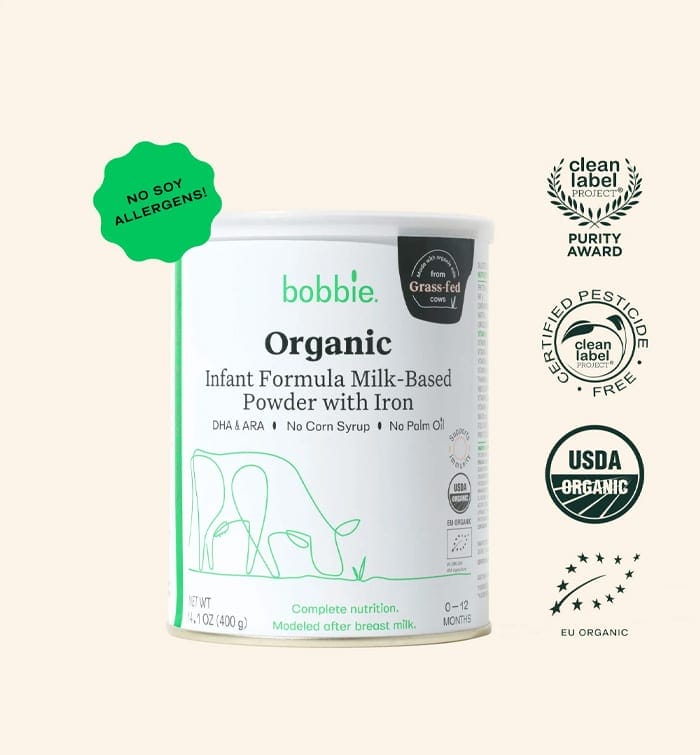 Shop Bobbie Organic Infant Formula
Bobbie Organic Infant Formula is a USDA Organic, EU-style infant formula that meets all FDA requirements. It is a complete nutrition milk-based powder modeled after breast milk and is easy on tummies. It is non-GMO and doesn't have corn syrup, palm oil, or maltodextrin. Learn more about Bobbie.
Are baby stroller wagons worth it?
As a new mom, it's hard not to want all the gear — I mean, here I am 3.5 years in, and I keep up with all kinds of baby product innovation. I was a first-time mom times two — so basically, twice as gear obsessed.
And because I specifically have two kids, there's more of a practical need for a get-up-and-go kinda wagon than with a singleton. (IYKYK.) In other words: Baby stroller wagons are designed for multi-kiddo households, but because of their versatility, parents of one are equally likely to fall for the best baby wagon that works for them.
What age can a baby ride in a stroller wagon safely?
The answer to this question depends on the baby stroller wagon model. Several have infant car seat adapters, which make popping a 1-year-old safely into the wagon (or earlier, but it took me about six months to even leave the house after having twins). Alternatively, if you've got toddlers in tow, you should be good to go — most wagon models suggest a minimum age of 18 months.
And, depending on how big the stroller wagon is, the kiddos will love being pushed or pulled in a bit more "mature" version of a stroller that feels far more "big boy" than it does "baby." Some of our selects can easily tote kids up to age 7, giving you serious longevity with what'll become your young-one's transportation staple.
What features should I look for in a baby wagon?
The features you want to find in your baby wagon entirely depend on what you're looking for. With plans to take "adventure walks" and a summer beach vacation, an all-terrain stroller wagon (think: SUV with all-wheel drive) was right for our family. Some other factors to consider:
How many kids do you have?
Are you planning on traveling with the wagon?
What about buckling them in — and, if so, which type of harness?
Do you live in a sunny area where a UPF 50 cover is top of mind?
Where will we be using the wagon?
Do you plan on traveling with the wagon?
Point being, there are a lot of different baby wagon options — and the best baby wagon stroller is different for all different kinds of families.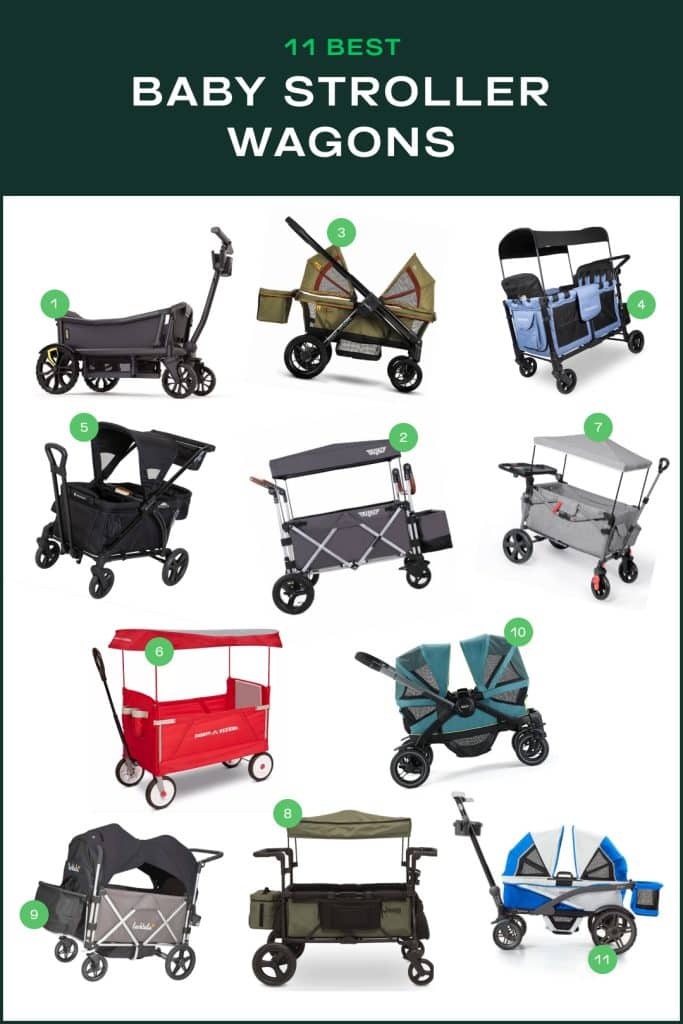 The 11 best baby stroller wagons for every family
Choosing the best baby stroller wagon for your family
These are the 11 best baby wagon strollers, but different families need different things from their multi-kid ride. Each wagon stroller offers its own unique set of benefits — think price tag, included accessories, infant-friendliness. Yet they're all stroller wagons, offering that deep-set, hybrid push-and-pull experience that you'll end up getting solid use out of for years to come. Ours already has serious miles on it.