Our editorial team personally selects each featured product. If you buy something through our links, we may earn an affiliate commission, at no cost to you.
When you have kids, planning is everything. When you travel with a baby, you suddenly need a million more things than you needed before (remember traveling with JUST a carry-on?). Now you need a pack and play, a baby bath tub, baby products, a high chair, baby formula and so on…and on. We went to LA to find the best places to see and stay for family travel— traveling with kids definitely requires some planning.
We took the family to LA on this trip, specifically to the beach. I love Santa Monica, Venice, Manhattan Beach and all points south. One of the trip highlights was the Strand, or South Bay Bicycle Trail— a 22-mile-long, paved trail and biking path that starts in Santa Monica and finishes at the Torrance County Beach. This is the ultimate stroller-walk. There are so many things to do in LA with kids, check out our recs below and let us know what we've missed!
Family Friendly Hotels in LA
It's super important to find a family friendly hotel. You don't want to turn up at a business, boutique hotel and be the noisiest ones there. Family friendly hotels have awesome amenities for families!
Pro-Tip: Call ahead to see how your hotel supports family travel, they may even help you with your packing list. If they have baby baths and pack and plays, you can leave those bulky items at home. If they have baby bath products, sunscreen and monitors, even better. Hotel websites may list the basics, but the concierge will have much more info.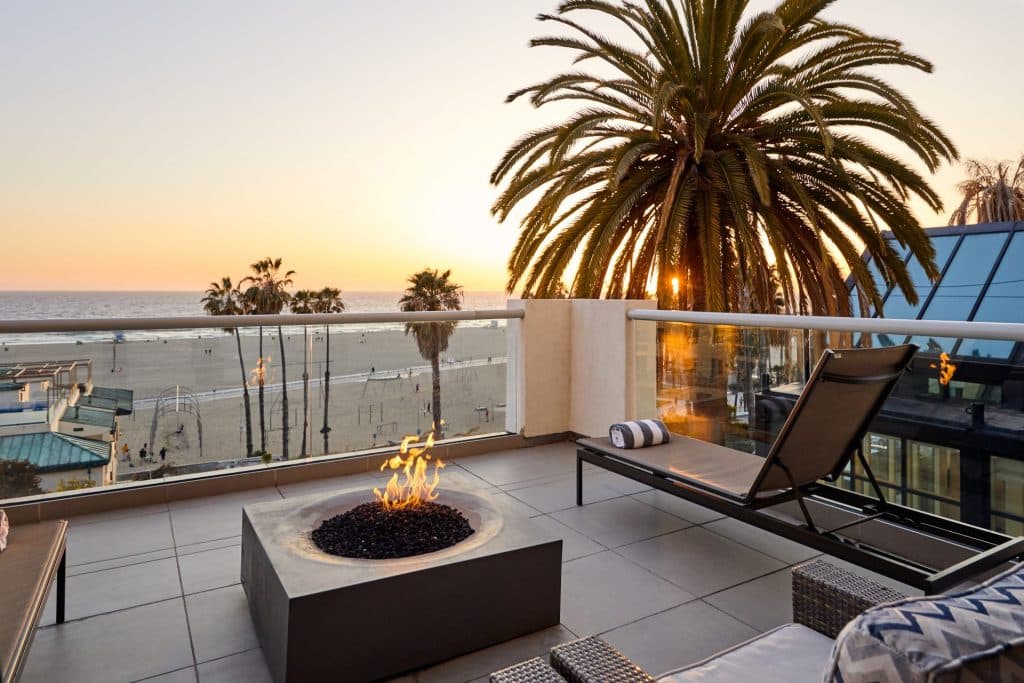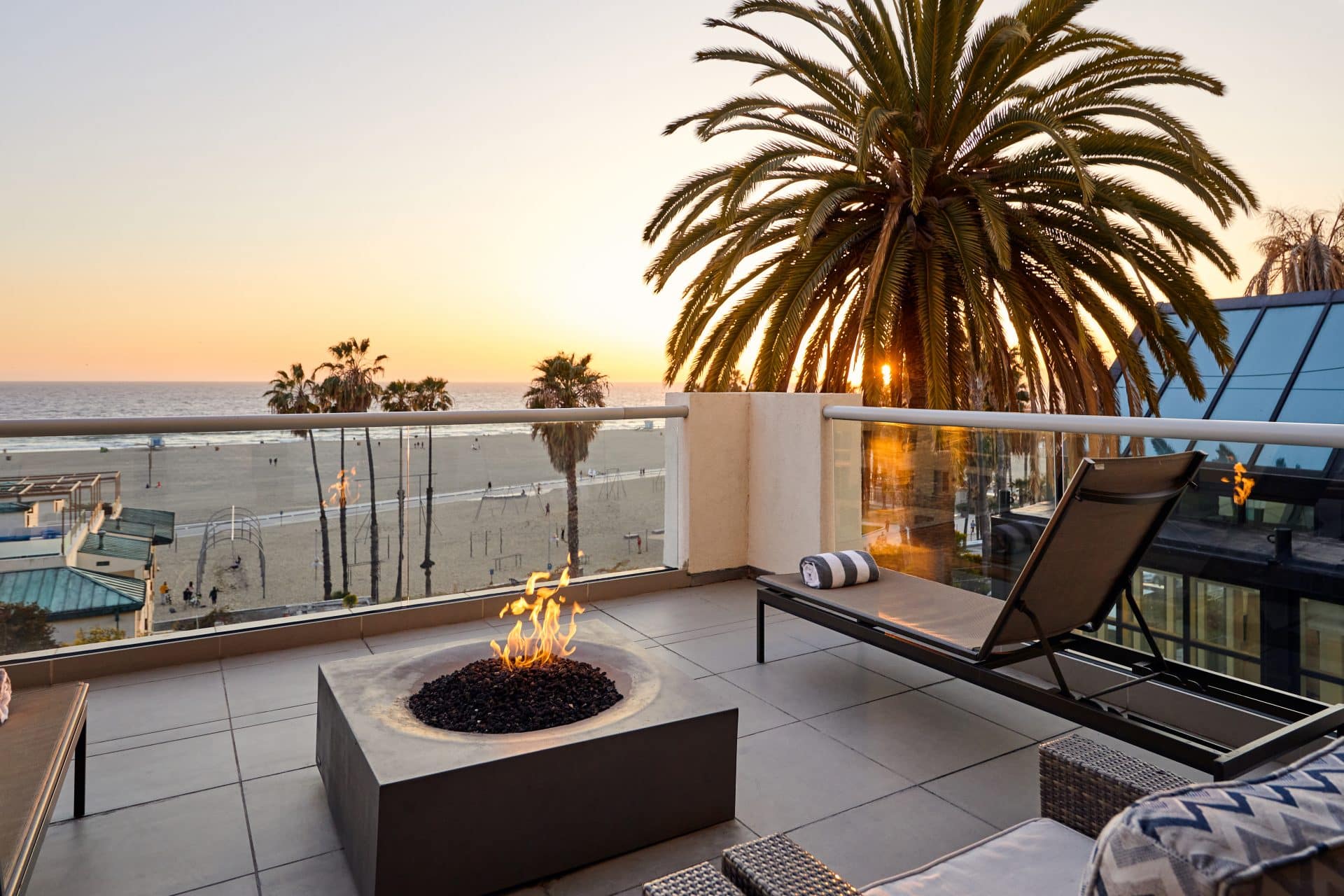 Staying at the Loews Hotel Santa Monica
The Lowes Hotel Santa Monica is a great family choice. It's a large, upscale hotel that is bustling with activity, so you and the kids (even screaming ones) will fit right in. The pool area is fun and lively, all with a great view of the ocean. The rooms are large, with plenty of space for a crib or pack and play. The hotel has a large game room and an indoor movie screening area for Saturday nights (think comfy lounge chairs and kid friendly movies). Activities for kids include Mermaid Academy (yes there are tails involved!) and seasonal activities such as letter writing to Santa, breakfast with Santa, reindeer ear decorating and cookie decorating. They have a lovely indoor/outdoor restaurant, but I fully appreciated the poolside coffee shop for quick breakfasts by the fire-pits when restaurant dining wouldn't cut it.
Amenities at the Loews Hotel Santa Monica include:
4Moms Playards (style may vary)
Hello Bello baby bath kits
Cribs
Sandcastle kit upon arrival
Stuffed animal upon arrival
Baby bathtubs and bathing sponges
Swim diapers
Little Spoon Baby Food (check for pricing)
Best Places to Stay in LA with Kids
If you're looking for a few other family friendly hotels in the beach area, we've got suggestions. The Fairmont Miramar Hotel is just across the street from the beach, has a stunning pool and best of all has bungalows if you want to stay in a little home away from home. The Hilton Hotel is just blocks from both the beach and the Santa Monica Promenade. The Westdrift Manhattan Beach, part of Marriott Hotels, offers the best of Manhattan Beach shopping, dining and of course, beach-going.
If you need more space with a baby, a home or condo could be the perfect answer. I really love having A-separate bedrooms, B-a kitchen and C-a laundry room when traveling with the kids. This Malibu guest suite has a yard and hot tub (for when baby sleeps) while this ultra-modern house has bunk beds in a second bedroom.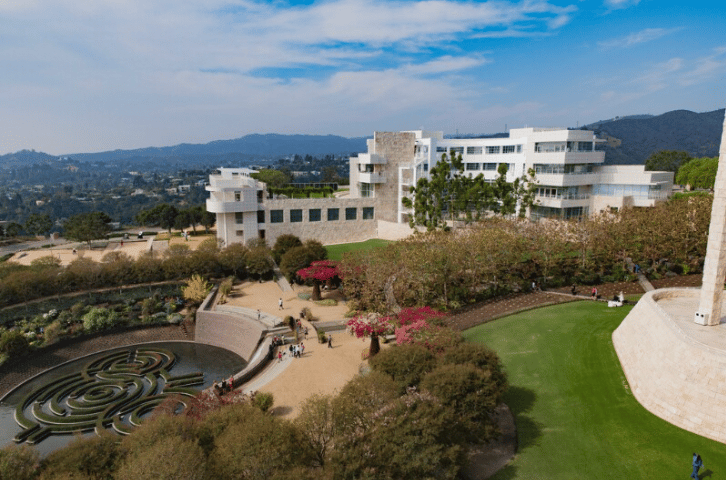 Best Things to do in LA with Kids
The Getty Museum should be high on your list, even with a baby or toddler. This place is gorgeous, chock full of important art and stroller friendly.
Griffith Park and the Griffith Observatory are a great place to go when you want to be inside and outside. Enjoy the park (there are trains, a zoo and a merry-go-round!) and then head inside for some cosmic learning (and air conditioning).
La Brea Tar Pits where science is live and the kids (and you) can watch fossils get uncovered in nature. There are live excavations and theater performances daily.
Kidspace Children's Museum is set on 3.5-acres near the historic Rose Bowl. There are dozens of hands-on exhibits for children ages 1-10. Children can climb into a giant hawk's nest, splash and play in naturalistic water features, bring out their inner musician, and get physical with rockets and giant levers.
California Science Center is the ultimate science museum featuring an IMAX theater, kelp forest and the actual Space Shuttle Endeavour.
Visit the LACMA (the LA Country Museum of Art)— the largest art museum in the western United States, with a collection of more than 147,000 objects that illuminate 6,000 years of artistic expression across the globe. You'll have to wait a little longer to enjoy the addition of the David Geffen Galleries, a dramatic new building being designed by Pritzker Prize-winning architect Peter Zumthor.
iFLY indoor skydiving is an amazing experience for parents and kids, especially if you're looking for an adventurous indoor activity during super hot California days. Though not exclusive to LA, you can plan some time here when you're booking other vacation activities and give the kids a huge surprise. Good for kids 3 and up, you'll love watching your kids fly as much as they'll love doing it! Booking an iFLY adventure is something memorable and the videos are definitely share worthy.
When to visit LA with kids
It's always sunny in LA! While you're in the area, spend time at Hermosa Beach and Manhattan Beach. With babies and toddlers, the ocean water and sand serve up more entertainment than any museum or space center! We did a combo of sight-seeing, hiking and beach lounging for a quick warm-weather getaway. LA is totally doable with kids in tow, especially when you're staying at kid friendly hotels or houses.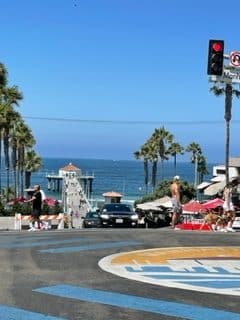 The content on this site is for informational purposes only and not intended to be a substitute for professional medical advice, diagnosis or treatment. Discuss any health or feeding concerns with your infant's pediatrician. Never disregard professional medical advice or delay it based on the content on this page.