Our editorial team personally selects each featured product. If you buy something through our links, we may earn an affiliate commission, at no cost to you.
I watched about 5,000 friends go off to have a baby before I did it myself (ok it felt that way from all of the baby gifts I bought). And while these friends often kept the medical details to themselves (I wish they hadn't!), they did all share tips about what to pack in your hospital bag.
One friend over-prepared for baby by bringing two duffel bags filled with onesies, blankies, stuffies and even a supply of baby booties. Another friend's husband packed enough food in a cooler to start a sandwich shop. One friend forgot all of her own stuff, but made sure her baby and husband were taken care of (#mombrain). It's the parents who've done it before, those on their 2nd or 3rd, who know about packing a hospital bag.
With help from those expert parents, I've created the ultimate packing list just for you.
Share or print the ultimate hospital bag checklist + the FAQ's that all new parents need to know!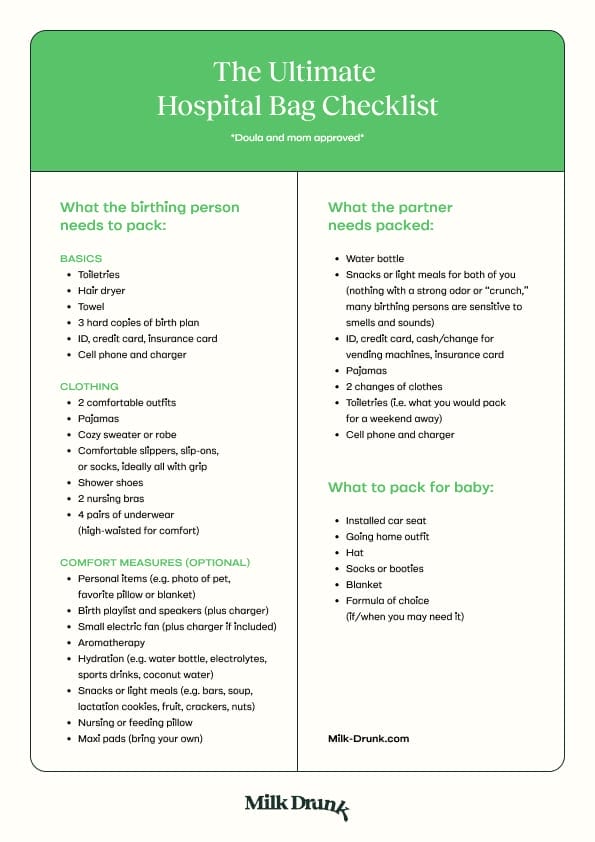 Top 10 items for your hospital or birth center bag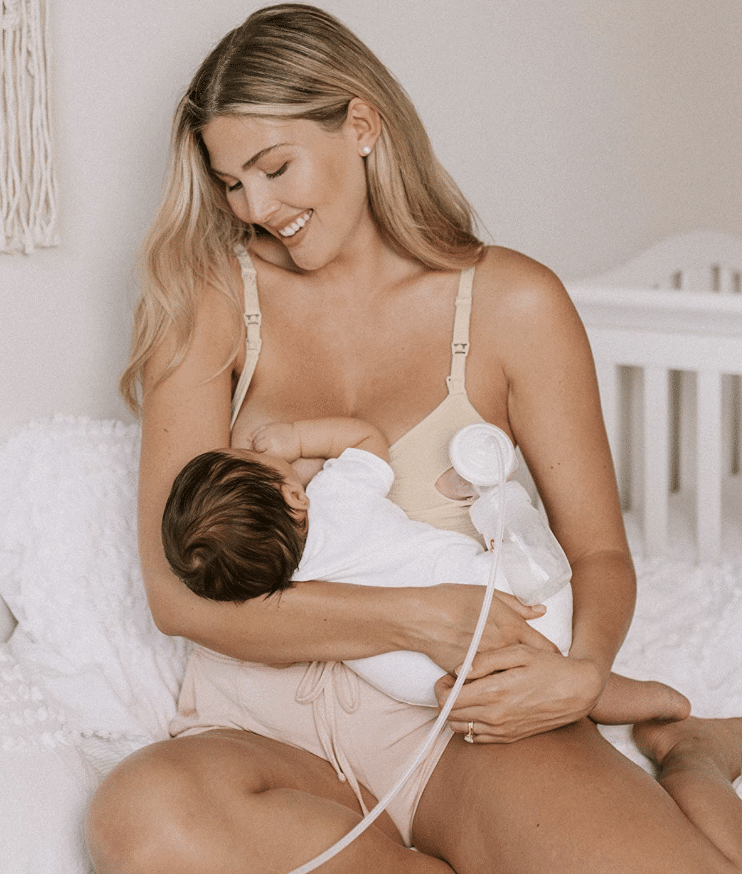 You're definitely going to need a nursing bra (or 2 or 3) for the next few months, so make it a good one! This Kindred Bravely Sublime bra is a win because you can easily unclip to breastfeed, or use it to hold a hands-free breast pump. Or both at once! Stretchy and comfy, this bra will go with you through the postpartum journey, and will fit as you expand and contract throughout your days and weeks to come.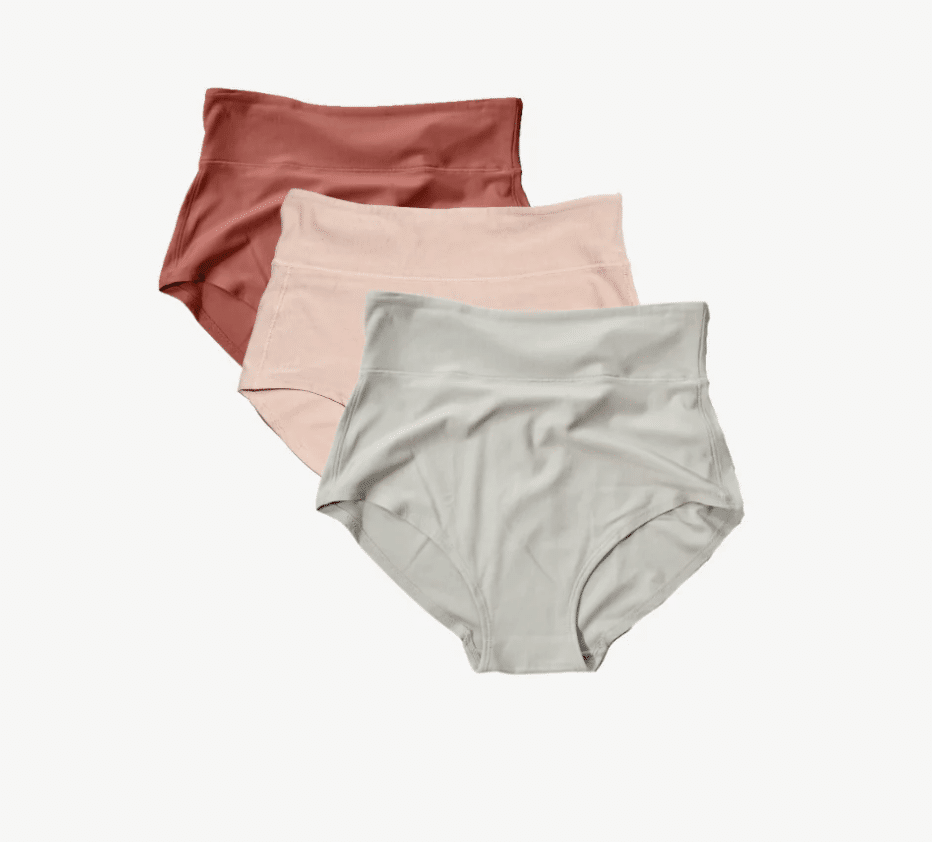 Can you say high waisted? Well you will. Especially if you've had a C-section. Either way, the higher the more comfortable. You'll also want super soft micro-modal and a full cut shape to hold those pads/padsicles in place. These All-In undies work from pregnancy all the way through postpartum— and they come in a 3-pack, since you're not doing laundry anytime soon.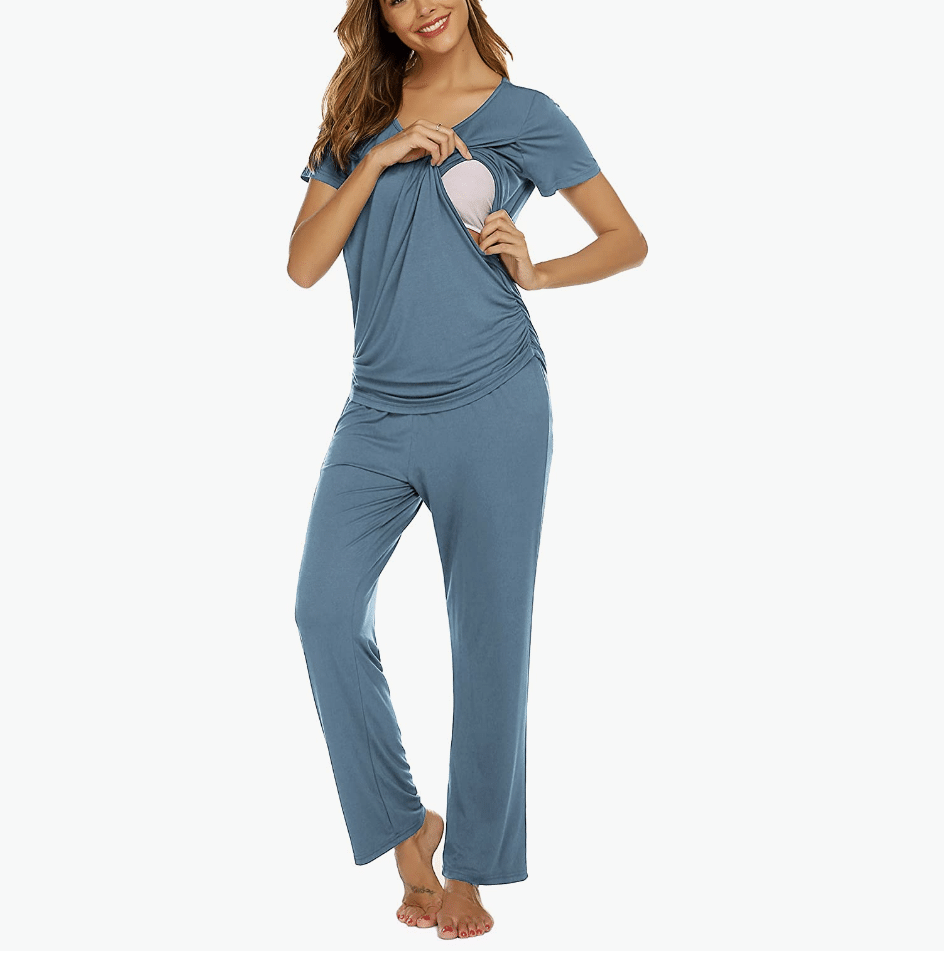 You have visitors and have to breast feed, so you need comfortable pajamas that are presentable. Bottom line, people will be taking pics! This two piece pajama set has drawstring bottoms and a feeding-friendly top. They come in a ton of colors, too, so pick a few faves and feel good knowing that more than 5,000 women have loved these on Amazon.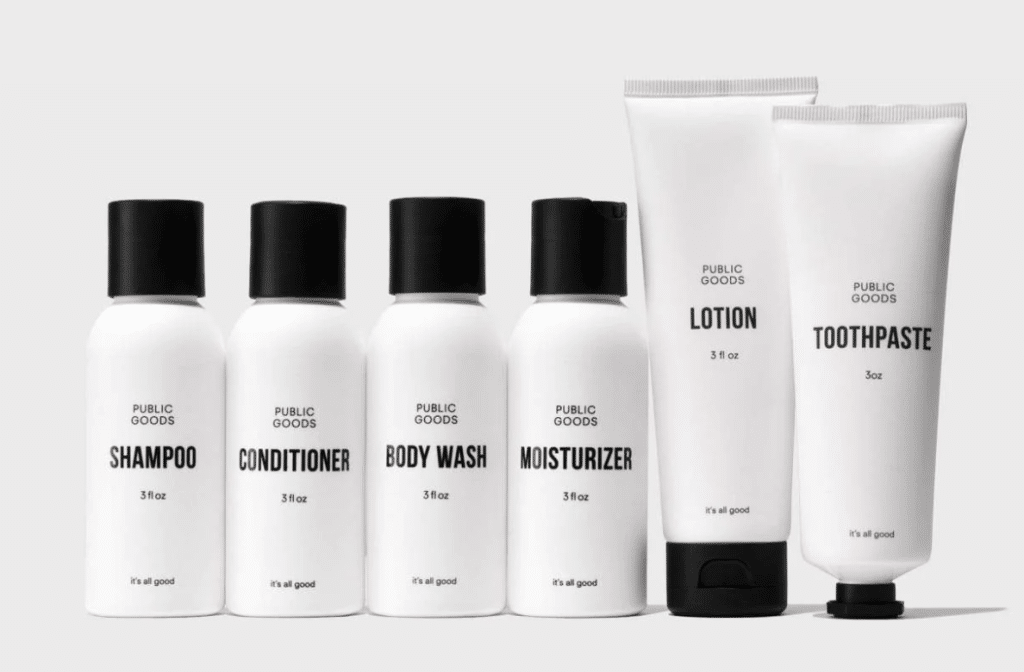 The hospital does provide the 'basics' but you can do better. Be prepared with your own toiletry kit. This one from Public Goods comes with their shampoo, conditioner, body wash, moisturizer, lotion and toothpaste. Add your toothbrush and hairbrush, and you've got the basics checked off the list!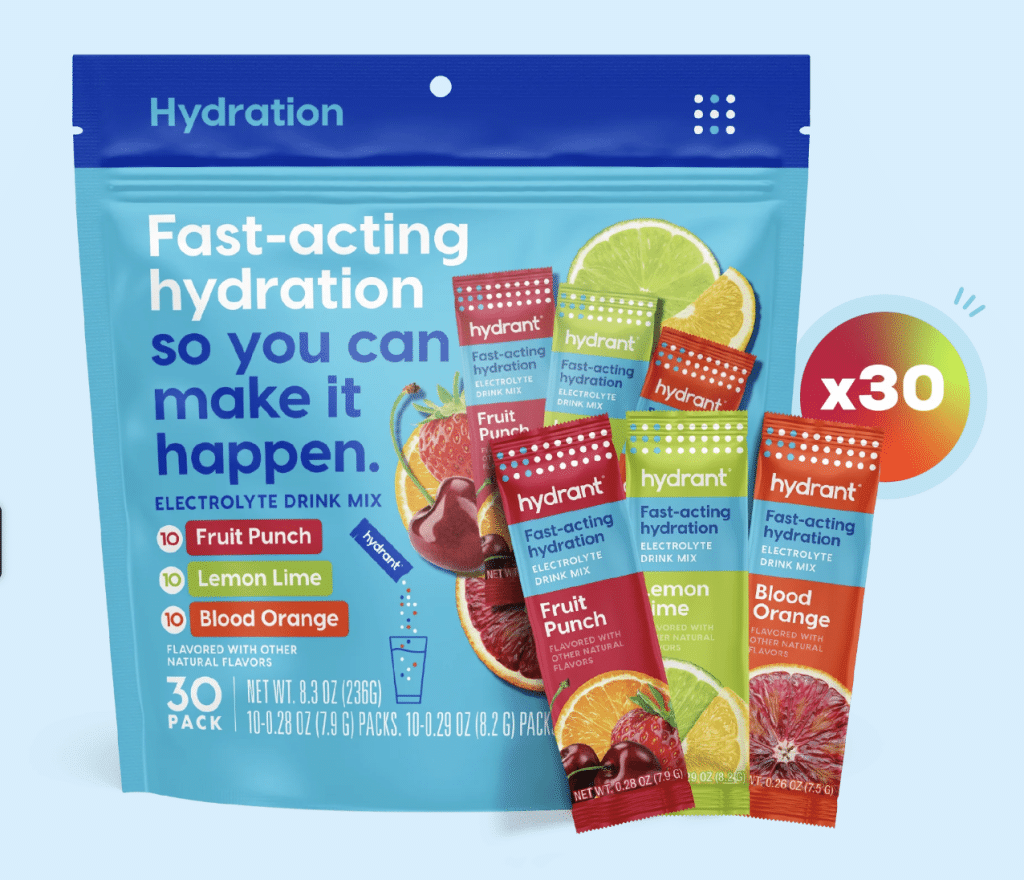 A doula friend always says, "Dehydration is labor's worst enemy." She loves these electrolyte packets for herself and her clients. This package comes with 30 packets in three flavors so next time your partner or MIL asks what they can get you, pass them a packet and send them out to mix.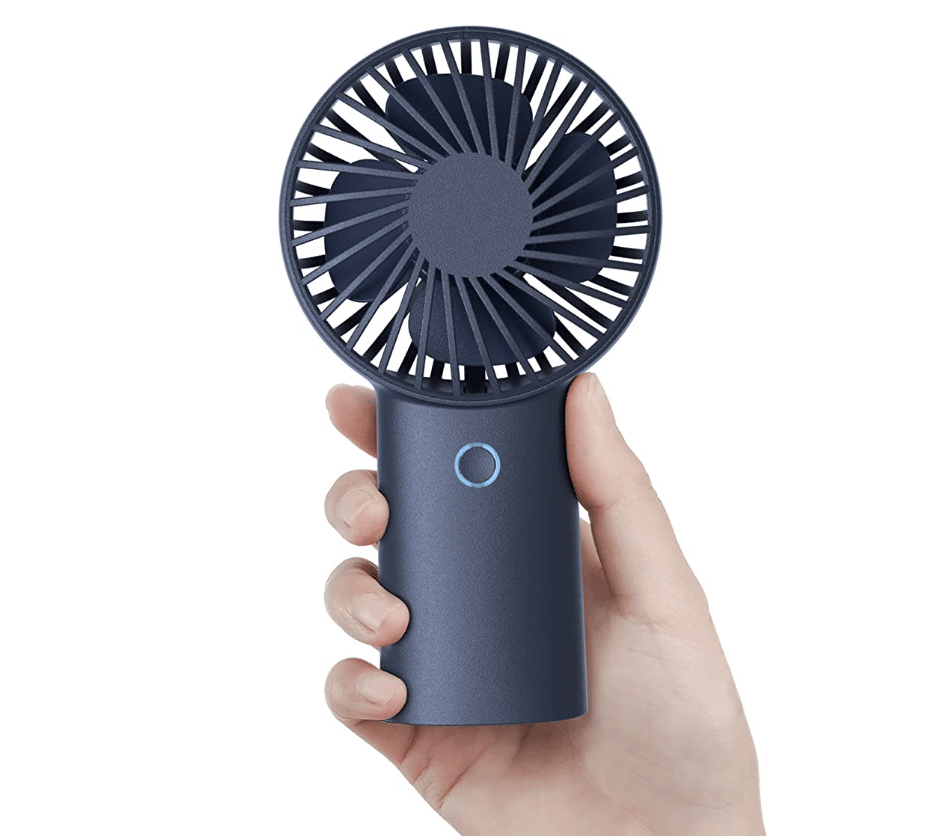 Trust us, you'll be THRILLED to have this between contractions. This mini fan will keep you cool and focused, with just enough sound to drown out everything else that's happening. It's rechargeable and fits into your purse or toiletry bag.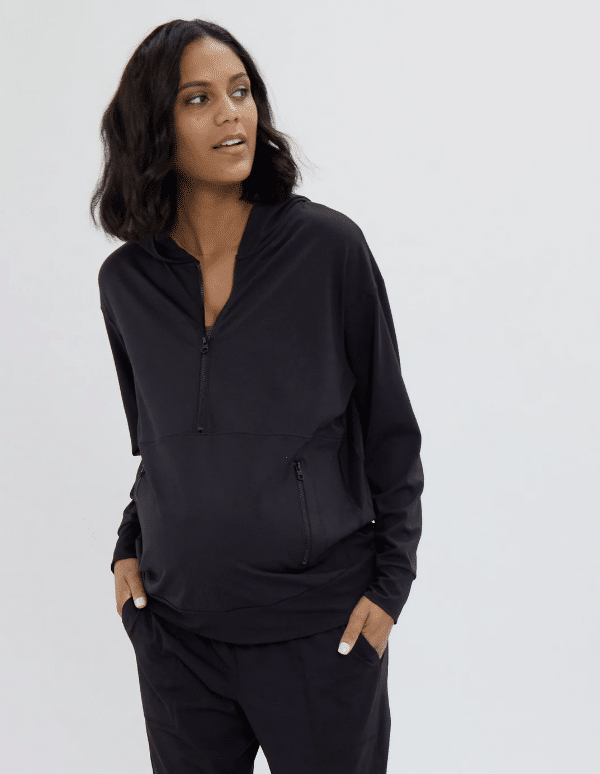 A matching set always looks 'put together' even when it's sweats. That's why we love this cozy Nursing Pullover and matching Fold Down Jogger from Isabel + Ingrid. The pieces are super soft and will fit during pregnancy, home from the hospital and through postpartum.
You're going to need a warm, cozy outfit that's also photo-op ready! This Burt's Bees unisex outfit is all the things. Plus, we love a cross top that doesn't have to go over baby's head. It's also 100% organic, GOTS certified, breathable cotton— great for sensitive newborn skin.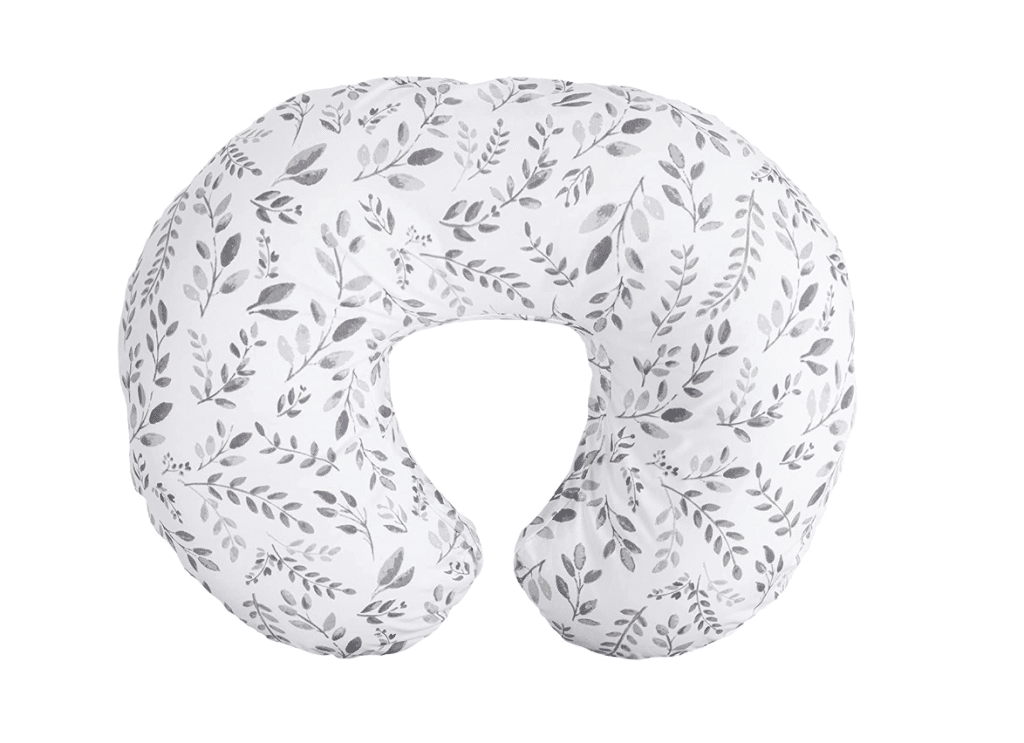 The Boppy pillow is something you'll be using a lot, and for a long time, practically from day one! It works as a breastfeeding positioner or bottle feeding positioner, for either body side. Your feeding partners will be making full use of this, too! The cover comes off to be laundered, of course, plus you can buy new covers over time. This should be top of your baby registry and top of your hospital bag list!
10. Best Organic Baby Formula: Bobbie Organic Baby Formula
Packing a can of formula to bottle feed, or to use if your breast milk doesn't immediately come in, is a smart idea. Call ahead of time to make sure you can bring your own. You'll likely need to pack bottled water, too.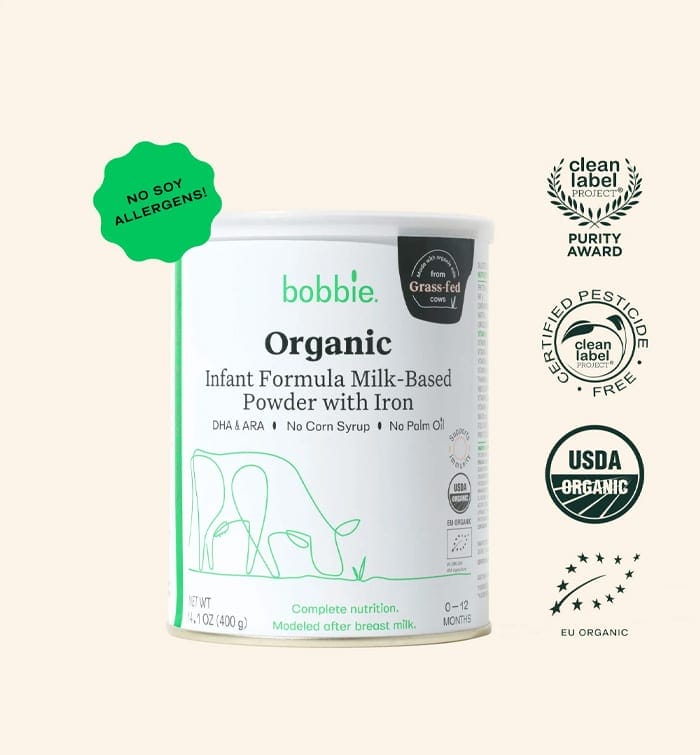 Shop Bobbie Organic Infant Formula
Bobbie Organic Infant Formula is a USDA Organic, EU-style infant formula that meets all FDA requirements. It is a complete nutrition milk-based powder modeled after breast milk and is easy on tummies. It is non-GMO and doesn't have corn syrup, palm oil, or maltodextrin. Learn more about Bobbie.
What to pack in your hospital bag: For the birthing person
Basics
Toiletries
Hair dryer
Towel
3 hard copies of birth plan
ID, credit card, insurance card
Cell phone and charger
Clothing
2 comfortable outfits
Pajamas
Cozy sweater or robe
Comfortable slippers, slip-ons, or socks, ideally all with grip
Shower shoes
2 nursing bras
4 pairs of underwear (high-waisted for comfort)
Comfort measures (optional)
Personal items (e.g. photo of pet, favorite pillow or blanket)
Birth playlist and speakers (plus charger)
Small electric fan (plus charger if included)
Aromatherapy
Hydration (e.g. water bottle, electrolytes, sports drinks, coconut water)
Snacks or light meals (e.g. bars, soup, lactation cookies, fruit, crackers, nuts)
Nursing or feeding pillow
Maxi pads (your own may be more comfortable than the ones given out)
What to pack in your hospital bag: For the partner
Water bottle
Snacks or light meals for both of you (nothing with a strong odor or "crunch," many birthing persons are sensitive to smells and sounds)
ID, credit card, cash/change for vending machines, insurance card
Pajamas
2 changes of clothes
Toiletries (i.e. what you would pack for a weekend away)
Cell phone and charger
What to pack in your hospital bag: For your newborn baby
Installed car seat
Going home outfit
Hat
Socks or booties
Blanket
Formula (the hospital will have basics, but if you prefer organic baby formula call ahead and make sure it's approved)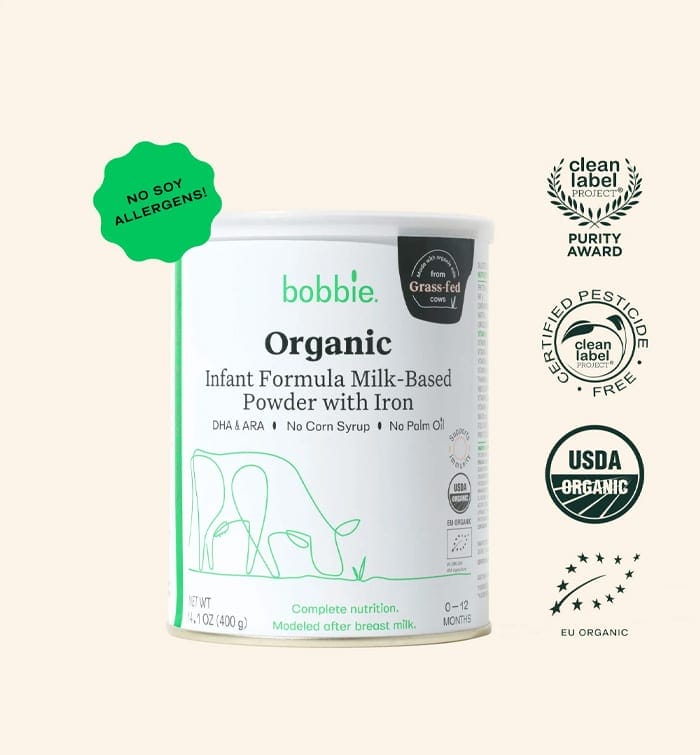 Shop Bobbie Organic Infant Formula
Bobbie Organic Infant Formula is a USDA Organic, EU-style infant formula that meets all FDA requirements. It is a complete nutrition milk-based powder modeled after breast milk and is easy on tummies. It is non-GMO and doesn't have corn syrup, palm oil, or maltodextrin. Learn more about Bobbie.
What should you not pack in your hospital bag?
Don't pack anything that you aren't willing to sacrifice to the cause. Birth is messy and items often get lost. Leave your favorite white sweater and engagement ring at home.
If you plan to bottle feed, most hospitals and birth centers provide breast pumps. These hospital-grade pumps have stronger motors and suction than their consumer-grade counterparts to help stimulate early milk production.
When to pack your hospital bag?
I recommend getting packed well before your due date—by 37 weeks—even if your bags sit in the closet for a few weeks.
Should I pack 2 bags for the hospital?
Try to pack one bag for the birthing person and one shared bag for the partner and baby, since they likely need less. Some people also bring a cooler with food and drink.
How many outfits should I bring to the hospital for the baby?
One, plus a hat and socks or booties. Long-sleeved footed pajamas or a long-sleeved shirt and pant set are warm and carseat-friendly options. Size 0-3 months works for most full-term babies.
What should I clean before the baby arrives?
Clean and sterilize all bottle and breast pump parts. Wash baby clothes, burp cloths, crib sheets, changing table sheets, blankets, and nursing pillow covers (i.e. anything that will be in contact with the baby's skin). Doing this in advance will save you time.
Should I pack diapers for my hospital bag?
No, unless you want to use a specific brand. Hospitals and birth centers provide plenty of diapers and wipes to those staying, and often let you take home what's remaining from the opened packages.
Do you bring formula to the hospital?
Hospitals and birth centers have formula and bottles to bottle feed, but if you would like to use a certain type or organic formula brand, call the birth center or hospital ahead of time to ask if you can bring your own.
What do hospitals and birth centers provide after birth?
Most hospitals and birthing centers offer the following, but call ahead to be sure:
Mesh underwear
Nipple cream
Breast pump
Basic toiletries (e.g. soap, shampoo)
Gowns and grip socks
Aftercare items (e.g. peri bottles, witch hazel pads, maxi pads)
Standard pillows and blankets
Water, ice, juice boxes, cups
Vending machines or cafeteria food
Diapers, wipes, diaper cream
Onesies, baby blankets, hats
Pacifiers, bottles, and formula
Pack any of these items if you'd rather use your own or prefer a certain brand (e.g. diapers, toiletries, breast pump, formula).
Things to pack in a hospital bag
Packing your hospital or birth center bag is a big milestone! Armed with our lists, rest assured that you have everything you need to comfortably and confidently meet your baby.
The content on this site is for informational purposes only and not intended to be a substitute for professional medical advice, diagnosis or treatment. Discuss any health or feeding concerns with your infant's pediatrician. Never disregard professional medical advice or delay it based on the content on this page.