Ah, diapers. As a parent—especially a parent of an infant—it can feel like you spend more time hunched over the changing table than anywhere else. And you aren't the only one— according to the American Academy of Pediatrics, the average parents go through six diaper changes per day, which equates to around 8,000 (!!) diapers total over your little one's time wearing them. And as a result, you also likely spend more money on the best baby diapers than you do on anything else in your little one's first few years, like best baby wipes or baby food.
For something as necessary as diapers, there are a confusing amount of choices. If you've ever walked down the diaper aisle at Target or searched "diapers" on Amazon, you're all too aware of the dizzying array of options available. Bamboo diapers. Organic diapers. Overnight diapers. Even reusable diapers. As an already overtired, overstressed, overwhelmed new parent, the last thing you want is one more choice to make.
To help make your life—and your diapering decisions—easier, we've done all the digging for you and narrowed down the best baby diapers of 2023, from the best baby diapers for newborns to the best cloth diapers.
12 Best Diapers of 2023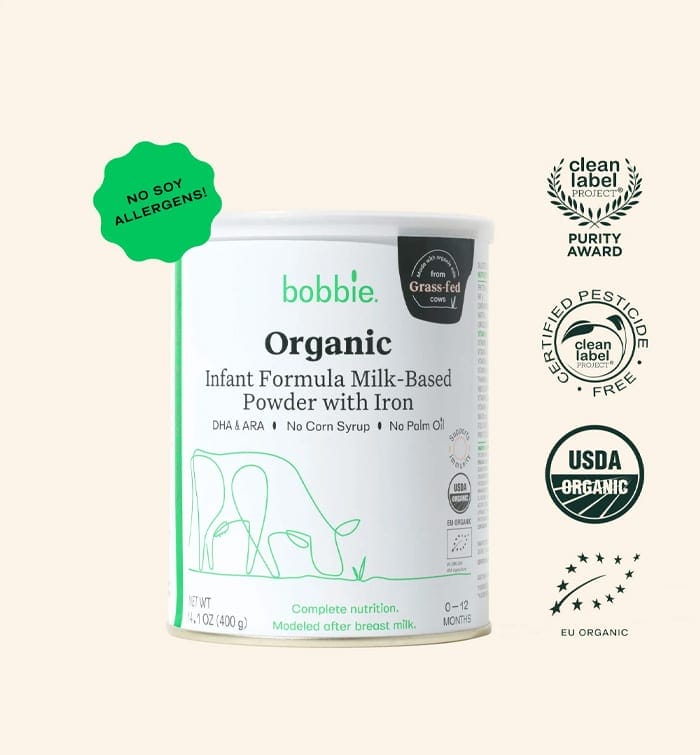 Shop Bobbie Organic Infant Formula
Bobbie Organic Infant Formula is a USDA Organic, EU-style infant formula that meets all FDA requirements. It is a complete nutrition milk-based powder modeled after breast milk and is easy on tummies. It is non-GMO and doesn't have corn syrup, palm oil, or maltodextrin. Learn more about Bobbie.
1. Best Skin-Friendly and Organic Ingredient Diapers: Pura Diapers
Ultra-absorbant ✅
Chlorine Free ✅
Perfume-Free ✅
Price: $19.97 for 46
Diaper Wetness Indicator ✅
Perfume-Free ✅
Chlorine Free ✅
Price: $52.99 for 198
3. Best Baby Diapers for Sensitive Skin: Hello Bello Diapers
Diaper Wetness Indicator ✅
Perfume-Free ✅
Chlorine Free ✅
Price: $8.99 for 35
4. Best Organic Baby Diapers: Dyper Diapers
Diaper Wetness Indicator ✅
Perfume-Free ✅
Chlorine Free ✅
Price: $44.99 for 80
5. Best Non-Toxic Baby Diapers: Honest Diapers
Diaper Wetness Indicator ✅
Perfume-Free ✅
Chlorine Free ✅
Price: $30 for 80
6. Best Overnight Baby Diapers: Coterie Diapers
Diaper Wetness Indicator ✅
Perfume-Free ✅
Chlorine Free ✅
Price: $90 per month
Diaper Wetness Indicator ❌
Perfume-Free ✅
Chlorine Free ✅
Price: $54.50 for 4
Diaper Wetness Indicator ✅
Perfume-Free ✅
Chlorine Free ✅
Price: $78 for 168 with subscription
Diaper Wetness Indicator N/A
Perfume-Free N/A
Chlorine Free N/A
Price: $14.99 for 3
10. Best Plant-Based Diapers: Terra Diapers
Diaper Wetness Indicator ✅
Perfume-Free ✅
Chlorine Free ✅
Price: $108 for 144
Diaper Wetness Indicator ✅
Perfume-Free ❌
Chlorine Free ✅
Price: $55.99 for 198
Ultra-absorbant ✅
Chlorine Free ✅
Perfume-Free ✅
Price: $19.97 for 46
What We Looked for in a Baby Diaper
Absorbency – How effective a diaper is at absorbing liquid is probably the most important factor when choosing the best diapers.

Diaper Wetness Indicator – A diaper wetness indicator is a line on the outside of the diaper that changes color when a diaper is wet so you don't have to undo the diaper (or do the sniff test) to know if it's soiled. It's usually a yellow line when dry that turns blue when wet.
Reviews and Diaper Ratings – We closely evaluated what other parents had to say about each diaper brand by reading hundreds of reviews. We also considered their average rating on Amazon and other retailers' websites.
Perfume-Free and Chlorine-Free – Perfumes (i.e. artificial fragrances) and chlorine chemicals can easily irritate a young baby's sensitive skin, so diapers without these toxins are ideal.
Diaper Price at Time of Publication – You're going to be buying a lot of whichever diaper you choose, so the price per diaper is an important factor. Can you buy them in bulk to save money? Is there a subscription option?
Eco-Friendliness – The variety of sustainable diapers available has grown over the years, so we searched for diapers made with responsibly sourced materials like bamboo, recycled plastic, or even cloth for a reusable option. You can also look for the Oeko-TEX-certified label, which means the diapers were tested for potentially harmful chemicals and toxins.
Baby Diaper FAQs
How to choose a diaper brand
There are a lot of factors to consider when choosing the best diapers for baby. We recommend considering absorbency, price, eco-friendliness, fit and comfort, and other customer reviews and ratings. It's also important to think about any specific features you need: Are you looking for an overnight diaper with the highest leak protection? Or something for an active baby that has a secure fit?
How to choose diaper size by weight
Rather than going by age for size, every diaper brand should have its own size chart that will help you choose the best diaper size for your baby based on their current weight. Here are general standards for how to choose diaper size by weight:
Up to 6 pounds: Preemie

Up to 10 pounds: Newborn

8 to 14 pounds: Size 1

12 to 18 pounds: Size 2

16 to 28 pounds: Size 3

22 to 37 pounds: Size 4

27 to 35 pounds: Size 5

35 pounds and up: Size 6
How to get rid of diaper rash
Diaper rash is unfortunately something that many parents have to deal with at some point or another. Often caused by wet diapers that are left on too long and rub against your baby's bottom, diaper rash presents as red and tender skin. The best way to prevent diaper rash is to keep your baby's bum clean and dry and change diapers often. Fortunately, in most cases, diaper rash is very easy to treat. The American Academy of Dermatology recommends cleaning the area with water and a soft washcloth or fragrance-free wipes and then applying a thick layer of zinc oxide diaper cream to soothe the skin. (We're also big fans of Dr. Mom Butt Balm.) If the rash worsens or if you think it's infected, contact your pediatrician ASAP.
Which brand of diaper is best for babies?
We hate to break it to you, but there really is no one best diaper brand for babies. It all depends on what you're looking for and what your little one prefers—each child is so different!
What is the number 1 rated diaper?
According to many sources, Pampers are not only the number one selling diapers at major retailers (like Target and Walmart), they're also the most used at hospitals and the most recommended by pediatricians.
Which is the best diaper for newborn baby?
While there's no specific brand of diaper best for newborns, Pampers Swaddlers are the most common diapers that hospitals use. The best brand, though, is the one that doesn't leak for you!
Is Huggies or Pampers better?
Once again, this depends on your own preferences. Some moms swear by Huggies, others swear by Pampers. Personally, I'm a fan of Huggies. They fit our baby better than as Pampers. That said, many moms prefer Pampers—it's all personal preference.
What diapers are safest for babies?
When searching for the safest diapers, it's important to look at the materials used to make said diapers. If you're worried about irritation or rashes, look for diapers that are free of chlorine, fragrances, phthalates, and latex.
What diapers do hospitals use for babies?
While it differs from hospital to hospital, many moms who have delivered at a hospital say they were given Pampers Swaddlers. However, Huggies are also a popular pick at hospitals.

Which diaper lasts the longest?
Many brands now make overnight versions of their diapers (like Huggies Overnites, Pampers Swaddlers Overnights, or The Honest Company Overnight Diapers). These are all designed to hold up for long stretches of time without leaking. They're typically much thicker than your average diaper and have built-in leak guards.
What diapers don't leak?
There are two factors that affect whether or not a diaper leaks: the absorbency and the fit. The more absorbent a diaper is, the more liquid it can hold in between changes. Huggies, Pampers, and Coterie are all highly rated for absorbency. However, fit is just as important. If a diaper gapes around the waist or at the leg bands, you can end up with pee soaking through your Lululemon leggings while you're at brunch (yes, this is based on a real event).
Best Baby Diapers
Parents go through about 3,000 diapers in their first year, so you and your diaper brand will get to know each really well. Don't forget, there are many styles out there that you can choose from which there might be a little bit of trial and error before you find your best fit–or really–your baby's best fit.
Photo: Freestyle Diapers, diapers and baby mat by Freestyle.