There are a lot of new parent gifts that turn into must-haves once the baby is born. A baby monitor is one of those! Finding the right one can feel overwhelming. With so many different kinds of baby monitors available, it is important to find the one that best meets your family's needs.
Some parents may be looking for a classic video baby monitor, while others may opt for smart baby monitors with extra features like sleep tracking and more.
Having options for all of these amazing baby products is great, but sorting through them? Not so much. The good news is that whatever you're looking for in a baby monitor, chances are that it's out there. The even better news? We've already done the research and found the 11 best baby monitors on the market.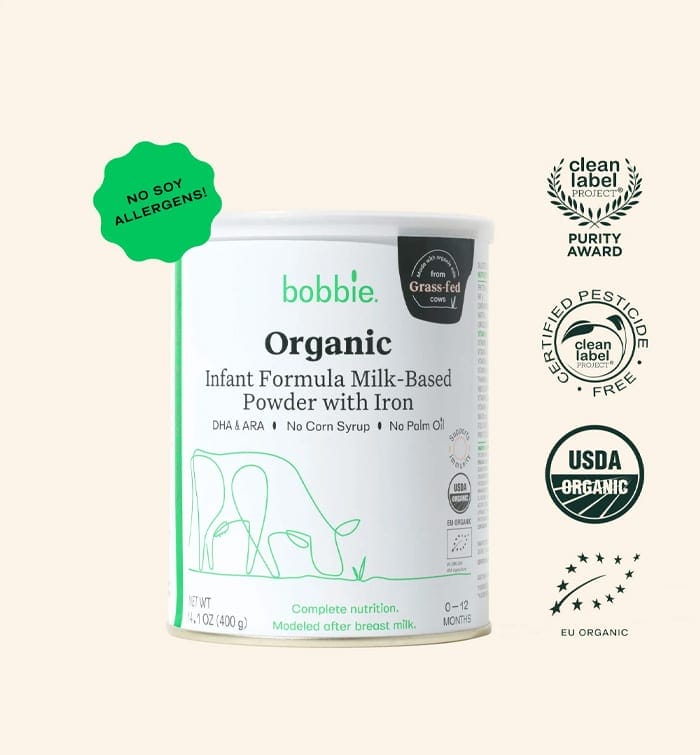 Shop Bobbie Organic Infant Formula
Bobbie Organic Infant Formula is a USDA Organic, EU-style infant formula that meets all FDA requirements. It is a complete nutrition milk-based powder modeled after breast milk and is easy on tummies. It is non-GMO and doesn't have corn syrup, palm oil, or maltodextrin. Learn more about Bobbie.
11 Best Baby Monitors 2023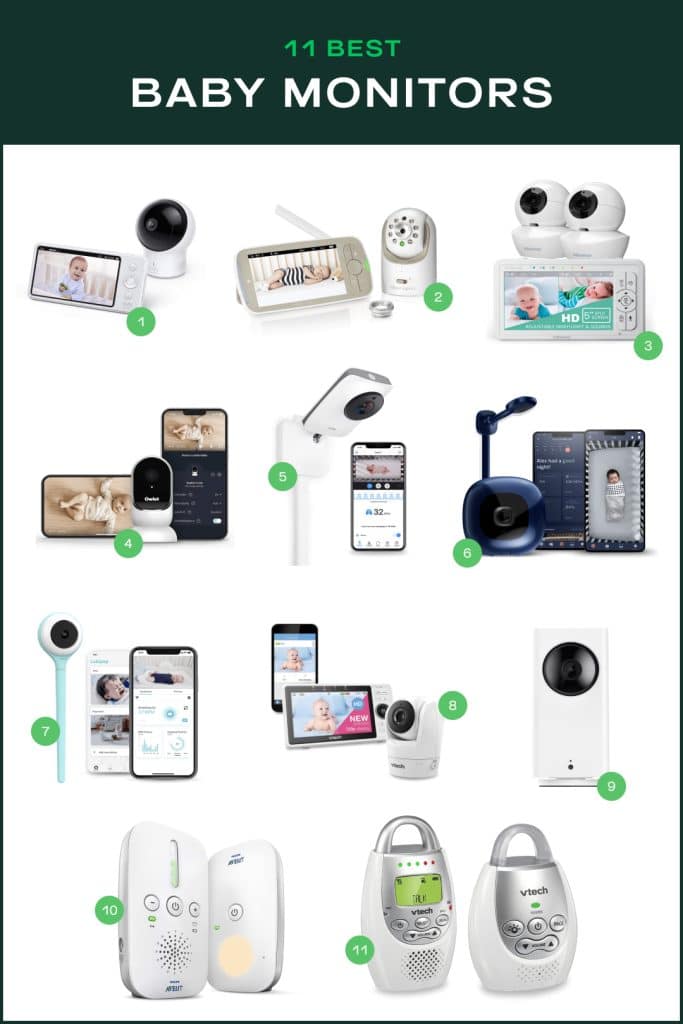 Which baby monitor is the best?
The best baby monitor is easy to use, has a good battery life, offers good video quality and sound quality, and most importantly, is reliable. You don't want a middle of the night connectivity issue that renders a monitor useless.
After that, it mostly comes down to personal preference. Do you want to be able to check in on the baby from your smartphone, or would you prefer to use a monitor parent unit? Do you need multiple cameras or just one? Do you want to be able to move the camera to remotely pan the room, or is a wide angle lens more your style? Our best rec is to ask your friends. Let them all give you the pros and cons of ones they've used.
What is better than the Owlet?
The Owlet Smart Sock is no longer being sold in the United States after the company received a letter from the FDA indicating that the Smart Sock should be classified as a medical device because of the heart rate and oxygen notifications it provides.
As Owlet seeks FDA marketing authorization for the Smart Sock as a medical device, the company has released a new product called the Owlet Dream Sock that tracks baby's heart rate, oxygen level, movement and wakings. The Dream Sock is available on its own or you can buy the Owlet Cam Video Monitor plus Dream Sock as a set.
The Owlet Cam is a smart HD video baby monitor that streams to your smartphone over WiFi. Three other baby monitors with similar functionality and information tracking also made our list: the Miku Pro, the Nanit Pro and the Lollipop baby monitor.
Can baby monitors be hacked?
The short answer is yes—both WiFi and analog baby monitors can be hacked.
Analog monitors use a specific radio frequency that a hacker would need to know and be close enough in range to access. Most baby monitors use encrypted channels, so a hacker would also need to get past that. Overall, it's less likely for an analog baby monitor to get hacked than a WiFi baby monitor.
To protect a WiFi baby monitor from hacking, experts recommend updating your router's firmware and making sure remote access to your router is disabled. You should also create a strong password for your WiFi network and baby monitor if it has one.
Do you need a baby monitor for a newborn?
Every family's needs are different, but a baby monitor can provide some peace of mind during the middle of the night.
Even if your newborn is sleeping in the same room as you, a monitor can be convenient during the day while the baby is napping without you in the room. If your baby is sleeping in a separate room from you, it's a good idea to have a monitor.
The best baby monitor is the one that's right for you. With so many baby monitors to choose from, the perfect one for your family is likely out there.
Before purchasing, if you have friends or family with babies, ask them what baby monitors they used and liked. Once you've narrowed it down, read customer reviews to get a sense of real-life experience of others with the monitor you're eyeing.
And remember, no matter which monitor you opt for, following the AAP's safe sleep guidelines is what matters most.