Our editorial team personally selects each featured product. If you buy something through our links, we may earn an affiliate commission, at no cost to you.
Newborns love movement. It makes sense because they're used to the motion all that "womb service" provided them in utero. After my son was born, swaying and rocking while holding him became my default mom stance. It was the fastest way to soothe my fussy baby especially after he ate and I stopped burping him. Was he still hungry? Was my infant gassy? Since he couldn't tell me, I was never totally sure, but I did know rocking him in my arms made it all better. Still, no one let me in on the secret that my son could get really heavy really fast. My arms and my back ached— until I found a baby swing.
Swinging it out in his baby swing was the only other way my son was comforted. He calmed quickly in his swing and loved watching the world go by as he gently rocked back and forth. Our baby swing was a lifesaver— and an arm saver, and a back saver, and a new mom sanity saver. Read ahead to find the 11 best swings for baby.
What is a baby swing?
Babies enjoy the soothing benefits rhythmic motion offers until they're old enough to self-soothe around the age of 6 months. But don't worry, you won't have to carry your baby around for another 6 months, because baby swings are here to help you out. A baby swing gives your infant the motions they love while giving you a break.
Whether your little one is fussy or just needs a quiet place to chillax, a baby swing holds your baby in a safe and soothing environment so your arms, back, and body can catch a break. Different from the movement a best baby carrier or best stroller wagon provides, a baby swing can be powered by a motor instead of you which gives you a much-needed rest. With so many baby swings out there, it can be hard to choose the best one for your infant. So, we're sharing the best baby swings on the market to help get your family swinging in the right direction.
Types of baby swings
All swings are not alike. With different designs to support different movements, there's only one thing that's truly the same: A baby swing's ability to soothe your infant. While your little one sits comfy and cozy swinging, swaying, or rocking, you can take a rest or watch 3.7 minutes of your favorite streaming show. Here's a list to help you discover which swing, motion, and style your infant might love the most.
Traditional Baby Swing: A baby swing has a reclined oval-shaped seat attached to a base that moves your baby in a swinging motion. These days, you can find swings that not only move front-to-back, but also side-to-side, and some that even mimic your swaying motion. Many baby swings are mechanically operated complete with timers, soft music, and different motion settings.
Full-Size Baby Swing: When space isn't a concern, this swing looks like a mini-indoor swing set has been moved into your living room. These front-to-back motion swings can be purchased with a motor or without and offers your kiddo the benefits of swinging in your home versus trudging all the way to the playground.
Glider Baby Swing: This type of swing works like its name— gently gliding your baby to a place of calm. A lot like a glider you'd find in a nursery, the smooth back-and-forth motion is a favorite of many infants and this type of swing can come with a motor or without.
Combination Baby Swing: This swing works like a Transformer but with less talking in a deep voice. These can be converted from swings to gliders, to rockers, or sometimes even a bouncer for the pickiest of infants. They're usually battery-operated and can be portable.

Portable Baby Swing: If you're ready for your first getaway or plan on taking many trips to grandma's house, a portable swing is easy to fold up and take with you. Lightweight and simple to manage, portable swings are great for travel and can be taken outside.
Toddler Swing: Swinging isn't only for babies, toddlers can benefit, too. The motion helps calm the nervous system and can ease those toddler tantrums. Toddler swings are made in a variety of shapes and sizes and can be hung or come with a seat and a base.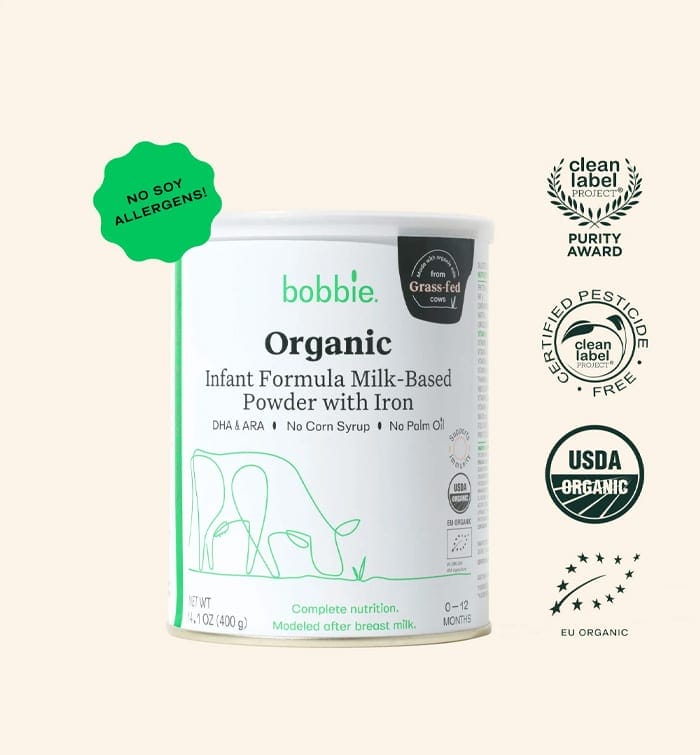 Shop Bobbie Organic Infant Formula
Bobbie Organic Infant Formula is a USDA Organic, EU-style infant formula that meets all FDA requirements. It is a complete nutrition milk-based powder modeled after breast milk and is easy on tummies. It is non-GMO and doesn't have corn syrup, palm oil, or maltodextrin. Learn more about Bobbie.
11 Best Baby Swings Of 2023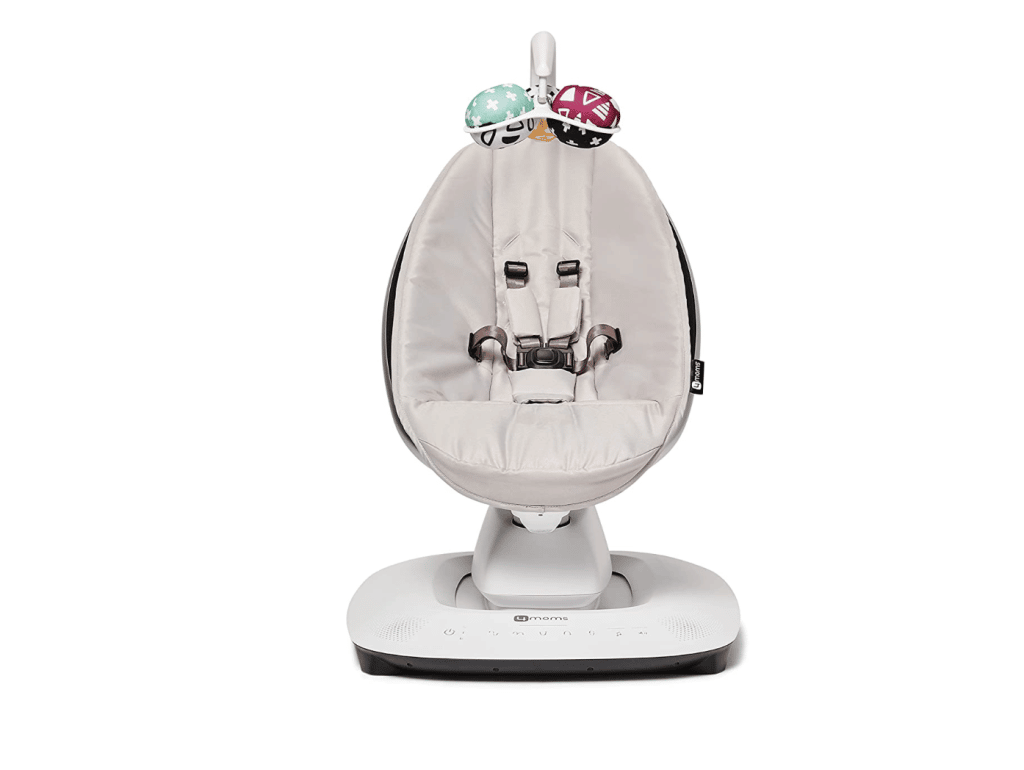 All of us moms know that eating meals with two hands while caring for a newborn is virtually impossible. If you're looking for a way to eat your breakfast with both hands, then this multi-motion swing is for you. With "5 parent-inspired motions" that move just like you do, 5 swing speeds, and 4 sounds, you can easily adjust any and all of these on your 4moms app to calm or entertain your infant. Great for helping soothe even the fussiest of babies, the Bluetooth capability lets you stream your baby's favorite tunes so they can easily rest or rock out to the motion you choose.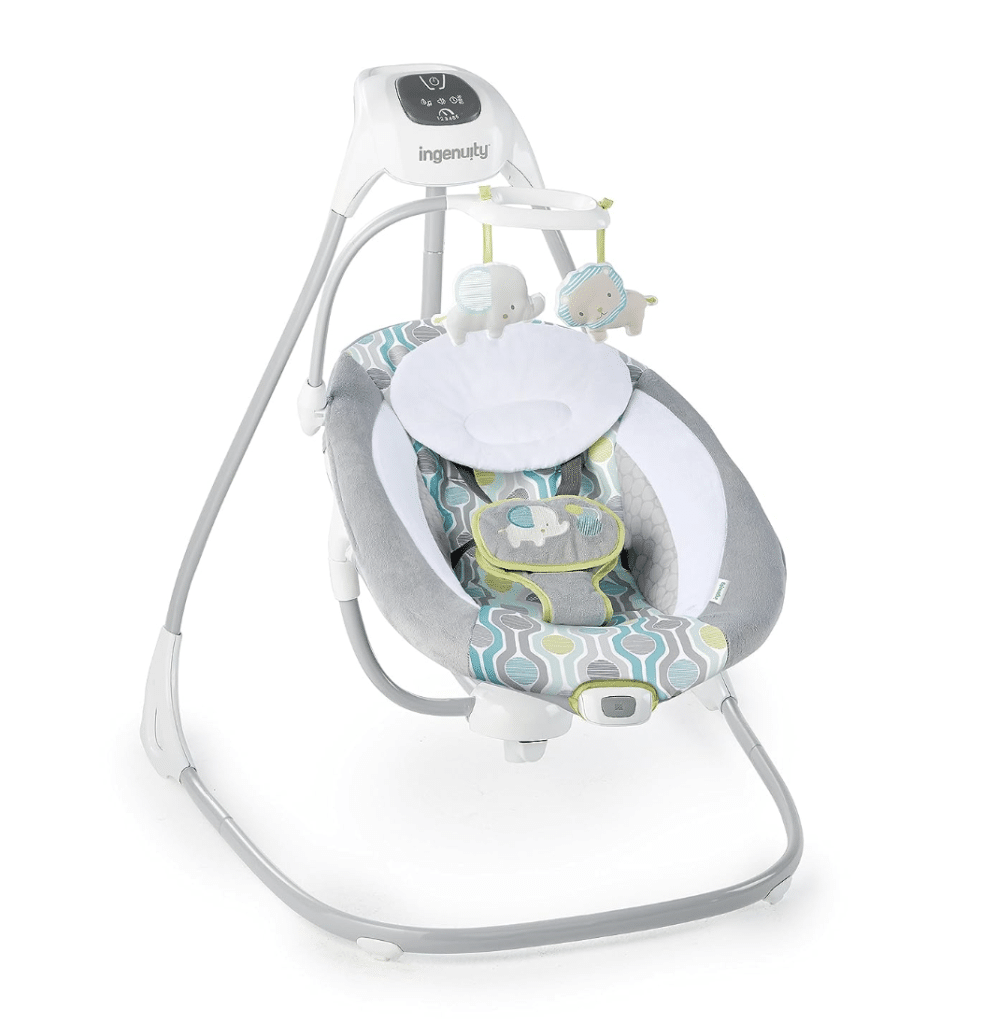 With over 4,000 positive reviews on Amazon, the Ingenuity multi direction swing is definitely a dream come true for babies and their parents. This swing rotates 180 degrees and swings 3 directions with 6 speeds, 8 melodies, 3 nature sounds and white noise. Of course, the best part is that it's affordable! Well priced and easy for your little one to zone out or chill out in— you can finally check items off of your to-do list.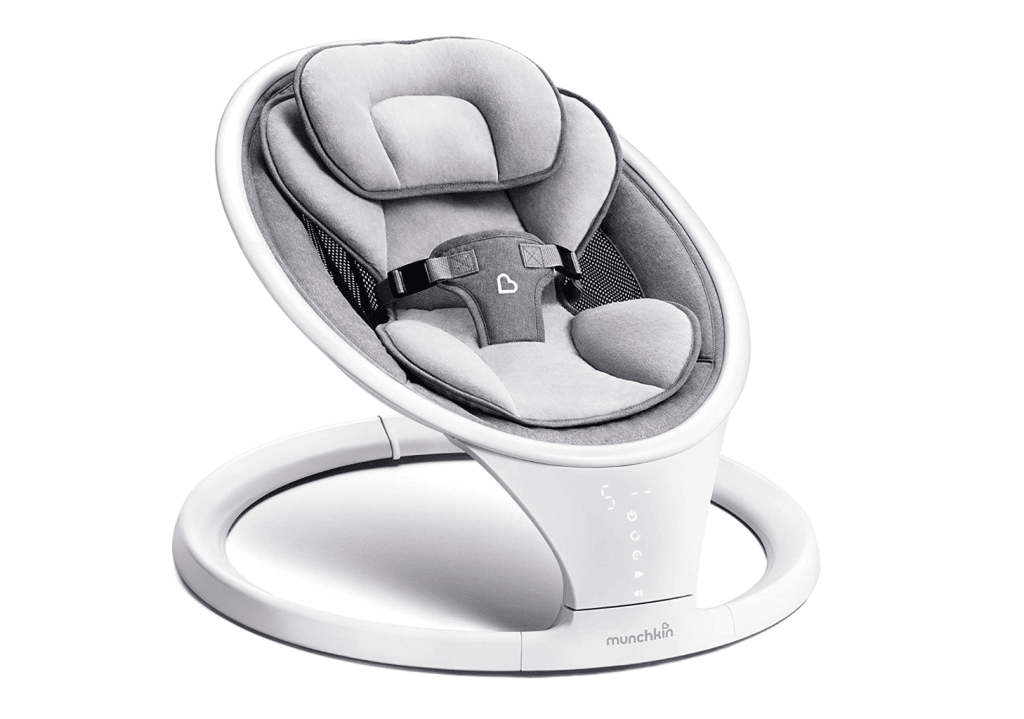 My mom "side-to-side sway" while holding my infant was as automatic as brushing my teeth before bedtime. It kept my infant calm in my arms— until my arms started falling asleep. Now, here's a swing that gives our tired arms a rest! This baby swing matches a mama's soothing side-to-side sway and the remote lets sleep-deprived parents control everything from the motion to the timer, to the calming sounds that'll keep your little one comforted. This swing is lightweight and can be moved and stored easily when you need a little extra baby-free space for tummy time adventures.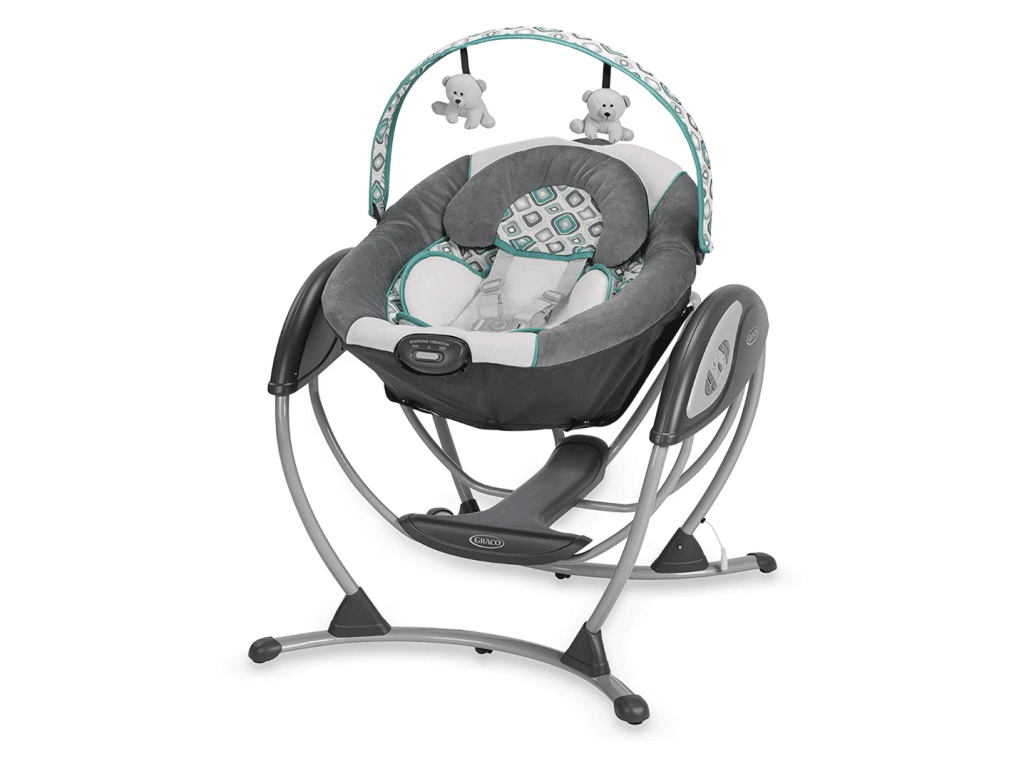 If you're looking for a swing your little one will be obsessed with, then look no further than this Graco Glider. Graco has been making trusted baby products for over 65 years and they know their audience. This glider baby swing has 6 speeds that mimic the same motion you use to cuddle your baby, and the plush seat makes it a cinch for your baby to snuggle. Since babies come with a lot of stuff, it's good to know that while this swing is a full-featured swing, it sits in a frame that uses approximately 40% less space than other swings— so you'll have more space for your mommy-and-me dance parties. Choose from 2 vibration settings, 10 classical songs, and 5 sounds located on the glider.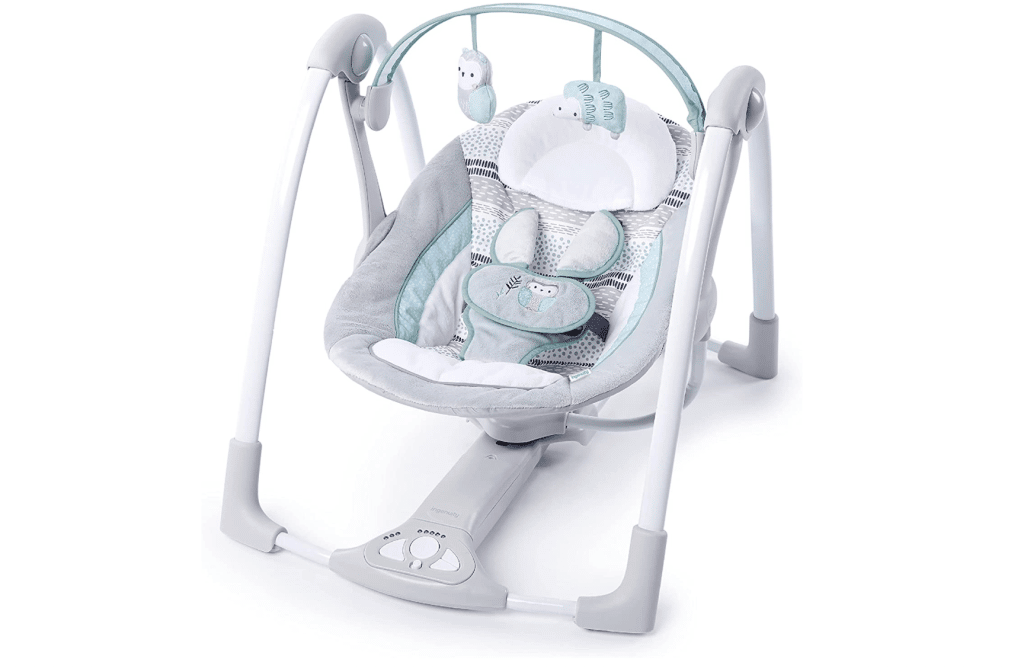 This foldable mini-swing packs up faster than your diaper bag. Just fold it over and tuck it away in your car for quick trips to visit friends, and family, or that long-planned fun-in-the-sun family vacation. Since it's battery-operated, your little one can swing in any room of your choice to one of 5 soothing speeds. With a machine washable seat-pad and headrest, 8 melodies, and 3 nature sounds, this swing can swing with all the greatness of a stationary baby swing in your home or, well…anyone else's.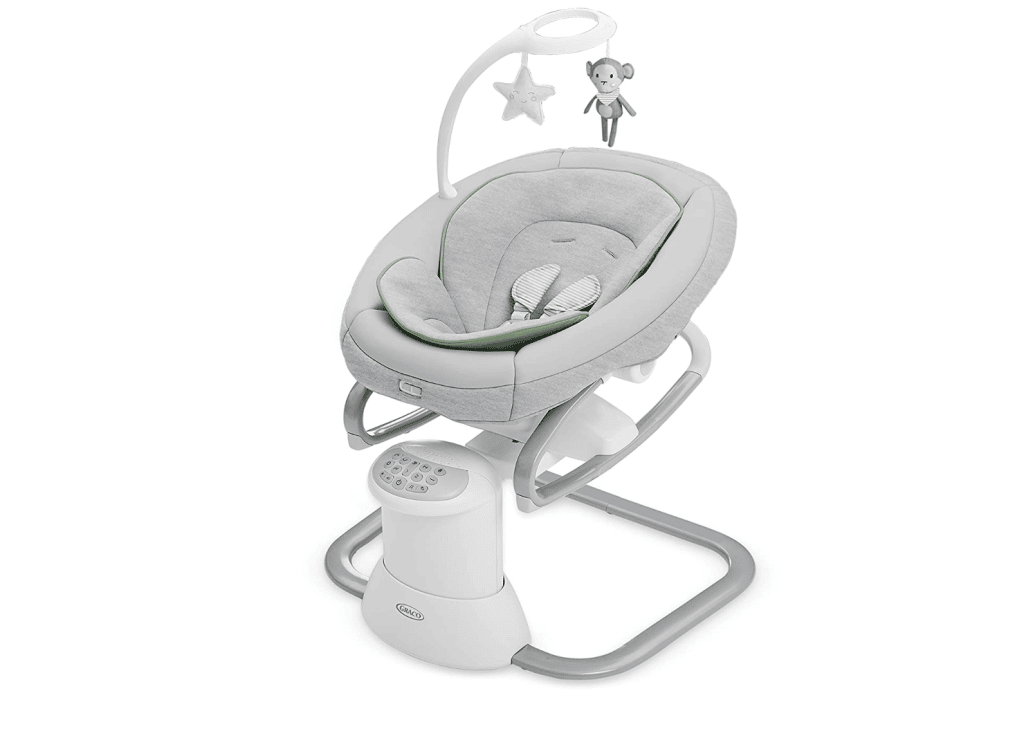 Graco's making all good things happen for parents with this baby swing that doubles as a removable rocker. Need a change of motion and scenery? Then simply remove the swing seat and place it anywhere in your home for a little rocking action. If your baby is as picky about their movement as your toddler is about eating their vegetables, then this seat is your new BFF. With 16 ways to soothe your baby, this swing gives you motions like "arch, swing, bounce, figure 8, circle, wave, zigzag, and sway." You've also got 3 recline positions, an adjustable toy bar, and 6 swinging speeds. The only thing this seat doesn't have is a cup holder for drinks.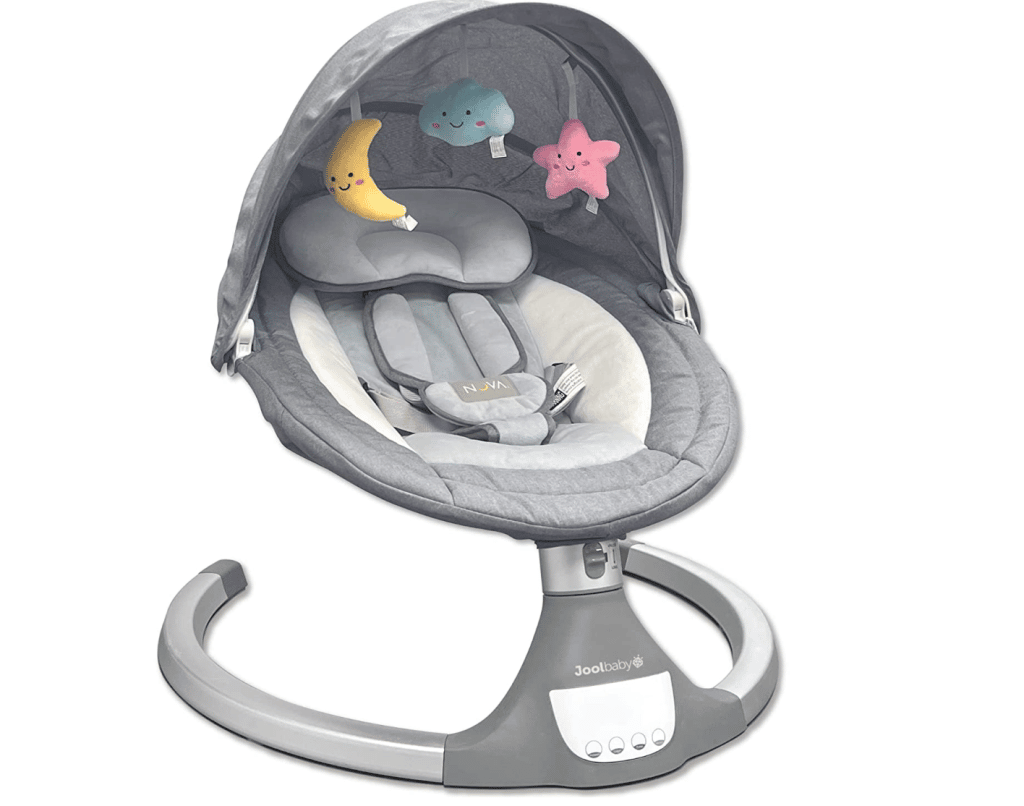 Go outside and get your Vitamin D because this indoor/outdoor swing features a protective mosquito net and an easy-to-remove washable seat cover. Powered by batteries or an AC adapter, this baby swing is ready to swing into action wherever you need it. With Bluetooth and USB options, you can play your kiddo's fav music or simply adjust the swinging motion speed using the remote or controls on the swing and enjoy a quiet tea party or afternoon nursing time in the great outdoors.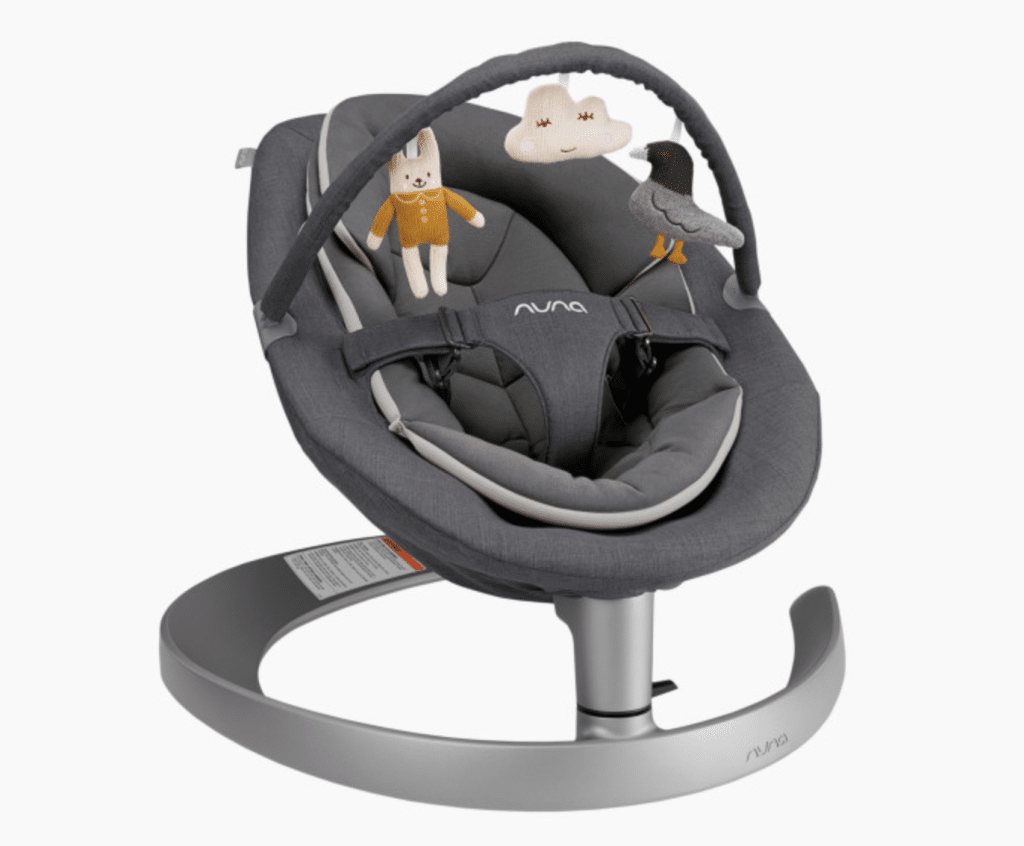 It's not only the littles who enjoy being cuddled and rocked, but bigger kids love the soothing motions of swaying, too. The LEAF is specially designed to grow your baby "from newborn to toddler to big kid." This baby swing is in a class all its own as it depends on "naturally generated motion" to get moving. With no cords or electronics involved, gently nudge the LEAF to start it moving and this motion lasts for up to two minutes unassisted. The LEAF comes with a removable three-point harness for when your child is ready to transition to the toddler seat.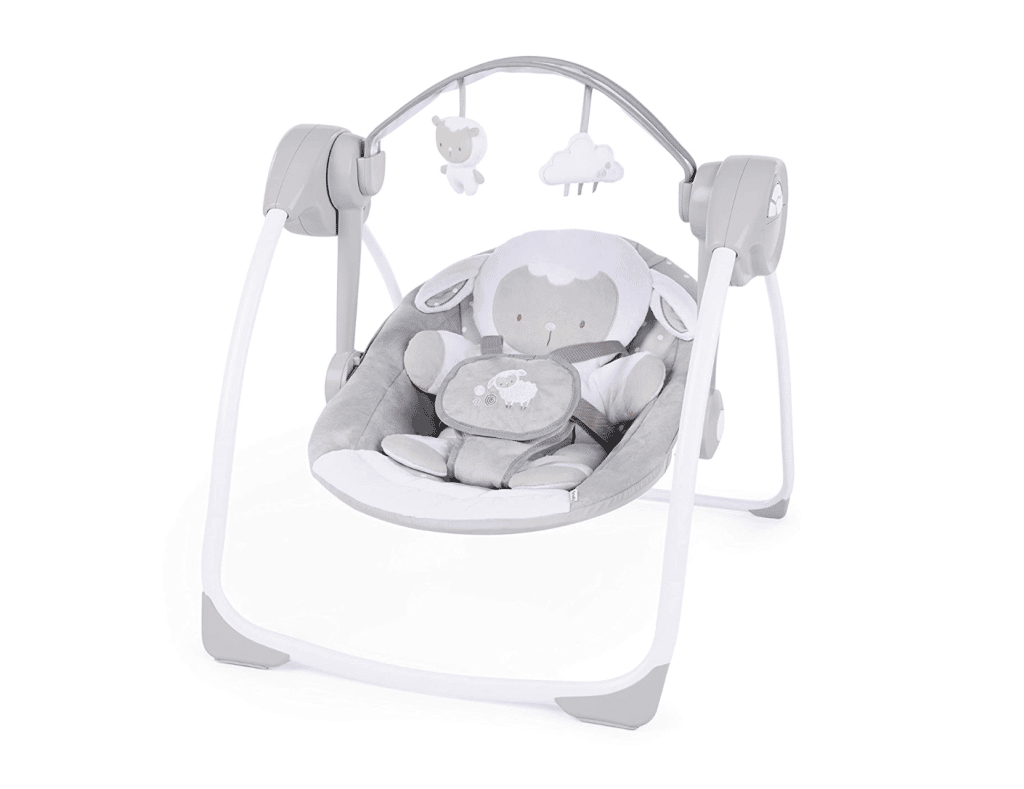 If you're short on space but big on swinging, then check out this mini-portable baby swing from Ingenuity. The small design makes this baby swing easy to move around your home or take up less space in your living room. Even though it's small, it still has 12 soothing melodies, 2 recline positions, and 3 convenient timer settings from which to choose. Don't forget the soft fabric and cute animal design that makes this swing an easy choice for kiddos needing some swing time and parenting needing a time-out.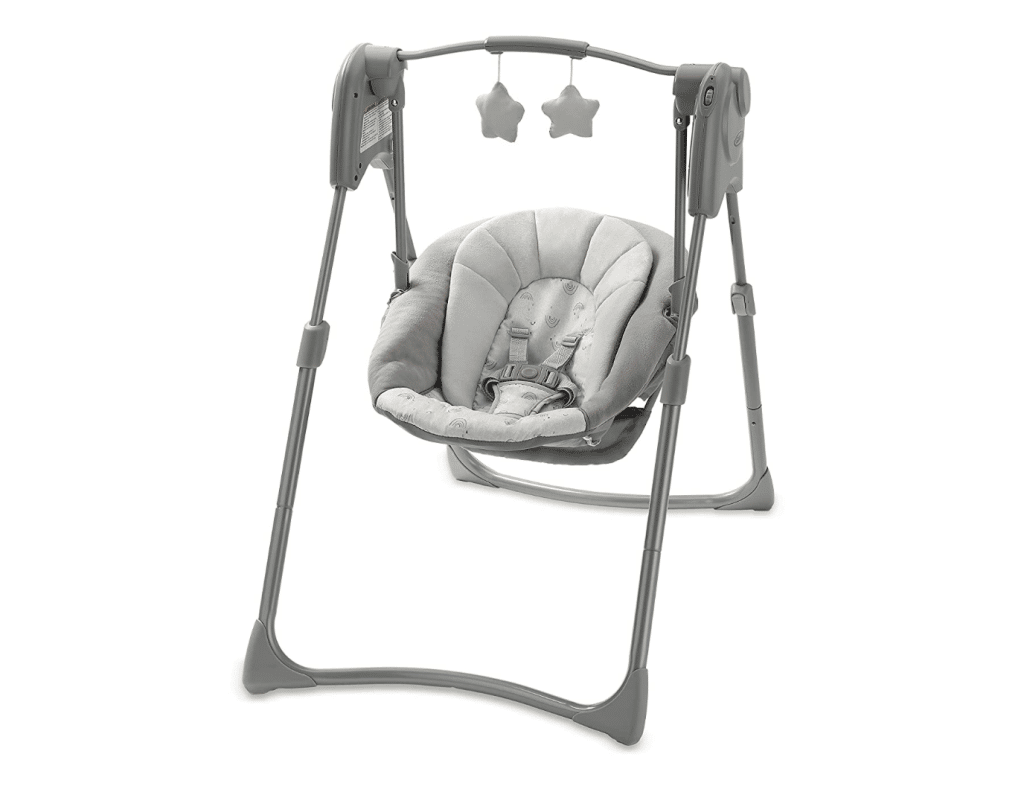 This swing offers you all the motion benefits of a full-size swing, but with a more compact design. With an adjustable swinging speed, you'll be able to find the perfect speed to entertain and comfort your little one. This swing also lets you choose between its space-saving compact mode or its bigger full-size mode to grow with your baby. Oh, and it's battery-operated with a carry handle, so feel free to move it anywhere and everywhere.
What age is worth buying a baby swing?
Most baby swings are intended for newborns until around 6 months of age. This is the age the motion of a baby swing will be the most beneficial as your little one adjusts to life outside the motion of the womb. Each swing varies, so be sure to read the instructions for important details and check out the height and weight limits and requirements, too.
The American Academy of Pediatrics (AAP) says to use the most reclined position for babies under 4 months old and also advises parents against using infant swings for sleeping babies. If your baby falls asleep it's suggested you remove them from the swing and place them in their safe sleeping area like their crib or bassinet.
Is it worth getting a baby swing?
Babies love movement and a baby swing is one of the greatest parenting personal assists ever created. A baby swing is a welcome product for keeping your child safe and soothed while you can get things done.
Are baby swings safe?
Lauren Crosby, MD, FAAP, and Bobbie Medical Advisor, says that when used correctly baby swings are safe for your baby, and that safety must always be considered. "The swing must meet the CPSC (United States Consumer Product Safety Commission) standards," Dr. Crosby says. This includes particulars like an adjustable incline, a 5-point safety harness, and a sturdy base to prevent tip-overs. Dr. Crosby adds you should never leave your baby alone in a swing and it should be noted swings are not safe for sleeping.
Can a baby sleep in a swing?
When it comes to your baby power napping in their swing, Dr. Crosby says, "The American Academy of Pediatrics safe sleep policy statement is very clear that a swing is not a safe sleep environment." If your little one does fall asleep in their swing they should be moved to their crib or bassinet. Dr. Crosby emphasizes babies should always sleep in their appropriate, safe sleep space such as their crib.
What are the safety regulations for baby swings?
Safety regulations for baby swings are requirements put into place to keep your baby safe while swinging. So, when shopping for your swing, make sure the one you choose meets the standards set. These include items like having the proper safety restraints and seat angles, structural integrity, and the appropriate electrical components. A list can be found on the United States Consumer Product Safety Commission Website.
Are some baby swings better than others?
Swings come in all sizes and shapes and can even have a different focus like rocking or swaying side-to-side. To this point, Dr. Crosby says, most babies don't need a swing with a lot of bells and whistles as these can be overstimulating. "They (swings) should meet the safety standards mentioned above, have no recalls, and be portable so you can move it to a different room as needed," Dr. Crosby suggests. Investing in a swing that's easy to clean is a big bonus, too.
What is the best baby swing in the market?
The best baby swing is going the be the one that works best for your newborn. The MamaRoo Baby Swing provides the best all-around motion, and for this reason, can work with your baby to give your little one the most choices in soothing movement. Other less expensive choices are sometimes just as exciting for babies, so this is totally up to you!
What is the best baby swing for newborns?
With 16 different motions and 6 swinging speeds, we love the Graco Soothe My Way Swing. It's a comfortable and dependable swing able to soothe your newborn while you take a break to soothe your tired arms. Again, this is a personal preference, and you can choose the one that best suits your baby (and your room!).
Is it worth buying a baby swing?
"As a working mom in my pediatric residency whose baby had colic, a baby swing was really a necessity for me," Dr. Crosby says. She goes on to say that a swing can provide extra comfort when a parent's arms and back are tired from soothing their fussy baby, when they need to take a business call, make dinner, or tend to others in the home.
What age is best for baby swing?
All swings are different, so be sure to chose the one that's the right age for your child. "Following the instructions carefully is important for safety," Dr. Crosby says. In general, baby swings are designed for newborns up until 6-months of age.
Are there baby swings to stay away from?
Dr. Crosby says to keep away from swings that don't meet the CPSC safety standards. Next look for things like recalled swings, used swings (as they may also have been recalled or too old to comply with safety guidelines), and dirty swings.
Best swing for baby
When searching for your best baby swing, notice if your baby prefers to be lightly bounced or maybe they fall asleep in .3 seconds when you start that gentle mama-sway. Then look for a swing that best imitates your soothing method because there's one out there to mimic all your actions to help comfort your infant.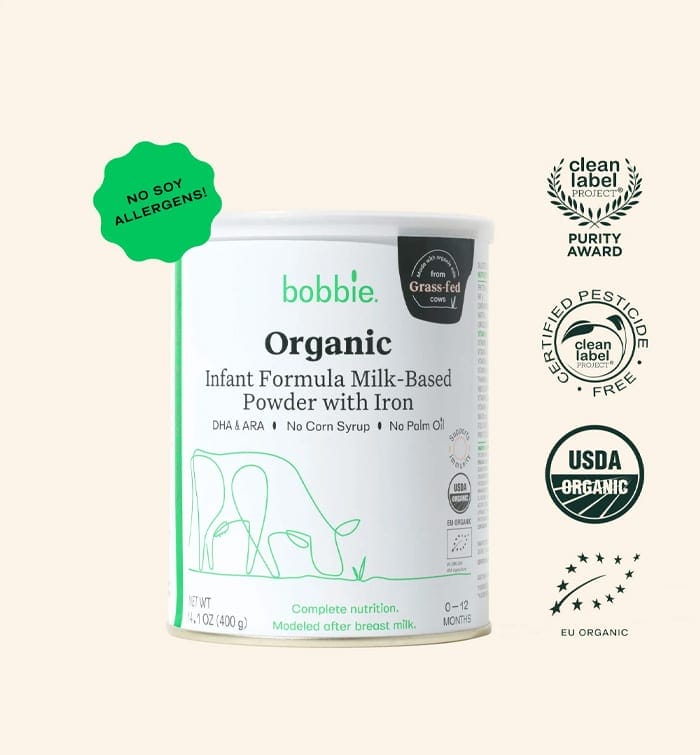 Shop Bobbie Organic Infant Formula
Bobbie Organic Infant Formula is a USDA Organic, EU-style infant formula that meets all FDA requirements. It is a complete nutrition milk-based powder modeled after breast milk and is easy on tummies. It is non-GMO and doesn't have corn syrup, palm oil, or maltodextrin. Learn more about Bobbie.
The content on this site is for informational purposes only and not intended to be a substitute for professional medical advice, diagnosis or treatment. Discuss any health or feeding concerns with your infant's pediatrician. Never disregard professional medical advice or delay it based on the content on this page.