Our editorial team personally selects each featured product. If you buy something through our links, we may earn an affiliate commission, at no cost to you.
If you're looking for an easy place to travel with kids where the sun is always shining and you don't need a passport, San Diego is it! Unlike visiting Northern California, it's always warm here in the south and with barely any rain, you can ensure a trip here means you get to do all the things. Traveling with kids can be a challenge, but it's also an adventure. If you haven't been to San Diego ever before, or haven't been in a long time, I definitely recommend packing the fam for a few days and heading here. You can do the beach, take trolley rides, visit the zoo and see the seals (the seals!) all within a few minutes drive.
Family Friendly Hotels in San Diego
Finding a family friendly hotel is super important when you're traveling as a family. This is the time to trade in boutique hotels with balconies and glass tables for hotels with easy transportation, good restaurants and great swimming pools (inside and out)!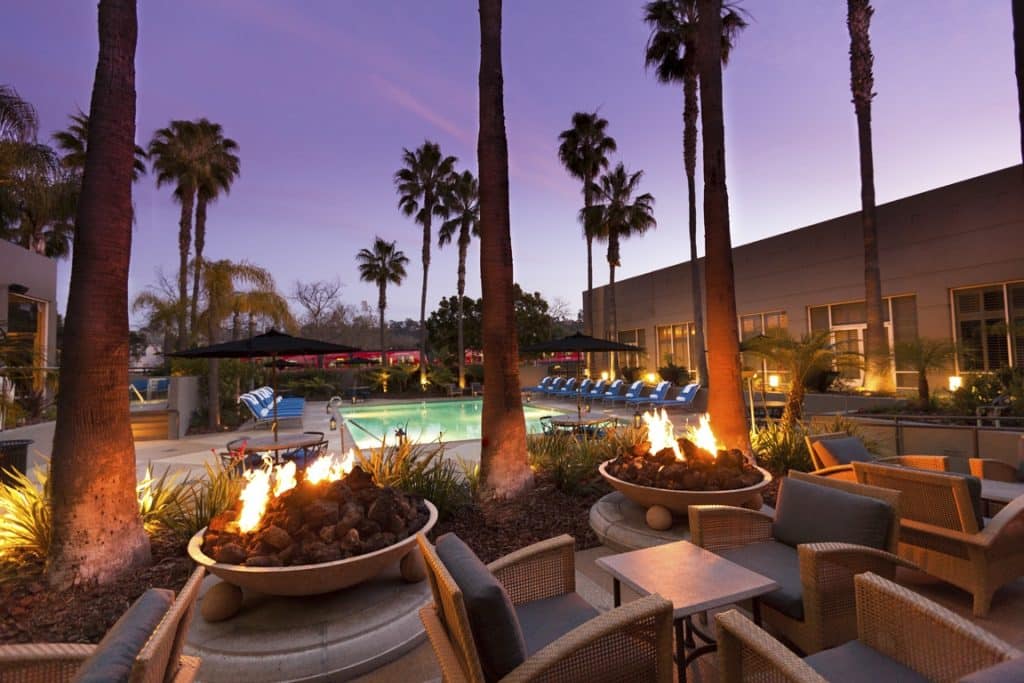 Staying at the Doubletree San Diego – Mission Valley
The Doubletree Mission Valley is the place to stay when you want to be central to all the fun, family things San Diego has to offer. This hotel is less than 10 minutes to the beach, Old Town, Balboa Park, San Diego Zoo and Downtown (the Gaslamp area). Not only is this hotel family friendly, but it's pet friendly, too! The rooms are large, there is an indoor and outdoor pool AND it's on a MTS Trolley Stop that goes to Old Town, Downtown, and Snapdragon Stadium! You can use a rental car, but what's more fun than taking the kids around San Diego in a trolley? (Nothing if you ask me and my daughter!)
Also, since it's a Doubletree, you start each stay with a warm chocolate chip cookie— the kids never forget that sweet little touch.
Best Places to Stay in San Diego With Kids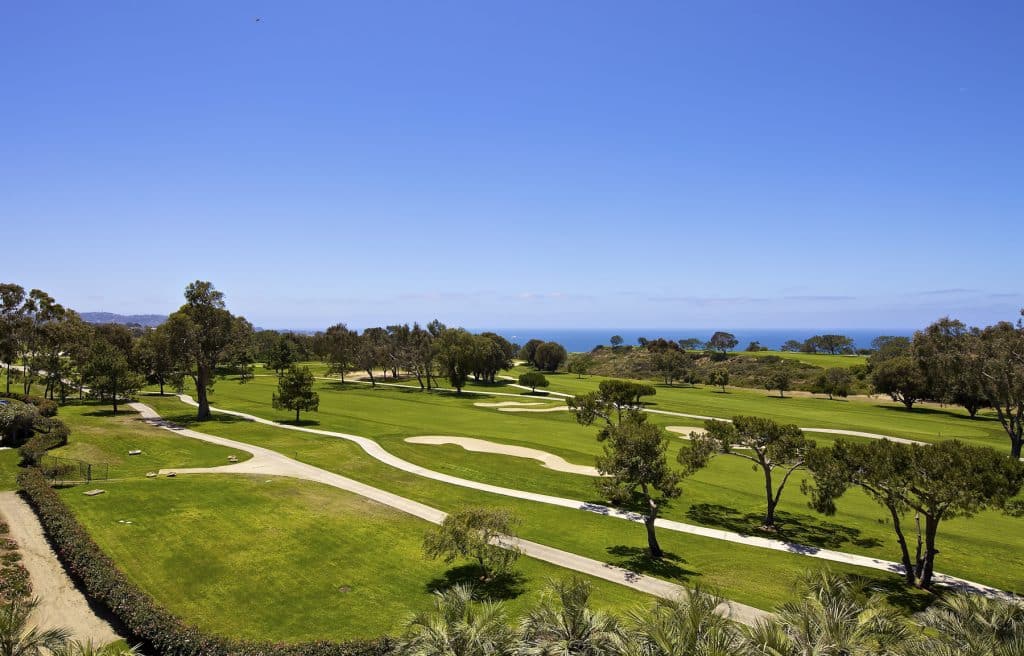 If you'd like a view of the pacific while you're in San Diego (and top notch golf), we love the Hilton La Jolla Torrey Pines. With unparalleled views of the iconic Torrey Pines Golf Course and the Pacific ocean, this hotel offers a unique, coastal setting. Families can explore the nearby Torrey Pines State Reserve, take the shuttle to the beach, or spend time at the hotel enjoying the pool and tennis courts. Plus, kids eat free for dinner at Torreyana, the hotel's on-site restaurant.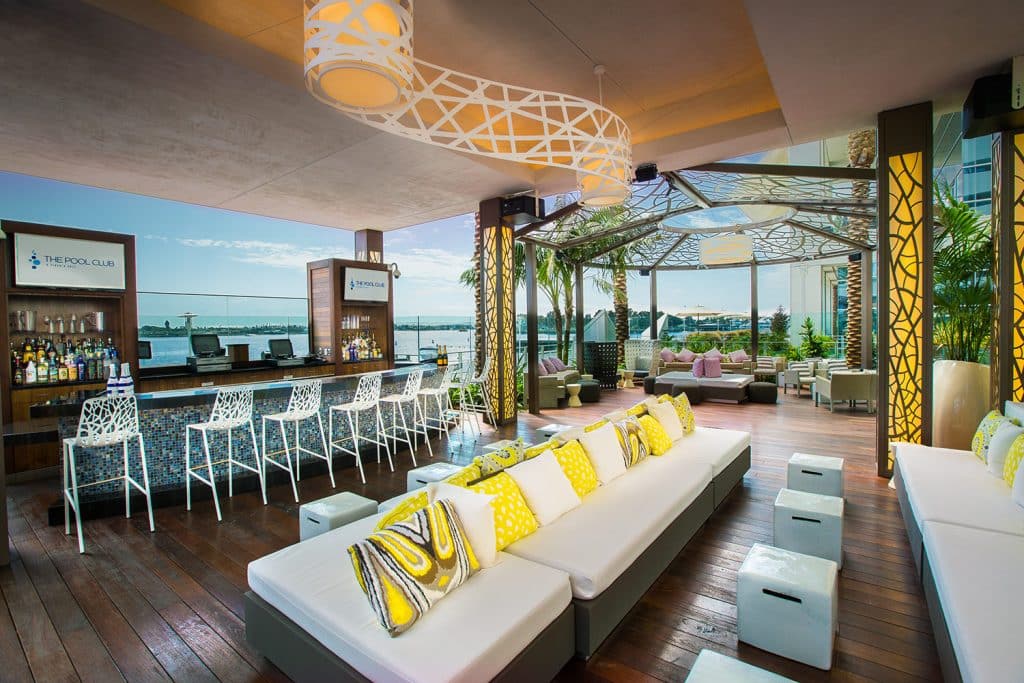 Urban coastal vibe more your thing? We hear you. At the San Diego Bayfront hotel, you're literally on the edge of the bay downtown. Families can enjoy the hotel's waterfront heated saltwater hotel swimming pool or catch a ride on the free beach bus to the iconic Coronado Island. Kids will love the hotel's self-serve frozen yogurt bar and can want ride bikes along the board walk. Got any baseball fans in the fam? The Hilton San Diego Bayfront is adjacent to PETCO Park
If you prefer your own condo or house while on vacation (more rooms, private outdoor space and a kitchen!) then you can try a San Diego beachfront condo with ocean views or a Spanish Beach Casita that sleeps 6.
5 Best Things to do in San Diego with Kids
There are classic, must-see places to visit when in San Diego. Even if you have seen them in your pre-kid life, go again. These can't be missed and you'll get a whole new appreciation with your littles in hand.
San Diego Zoo and Safari: The San Diego Zoo is a must see, they have over 3,7000 animals in an incredible setting. Need more adventure, check out the Safari Park which will really wow you and your kids. Ready for lunch? Head out of the zoo into Balboa Park and enjoy the views.
Birch Aquarium: Overlooking gorgeous La Jolla, the Birch Aquarium is home to over 5,000 fish in over 60+ habitats with amazing creatures including a rescued Loggerhead Sea Turtle, a Giant Pacific Octopus, Garibaldi and Moray Eels. Visit the outdoor tide pools to touch local creatures like young sharks or the two-story Giant Kelp Forest. Seadragons & Seahorses features one of the largest seadragon habitats in the world, and the new Moon Jelly experience is a treat for you and the kids in the Hall of Fishes.
Legoland California: If you haven't been to Legoland California, go for the day or stay for the night! There's a theme park, aquarium, water park and movie world here. There's also the resort if you want to stay in theme filled rooms— and not miss a moment of what Legoland CA has to offer!
Fleet Science Center: There is a lot to do at the Fleet Science Center! You can touch a tornado, design images with a sand pendulum, examine the vibration of guitar strings and get your hands on a variety of intriguing scientific phenomena through interactive exhibits for all ages. There are IMAX® films and digital planetarium shows as well as Studio X, where you can experiment, invent and create.
iFLY Indoor Skydiving: Flying is an amazing experience for parents and kids, especially if you're looking for an adventurous indoor activity during super hot California days. Though not exclusive to San Diego, you can plan some time here when you're booking other vacation activities and give the kids a huge surprise. Good for kids 3 and up, you'll love watching your kids fly as much as they'll love doing it! Booking an iFLY adventure is something memorable and the videos are definitely share worthy.
4 Unique Things to do in San Diego with Kids— Mom Recommended
Wonder what a local mom would recommend? Same! Bobbie mom Cat Canada, shares recommendations for fun days with her son, Declan.
When is a Good Time to Visit San Diego with Kids?
Anytime! The weather in southern California is dreamy all year round. It rarely drops below 44 degrees and usually stays under 84 degrees even at the high point of the afternoon. Add to that the little rain they get and no surprise it ranks as one of the best American cities for year round weather.
The content on this site is for informational purposes only and not intended to be a substitute for professional medical advice, diagnosis or treatment. Discuss any health or feeding concerns with your infant's pediatrician. Never disregard professional medical advice or delay it based on the content on this page.