Babies need their cuddle time and if you're looking for ways to keep your infant close, and also keep your hands free, a baby carrier is a wonderful way to accomplish both! A baby carrier allows the skin-to-skin time your baby needs while you answer emails, get your steps in outside, or maybe even sneak in that all-important bathroom break. Basically, a baby carrier allows you to get stuff done.
Finding ways to keep infants close has a long history, and caregivers have been baby-wearing (no joke) for thousands of years. This is a great item to have on hand with all your other baby gear like a bottle sterilizer, baby mattress, and a high chair. We spoke to a few Bobbie moms who shared which baby carriers they adore, why they are super awesome, and how they can be easier to navigate than a clunky stroller. "Carry" on to read their choice for best baby carriers of 2023.
What is a baby carrier?
A baby carrier lives up to its name allowing you to carry your baby against you. This specially designed device lets you "wear" your baby on your chest (and sometimes even on your back) so your child is kept safe and cozy right up next to you.
A baby carrier is soft and adjustable and has many benefits for both baby and wearer—besides letting you assemble your kiddos bottle and your own lunchtime PB&J hands-free. Babywearing is a wonderful way to bond with your baby. Babywearing also supports an infant in sleeping better (Sign me up!) and can even help soothe colicky babies.
Types of baby carriers
Soft structured baby carriers: A super popular choice in the world of baby carriers, this one is designed to keep a lot of the weight on the wearer's hips which makes them great for wearing your baby longer. This carrier has a body panel, buckled waist strap, and two shoulder straps which are generously padded for maximum comfort. Some SSC come with adjustable newborn head supports, too, in order to support a newborn's fragile head and neck. With this carrier you'll want to make sure the fit is adjusted correctly so that's it slightly snug because this will keep your baby securely next to you.
Baby wrap baby carriers: The opposite of a structured carrier, a baby wrap is a long piece of material that's knotted or tied around the wearer's body and creates a pouch. The material is designed to hold the weight of your baby and will fit over your shoulders and torso. It does this so the weight of your child is evenly distributed which can take the pressure off your hips and shoulders. Figuring out how to use the wrap can take some instruction reading or video watching, but it's definitely less confusing than assembling your baby's bassinet. With no buckles, clasps, or large padded areas, the wrap is easy to fold and pack in an oversized bag.
Ring sling baby carriers: Even though this sounds like a gizmo out of a Marvel Studios Doctor Strange movie (oh, wait, that's a "sling ring") this type of carrier is made from a long piece of material (like a baby wrap) but uses two rings to help make its cozy baby carrying pouch. No snaps or buckles in use here and the ring sits on one shoulder so your baby can cuddle up against your chest. When it comes to wearing, these are less puzzle-like than a baby wrap, but it doesn't work to distribute your infant's weight quite as evenly so it may take a minute to get used to wearing.
Hybrid baby carrier: With a hybrid carrier, you get the best of both baby carrier worlds: the closeness of a wrap and the ease of a structured carrier. There's enough structure for your baby to rest in a more "seated" position while you feel them snuggled up against you. These wraps have fewer buckles and claps than a SSC and some even slip on like a t-shirt which allows for some quick baby soothing.
Hiking baby carrier: These baby carriers are built especially for the great outdoors and walking long distances. A hiking baby carrier is bigger than your usual soft structured carrier and made for wearing on your back. These carriers generally have pockets for snacks (We can all use more pockets, right?), a sunshade, and a good suspension system to keep your back in shape while you carry your child. If you're ready to take your little one hiking know that this type of carrier is generally suggested for babies older than 9 months.
Now that you're up to speed on each type of baby carrier, let us "carry on" with the best carriers in each category. This way you can get a feel for which one (or two) might work for you. And check out our Bobbie mom reviews as those can help you on your baby-wearing journey as each mom spills the tea about her preferred carrier.
15 Best Baby Carriers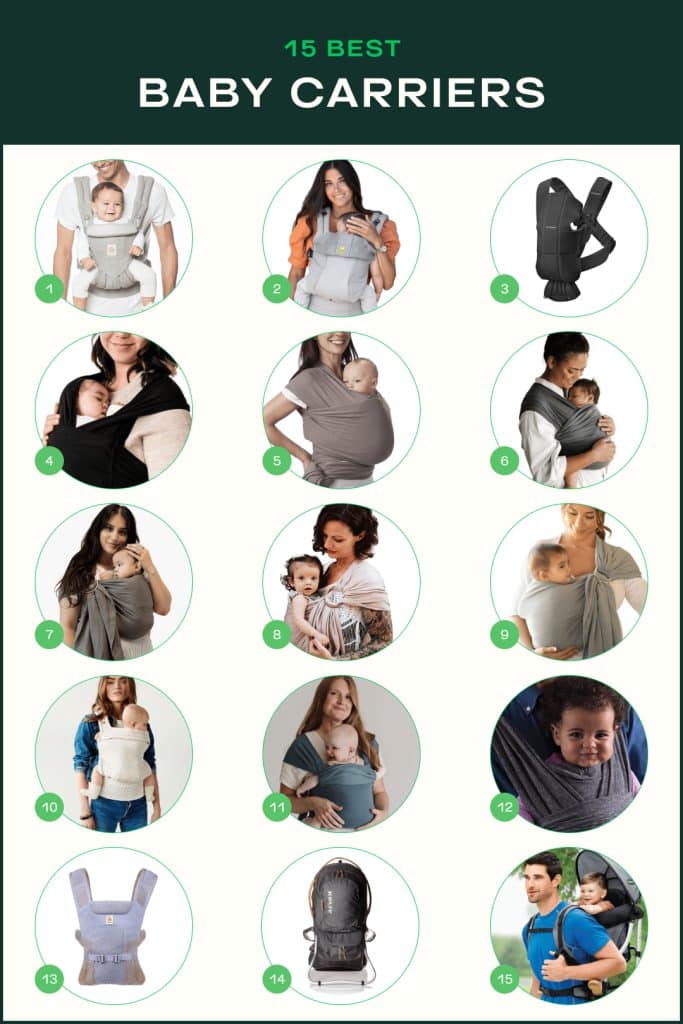 Best Soft Structured Baby Carriers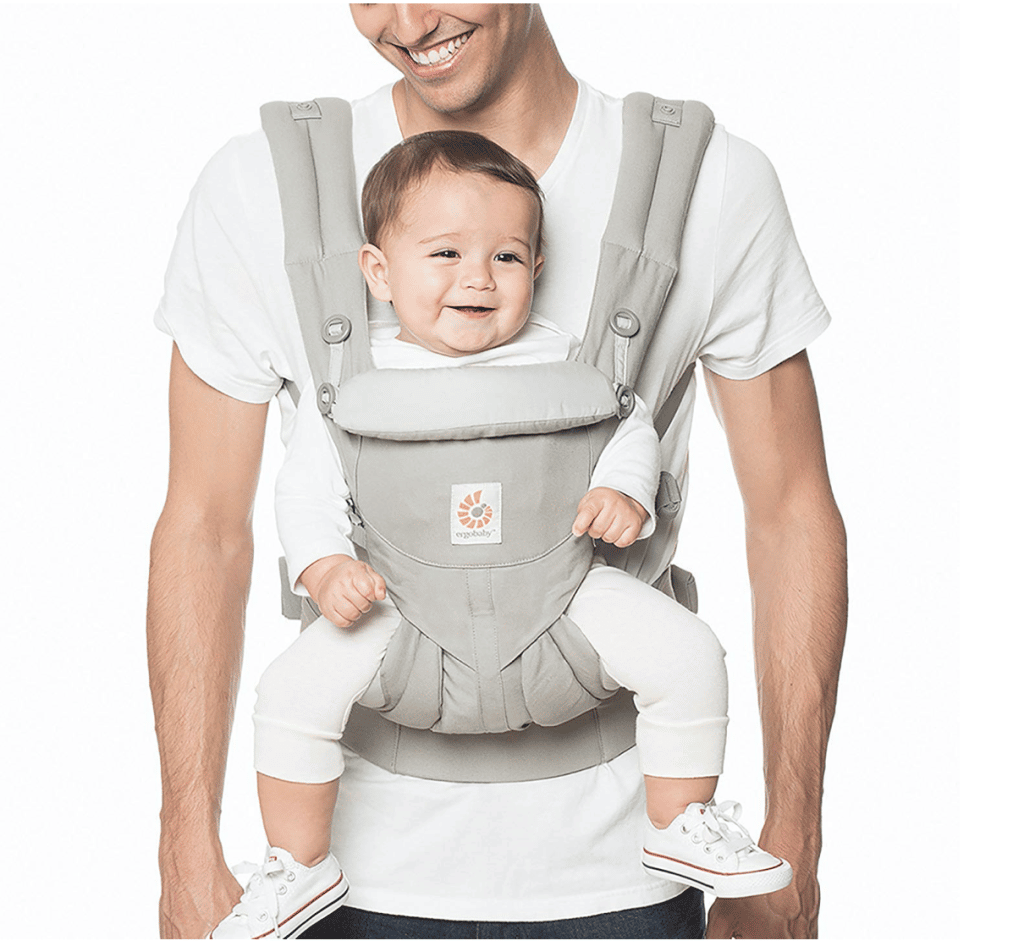 This soft-structured baby carrier has its own ergonomic seat that adjusts as your baby grows. For use with newborns up to toddlers, this transformer-like carrier can be used front and facing inward, front and facing outward, on your hip, and eventually moved to your back. The padded shoulder straps come with a criss-cross option and has double adjusters which gives you extra back support. Bobbie Mom, Jamie, says she primarily used the Ergo for her kids. "It was lightweight, easy to use, very comfortable, and I could put it on myself on my back," she says. Bobbie mom Frances is also a fan of the Ergo saying both she and her husband love wearing it!
Best Baby Wrap Carriers
6. Best lightweight and breathable baby carrier: Solly Baby Wrap
Best Ring Sling Baby Carriers
Best Hybrid Baby Carriers
Best Hiking Baby Carriers
Is a baby carrier worth it?
A baby carrier can give you the freedom you need to keep up with the fast-paced life of parenting while also giving your baby all the benefits of skin-to-skin contact and just getting in those extra sleepy-time cuddles. Those physical and emotional benefits extend well past infancy and deepen your connection. A baby carrier can help you carry on with your busy parenting lifestyle while keeping you're little one close.