Our editorial team personally selects each featured product. If you buy something through our links, we may earn an affiliate commission, at no cost to you.
As the list of products pile up on your baby registry, you might be wondering whether you really need all of these items. After all, people have been having babies since the dawn of time — well before Diaper Genies and fancy shmancy formula makers were invented — and they seemed to survive just fine.
While it's true that there's a seemingly endless amount of options available at your fingertips when it comes to just about every single category in the caring-for-baby sphere, there are a few items that might seem excessive but wind up saving you serious time (which, most parents can agree, is priceless).
One of those items is the baby bottle sterilizer. Because who wants to have to boil a pot of water (and wait for it to reach the perfect temperature) every time you have to sterilize your baby's bottles? You don't need a big pot at the ready with this list of best baby bottle sterilizers. The best sterilizer for baby bottles makes the job easy— it can be a small counter-top unit or even your microwave. Small things, moms, small things.
Do you really need a baby bottle sterilizer?
According to Lauren Crosby, MD, FAAP, and Bobbie Medical Advisor, you will need to sterilize your bottles if your baby was born prematurely, has a compromised immune system or is younger than three months old. With any new bottles, nipples and caps, you'll want to sterilize before the first use.
Additionally, if you plan on traveling during that first year, a sterilizer for your baby bottles might come in handy should you be staying at a hotel that doesn't come with a kitchen. So, needless to say, a bottle sterilizer just might become your new best friend.
Which is the best bottle sterilizer?
There are so many out there to choose from, each with their own unique set of features, so it pays to spend some time looking over what each sterilizer offers to determine what might work best for you and your family, especially during those early, and often sleepless, days and nights of parenting. "There are many ways to sterilize baby bottles— from boiling water to electric bottle sterilizers," says Dr Crosby, "Find the method that works best for you."
What is the safest way to sterilize baby bottles?
Using a bottle sterilizer is a safe way to sterilize baby bottles because these machines are designed to kill up to 99% of bacteria and viruses from the bottles themselves. Another alternative is boiling the bottles in water on a stove. Simply disassemble the bottles, place them in a pot with enough water, bring the water to a boil and let it boil rapidly for 5 minutes or as directed by the bottle manufacturer. Remove from the heat and allow the water to cool before using sterile tongs to remove the pieces.
Tips for Choosing a Baby Bottle Sterilizer
Most sterilizers work in a similar fashion, but, of course, there is a wide variety available on the market today. Here are a few tips for how to choose the right baby bottle sterilizer for you — and what features to look for.
Make sure it's the right capacity
Depending on your needs, you may require a bottle sterilizer that can clean multiple bottles at a given time — this is especially true if you have multiples. Also, if you plan on exclusively formula feeding, you will likely have more bottles that require cleaning than someone who is combination feeding.
Check how long it takes to sterilize each bottle
A bottle sterilizer should save you time, so it's a good idea to look into the length of each cycle on a given bottle sterilizer before purchasing it. Some high-tech bottle sterilizers can do their job in as little as a few minutes, while others might take closer to 15 or even 30 minutes to do a full clean.
Consider added features
Some sterilizers on the market today come with some cool added features, such as automatic drying and even added storage, which can come in handy if you're short on counter space. Auto-shut off is another cool feature that can seriously come in handy, especially for sleep-deprived parents.
Is UV or steam sterilization better for baby bottles?
There are two main types of bottle sterilizers: UV and steam sterilizers. Steam sterilizers use the more traditional method, using natural steam to kill 99.99% of potentially harmful bacteria. This type of sterilizer tends to fit more bottles, since the steam flows through the entire device, killing anything harmful in its way.
UV sterilizers, on the other hand, use ultraviolet (UV) light to kill the bacteria instead of steam. While this method also works, it's important to point out that, unlike steam sterilizers, UV sterilizers only work on the items in which the light is able to reach. This is why UV sterilizers tend to be smaller.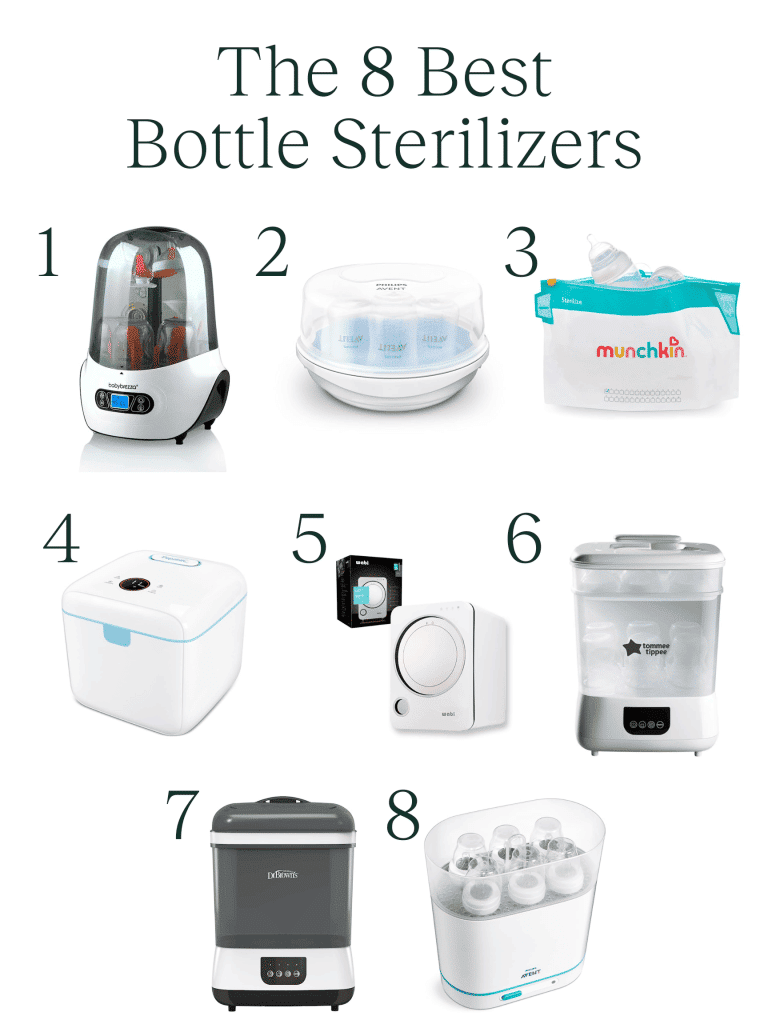 8 Best Baby Bottle Sterilizers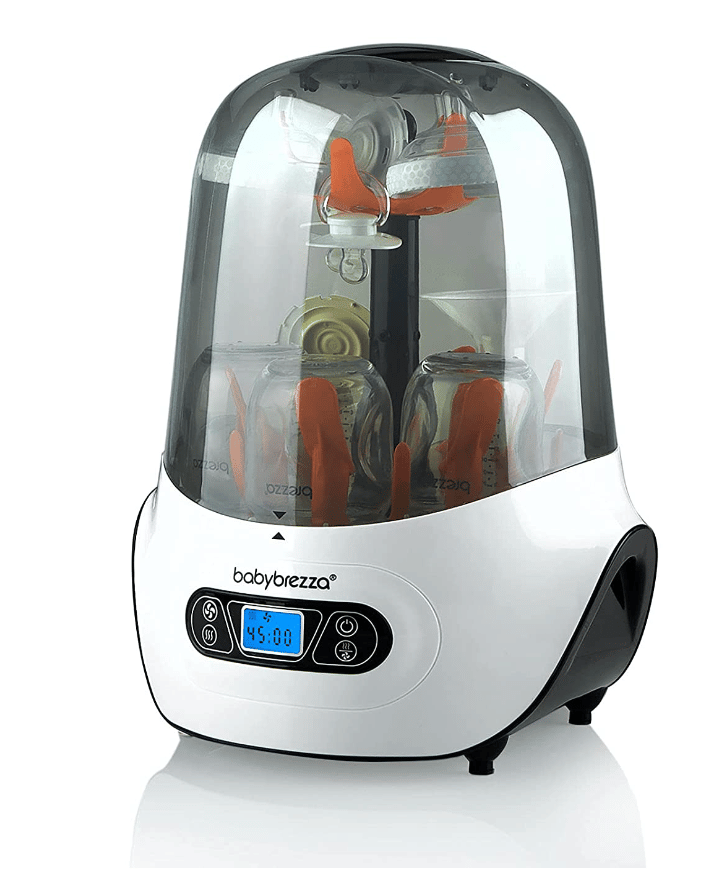 Baby Brezza is known for their high-tech products that make parents' lives easier, so it's no surprise that they make a stand-out bottle sterilizer with some pretty impressive features. It sterilizes up to 6 baby bottles in just 8 minutes flat and has a sleek appearance that blends well on your countertop. You can choose between three different cycle lengths (30, 45 and 60 minutes). It shuts off automatically once the cycle is complete and also has a drying feature so that the bottles are ready for use when you need them.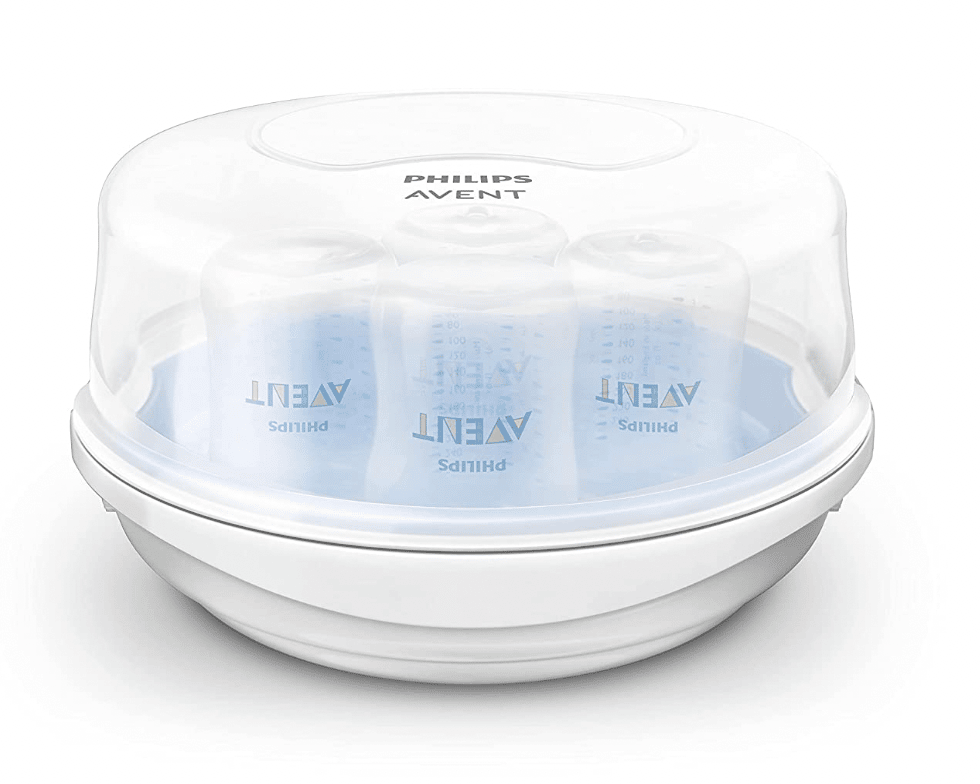 If you're looking for a bottle sterilizer that works in your microwave and doesn't take up space on your kitchen counter, this is a great buy. At less than $30, this lightweight device can sterilize your baby bottles (and pump parts) fast — in under two minutes — and it can hold four bottles at a time. If you're not in a rush to use the bottles post-sanitization, you can leave them inside the sterilizer for up to 24 hours.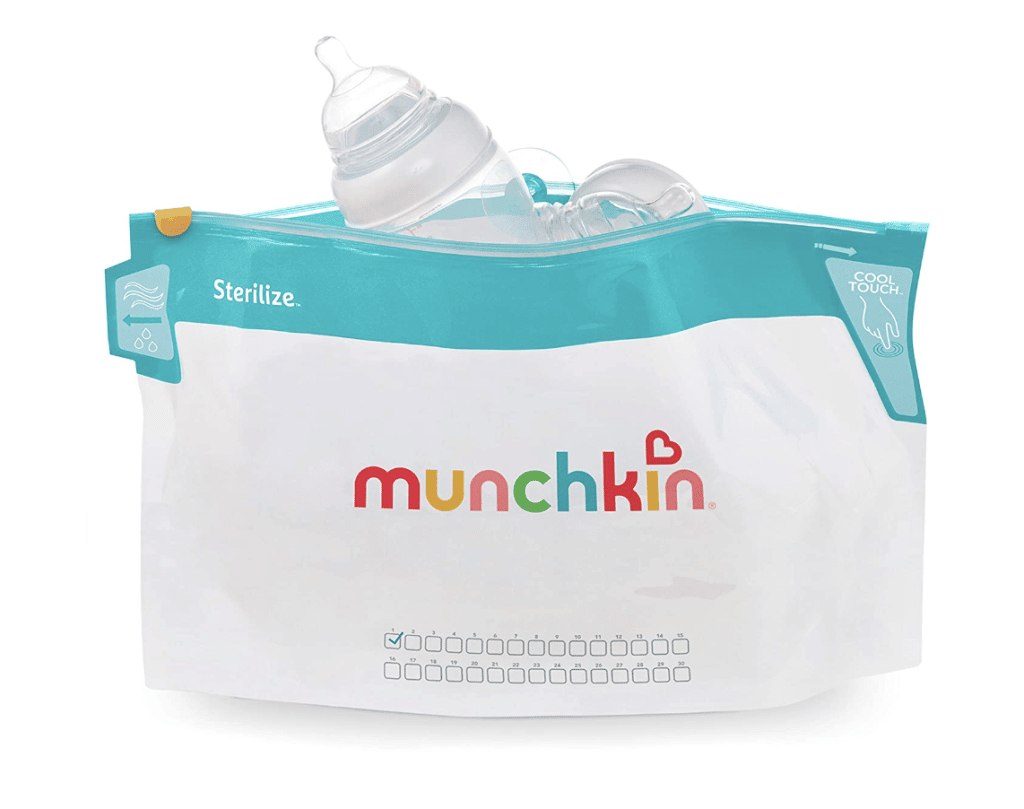 All you need for sterilizing baby bottles on the go is a microwave and these sterilizer bags, which kill up to 99.9% of bacteria in a matter of seconds (90 to be exact). Each packet comes with 6 reusable bags that last up to 30 cleans. While the bags aren't huge, they do fit a day's worth of bottles inside, so they really are convenient when you're staying in a home away from home. Another cool feature is their cool-touch grip that prevents burns when you go to pick them up.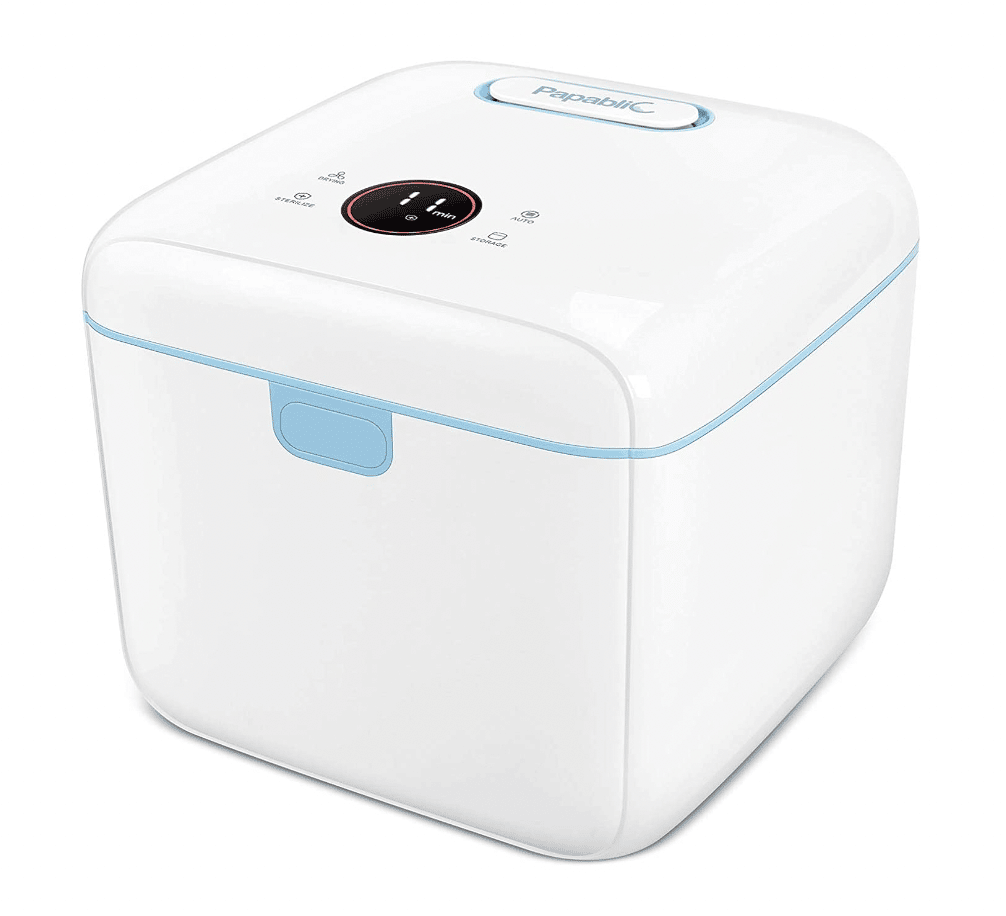 This UV light sterilizer isn't made for just bottles — it can sterilize just about any device in your home, which makes it useful long after your baby has graduated to the sippy cup. It is equipped with replaceable UV-C bulbs that have a lifespan of 6000 hours and features a user-friendly touch screen that lets you choose the timeframe and cleaning mode. Since it can fit a lot of items at one time, this one is a great choice for parents of multiples.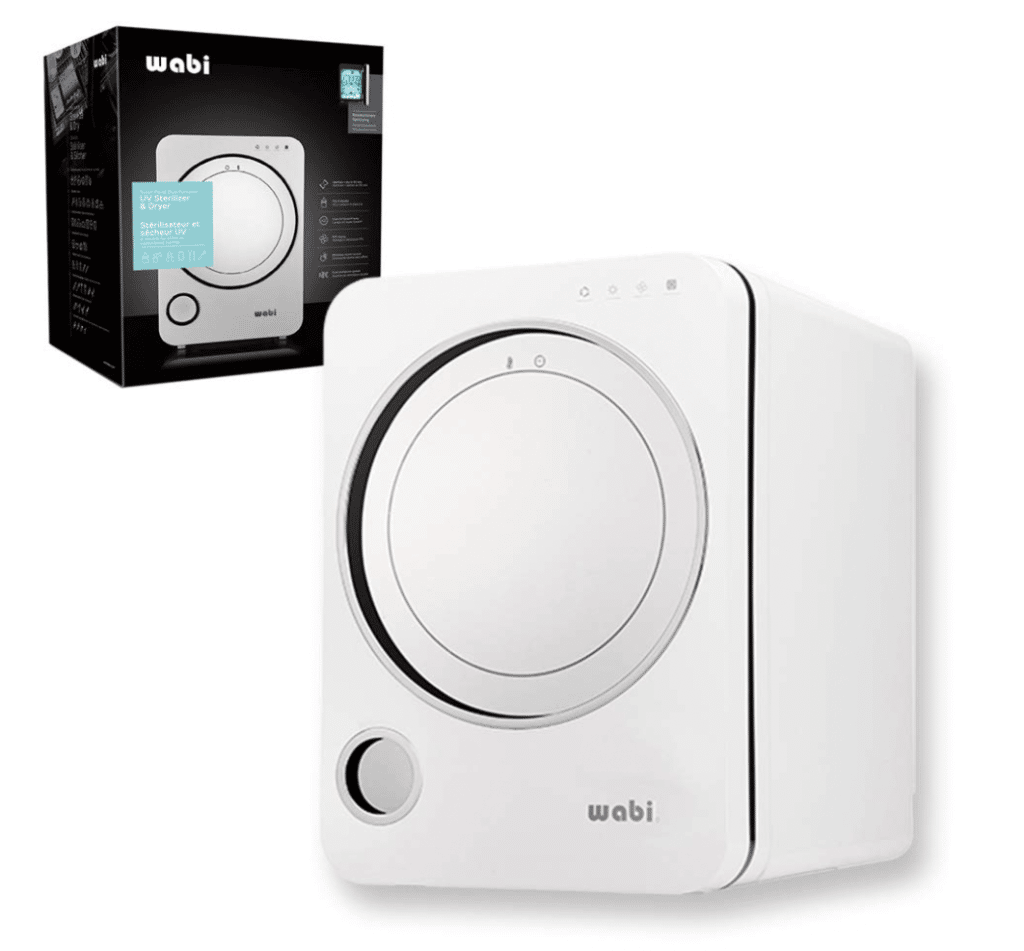 While this bottle sterilizer is on the pricey side, most parents who've used it agree that it's very much worth it. It features two UV bulbs that sanitize pretty much any items along with your baby bottles—remote controls, keys, phone covers, you name it. Each cycle takes about 30 minutes and there's an auto-shut-off feature that takes one thing off your day's to-do list. Another cool feature is that you can choose to have the machine re-sterilize throughout the day should you not be home in time.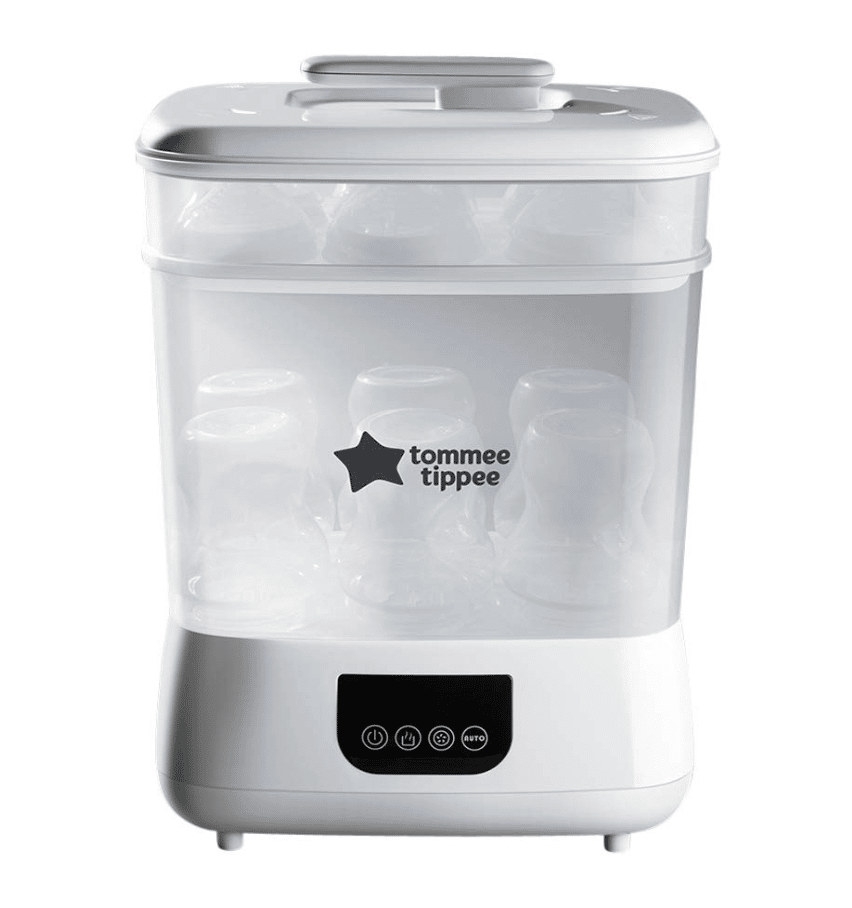 This high-tech bottle sterilizer looks sleek on your kitchen counter and works fast and conveniently to kill up to 99% of harmful bacteria from your baby's bottles. It can fit up to 6 bottles at a time along with other items such as pump parts and pacifiers and works in as little as 35 minutes. It also dries the bottles within that same timeframe so that they are ready for use right away.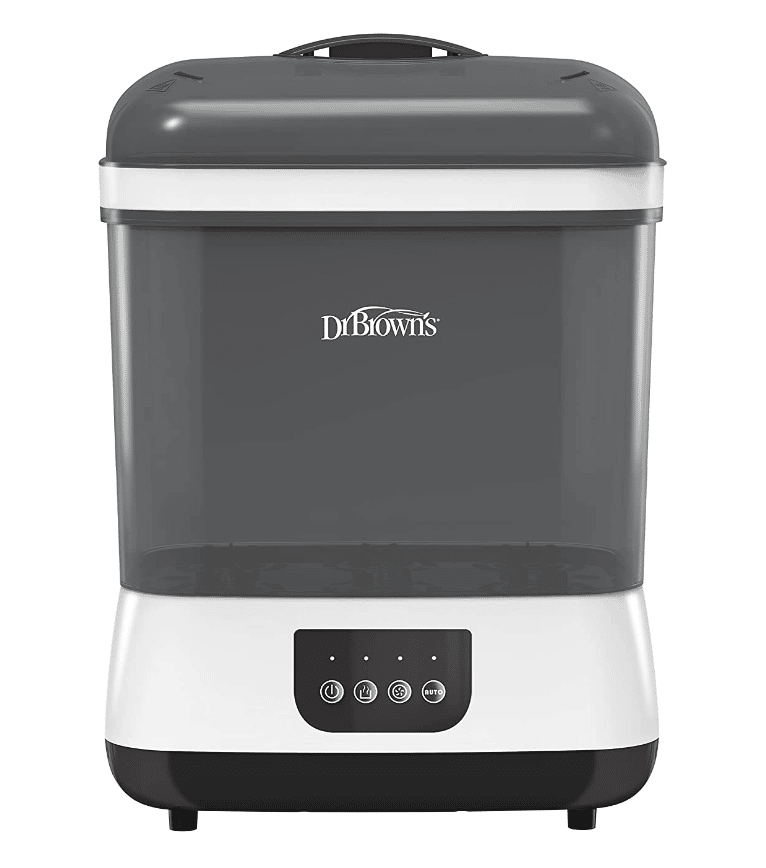 Most preemies or babies with special feeding needs require the use of special bottles, and many times that's Dr. Brown's since they offer a slow flow and are sized just right for tiny mouths. That's why many parents of preemies like to use the Dr. Brown's Clean Steam Baby Bottle and Pacifier Sterilizer and Dryer that is specialized for use with Dr. Brown's bottles. It sterilizes and dries bottles and stores them for up to 24 hours and includes an advanced HEPA filter that keeps 95% of particles out.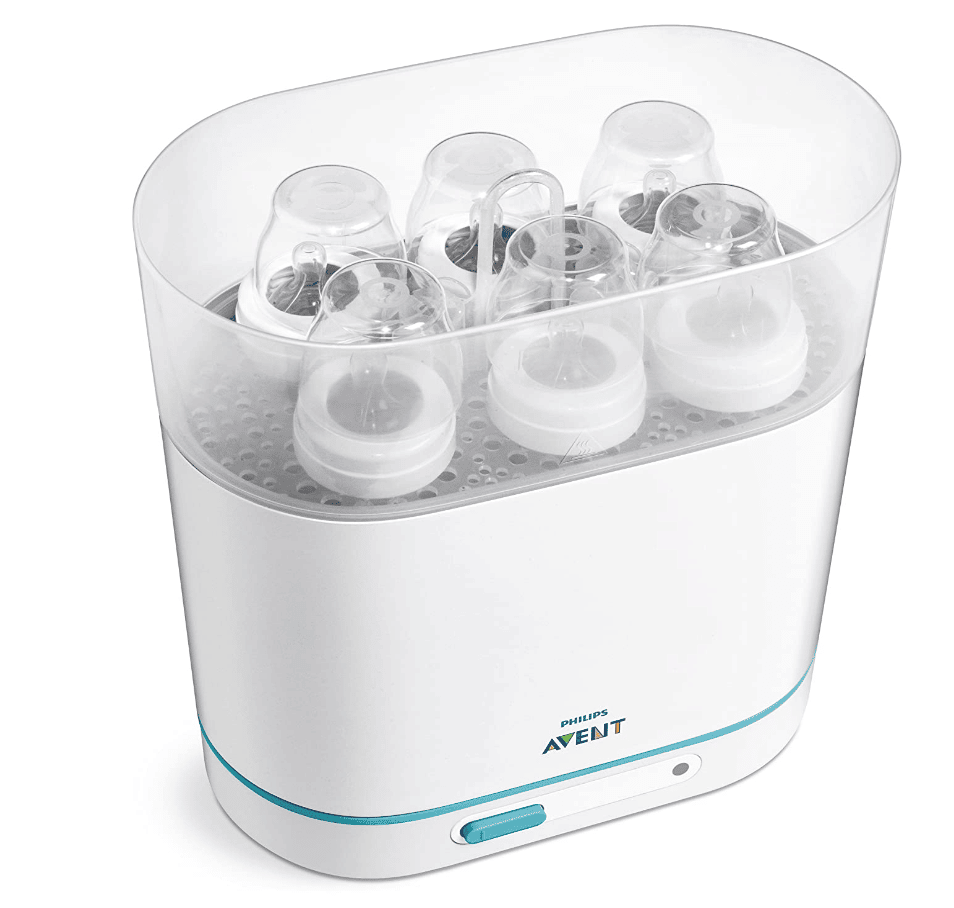 Don't have much counter space? No problem. This electric steam sterilizer doesn't take up much room, but still fits up to 6 bottles that it can sterilize in as little as 6 minutes flat. It has a 3-in-1 adjustable design that lets you fit even more items, like pump parts and accessories. It works with all bottles and has a unique open design that makes it easy to keep the device clean.
FAQ's about baby bottle sterilizers
How often should you sterilize baby bottles?
You should always sterilize bottles when first using them, per the CDC — and, if your baby was born premature, has a weakened immune system, or is under three months old, you should be sterilizing at least once daily.
Are baby bottle sterilizers safe?
Yes. Most sterilizers on the market today kill up to 99% of potentially harmful bacteria on your baby's bottles when used properly. Just make sure you're reading directions and changing out any necessary filters per the product recommendations.
What can happen if I don't sterilize baby bottles?
While older kids and adults can often fight off simple bacteria, babies are more vulnerable to foodborne illness due to their developing immune systems, so it's important to sterilize per the CDC's recommendations to avoid compromising your child's health.
At what age do you stop sterilizing baby bottles?
The CDC recommends sterilizing your baby's bottles until they are 3 months old and longer if they are immunocompromised.
How do you dry bottles after sterilizing?
Many of the sterilizers featured have a drying feature. If you're using the good old boiling pot method, you still want to make sure your bottles, nipples and caps are dry. Setting them on a drying rack or hanging them from a drying tree is the easiest method to dry bottles after sterilizing.
Conclusion
As you can see from our list, there are so many efficient ways to sterilize baby bottles. With all of the products on the market, each offering their own unique set of features, it pays to do your research before making your purchase. While you're shopping items for your baby, check out our list of essentials you'll need for bottle feeding.
The content on this site is for informational purposes only and not intended to be a substitute for professional medical advice, diagnosis or treatment. Discuss any health or feeding concerns with your infant's pediatrician. Never disregard professional medical advice or delay it based on the content on this page.