Our editorial team personally selects each featured product. If you buy something through our links, we may earn an affiliate commission, at no cost to you.
When it comes to burping your baby, there are many different styles that can help your little one belch it out. But did you know there are different styles of burp cloths, too? Whether you're looking for the most absorbent, most versatile, or even the most fashionable there's always room in a diaper bag for a few (or a lot) of these necessities. Check out our 10 best burp cloths to see which one is best for your infant and for keeping your clothes dry and spit-up free.
How to choose a burp cloth
Just like picking the best bib for your baby, picking the best burp cloth is also very important with a newborn. They are a necessity for any parent and there are a few qualities to consider when buying one. Our Bobbie moms suggest thinking about fabric, size and functionality when choosing a burp cloth. For example: How much area do you need to keep safe from spit-up, and yup…vomit? Then ask yourself if you'd prefer natural fibers and/or how soft and durable you prefer these to be for your newborn—and your favorite blouse. There's going to be a lot of drool, spit-up and gas in your near future— we want you to be prepared!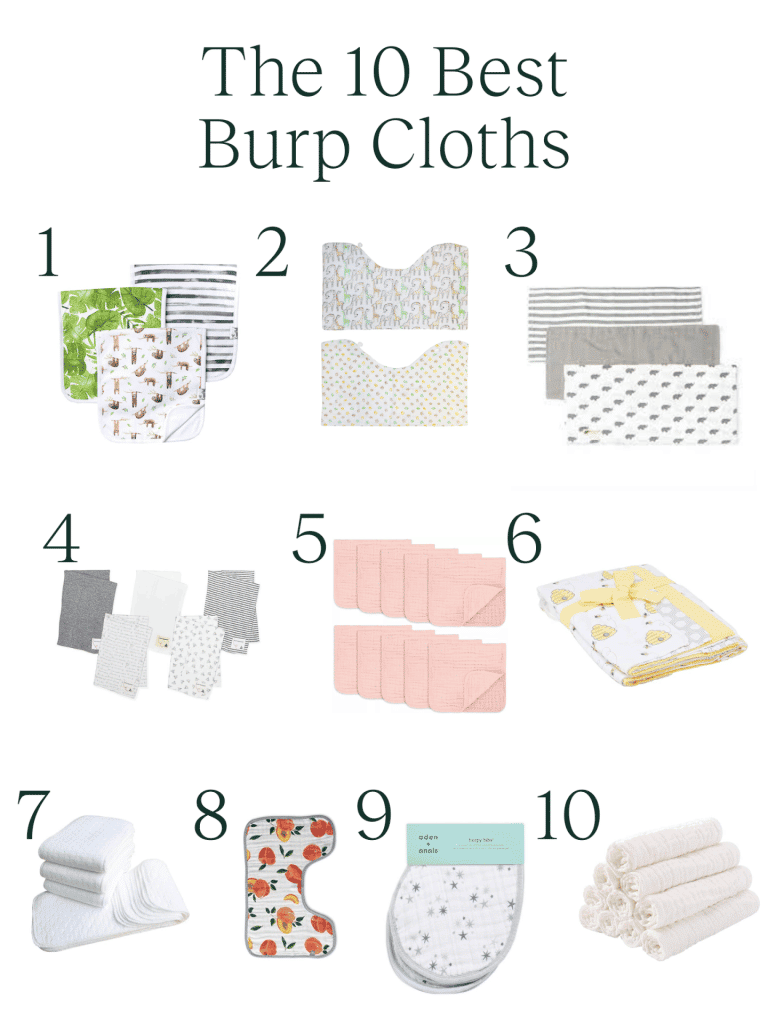 10 Best Burp Cloths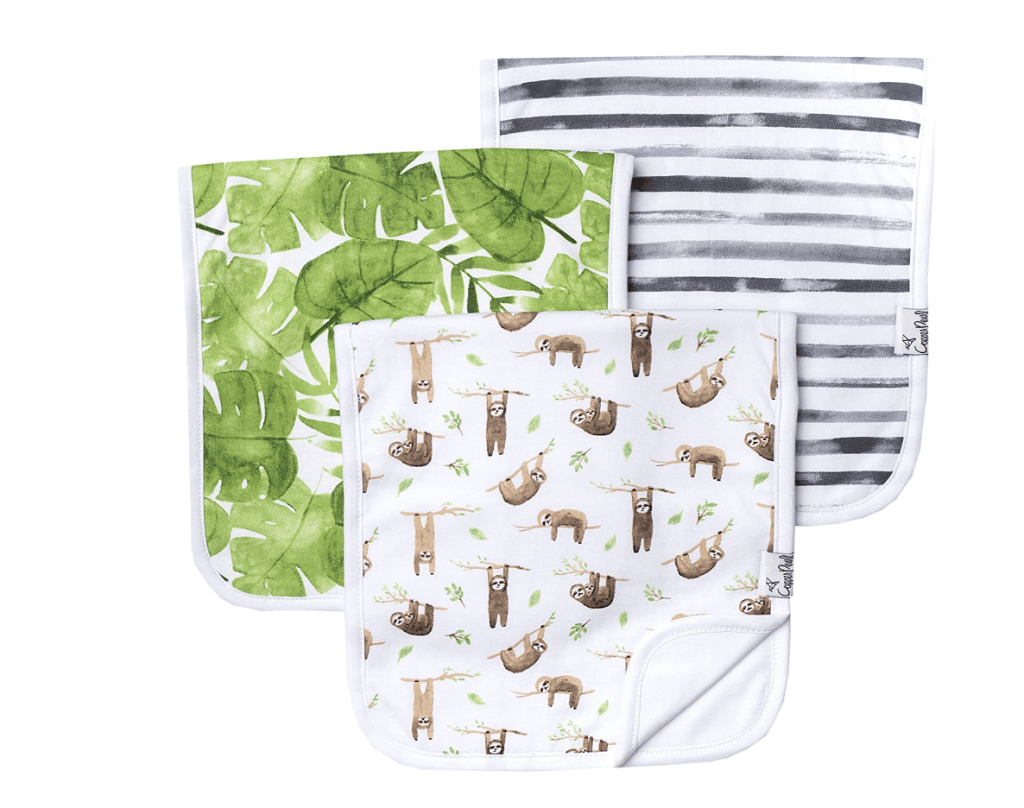 This burp cloth has a top and bottom layer that's 100% cotton so your baby stays comfy during your burping sessions. Tucked away inside, you get a bonus middle layer of fleece providing you an extra level of absorbency, so you stay comfortable, too. These come in a package of three and they're also extra big so this burp cloth truly has you covered. Size is 12×10 inches.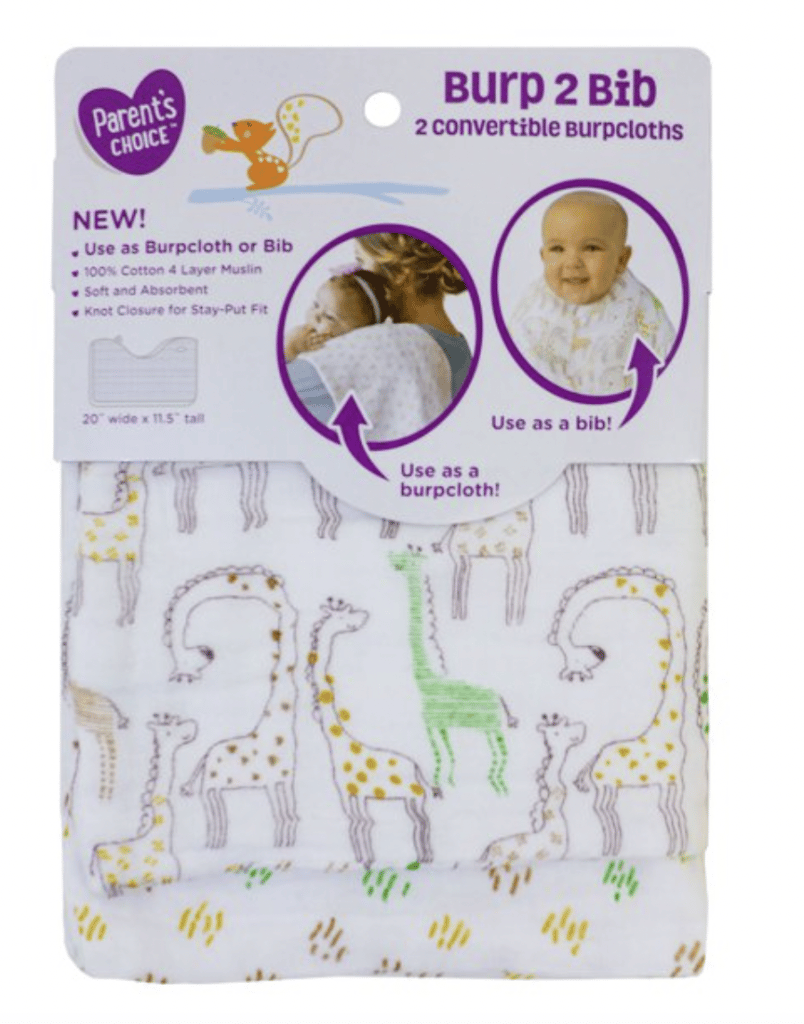 At first, it's a burp cloth but then as your baby grows, it magically transforms into a bib! What parent doesn't need a little magical transformation in their baby accessories? This burp cloth and bib combo comes in a 2-pack that is made of 100% breathable muslin. The tiny knot closure helps easily convert this to a "full-coverage" bib when your little one starts their journey into solid food.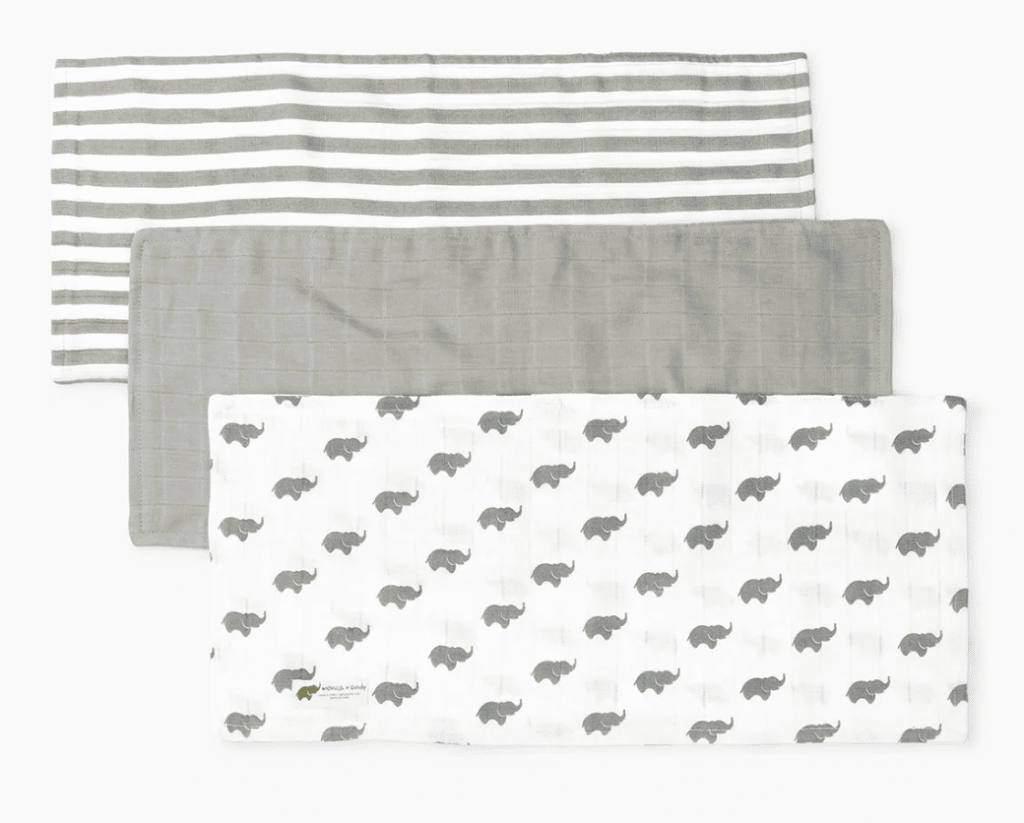 Even though these burp cloths are super soft on your baby's skin, they're still ready to handle even the biggest of burpy messes. Made from 100% organic cotton, this 3-pack bundle is constructed from a light muslin fabric and is GOTS (Global Organic Textile Standard) certified— the leading environmental standard for organic textiles. These high quality burp cloths are able to be washed in your machine and tumbled dry for a quick turnaround.
Made from organic cotton, these burp cloths are super soft and super absorbent which means they're super great for catching all the extra spit-up your baby tosses up. And big bonus— they maintain their softness and their durability wash after wash after wash, and oh, yes…after wash. Size is 11×16 inches.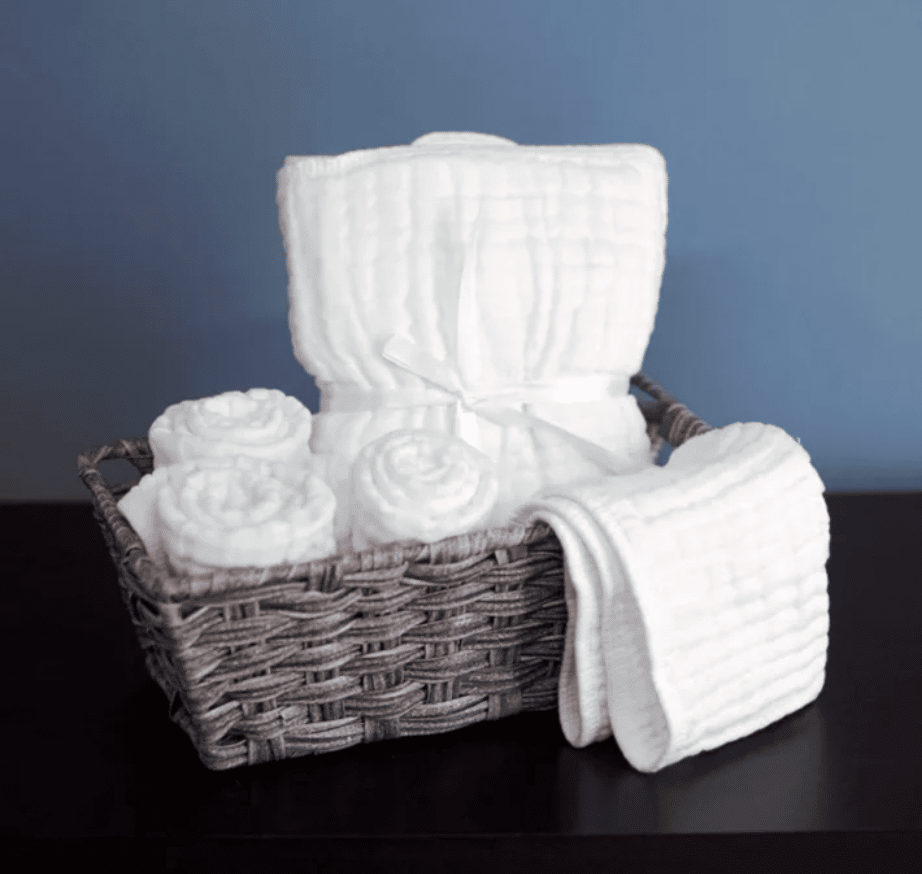 Pure cotton, machine washable, and multi-purpose, these burp cloths can be used for all of your burping needs. Also, feel free to pull one if you need a quick clean-up or lay one down as a changing mat. And with 6 to a pack, these are great burp cloths for those looking for a burping cloth bargain! Size is 20×10 inches.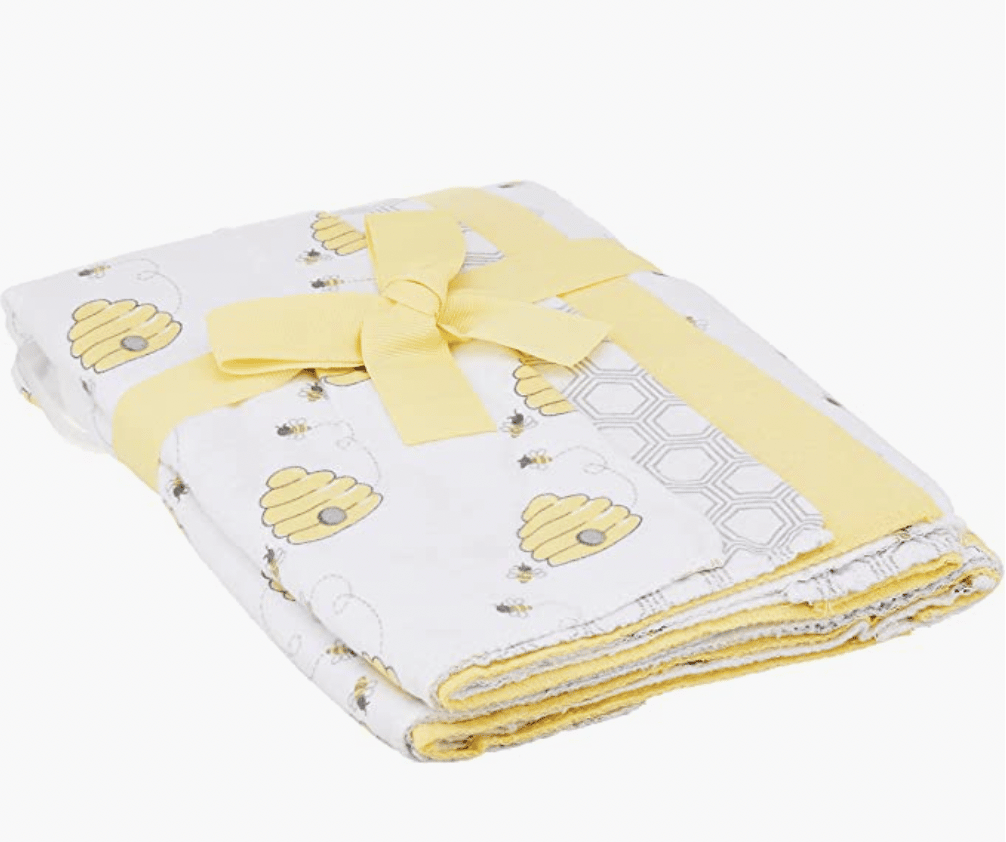 Get ready for 100% cotton flannel softness which means these burp cloths are gentle for baby's skin. These are made with 3-ply fabric in the middle panel and 2-ply on the outside which makes these cloths durable enough for the many burps your baby gives and the many washes that follow. These flannel burp cloths are "generously sized" and come in a pack of 4 fun and soothing designs. Size is 20×14 inches.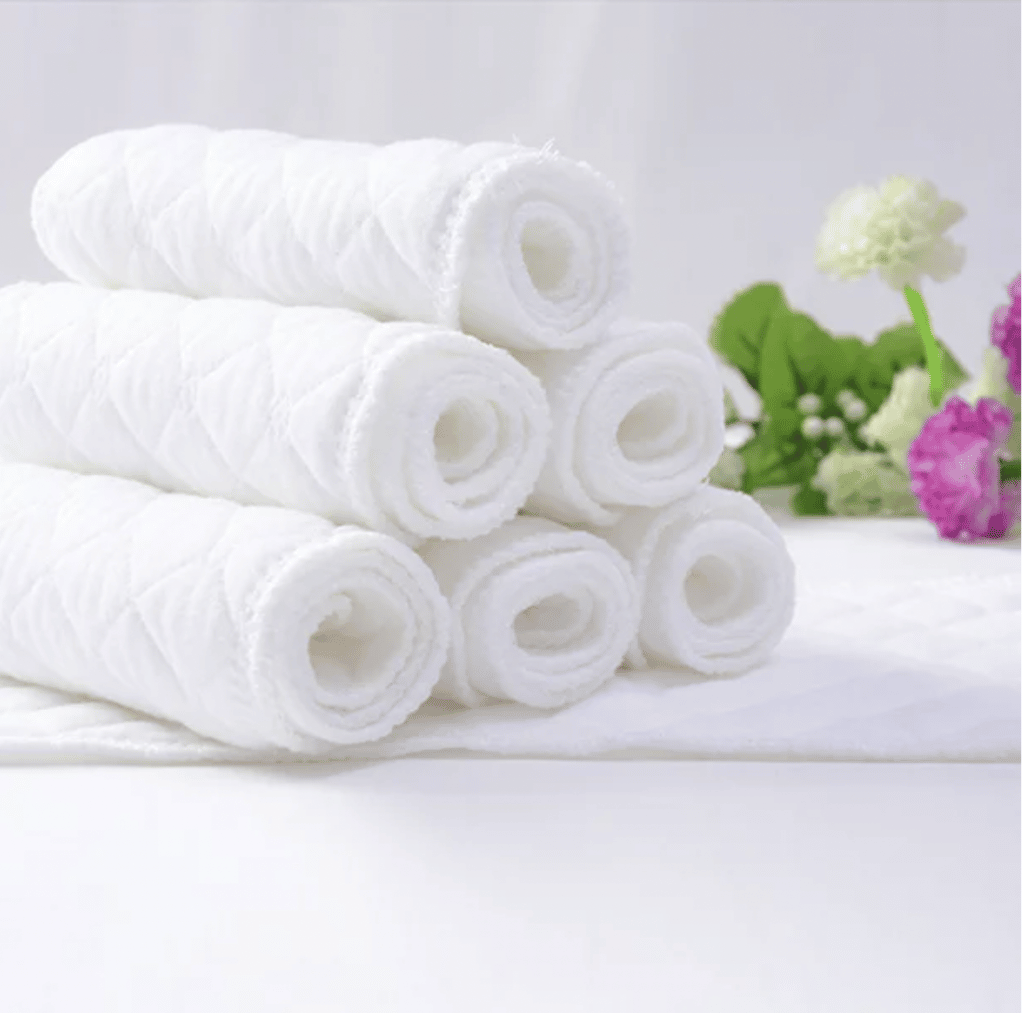 Did you know cloth diaper inserts can also double as baby burp cloths? When you are in a bind (ie forgot to pack a burp cloth and are worried for what may show up during burp time), these extra absorbent, long-lasting, cotton diaper inserts are a great alternative (or addition) when it comes to catching all the wet things surrounding the life of your baby. These come 10 to a pack and contain no synthetic ingredients. Size is 32×12 cm.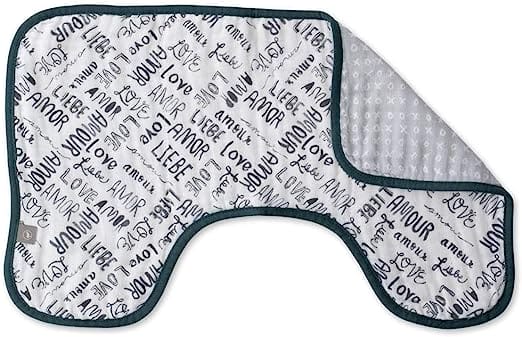 With a cut-out for your shoulder, this 3-layer quilted muslin burp cloth is ready to go. Choose from bright, happy prints or more soothing and subtle ones that easily look handmade and can also be tossed into the washer when needed. Its absorbent layers fit snuggly next to your shoulder so you will stay dry when your baby decides it's a spit-up day. Size is 8×5" inches.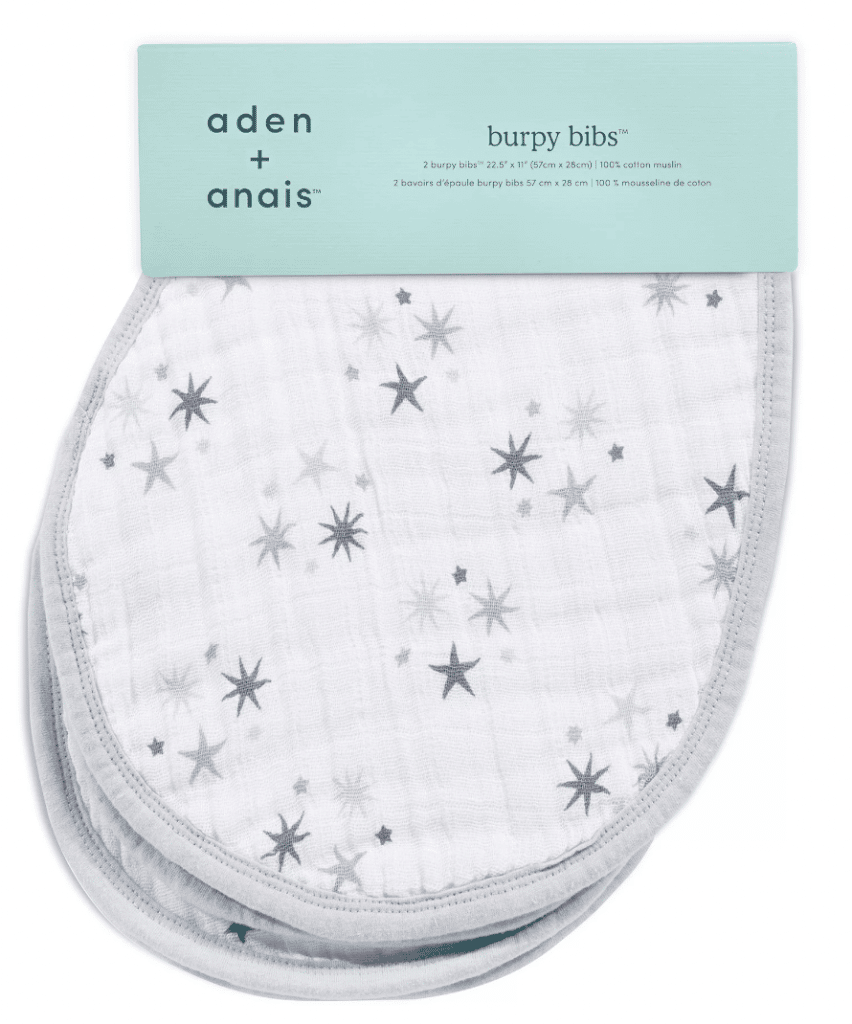 This high quality burp cloth is 4-layer cotton muslin constructed with an open weave that allows for fast drying. Don't let that fool you, because this cloth is still soft and ultra-absorbent with its special shape that easily drapes over mom's shoulder— allowing for maximum protection. And don't forget, this one doubles as a soft bib, too, thanks to the snap! Size is 22.5×11 inches.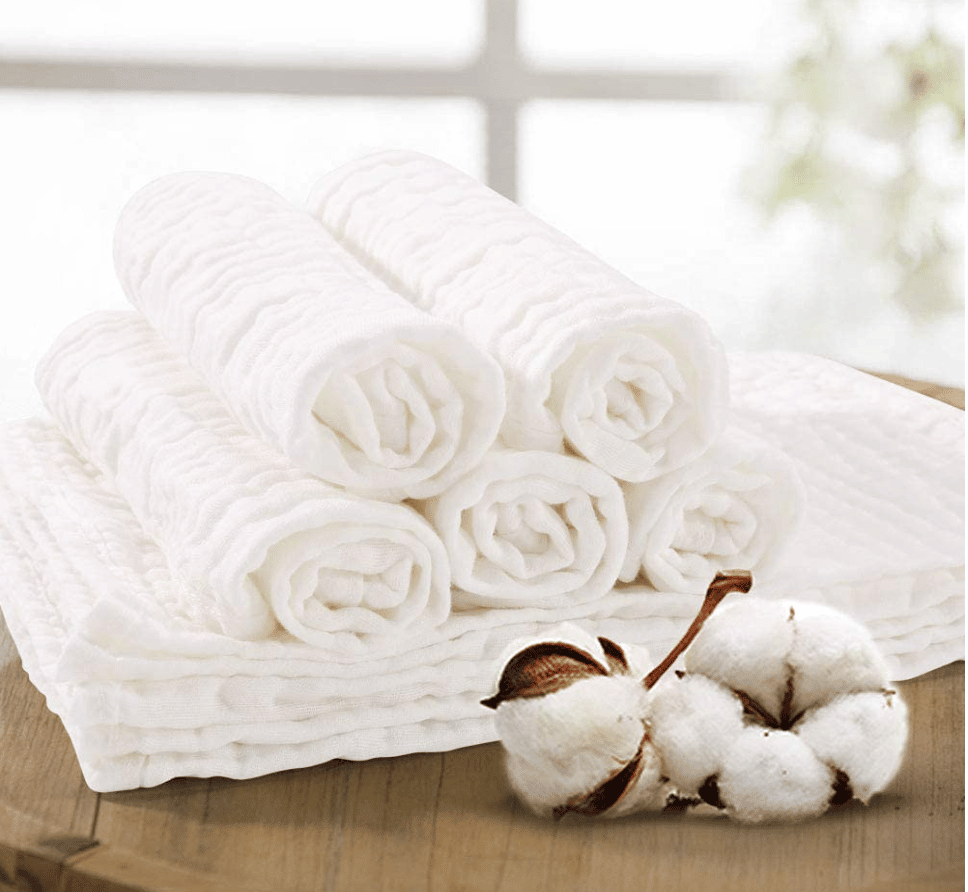 Made with natural muslin, these 100% cotton burp cloths are practical essentials. The structure of the fabric stays soft and breathable while still being able to absorb drool, spit-up, and other messy baby mishaps. With 20+ colors and patterns to choose from, these make an excellent addition to all your baby gear. Size 20×10 inches.
Tips for choosing the best burp cloths:
What is the best material for a burp cloth?
The best material for a burp cloth depends on your baby's needs and your preferences. Bobbie moms prefer burp cloths of organic cotton, flannel, or bamboo. They only want burp cloths that are high quality and washing machine friendly. These cloths will get a lot of use!
Which burp cloth shape is the best?
The size of your burp cloth is important because you need one that works to protect you from all the wetness coming out of your baby's mouth. However, which burp cloth shape is the best mostly depends on the fit you prefer. Burp cloths are generally rectangular, but some come in an hourglass shape or with a small cut-out on one side which allows the cloth to fit closer to your shoulder.
Do muslin burp cloths work?
Yes, muslin is a great choice for your burp cloth as many of the most popular brands are constructed from this fabric. Muslin is an extremely absorbent cotton-woven fabric that is also durable and soft. So, when you weave all these fabulous qualities together, you get a burp cloth that's going to go the distance when dealing with spit-up and vomit that, you guessed it…can also go the distance.
How many burp cloths should I have?
This number hinges on factors like if your baby spit-ups frequently and how often you use the washing machine— which can be tricky when you're a sleep-deprived parent. Our Bobbie moms suggest anywhere from 10 to 15 as a good number to have unless you want to be doing laundry 24-7. So, when it comes to how many burp cloths you need, the more the merrier because you'll keep them and use them— probably more often than you think. And when you're done with this phase, muslin burp cloths become the best cleaning rags (says one Bobbie mom!).
Why are burp cloths thicker in the middle?
Some burp cloths are designed to be thicker in the middle to catch and absorb the bulk of spit-up or vomit, keeping it away from your clothes. This is a bonus for you, mom. And your shirt.
Is flannel good for burp cloths?
Yes, flannel is a good and popular burp cloth choice because it's constructed from cotton and therefore is super soft and absorbent.
Should you wash burp cloths before use?
Absolutely—you should wash your newly acquired burp cloths just like any other new item you're introducing to your baby. You want your cloths to be as clean and hygienic as possible when near your baby's skin. It's also a good call to use fragrance free detergents for a newborn's sensitive skin.
How long do babies need burp cloths?
Infants stop spitting up around 6 to 7 months so you may need your burp clothes less around that age. However, teething begins as early as 4-months, and with that comes drool, so don't pack away your burp cloths just yet. They're always handy for cleaning up those unexpected messes.
Can you use bibs as burp cloths?
Sure, a bib can be used as a burp cloth, but know that unless specifically made to be interchangeable as a burp cloth bib, it might be small and less absorbent than your normal-sized burp cloth. Also, many bibs are waterproof which means water beads off of them which won't help in absorbing drool or spit-up.
Best Burp Cloths
When you're looking for your perfect burp cloth match, it's good to know there are many different styles, designs, and fabrics out there to support your needs. The good news is that you can never have too many of these must-have accessories. Having a stack on hand, and all around the house, can be a big help in keeping you and your newborn mess-free on your burping journey.
The content on this site is for informational purposes only and not intended to be a substitute for professional medical advice, diagnosis or treatment. Discuss any health or feeding concerns with your infant's pediatrician. Never disregard professional medical advice or delay it based on the content on this page.