Our editorial team personally selects each featured product. If you buy something through our links, we may earn an affiliate commission, at no cost to you.
Just when it feels like you finally have this whole bottle-feeding thing down pat, your baby enters the age when it's appropriate to start offering up real food, somewhere between 4 and 6 months. This is an exciting milestone for you both to conquer— your child tasting his first solid foods and you learning how to serve it up and get him to enjoy it.
One of the most popular techniques that's encouraged today when it comes to serving up solids is baby-led weaning, which is a far cry from the traditional method of baby weaning that involves introducing foods to baby via a spoon. Baby-led weaning is a process that involves parents offering up finger foods to their baby—i.e. foods that their baby can hold in their own tiny hands—to feed themselves. Yep—you read that right. With baby-led weaning, you're not actually feeding your baby—you're just serving your baby food that is appropriately sized and textured for your baby to devour on his own accord.
To successfully tackle baby-led weaning, you'll need a chair for your baby to sit in safely and a really good bib. The bib is key here, because there will be quite a mess to catch (and clean up) once your baby's baby-led meal is through. The right bib can reduce that mess and save you some serious time (and energy) on clean-up.
Tips for Choosing a Bib
When you're considering a bib for your babe, comfort is a great place to start. If it doesn't look comfortable to you, it probably doesn't feel comfortable for your little one. For example, anything too tight around the neck should be off-limits. Here are some features to look for to ensure your bib meets the ideal criteria:
Adjustable neckline
Easy to wash or wipe down
Easy to button (or snap)
No velcro (food particles get stuck in it too easily)
A catch-all pocket for catching all of the droppings
Is it Safe for Your Baby to Wear a Bib?
According to Lauren Crosby, MD, FAAP, and Bobbie Medical Advisor, bibs are generally safe as long as the baby is not wearing one when sleeping or when they're in a car seat or when no one is watching them.
Choosing a Bib Style and Material
When shopping for bibs, you'll come across a myriad of different styles, textures, and materials. Some popular options include silicone, bandana and muslin bibs. Style and materials are totally up to you. Some of our friends stand by silicone bibs and some prefer cotton or muslin for their flexibility.
Silicone Bibs
This type of bib material is becoming increasingly popular mainly because of its ease of use. It's super simple to wipe down and easy to adjust around your baby's neck. It also holds its shape really well, which helps ensure that it can catch any and all droppings.
Bandana Bibs
Bandana bibs are old school, but they're awesome. While they can be worn for feeding, most parents agree that they're more fit for everyday wear, especially during that first year when your baby is a drooling monster. Bandana bibs aren't equipped with that catchall bottom, so they won't keep your floor clean during mealtime.
Muslin Bibs
Like bandana bibs, muslin bibs are better for feeding a bottle or during breastfeeding to catch any liquid that comes out of (or misses) your baby's mouth. They don't have a catch-all bottom, so you may want to think twice before using them for baby-led weaning.
Which bibs are best for weaning?
The best bibs for weaning are those that have a deep pocket at the very bottom that's designed to catch most droppings of food that don't make your baby's mouth (trust us, there will be a lot). These bibs will collect more food than you'll realize, which will keep your floors cleaner and reduce how much time you have to spend cleaning post-meal.
Silicone bibs are also useful because they don't stain and the food and liquid just slides right off of it. Use a little soap in the sink to rinse it and then let it dry—they'll also save you a ton of time. Our friends love flexible silicone bibs— stiffer bibs don't give babies much flexibility.
How many bibs do I need for weaning?
There's no magic number for how many bibs you'll need for weaning, but you also don't want to be limited to the degree that you have to wash your bibs so often to keep up with the food demands of your hungry baby. A solid number of bibs for weaning is between 4 and 6. This should at the very least last you through a single day of meals and snacks.
What do I need for baby-led weaning?
You don't need too much equipment to get your baby-led weaning on. In fact, you just need a few basic things, including a high chair that's easy to wipe down, bibs that can catch food droppings that don't make your baby's mouth, floor protection, like a plastic floor mat that can keep your carpet or tile unstained, and spoons with chunky handles that your baby can easily grasp and use.
What age should you use dribble bibs?
Dribble bibs are the lightweight cotton or muslin bibs that newborns wear to catch all of the dribble and drool. These are great so that their clothes don't constantly get wet. Usually they're not necessary before a couple weeks old. Before that they're typically not spitting up much, and they're usually not drooling until they are a few months old.
What age can you use silicone bibs?
The recommended age for using silicone bibs is between 4 and 6 months, the time frame during which you will start to offer your baby solids.
Are bandana bibs better?
Most parents find bandana bibs more equipped to catch drool than actual food. They are soft and almost always made of fabric, so they're better for clear liquids that won't stain clothing. For baby-led weaning, it's better to stick to silicone bibs.
Are muslin bibs good?
Muslin bibs are 100 percent woven cotton, so they're soft and comfortable around your baby's neck and chest. They are not the most ideal, however, for baby-led weaning, since they don't catch food and are not easy to rinse off.
The Best Bibs for Baby-led Weaning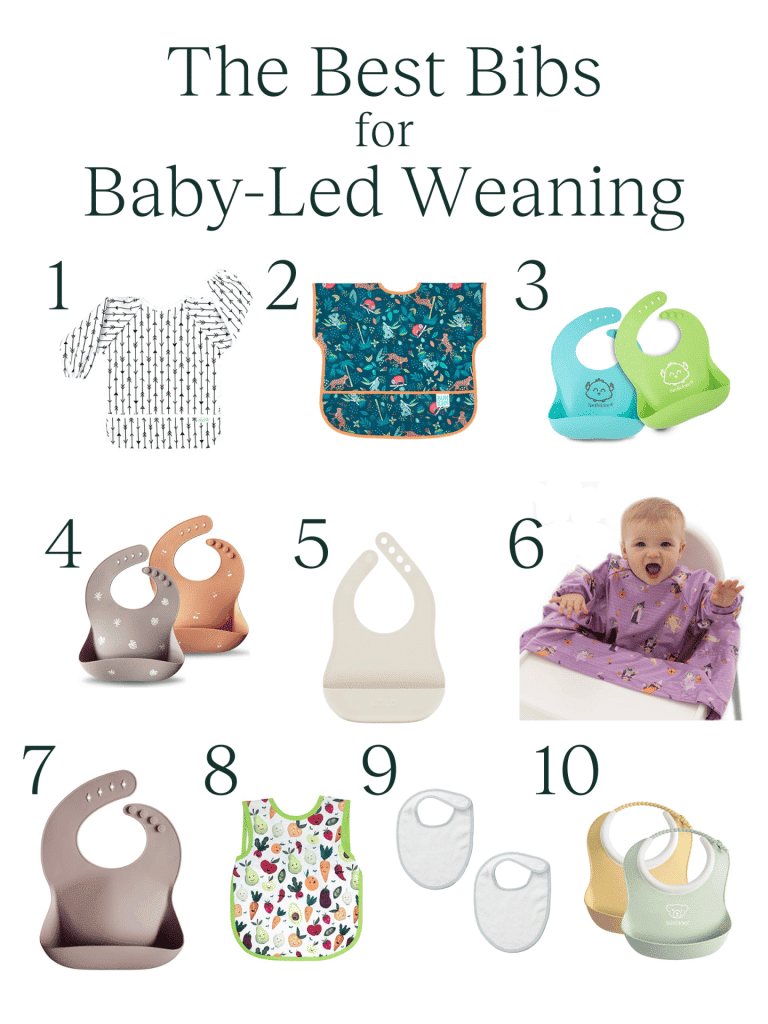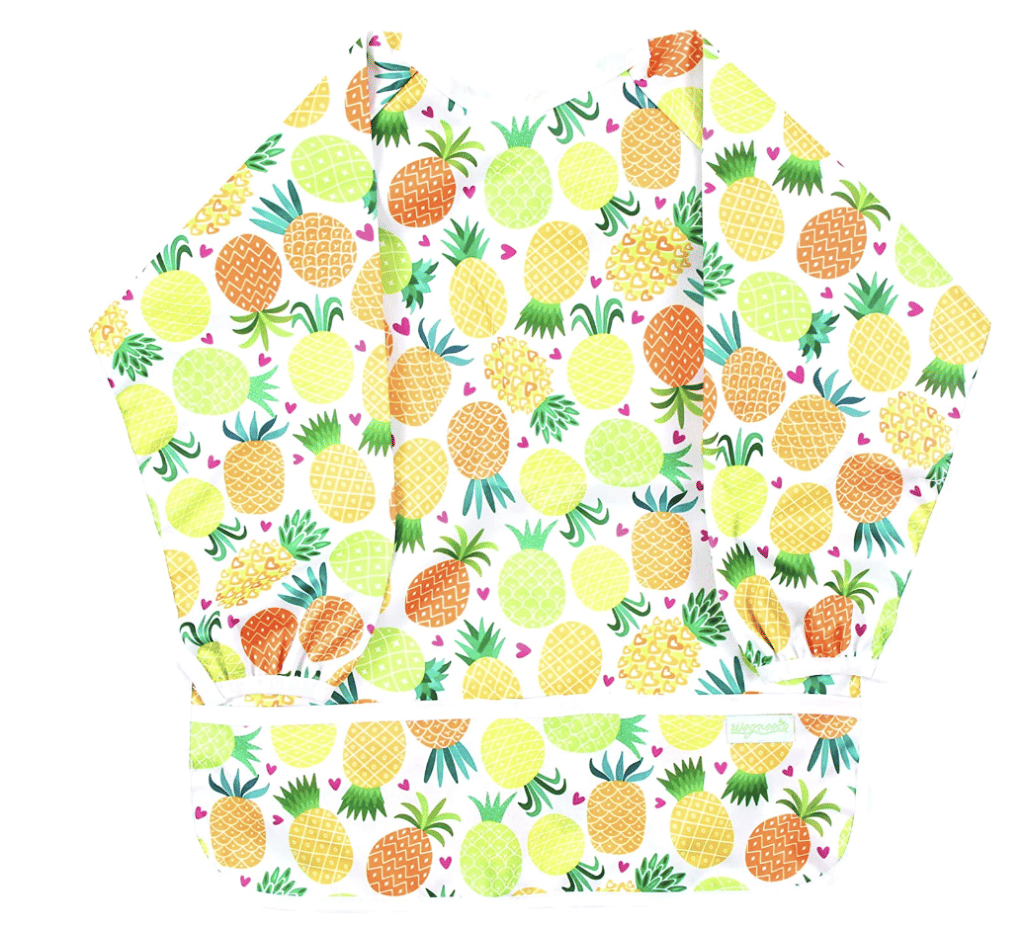 This bib takes the cake for baby-led weaning options. It practically covers your entire child's body (at least the upper portion) and some of the high chair, protecting his clothing as well as your floor thanks to the catch-all pocket at the bottom. It's also made from a leak-free PUL fabric that's ultra lightweight and easy to wipe down.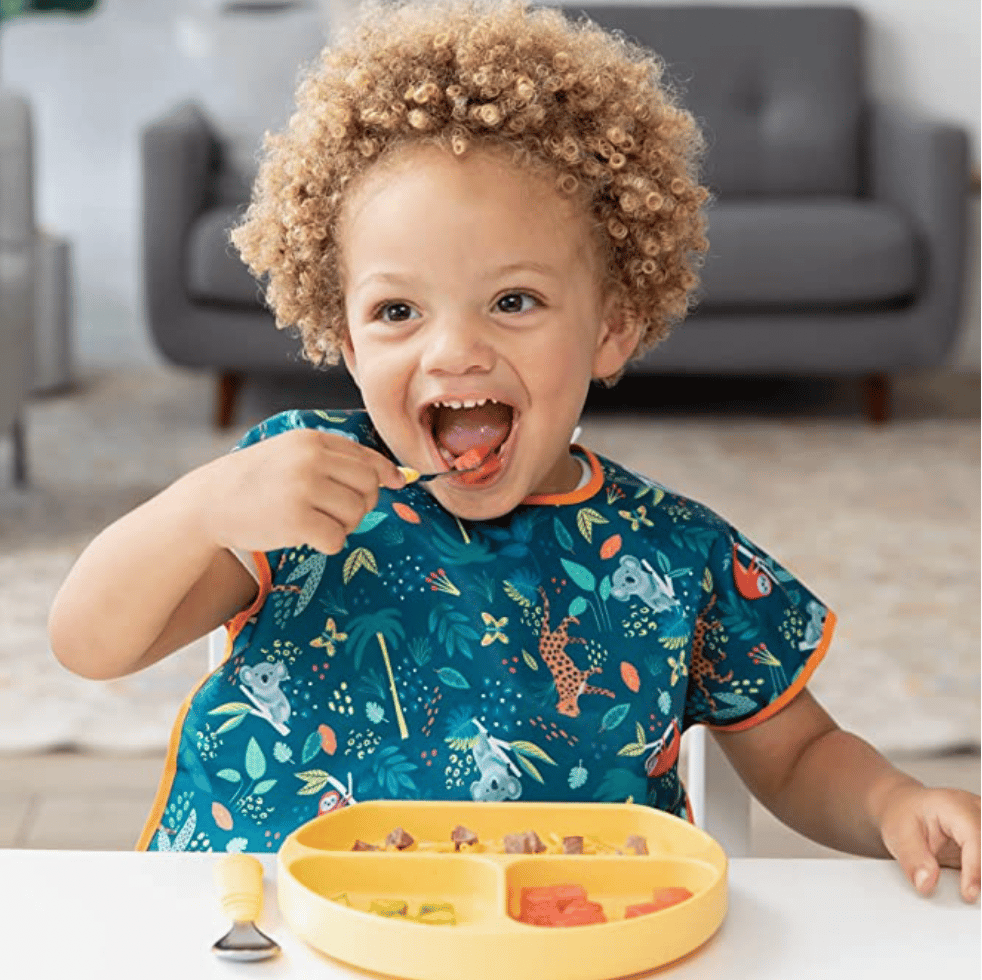 These bibs get the mom stamp of approval for just about every feature, but especially the fact that they are ultra waterproof. Liquid slides right off these bibs thanks to the fact that they're made from a 100 percent polyester waterproof fabric that's machine washable, which is a huge plus. Another clutch feature is their catch-all pocket at the very bottom to trap food and prevent it from falling on the ground.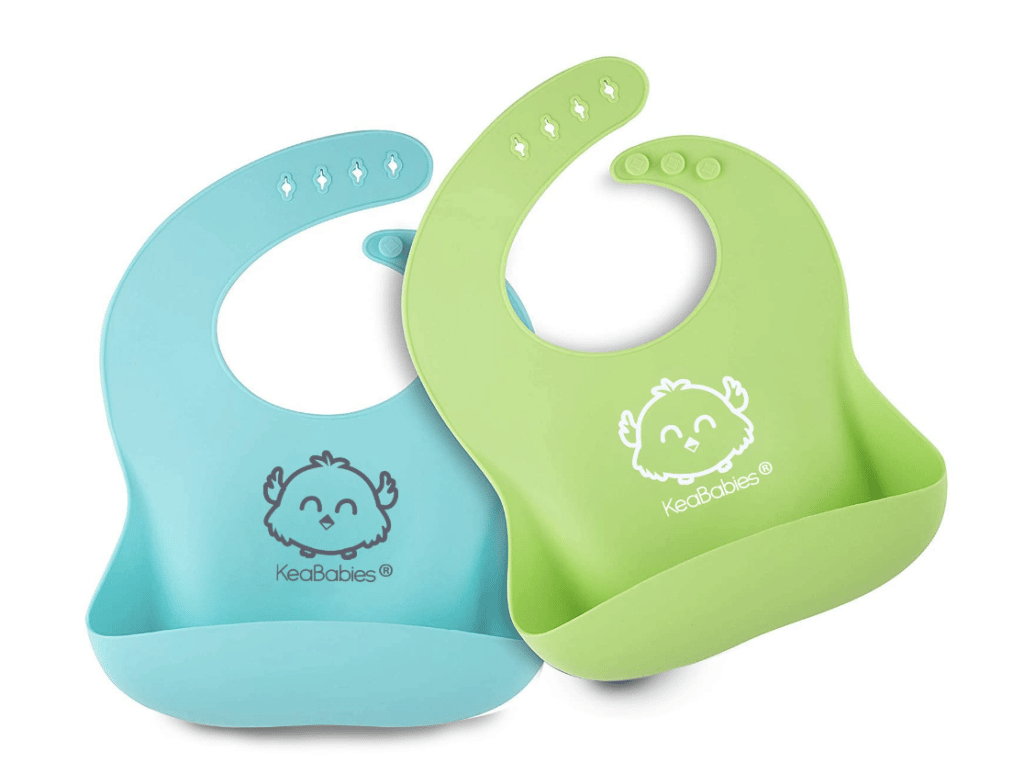 Bibs are nothing luxurious and certainly shouldn't cost you an arm and a leg. This set comes with a pack of two for less than $10 and has all the necessary features including a catch-all bottom to prevent scraps from falling on your floor as well as an adjustable neck so that it can grow with your baby through the months and years. It's made from easy-to-wash silicone and can even be placed in the dishwasher.
Environmentally-conscious parents will appreciate this set of silicone bibs that are BPA- and phthalate-free. They come in a pack of two for just $13 and come with the standard catch-all food pocket to prevent a giant mess. They're super easy to clean—just wipe down with soap and water and hang to dry.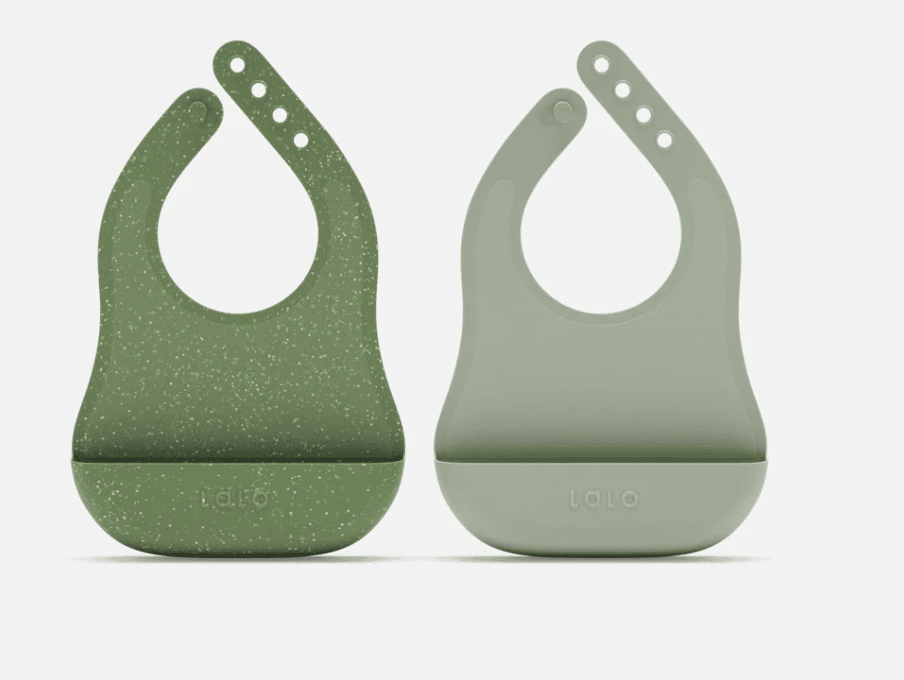 Our moms love the Lalo bib since it's firm enough to catch food but flexible enough for kids to live in. Bobbie mom Alex said, "I like that they're so flexible, so they're easy to pack up!" Also, her son could move his arms easily in these since unlike stiffer silicone bibs. Made with FDA approved non-toxic, food grade silicone, this bib comes in two-packs or four-packs. If you're ready to commit, just commit.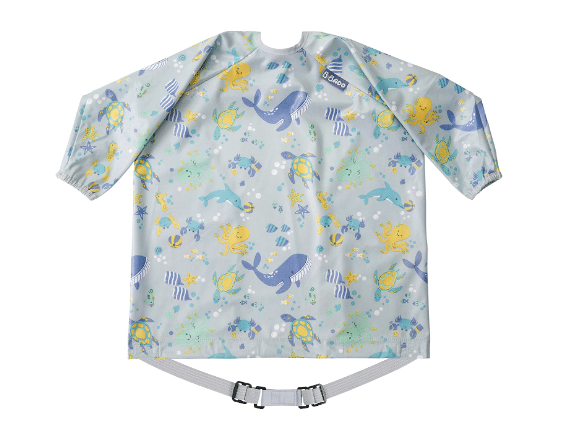 Just as the name suggests, this bib covers it all— your baby's entire chest, stomach, arms, and even some of the high chair table itself. It prevents unwanted spills and stains thanks to its waterproof material and folds up into a tiny ball making it great for travel or tossing in the diaper bag for a restaurant visit. It's ideal for babies 6 months to three years and doesn't require a full wash— just wipe them clean and let them dry.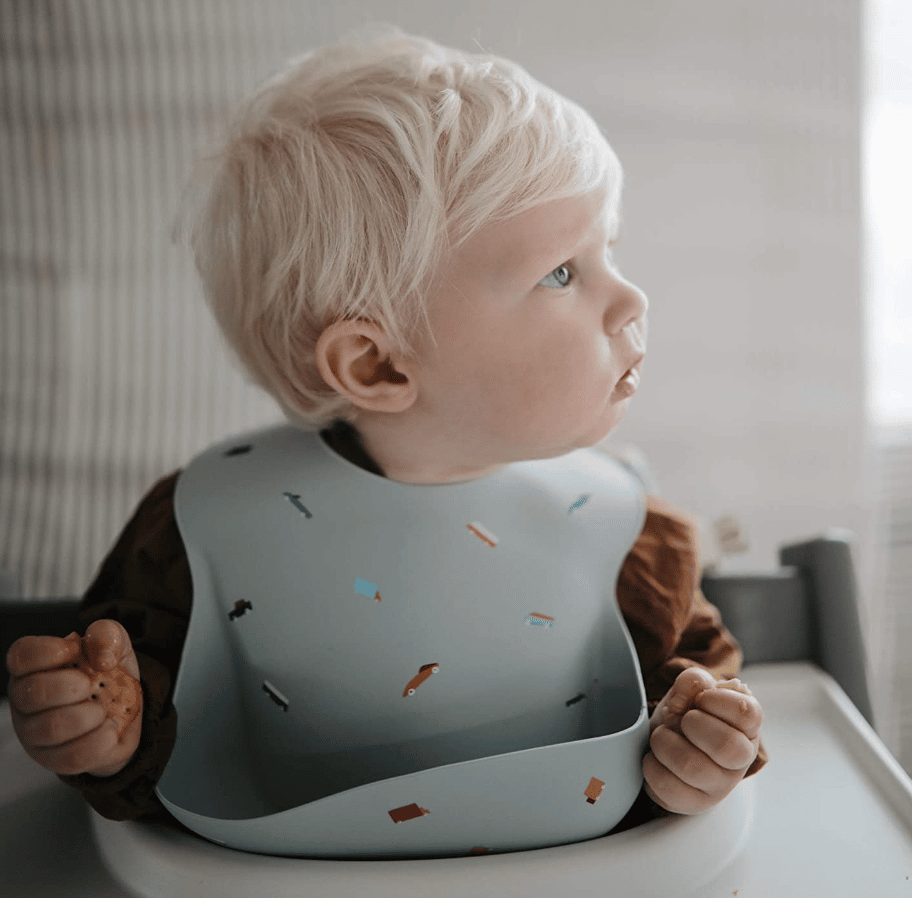 Not only does this bib brand offer the largest color variety we've ever seen (30+ shades), but they are all designed to catch literally anything that doesn't make your baby's mouth. They're designed in Sweden and feature a rounded bottom that prevents food from falling to the ground. They're made from food-grade silicone and have an adjustable neck, which ensures that they can grow with your baby through the ages and stages.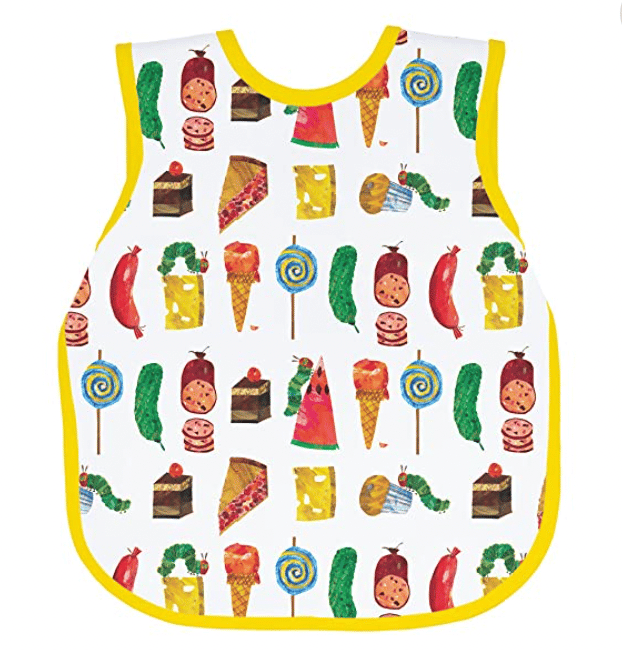 Some waterproof materials can be a bit rough, which is the last kind of feeling you want around your baby's precious and sensitive neck. Bapron is made from a waterproof fabric that is super soft, made from an eco-friendly type of polyester. We love the whimsical prints, including the Eric Carle printed bibs. It's also much bigger than your standard bib, so it's more like an apron, catching anything that falls to the wayside during mealtime.
When babies start to drool, everything gets wet. And if you don't want to be changing that onesie ten times a day, a light, cotton bib is the answer. Bobbie mom, Kim, loves these super soft drool catchers. Made in Portugal with 100% organic cotton, you can throw them in the wash with your other staples— mainly less onesies since you've kept them dry. These bibs are great gifts, too, as you can choose from a selection of sweet trims and have them personalized.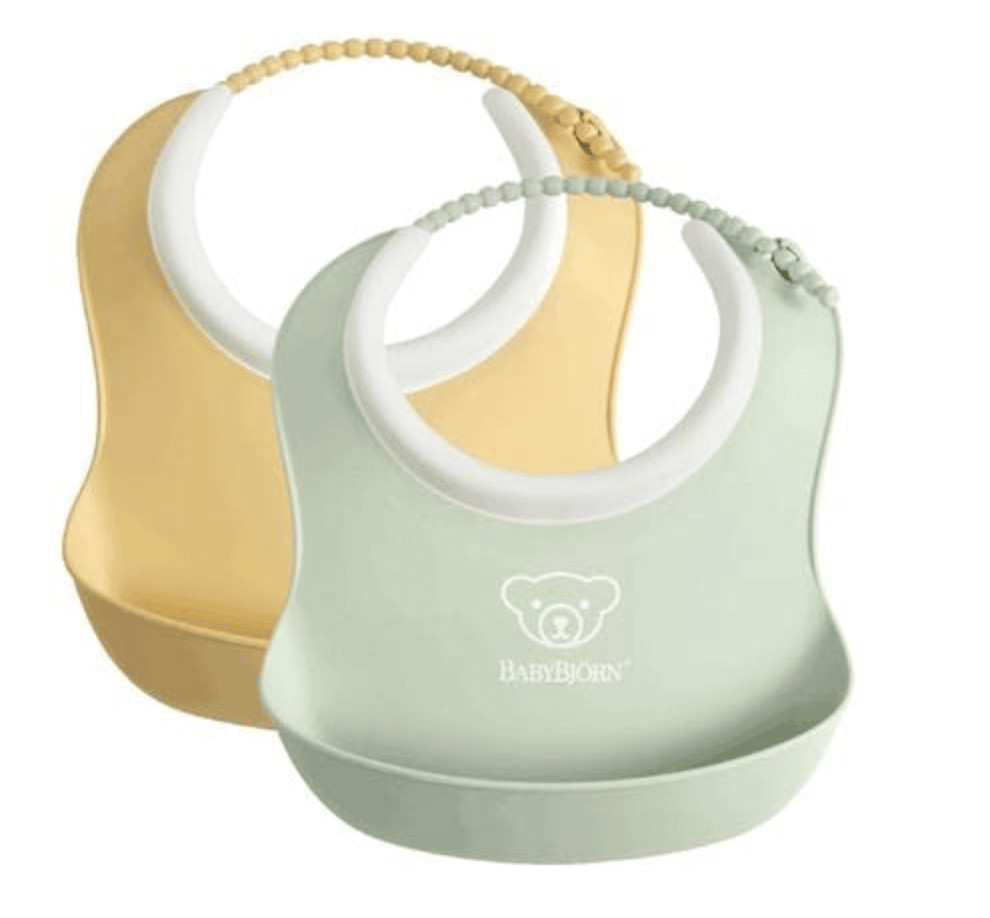 These plastic bibs designed in Sweden have a soft neckband that has more options for adjusting than almost any other bib, thanks to its bead-like design that allows for the perfect fit through every age range. It has a sturdy, catch-all pocket to prevent messes on your floor and is super easy to clean, since it's water-resistant. Just wipe it down!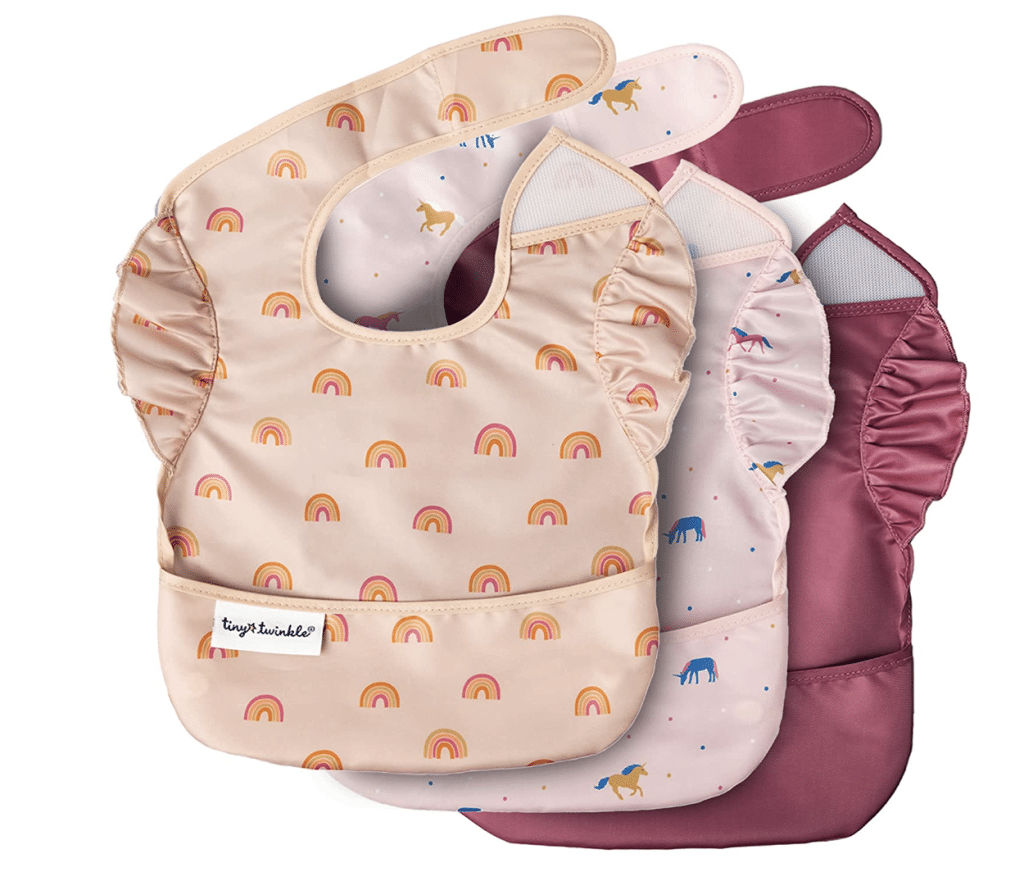 Cute bibs that work? Yep, we'll take two sets!
These Tiny Twinkle bibs are good for keeping babies and toddler clean— while also being clean for the Earth. They are made from 100% recycled polyester with a special waterproof back coating. They keep the kids dry and have a tug-proof closure that keeps it on. That in itself sounds too good to be true, right? Add on the pocket that catches spills and we're adding to cart RN.
Conclusion for Best Bibs for Baby-Led Weaning:
All in all, baby-led weaning is a wonderful and highly-recommended method of introducing food to your baby. To make the process easier for you and your little one, be sure to invest in a few durable and lasting bibs that can help keep the mess at bay so you both can enjoy the activity a little more. For more feeding "must-haves," check out our recommendations for best baby products to buy resale.
Bib photo by Lalo
The content on this site is for informational purposes only and not intended to be a substitute for professional medical advice, diagnosis or treatment. Discuss any health or feeding concerns with your infant's pediatrician. Never disregard professional medical advice or delay it based on the content on this page.