Behind every well-rested parent is, yes, a baby who sleeps through the night— but it's also peace of mind knowing your little one is safe. After all, you can only stare at that grainy video monitor for so long— Mama needs sleep, too! Fortunately, the best baby cribs not only look good in your nursery (along with your new baby humidifier and fancy burp cloths) they also meet and even exceed the necessary safety standards, so you can finally get some shuteye (at least until that 3 a.m. wakeup call when you're on feeding duty again).
From the coveted Snoo smart crib to the beloved Babyletto, we've rounded up the best baby cribs according to real moms. There's something for every need and every budget, whether you want a convertible crib that will last for years or whether you want to splurge on a luxury crib (because baby deserves the best, duh). Check out our 11 best baby cribs list below.
What is the Best Brand of Baby Cribs?
Snoo, Graco, Baby Bjorn— there are so many crib brands out there. As for which one is the best, that comes down to personal preference. Some parents swear by Cradlewise while others love Delta Children, for example. It's all based on the features, quality, and price you're looking for.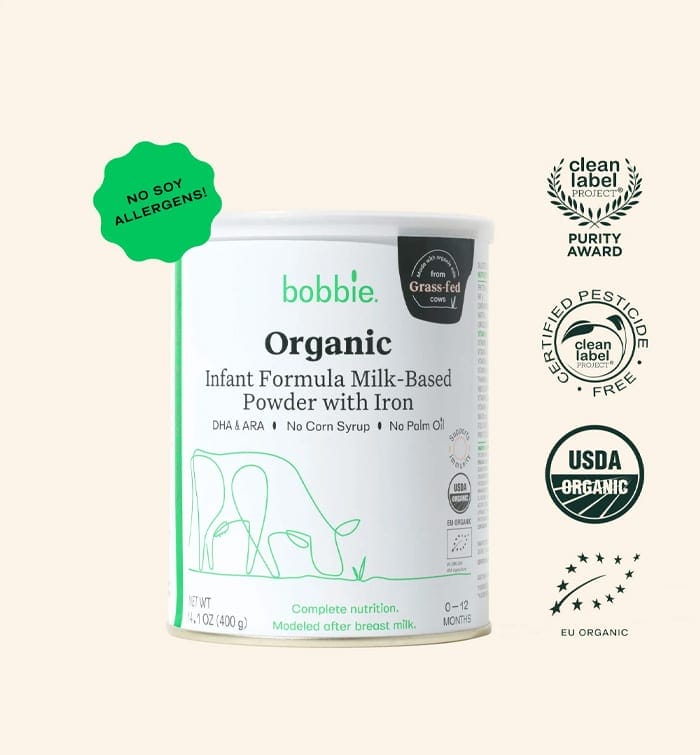 Shop Bobbie Organic Infant Formula
Bobbie Organic Infant Formula is a USDA Organic, EU-style infant formula that meets all FDA requirements. It is a complete nutrition milk-based powder modeled after breast milk and is easy on tummies. It is non-GMO and doesn't have corn syrup, palm oil, or maltodextrin. Learn more about Bobbie.
What is the Safest Crib for a Baby?
When it comes to safe sleep for babies, there's no blanket recommendation—pun intended—for the safest crib. It's more about what's inside the crib. The American Academy of Pediatrics (AAP) advises you use a "firm, flat mattress and a fitted sheet" in the crib (check out our list of the best crib mattresses) with no blankets, pillows, or stuffed animals in the space to reduce the risk of suffocation or SIDS.
What is the Best Baby Bed for a Newborn?
The best baby bed depends on you and, more importantly, your newborn. You may start your little one out in a bassinet in your room or you might go right to the crib in the nursery. Regardless of the type of bed, you'll want to consider factors like material, durability, size, convertibility, and safety features.
How Much do Good Baby Cribs Cost?
Good news: You don't have to spend a fortune to get a quality baby crib. In fact, you don't even have to spend hundreds. You can find plenty of great cribs for under $200 at retailers like Amazon, Target, or Wayfair.
When Do You Need a Baby Crib?
When you decide to put your baby in a crib is up to you and your partner. However, the AAP recommends that babies sleep in the same room (but not the same bed!) as their parents for at least the first six months. If you choose to follow those guidelines, you'll likely use a bassinet until your little one is six months of age or older, at which point you'll transition them to a crib.
Types of Cribs
There are five main types of cribs, each with its own pros and cons. You may want just one or you may want multiple, depending on what you plan to use it for.
Traditional crib: A classic full-size crib that's non-convertible with four sides.

Mini crib: Smaller than a traditional crib but larger than a bassinet. This is ideal for small nurseries or for a home with limited space, like an apartment.

Convertible crib: This crib can transition into a toddler bed, daybed, or even a full-size bed. You'll see many convertible cribs labeled as 3-in-1 or 4-in-1 beds.

Portable crib: A crib with wheels that you can roll from room to room or move around the nursery.

Travel crib: A portable and packable option for vacations or overnight stays at Grandma's. These are often lightweight and foldable so you can take them on the go.

How to Choose a Crib
Trying to pick out the best crib can feel almost as complicated and as overwhelming as picking out a new car. So many styles! So many features! So many safety considerations! There isn't a one-size-fits-all best pick, either. Every baby—and every parent, for that matter—prefers something different. These are some of the most important factors to consider when shopping.
Price: How much are you willing to spend? While some cribs cost up to $2,000, you can also find plenty in the $100 to $200 price range (and everything in between), depending on your budget.

Type: What will you be using the crib for? Where will it go? For small nurseries, for instance, you may want a mini crib, but if you're planning on taking your little one on frequent trips or vacations, you may need a travel crib.

Adjustability: Can the crib convert to a toddler bed? Does it have adjustable mattress heights? These are important questions to ask if you want a crib you can use as your child grows.

Safety: How safe is the crib? What features does it have? The Consumer Product Safety Commission has issued updated safety standards for full-size baby cribs, like why drop-side cribs are a no-go and what to look for in supports and hardware.

Materials: Do you want a wood crib or a metal crib? Is it Greenguard Gold Certified? Along with quality and craftsmanship, look for a crib made with non-toxic materials or one that's tested for chemicals and volatile organic compounds.

11 Best Baby Cribs
Choosing a Baby Crib
Choosing a crib is a big decision. It's the place where your baby is going to spend a lot of their time during their first few years, so you'll want one that lasts (especially if you plan to have multiple children). Fortunately, there are so many great options to creating your safe sleep environment that you shouldn't have trouble finding the perfect one for you and your family. The only better feeling than finally getting your dream crib all set up in your nursery? Actually getting your baby to sleep in it. Godspeed.