Our editorial team personally selects each featured product. If you buy something through our links, we may earn an affiliate commission, at no cost to you.
When you're looking for a weekend trip with your family, take your kids to visit Camelback! Whether it's snowing, raining or perfectly sunny, there is just so much to do at this Poconos resort. The best part of visiting these multi-adventure parks is that you don't have to BE the family entertainment— at least for a few days. Whether you've got toddlers or big kids, there are endless adventures at Camelback including skiing, tubing, swimming, and zip-lining. We went specifically Camelback's indoor water park, Aquatopia, but we discovered there's a lot more to Camelback than just an indoor water park.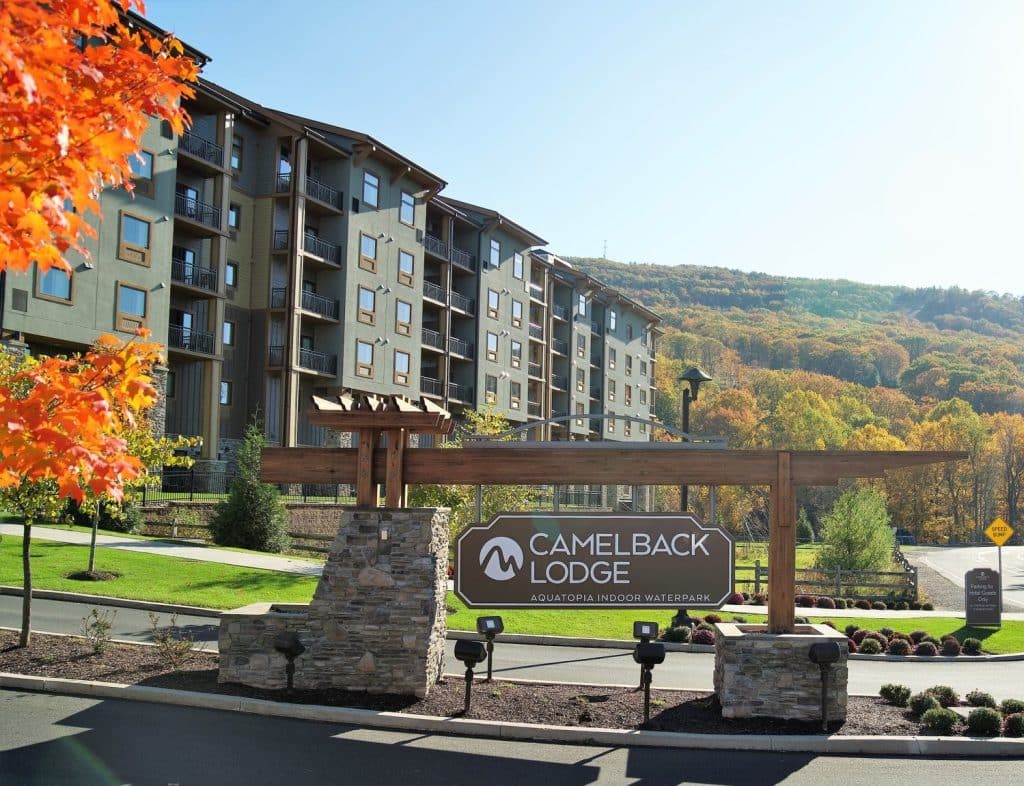 Aquatopia Indoor Water Park
When you're feeling stuck in during the cold/winter months in the Northeast, this is where you want to be with your kids. They can run around and keep busy for HOURS going down 13 water slides! There's also a large, family friendly hot tub, giant wave pool and kiddy zone. There's a Flowrider for the adventurous kids (and parents) and The Lost River when you want to lazy along on a lazy river (even while holding your littles). The kids can easily pass an entire day at Aquatopia, or two if you ask them.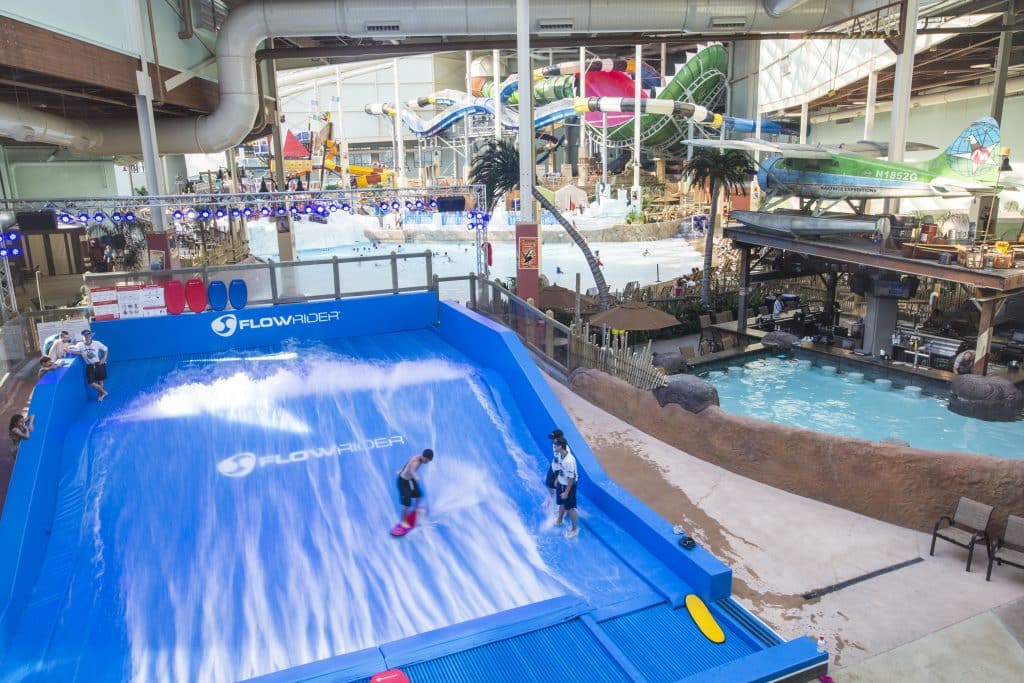 Best Aquatopia Slides
The Constrictor– For 1 or 2 people, an amazing, classic waterslide for all ages (42″+).
The Himalayan– The only indoor head first waterslide in the region.
Venus Slydetrap– Take a group and go together, in one raft, down an awesome slide.
Monster Mayhem– This giant enclosed aquatube ride plays bright colorful lights and music for the journey.
Camelbeach Outdoor Water Park
During summers in Pennsylvania, you can enjoy the outdoor water park. It's filled with rides and slides, all set with a mountain view of the Poconos. This is THE biggest outdoor waterpark in PA! We love the slide choices, plus the Flowrider and the Lazy River (for parents with kids of all ages). Not to miss— Rival Racer— an 8 track water slide so you and your kids can go side by side and see who gets to the bottom first!
Camelback Mountain for Skiing and Snow Tubing
As part of Camelback's outdoor adventures, there is a full ski resort with skiing, snow boarding and snow tubing. There's also an amazing series of zip courses and a mountain coaster in which two people can ride for miles with views of the Poconos Mountains.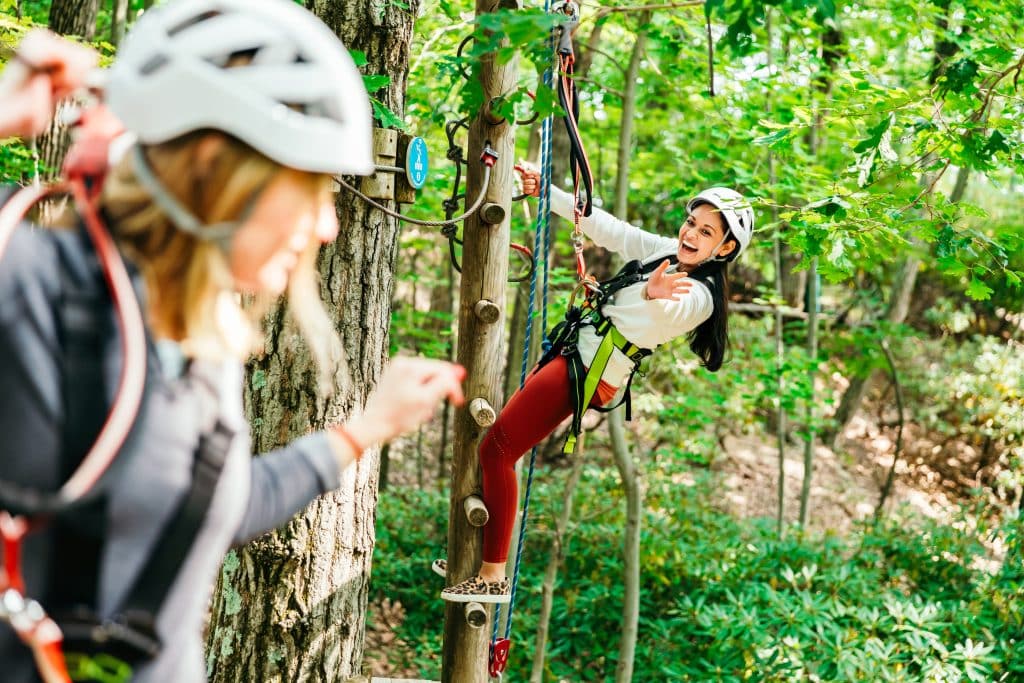 Best Things to do at Camelback Indoors
Aquatopia Water Park– 13 slides! Need we say more?
Ropes Course– Amazing for big kids, they're climbing a course above the arcade!
Arcadia Mega Arcade– This arcade doesn't come cheap, but it does provide hours of fun.
Rock Climbing– Great for the littles to try an indoor rock climbing adventure!
Will Parents Enjoy Cambelback?
First things first, there's an actual La Colombe coffee shop in the lobby. So basically, once you're caffeinated and had some good food (there's actual parent food at Camelback!), you can sit back and watch the kids have a great time. Without you. While you're drinking your coffee or having a poolside cocktail.
The content on this site is for informational purposes only and not intended to be a substitute for professional medical advice, diagnosis or treatment. Discuss any health or feeding concerns with your infant's pediatrician. Never disregard professional medical advice or delay it based on the content on this page.