Our editorial team personally selects each featured product. If you buy something through our links, we may earn an affiliate commission, at no cost to you.
There are so many products we've got to be fully stocked up on as moms. While diapers and baby wipes are the pillars of year one, safe sunscreens and bug sprays are at the top of the list for all the years of parenting— and life. That's especially true come summer, spring break and the four million other long weekends and vacations we take the kids on each year (is it just me?).
Since I started paying attention to products that are truly safe for kids (not to mention the coral reefs, the earth, etc), one of my go-to brands has been Babyganics. It all started with their Stain Eraser— which seriously belongs in the purse of every mom on the planet (because it works!). After working my way through their laundry and bottle cleaning products, I discovered their suncare line which has lived through many vacations and upstate NY days at the lake.
Babyganics was founded by two dads 20+ years ago. They favor effective, plant-derived and organic ingredients wherever possible. Their products are not tested on animals or created using certain ingredients on the naughty list (ingredients moms know are no's!) – sulfates, phthalates, parabens or synthetic fragrances to name a few.
When we heard that Babyganics had launched new suncare and bug repellent products, we asked the team of moms at Bobbie to get in on some product reviews. Frances started with, "I love Babyganics- doing a review is easy!" Followed by Alex who said, "Same— we've used Babyganics for years; from the bottle soap to the bath line, we're huge fans in our house!" Mallory, The Formula Mom, even packed Babyganics in her Spring Break bag and touted, "Not even a hint of a burn after a full day in the Bahamian sun."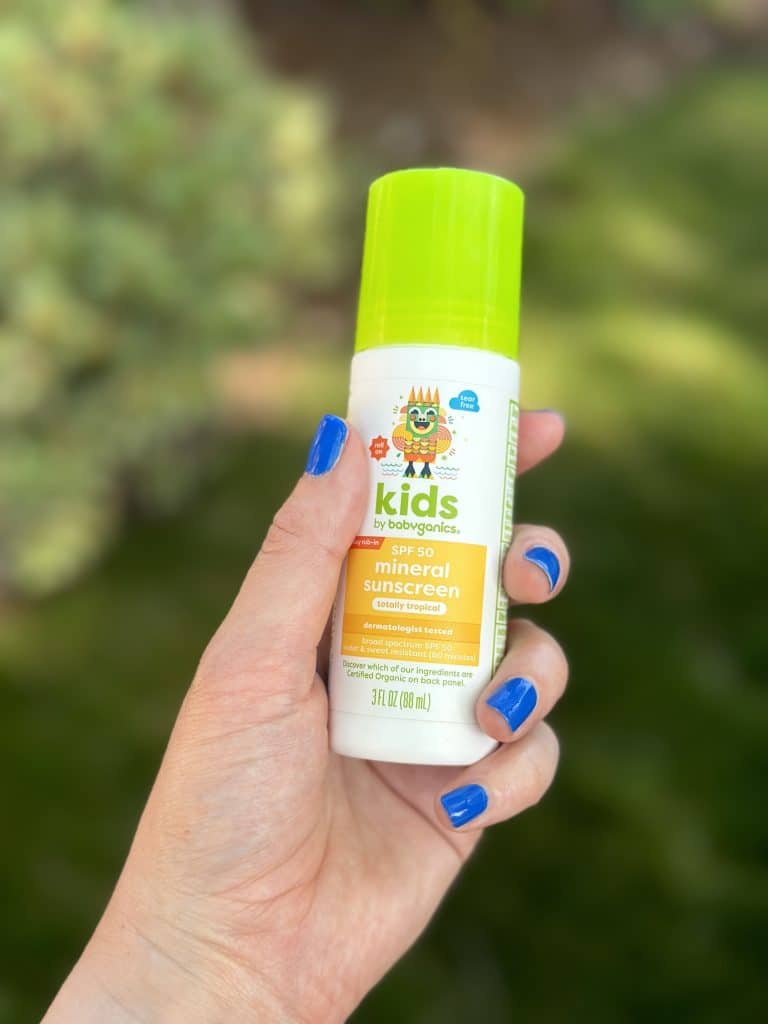 Babyganics' new products— including a mineral sunscreen rollerball and natural insect repellent bug wipes— are safe for kids. They are also convenient, easy to use, and easy to travel with.
Read below to hear which Babyganics products our moms are adding to all their diaper and tote bags for summer camp and vacation travel.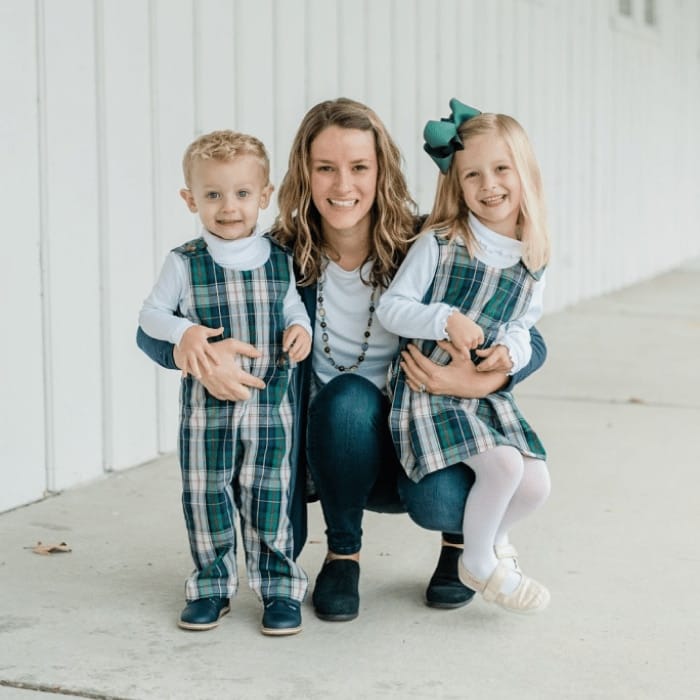 Mallory Whitmore:
I'm Mallory and I live in hot-and-humid Tennessee with my husband and our two kiddos, ages 6.5 and 4. I lead education at Bobbie! Outside of work and family, my favorite thing in the world is to travel. We were lucky to spend spring break this year on a cruise to the Bahamas– a great opportunity to put the Babyganics products to the test!
I always look for a mineral sunscreen when it comes to my kids, as I feel it provides better protection and prevents exposure to chemicals associated with non-mineral sunscreens. However, mineral sunscreens are often thick, difficult to rub in, and leave a white cast. Babyganics sunscreens were super easy to apply, rubbed in nicely, and did not leave a white cast.
Babyganics Kids SPF 50+ Mineral Sunscreen Rollerball: I loved the different types of sunscreens available– the continuous spray, and my kids' favorite– the sunscreen roller ball! The roller ball sunscreen made it so easy for my kids to apply themselves and allowed them to be part of the sunscreen application process. For a task that's normally a struggle, allowing them to participate in this way was super helpful!
My son is very fair, thanks to my Irish husband, and he is on medication that makes him particularly sensitive to the sun. I was thrilled that these products worked perfectly to keep him safe and allowed him to have fun without any stress about his sun exposure! Not even a hint of a burn after a full day in the Bahamian sun.
Things I loved about these suncare products:
High SPF (50+)
Mineral protection versus chemical
Variety of sizes so I could take some in my carry-on bag!
Easy to rub in
No white cast
No parabens, phthalates or artificial fragrances
Not tested on animals
Worked perfectly– no burns!
Babyganics Soothing Itch Stick: We also had a great experience with the soothing itch stick! Not only was it effective, my kids loved having something they could apply themselves and I loved having something on hand that I wasn't worried about them using without much supervision (unlike hydrocortisone, for example).
This will be a staple in my purse all summer as we navigate outdoor events, including late-night campfires, that always seem to end with bug bites!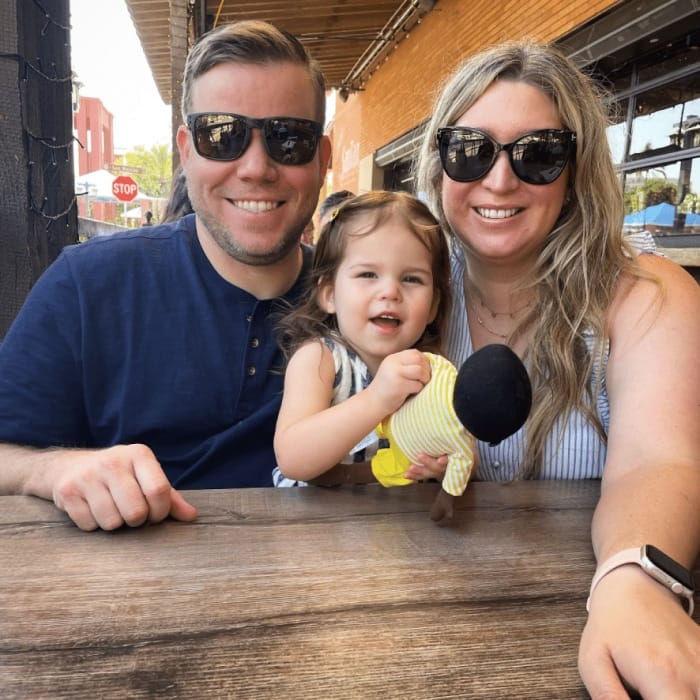 Meghann Hanvey:
I lead Talent Acquisition at Bobbie. I'm also a desert dweller and mom to almost 2 year old, Lucy. Sun protection is a priority for our family given the harsh rays of Arizona.
Babyganics Kids SPF 50+ Mineral Sunscreen Rollerball: Absolutely loved all of these Babyganics products! Living in Arizona, we're already on the cusp of summer and the sun has been blazing. I love the mineral sunscreens because I can see if I missed any spots on my toddler. My favorite is hands down the roller ball, my toddler thinks it's hilarious and the amount that comes out is perfect. It was especially convenient for her face. I loved the compact size, it fit easily in my myriad of bags (purse, fanny pack, diaper bag, stroller caddy).
Babyganics Kids Natural Insect Repellent Wipes: We also put to use the insect repellent wipes. We went out at dusk for a walk and without using them I was bit by mosquitos twice in under two minutes (the joys of having a farm next door to us and a neighborhood of swimming pools – little buggers love that stagnant water). I quickly grabbed a wipe from my bag (love the individual packaging, so much less bulky) and one was enough for me and my daughter. No more bites! The smell was pleasant and the texture was moisturizing, if you can believe it. 
I also used the anti-itch stick when we got home and it worked better than any other cream I've used.
All in a great value for these Babyganics products. With so many options it can be overwhelming, but Babyganics is a clear choice given the quality of ingredients.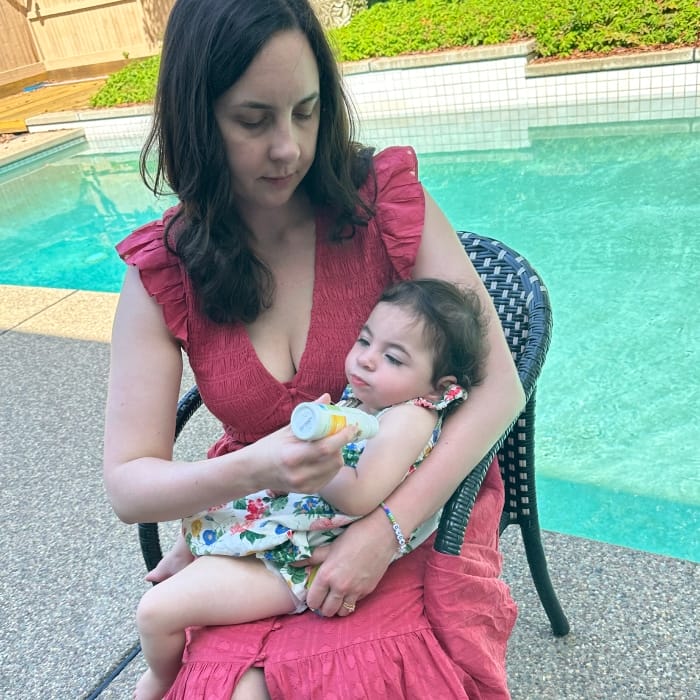 Frances Pimentel:
I am a product designer at Bobbie and a special needs mom of two. We live in Folsom, CA, where it's practically mandatory to have a backyard pool. After consistently lifeguarding every summer through high school and college, I've already had a spot of melanoma removed via Mohs surgery. Sun protection is a huge priority for me.
Babyganics: To be honest, I'm a long-time fan of Babyganics! I suffered a chemical sunburn while traveling in the Azores Islands off Portugal ten years ago and ever since then, I've used mineral sunscreen and never looked back. Plus, I've seen firsthand the coral bleaching that can come from chemical sunscreen polluting our oceans. My maternal grandfather grew up in Hawaii and I've seen the vibrant colors of the coral fade as we go back to visit family over the years. All that being said, I started using Babyganics sunscreen ever since my (now 5-year old) son was a baby.
Babyganics Kids SPF 50+ Mineral Sunscreen Continuous Spray: This past Mother's Day weekend was the first swim in our pool of the summer season. I used the continuous spray sunscreen for my son. The first thing I noticed was how nice it smells (even my monster truck, ninja, all thing boy-obsessed son commented on the smell!). I love the texture and application, and I like visibly seeing the white sunscreen absorb into his skin – it gives me reassurance that he has full coverage. My son can be very tactile-defensive, but has learned over the years that he needs sunscreen in order to swim and play in the summer months, so he didn't complain.
Babyganics Kids SPF 50+ Mineral Sunscreen Rollerball: I chose to use the sunscreen roller ball on my 17 month old daughter. My daughter has multiple disabilities, both physical and intellectual. She doesn't have the cognitive capability to close her eyes when I tell her/show her that she needs to squeeze her eyes shut. She also has multiple sensory issues. The roller ball is perfect for her because there is no chance of getting sunscreen in her eyes. She enjoyed getting a little massage as I rubbed the sunscreen into her skin. Just like the continuous spray, the smell is amazing, the coverage is excellent and her soft baby skin was fully protected from the harsh sun.
Babyganics Kids Natural Insect Repellent Wipes: I would like to shake the hand of whichever genius invented bug wipes. With the wipes, no one has to worry about getting insect repellent in their eyes and mouth. True story: my husband and I were on our honeymoon, about to dig into the signature Black Pearl dessert at Mama's Fish House, when the neighboring table thoughtfully sprayed bug spray into the atmosphere, but mostly straight into our open mouths. The wipes make it so easy to get bug repellent where you need it, plus there is no chance of any spillage or leakage into your luggage or purse.
Overall, the Babyganics sunscreen and insect repellent products are a no-brainer. I love the ingredients, I love the cute packaging, they are compact and easy to transport and they will definitely be coming to Hawaii with us this summer.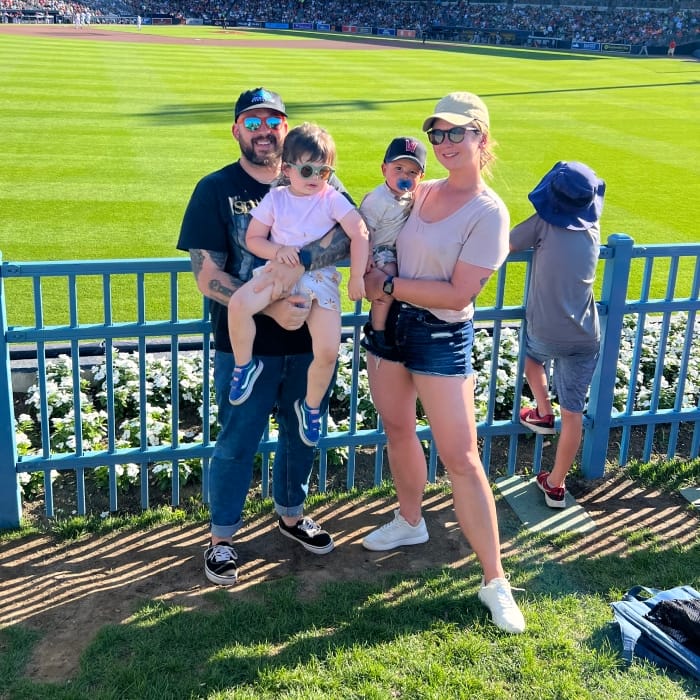 Alex Magann:
I'm Alex, mom to two toddlers, June and Oliver, and I live in the middle of Massachusetts. I lead Organic Acquisition at Bobbie, and I love running, hiking and being outside.
Sending my 4-year-old daughter to an outdoor adventure-based preschool was a no brainer for me. I love being outdoors, and so does my daughter. Plus it teaches her so much resilience and problem solving! But I didn't think about ALL the gear we'd need to keep her prepared to be outside each day in all weather conditions. Once we passed through the tough winter and rainy season, we got a reminder text from school about applying sunscreen and bug spray every day before school to protect kids. I was thanking my lucky stars we have plenty of Babyganics on hand!
We've used Babyganics for years; from the bottle soap to the bath line, we're huge fans in our house. It was a perfect choice to use the Babyganics Kids SPF 50+ Mineral Sunscreen Continuous Spray and Babyganics Bug Continuous Spray this spring!
Babyganics Kids SPF 50+ Mineral Sunscreen Continuous Spray: I've tried just about every kid sunscreen on the market, and alway prefer a mineral SPF over a chemical SPF. However, that comes with the knowledge that rubbing in a mineral sunscreen is pretty much a workout because it takes some effort to rub into the skin (and that's no easy feat with active kids). I was so pleased to see Babyganics has a continuous spray mineral SPF that actually works! It sprays smoothly and rubs in like a dream. My daughter is much more willing to stay put for the 30 seconds it takes to apply this sunscreen versus ones we've used before. As with all spray sunscreens, it's still important to rub it in to ensure even application, but it's really so much easier. And bonus: it doesn't leave a noticeable white cast on her skin!
It's a pretty big can, so I know it will last us throughout the sunny spring of school and well into summer camp season. Plus its slender can allows it to tuck into the corner of our diaper bag. And with SPF 50, it's been keeping my daughter's fair skin protected all throughout the morning without the need to reapply. If we bring it to the beach or the pool, we'd be sure to still reapply every two hours! I definitely recommend this sunscreen to any parent!
Babyganics Kids Insect Repellent Continuous Spray: Applying bug spray could also be a battle before sending my daughter out the door for school. The smell and stickiness of other brands really put my daughter off, so I was thankful to try Babyganics Bug Continuous Spray. It applies evenly, and smells great (probably thanks to the blend of citronella, peppermint, rosemary, lemongrass and geranium oils). So far, we haven't seen any bug bites on my daughter when she's gotten home from school, so I'd consider it successful! It may not hold up as well to more intense bug situations, but for our daily use it's been great.
It is oil-based, so it does leave a fair amount of oil in her hair when I spray, but nothing that doesn't wash out in the bath later. I'd also be wary of using this near more delicate fabrics, as the oil may stain! The benefits of this spray definitely outweigh these small detractors, and I'm excited to keep using it this spring and summer!
The content on this site is for informational purposes only and not intended to be a substitute for professional medical advice, diagnosis or treatment. Discuss any health or feeding concerns with your infant's pediatrician. Never disregard professional medical advice or delay it based on the content on this page.