As a parent, you're used to constantly thinking about all the smart ways you can protect your child, so it's no surprise you're on the hunt for sunscreens that can shield your baby's delicate and sensitive skin from the sun's harmful UV rays. While the American Academy of Pediatrics recommends that babies under 6 months old be kept out of the sun altogether, they do give the thumbs up to start using mineral sunscreen at the 6-month mark.
Sunscreen is important for anyone, but babies especially since their skin is more sensitive and susceptible to sunburns, notes Lauren Crosby, MD, FAAP, and Bobbie Medical Advisor. 
She recommends opting for baby-safe sunscreens that are mineral-based, such as those with titanium dioxide and/or zinc oxide, since they're less irritating and are not actually absorbed by the skin the way chemical sunscreens are. Instead, they serve as a topical blocker, sitting on top of the skin and shielding the sun's harmful rays. She recommends avoiding any chemical sunscreens, but especially those containing oxybenzone, avobenzone, octisalate, homosalate or octocrylene.
Ready to shop baby-safe sunscreens? Here is our list of the best baby sunscreens of 2023.
11 Best Baby Sunscreens of 2023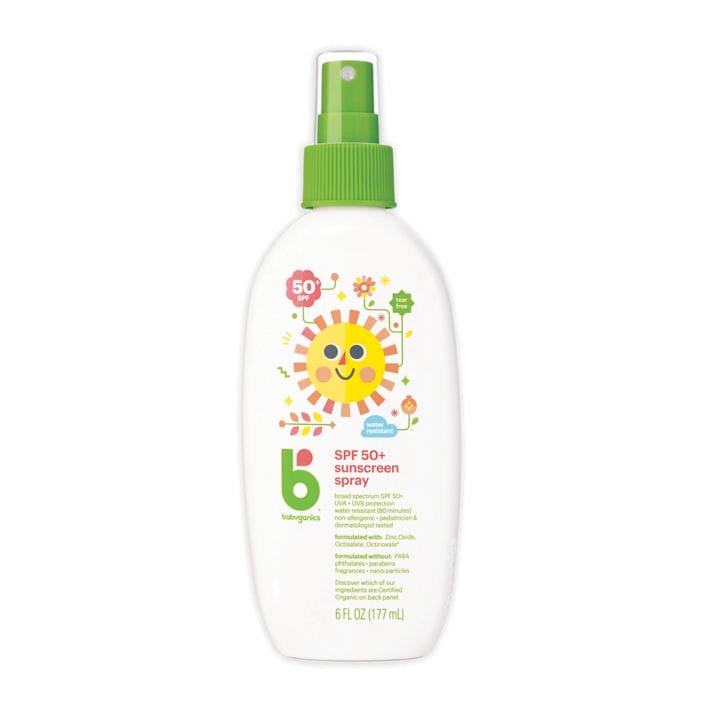 This spray sunscreen is a huge win for parents because it goes on so easily. Since it's not an aerosol spray, it's far more concentrated and ensures that more sunscreen is going onto your baby's skin rather than into thin air. It's SPF 50+, contains both UVA and UVB protection, is water resistant and doesn't require arm strength to rub it all in. It's also nourishing and safe on sensitive skin thanks to the infusion of their NeoNourish Seed Oil Blend containing tomato, sunflower, cranberry, black cumin and raspberry seed oils. This also packs great in your carry-on bag, coming in at the exact allowed 6 ounces!
Mom Approved Sunscreens for Kids
In addition to the list above, our moms have tried and loved these other sunscreen products.
Which sunscreen is best for babies?
The best sunscreen for your baby is one that is mineral-based, meaning that they do not contain chemicals that could cause skin irritation and are considered potentially harmful to the environment, explains Dr. Crosby. Instead, they are made from safe ingredients that sit atop your baby's skin and shield it from the sun's powerful UV rays. "Mineral sunscreens such as those with titanium dioxide and/or zinc oxide are best," she says.
What sunscreen can a 7 month old use?
A 7-month-old baby can safely use a mineral-based sunscreen that is applied ideally 15-20 minutes prior to sun exposure and reapplied every 2 hours or 80 minutes if the infant is swimming or sweating. "Most infants and children have sensitive skin so it is best to choose a formula that is for babies or young children," says Dr. Crosby.
Best sunscreen for babies under 6 months?
"Sunscreen can be used starting at 6 months old but there are occasions when it can be used at a younger age such as if no shade is available," says Dr. Crosby. In this case, it's still a good idea to go with a mineral-based sunscreen and ideally one that is 50 SPF minimum. "Test it on an area of skin a couple days prior if possible to watch for any reactions such as redness or skin irritation."
Safe Sunscreen for kids
As you can see, there's no shortage of baby-safe sunscreens on the market. It's all about being choosy when it comes to which brand and variety you buy. Following Dr. Crosby's advice of going with a mineral-based sunscreen that's high in SPF (ideally 50, but no less than 30), is water-resistant and safe for sensitive skin, will help ensure that you and your baby have fun in the sun safely— free from burns or irritations.