Our editorial team personally selects each featured product. If you buy something through our links, we may earn an affiliate commission, at no cost to you.
by Amelia Dortch, Milk-Drunk Contributor
Ashley Diamond is a woman who has mastered the always evolving dynamic of being a working mom. She's survived in the city that never sleeps as a sleep-deprived, nursing mom, and now she's navigating life during a pandemic with an energetic toddler and a newborn baby.
When Milk Drunk's Amelia Dortch virtually met with Ashley, she had the pleasure of learning even more about parenting behind the scenes. In a refreshingly real chat, Ashely shared the good, the bad and the beautiful of taking on motherhood.
The Formula Stigma Reared Its Head While She Was Still Pregnant
"Pregnancy is easy compared to the first 3 months of life. I have two girls. Katie just turned three and we were in Brooklyn [New York] when we had her. We were blessed because we didn't have a hard time conceiving."
As far as what they planned for feeding their baby, Ashley says, "I knew fed was best but I remember we went to a parenting class and they asked how many people were planning on breastfeeding and how many people were planning on using formula. And, not one person raised their hand for formula." This is when it became clear it was not ok to admit that you were using formula in Brooklyn.
Ashley admits that she and her husband were both of the mindset of "Why wouldn't we?" but didn't raise their hand either.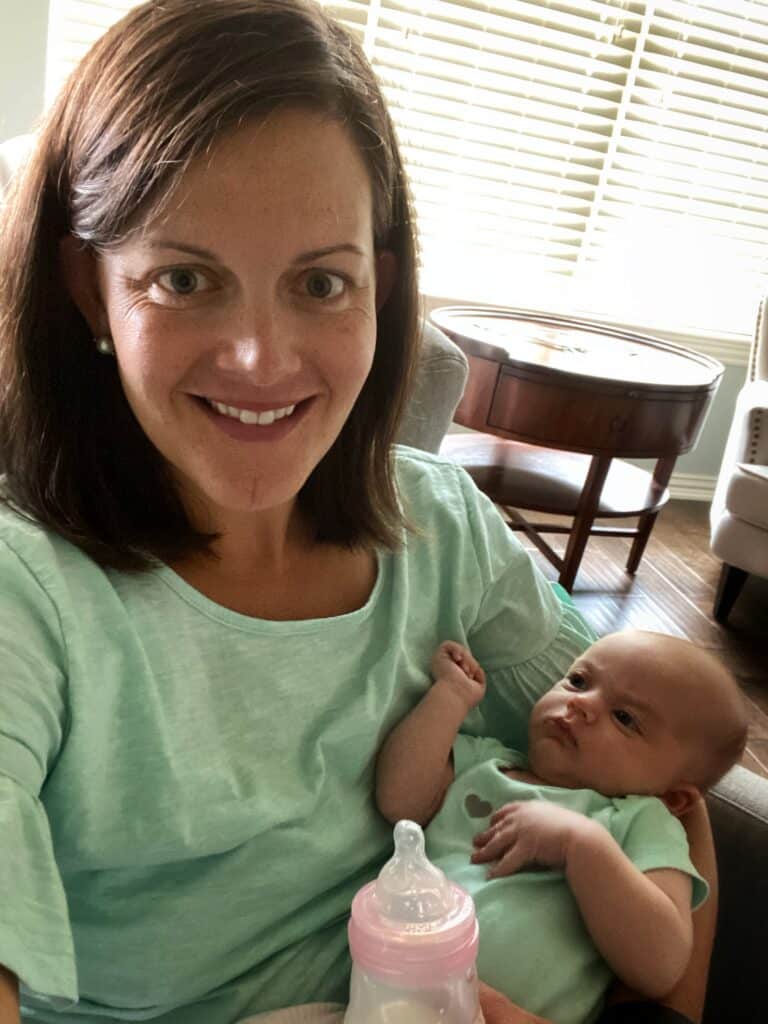 Her Latch Was Great, But Baby Weight Gain Was Not
Ashely's delivery and first hours of nursing were nearly perfect. Things were going so well that the doctor released the new family to head home a few days earlier than normal. Ashley's mom is a NICU nurse who was in town for the baby's arrival. Her presence put the doctor at ease.
"Well, when we went for the first pediatrician visit two days later, she'd lost 8% of her body weight. That created a month-long journey of paying ridiculous prices for lactation consultants when I could barely tell what time or day it was. And, trying every supplement I could think of; crazy teas and pills that tasted horrible to boost my milk."
By the time baby Katie had lost 10% of her body weight, their pediatrician gave them two choices. Switch the baby to formula or be prepared to take a trip to the hospital.
"Let me tell you. That first bottle of formula, it was like we had a new baby. She was so happy. She slept. We were able to sleep. That's when I first embraced fed is best. That's why I try to share my story more broadly because these are the things that they don't tell you."
Still wanting to provide breastmilk to her baby, Ashley began pumping to supplement with the formula. That's when she realized that her body was only producing an ounce of breastmilk per session. 
"With Annie, our second baby girl, we knew what to expect. We bought a tub of formula in case we needed it.
Recognize the Connection Between Feeding and Mom's Mental Health
Ashley says there are so many triggers that can cause postpartum mental health challenges. One can be the pressure to nurse and provide breastmilk to your baby even at the expense of what's reasonable. With that in mind she feels it's critical to remember to do a regular check-in.
"Take a pause each day, when you're holding the bottle or nursing, take a minute to check in with yourself to see, "How are you doing?"
Just Because You Introduce Formula, Doesn't Mean You Have to Stop Breastfeeding
If that check-in leads to the realization that you're not okay, Ashley encourages all moms, both new and repeat, to unplug…even if it doesn't happen overnight.
You see, as she did with her first daughter, Ashley has committed to supplementing breastmilk with formula until she goes back into the office. While she says it does require the sacrifice of pumping once or twice a day to produce only a couple of ounces of breastmilk, she wants to do what she can now to help boost her baby's immunity; especially during a pandemic.
"The minute this starts to cause anxiety or upset me and make me feel worse about myself I will pull the plug on the pump or on breastfeeding."
Be Ready to be Judged. Especially in Brooklyn.
"When people saw me pull out formula when we lived in Brooklyn, some would say to me, 'You shouldn't be giving your daughter that. You should be breastfeeding.' It's crazy how judgmental people can be there."
Ashley has since relocated to Fayetteville, Arkansas with her husband Bo and their two daughters; 3-year-old Katie and 11-week-old Annie. She has also completely weaned from breast feeding because her supply completely dried up. If you would like to get to know Ashley better, she has a very transparent Instagram account @healthyhappier where she shares her journey as a mom.

The content on this site is for informational purposes only and not intended to be a substitute for professional medical advice, diagnosis or treatment. Discuss any health or feeding concerns with your infant's pediatrician. Never disregard professional medical advice or delay it based on the content on this page.