Rachel Zeilic is a fierce fashion and lifestyle expert— to say the least. As VP of Marketing at WhoWhatWear she packs in a full day that starts with a 6am wake-up routine. As a mom to two boys (August, 3 and Lucky, 9 months) she is exhausted— like most of us. Her #1 battle of being a new mom is lack of sleep (surprise!).
Everyone focuses on the baby's sleep, but nobody focuses on the parents!

Rachel Zeilic
Rachel shares her tips on creating the ultimate sleep sanctuary and explains why matching pajamas help her get quality z's. Wait till you hear what products live on her nightstand and how she fits in bath-time, even with 2 kids!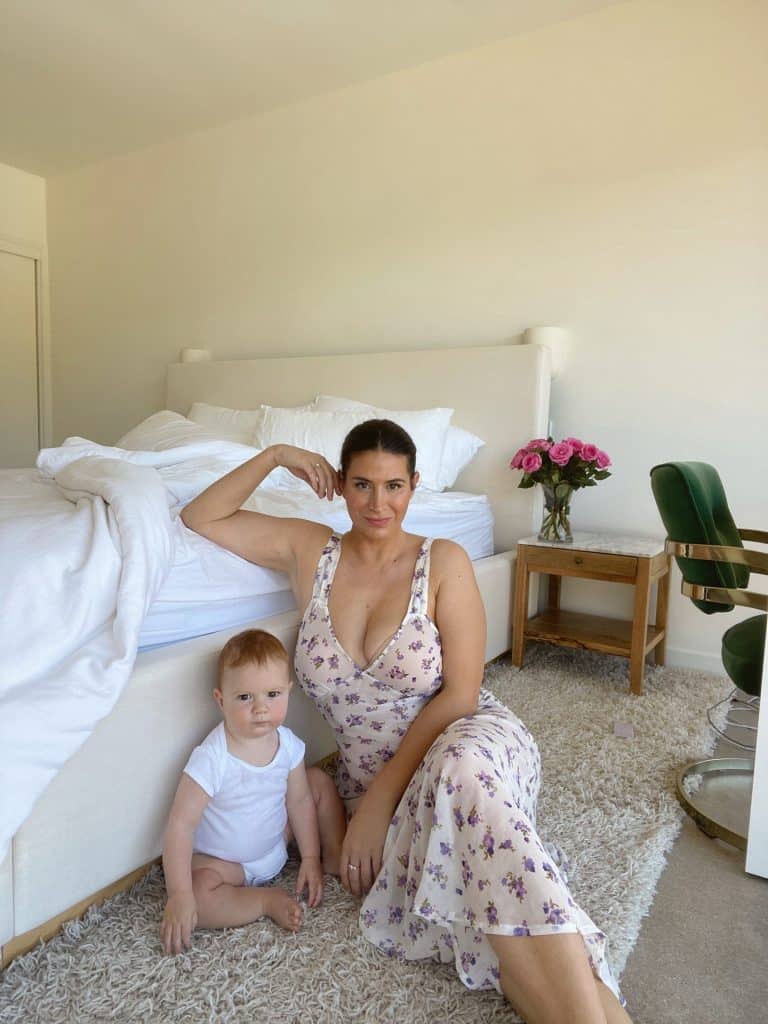 Why is it so hard for moms to fall asleep?
There is an assumption that you'll be so tired you'll be able to fall asleep easily, but that's not always the case. And it's not only the amount of sleep you get but the quality, too. This can be really hard when your sleep is being interrupted, and you're not always able to give yourself even the basics you need throughout the day. Since sleep is scarce in those early months, we need to make every minute count.
Give your body what it needs for the best quality sleep.
What products are on your nightstand?
I keep the below on my nightstand, and follow this routine religiously before bed. Even for someone (ahem me) who is busy and terrible at sticking to routines, this one is simple enough and I notice a huge difference in the quality of my sleep when I do it. 
Water – this might sound obvious but not many people realize what an impact dehydration has on sleep. I keep this large water bottle with me throughout the day, and refill with cool water before going to bed. The large capacity – we don't have time to refill, and the straw lid – we don't have time to unscrew a cap – are key to making sure I stay hydrated.
Magnesium – Magnesium supplements helps the body relax, and helps you sleep longer. I take 2 tablets before bed.
I will also have tea, Chamomile Tea or Peppermint Tea, to help me wind down and relax before bed.
How do you create a sleep sanctuary?
I love for my bedroom to resemble a cloud. Super minimal, no clutter, everything in shades of cream. Perhaps you might find a dark and moody bedroom relaxing, whatever it is for you. Setting up the perfect sleep environment will help improve your sleep and feelings of relaxation.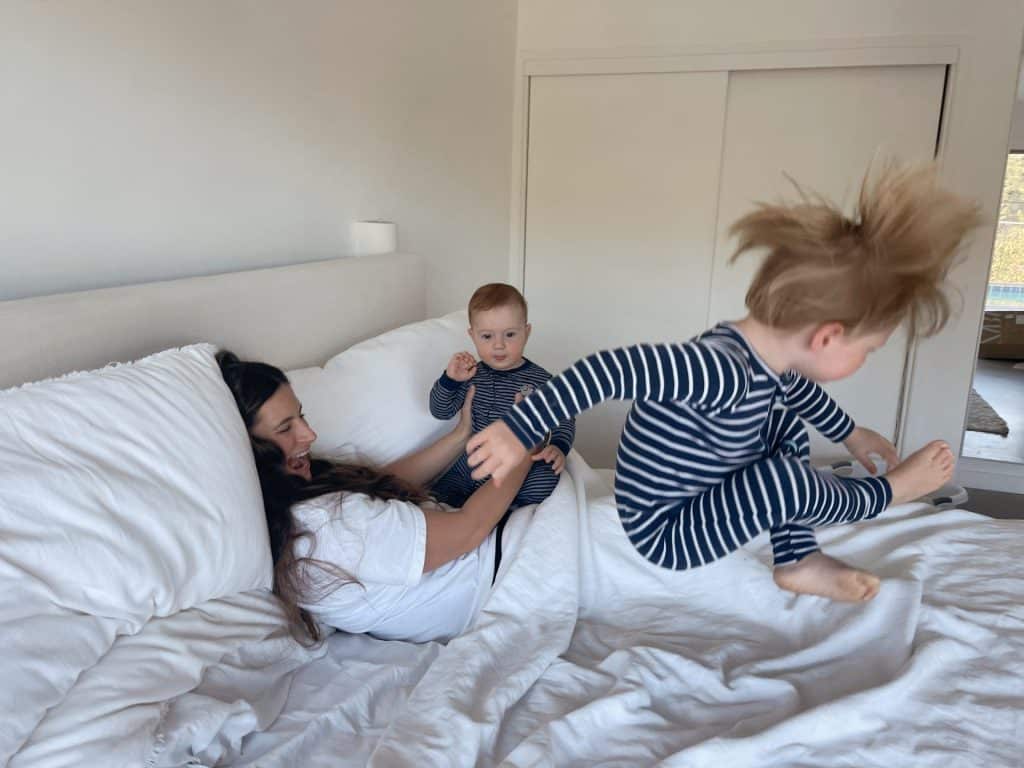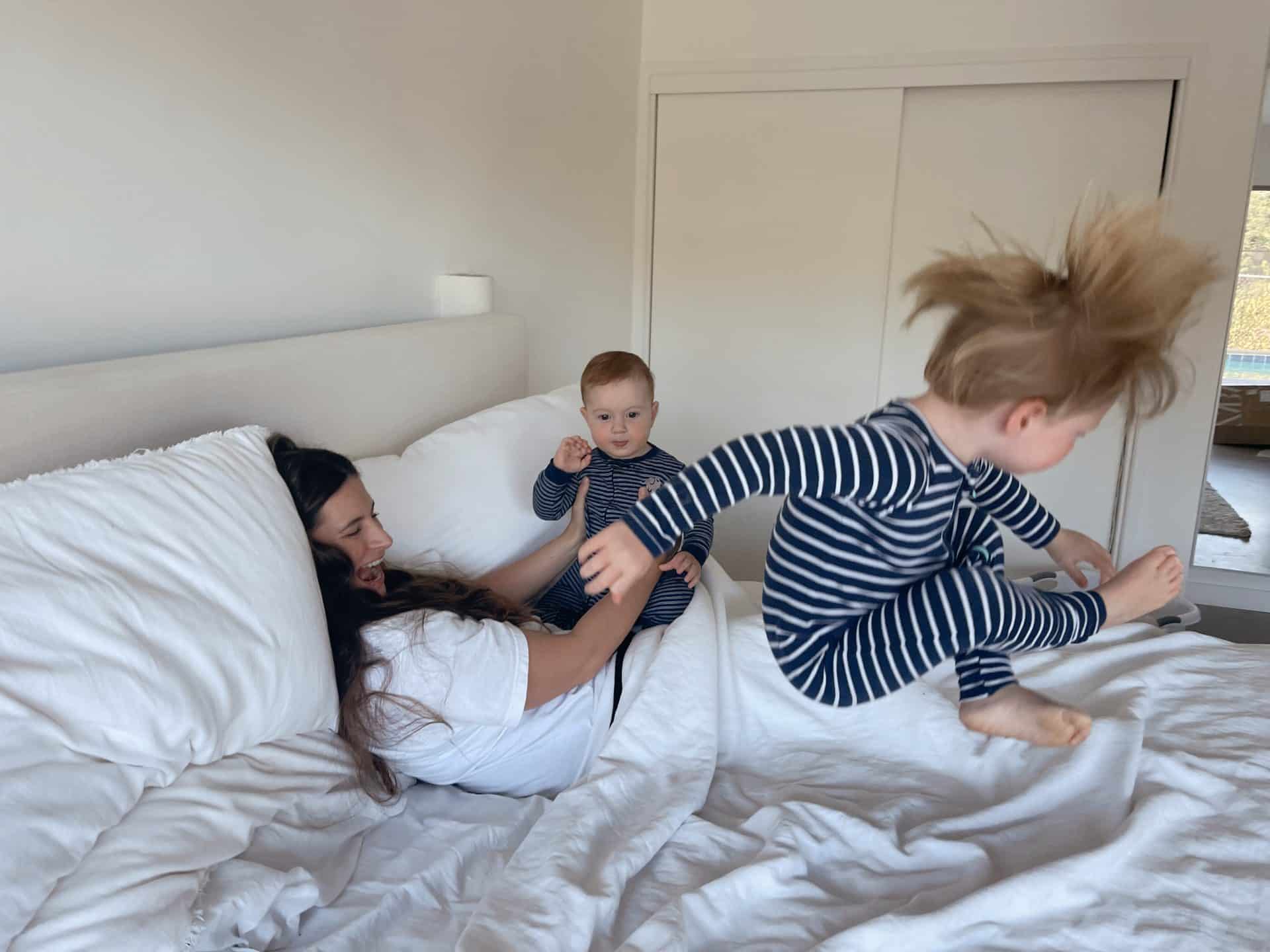 How do you fit in meditation?
I personally have always been terrible at napping. And unfortunately this doesn't miraculously change when I'm going through the newborn phase. If you can't nap— either because your body won't go to sleep or because you don't have enough time— then a quick meditation will give you a lot of the benefits of sleep. Any time you have a spare 10 mins, instead of scrolling on Instagram— close your eyes, get comfy and listen to a guided meditation. I love using the Calm App.
What is your sleep uniform?
I don't know the science behind it but I SWEAR I sleep better when I am wearing proper pajamas. I love traditional button down pajamas like the Clea Bamboo Pajamas from Kindred Bravely. Bonus – these pj's look like a shirt, so you can just pop on jeans or pants in the morning and you're dressed for the school/coffee run or whatever.
I also love romantic, vintage style slips like ASOS maxi dress, something about it makes me dream sweeter.
When it comes to Eye masks— the pretty silk ones just don't cut it for me. I prefer a 3D contoured foam eye mask because they don't put any pressure on your eyes, and give you 100% black out. Don't just trust me— 55,000 people gave it a 5 star review on Amazon, too.
Ear plugs — if it's your partners night-time shift, you'll need mom approved ear plugs or you'll just end up waking up when the baby cries.
I usually don't have time for my regular skincare routine with I have a newborn so I just slather on some Summer Fridays Jet Lag Mask to keep my skin from drying out.
Pro-tip: Lansinoh nipple cream also makes an amazing lip and eye cream!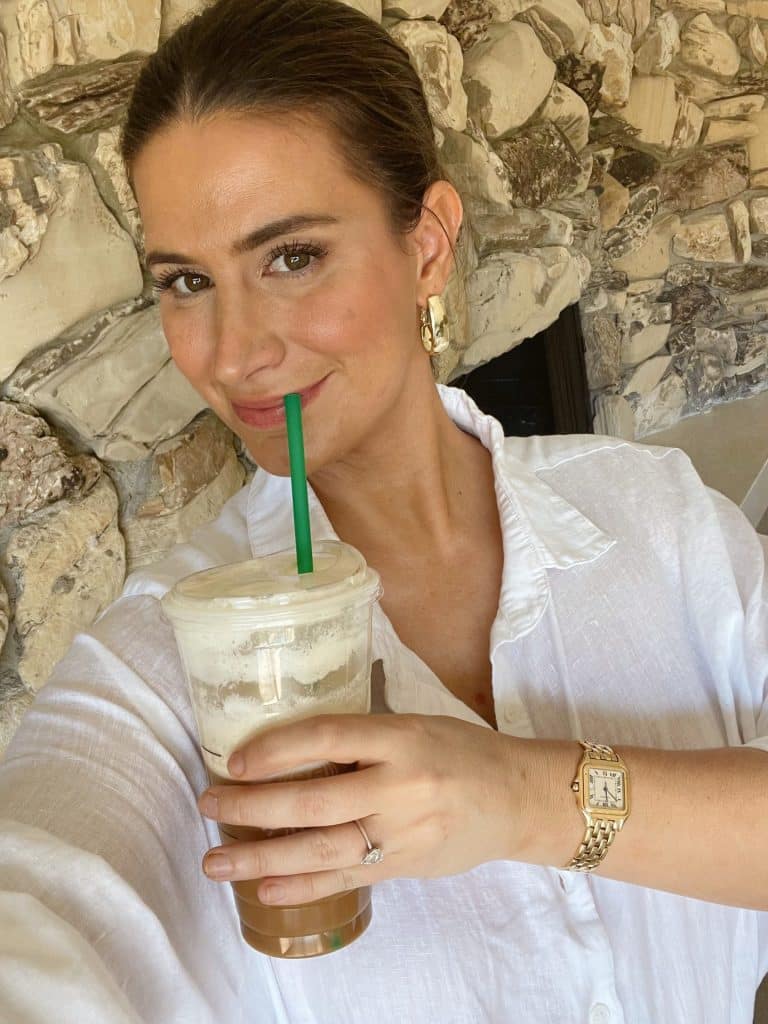 How does a mom of two fit in a nightly bath?
If you have time for a bath it is amazing to transition you into sleep mode. We know it works for our babies – so of course it also works for us. Add this Epsom salt bath soak for extra relaxation.
If this seems totally unrealistic time-wise with kids around— I hear you you. Have a bath with your kid(s). It's still relaxing and a really nice way to bond.
Additional sleep tips for busy, working moms?
No screen time an hour before bed, if you need to wind down listen to podcasts instead.
No caffeine after 2pm.
Physical activity— even just taking the baby for a walk during the day helps a lot.
Eating a balanced diet, avoiding those sugary foods that we often crave when we're tired. Easier said than done, but meal prepping healthy meals and asking friends/family to drop off healthy food really helps.
I truly hope these tips help. As someone who has had A LOT of troubles with sleep I know how devastating it can be. With each child, the lack of sleep during those first months led me to feel crazy, depressed, and angry— like I was headed for divorce…. Then the baby starts sleeping through the night, I figured out my own sleep and I realized that everything is OK. I was just that tired.
We appreciate you Rachel for sharing your brilliant tips on getting good sleep with a newborn. Thank you!
Stay tuned every month to get the scoop on modern parenthood from the Bobbie community. And remember, you're doing amazing.
xo,
Bobbie
The content on this site is for informational purposes only and not intended to be a substitute for professional medical advice, diagnosis or treatment. Discuss any health or feeding concerns with your infant's pediatrician. Never disregard professional medical advice or delay it based on the content on this page.