Self-made entrepreneur, investor, on-camera personality, and fitness guru Hannah Bronfman defined what wellness looked like for a generation of millennials who grew up on the internet. Think: Green juice. Yoga. Cleanses. "For a little while there, we all thought…that's what it should be," she says. "And back in 2015, we weren't even saying the word 'influencer.'"
Now, with the arrival of baby number two and a new set of demands on her family and her professional life, mom Hannah Bronfman, is redefining what it means to truly be "well" in an industry that demands perfection and authenticity—all at the same time. Read on to learn about how she's setting new boundaries, and taking on her latest role as mom of two.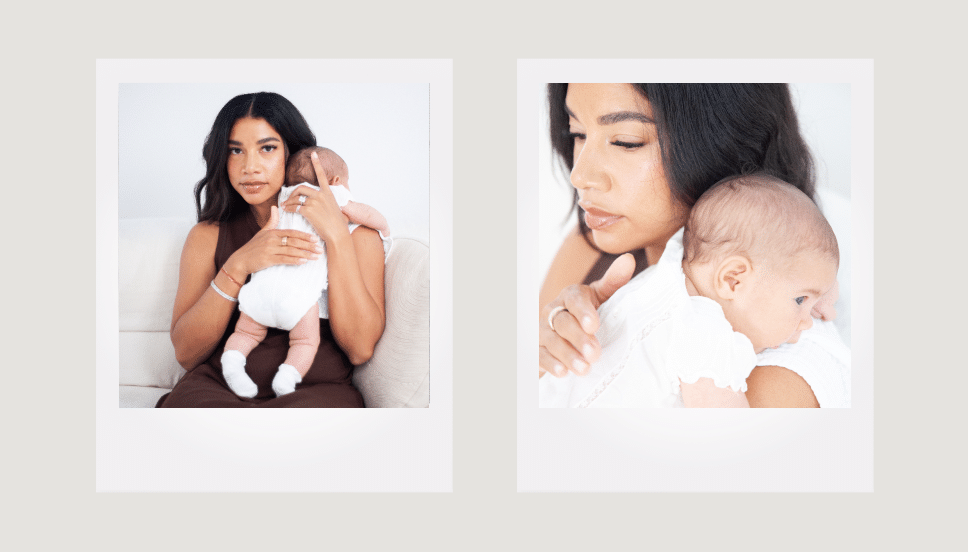 Photos by Kendra Goff
What has shifted or changed for you from baby one to baby two?
Part of what was so scary and part of what was so upsetting around Preston weaning before I was ready was this fear factor of—if I don't have this connection, this physical connection with my baby, what's that gonna mean for our relationship long-term? And now that Preston's almost a three-year-old and is my best friend—I know that whether or not he was, you know, attached to me on the boob has nothing to do with our relationship. Now I'm confident releasing that fear as it pertains to my journey with Claude.
And within that shift, where has your confidence grown specifically?
A lot of dads I speak to will say, 'well I'm useless during this time.' And I'm like, you're really not. There's so much you can be doing. It's not just your wife's baby, this is your baby too, right? You can give a bottle, you can change diapers, you can burp the baby for 20 minutes after I'm done feeding. Make breakfast, refill the water, make sure there are snacks next to the bed…There's so much that that partner can be doing to help with feeding. So saying, you know, you can actually get this one and I'm gonna go do that—that's a big boundary. That's a big self-care moment for me. That's really speaking my truth. I'm more comfortable saying things like that this time around than I was the first time.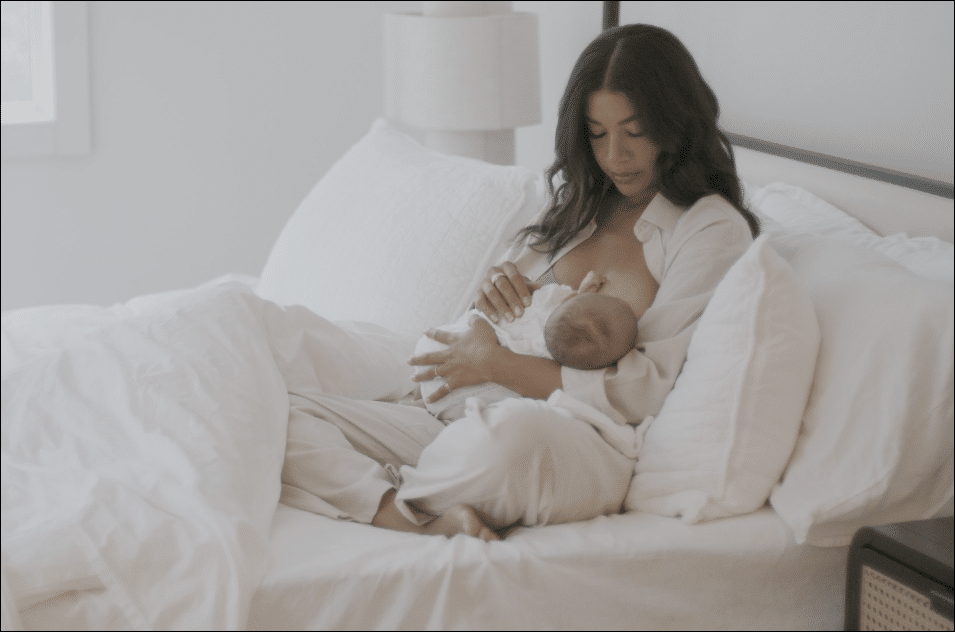 What have you learned about failure—or what we perceive as failure as a society—as an entrepreneur, and how do you cope with that as a high achieving person?
For me, when I first had my first big failure, which was the closing of my [first] startup back in 2015 or 14, I thought that was the end. Of me. And then I blossomed.
So no, it's not a failure. In fact, this is an opportunity for growth.
In the same way a toddler trips and gets back up and keeps moving—you know, that was a really big deal for that toddler! That's an emotional step forward and they're learning for themselves for the first time, in the same way as an adult who fails at something learns and moves forward. I tried, I did my best, it didn't work out the way I thought, but there's growth in that situation. I'm actually going to learn from it and be a better version of myself for it.
What about this notion of failing as it pertains to feeding? Any advice you would share with other parents feeling like their feeding journey isn't going as planned?
As it pertains to feeding, what might feel like a failure in one feed doesn't mean that the next is going to feel that way. Right? A lot of people say, how's your day going? You know, I'm working feed by feed right now. That's a really real statement.
Sometimes it's really hard to shake off that bad feed, but it's so important because you don't wanna bring that energy into the next one. You don't need to get too caught up in it.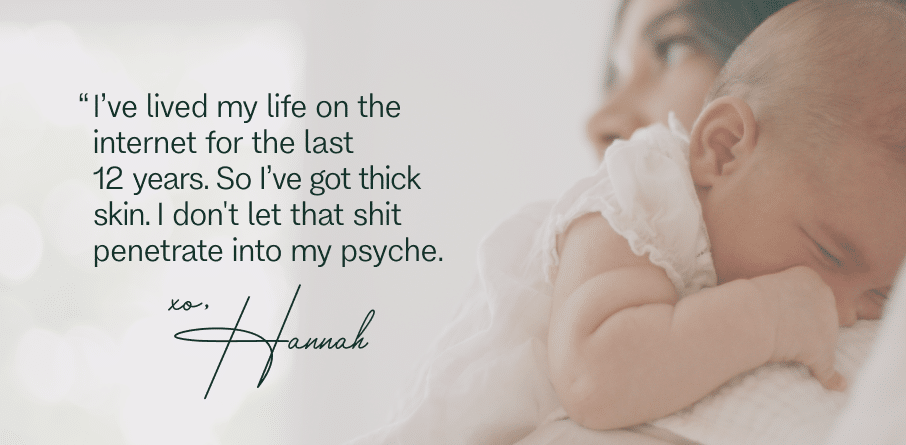 What was it like for you as a first-time mom putting yourself and your story out there on the internet?
The pressure that you feel that you have to breastfeed your kid is really intense. And if you somehow fail at that, [the perception is that] you are a failure and you've failed your child, which is not the case at all. But it's really hard, especially when you haven't had a kid before and you're not confident with yourself in that way because you're doubting all the things as a first time mom.
How do you navigate the decision around what you share, and what you protect?
I've lived my life on the internet for the last 12 years. So I've got thick skin. I don't let that shit penetrate into my psyche. — Hannah Bronfman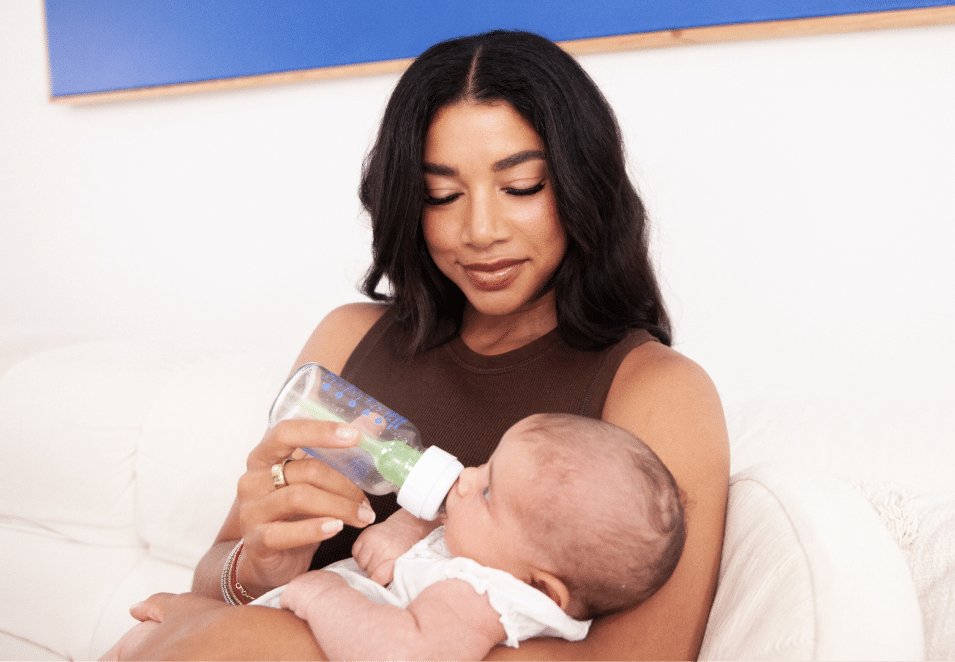 Stay tuned every month to get the scoop on modern parenthood from our community. And remember, you're doing amazing.
Xo,
Bobbie
The content on this site is for informational purposes only and not intended to be a substitute for professional medical advice, diagnosis or treatment. Discuss any health or feeding concerns with your infant's pediatrician. Never disregard professional medical advice or delay it based on the content on this page.