Our editorial team personally selects each featured product. If you buy something through our links, we may earn an affiliate commission, at no cost to you.
This post was previously published on The Formula Mom's website.
Wow, can I just say how AWESOME it feels that there are now two Clean Label Project Certified U.S. infant formulas to write about here? Even 18 months ago this wouldn't have been possible.
More options, additional standards, and new innovations are beyond welcome in the formula market. I am thrilled to see both ByHeart and Bobbie shaking things up!
But less about me and onto you— if you're here, you are likely looking for a formula with a recipe close in composition to breast milk that avoids some of the ingredients that we typically see in infant formula like palm oil or corn syrup.
The good news? Both of these formulas fit the bill!
Let's break down some of the key features of these two formulas.
Benefits of Both Bobbie and ByHeart
Before we discuss the differences, I'd like to take a moment to highlight some of the ways that these products are similar:
Both have received the Clean Label Project's Purity Award
Both have pesticide-free certification
Both use 100% lactose for the carb source which makes them free of maltodextrin, corn syrup, corn syrup solids, and sucrose
Both are palm oil-free (which means they are less likely to constipate) and contain no soy allergens
Both use grass-fed dairy
Price is very comparable with both ringing in between $0.21 and $0.22 per fluid ounce depending on whether you purchase a subscription. Both of these products also meet strict standards for ingredient quality and processing safety!
The Scoop on Bobbie
Bobbie infant formula launched on the U.S. market in January 2021 and has made a huge impact the past 2 years. Offering a recipe that meets nutritional standards for the FDA and most EU standards, Bobbie offers a traditional European-style recipe with highest-quality ingredients. You can read my full review of Bobbie baby formula here.
Bobbie's Vision and Values
Bobbie's approach to formula can be summed up in two words: simple and trustworthy. They elected to use a proven recipe, stripping away any unnecessary ingredients, and then focused on organic suppliers to make a 100% organic product. They take a "less is more" approach which lets parents decide if they want extras like prebiotics (recognizing that some parents may not).
They have a short, easy-to-decipher formula ingredient list— many of which come from local organic farms. Overall, Bobbie's formula is an iteration of a beloved European option that's both produced and sold locally in the States.
Bobbie Ingredient Highlights
Skim milk
Fat blend with no palm oil and no soy
60% whey protein to 40% casein (the ratio found in mature breastmilk)
100% lactose providing carbohydrates
USDA-certified organic recipe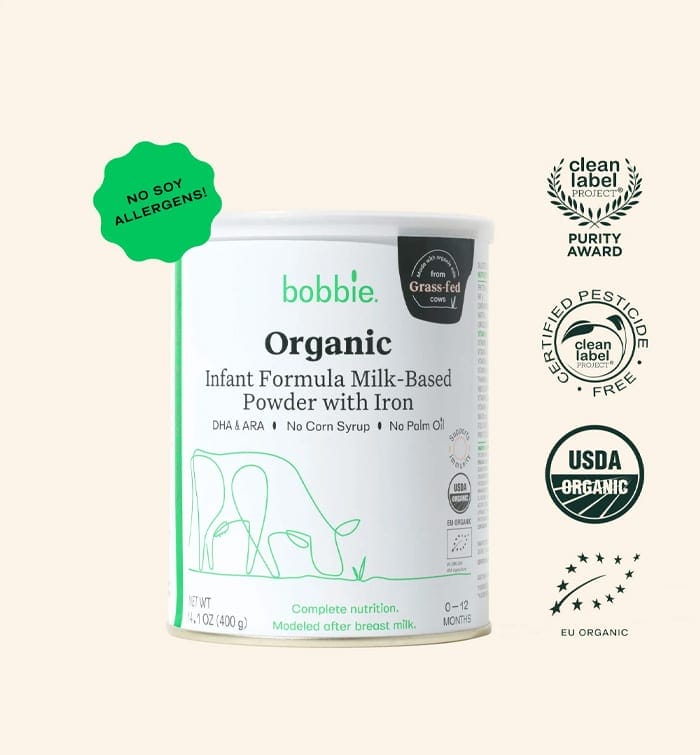 Shop Bobbie Organic Infant Formula
Bobbie Organic Infant Formula is a USDA Organic, EU-style infant formula that meets all FDA requirements. It is a complete nutrition milk-based powder modeled after breast milk and is easy on tummies. It is non-GMO and doesn't have corn syrup, palm oil, or maltodextrin. Learn more about Bobbie.
Bobbie vs ByHeart Differentiators
Bobbie offers the most DHA (a fatty acid important for brain development and eye health!) of any formula in the U.S. market at 20mg/serving. They also offer a small can size at just 400g which makes it a great choice for families supplementing with formula (you may not use a larger can in the one-month window— yes, you're supposed to toss used formula within a month of opening)! While primarily sold online, Bobbie is also available at Target and select boutique retailers across the country.
My favorite feature isn't related to the product at all but instead the company. Bobbie was founded by two moms! Having lived through infant feeding challenges themselves, Bobbie's two co-founders understand intimately what parents want and how they feel. If you follow them on social media, this definitely shows.
The ByHeart Breakdown
ByHeart is brand new to the market after a 5-year journey of research and development! A science-forward company, they sought to take recent breastmilk research and use it as a blueprint to craft an entirely new recipe. With a large-scale clinical trial proving their concept, ByHeart offers a formula that narrows the outcome gap between breastfed and formula-fed infants.
ByHeart's Vision and Values
ByHeart's approach to formula can also be summed up in two words: innovative and complex (and breastmilk is very complex, so I don't mean this negatively!). With a large team of researchers and a heck of a lot of funding, they ran an infant formula clinical trial to demonstrate the safety and efficacy of their product.
The positive results of this trial convinced the FDA to make two significant allowances that they haven't previously— the use of whole milk and the exclusion of soy oil. ByHeart is a boundary-pushing new option that provides clean ingredients and all-in-one benefits from a unique recipe.
ByHeart Ingredient Highlights
Whole milk
Fat blend with no soy oil and no palm oil
80% whey protein to 20% casein (the ratio found in colostrum/early breastmilk)
Whey percentage comprised of both intact alpha-lactalbumin whey and whey protein hydrolysate
100% lactose plus prebiotic fiber GOS providing carbohydrates
Lactoferrin for immune support
Majority organic ingredients
Differentiators
ByHeart's patented protein blend includes two proteins that are found in abundance in early breastmilk— lactoferrin and alpha-lactalbumin. The alpha-lac whey provides ease of digestion and both proteins promote a healthy gut microbiome for immune system development. Their use of whole milk provides essential fatty acids, good cholesterol, and milk fat globule membrane, all of which we see in breastmilk.
Additionally, ByHeart has its own manufacturing facility in Reading, PA, making it a vertically-integrated formula company. ByHeart is currently available exclusively at Target.
Which Formula is Right For You?
The question you've been waiting for! Here's the deal: I can't tell you.
The right formula for your baby and your family will depend on the specific needs, goals, and priorities that you bring to the table. Because here's how this looks for me:
Want something to supplement just 1-2 bottles a day? Bobbie wins.
Want prebiotics included? ByHeart wins.
Want a manufacturer with a proven safety record across decades? Bobbie wins.
Want a cutting-edge recipe? ByHeart wins.
Want a formula you can pick up in store at Target? Bobbie and ByHeart both win.
Want a subscription that arrives at your doorstep? Bobbie wins.
Your best bet is to sit down and think about what is most important to YOU. I would consider:
How much do I plan to use each month?
Do I care more about higher DHA levels or the inclusion of lactoferrin?
Do I like traditional and simple or new and complex?
Do I have a preference about 80% whey versus 60% whey?
Does a new manufacturing facility feel like a pro or a con?
Do I align more with a European recipe or a brand-new recipe?
There are no right or wrong answers here!
The good news is that both of these formulas are excellent options. You can't make a wrong choice here (and if you've followed me for long, you know I don't think that any formula is a wrong choice if it meets your baby's needs and your family's priorities)!
…Got Feedback on Bobbie or ByHeart? I always love to hear how parents feel about new products on the market. Send me a message on Instagram and let me know what you think! Happy feeding!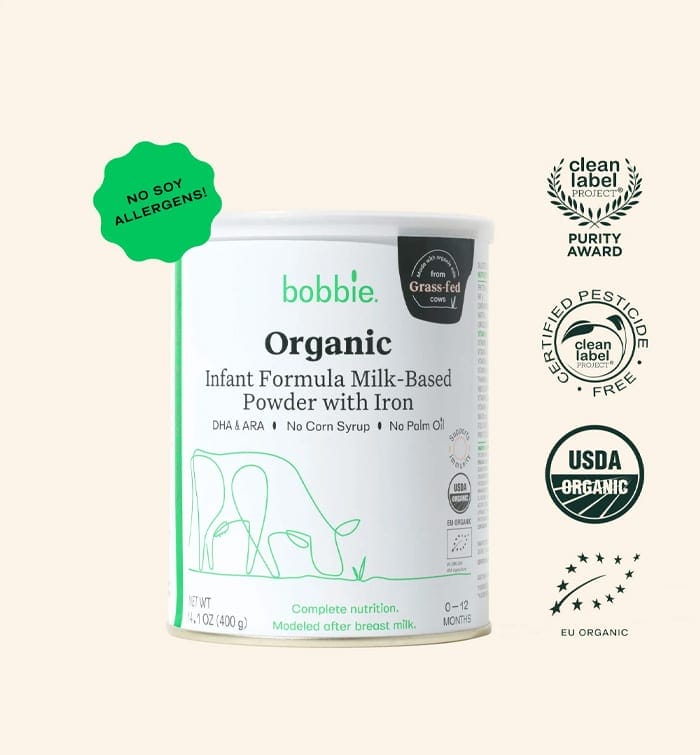 Shop Bobbie Organic Infant Formula
Bobbie Organic Infant Formula is a USDA Organic, EU-style infant formula that meets all FDA requirements. It is a complete nutrition milk-based powder modeled after breast milk and is easy on tummies. It is non-GMO and doesn't have corn syrup, palm oil, or maltodextrin. Learn more about Bobbie.
The content on this site is for informational purposes only and not intended to be a substitute for professional medical advice, diagnosis or treatment. Discuss any health or feeding concerns with your infant's pediatrician. Never disregard professional medical advice or delay it based on the content on this page.