Our editorial team personally selects each featured product. If you buy something through our links, we may earn an affiliate commission, at no cost to you.
I was a breast feeder turned combination feeder turned formula feeder with my daughter. I learned right away that there were essentials I needed at each different phase. I also learned that I couldn't listen to everyone for product recs or advice when I was putting together my baby registry. Some people were too bare bones (manual pump only), some were way too extravagant for my taste (nothing against the Snoo). I took cues from a trusted friend who was on her third baby as I was having my first. She was practical and smart and had tested enough products to know better. I even took her with me when I built out my registry in person.
It's important to try out a few products and use what works best for you throughout your feeding journey. Just like feeding itself, you have no idea how it will go until you're there. I absolutely thought I'd be a full-time, breastfeeding mom. Turns out I had low supply and didn't enjoy breastfeeding as much as I thought I would. Right out of the gate I became a combination feeder— a phrase I had never even heard of pre-baby! By month four I was exclusively using formula.
As someone who breastfed (with an electric pump and a manual pump) and formula fed, I ended up needing all of the breastfeeding essentials in addition to the formula feeding essentials. I jotted down for you my 'must have list' along with a 'would like to have' list— these are the essentials you'll need and want if you're breastfeeding and formula feeding your baby. This is a comprehensive list. You don't need all of these things, but you can add these to your Amazon baby registry in advance or add to cart as needed.
Everything You Need for Breastfeeding
There are some essentials you'll need if you plan to breastfeed and/or combination feed. Combo feeding means using any combination of breastfeeding, pumping, formula feeding, topping off, etc. It's just a way of combining efforts to make feeding go as smoothly as possible for you and your family.
Pro tip: If you are breastfeeding, make sure you have extra pump parts on hand.
Breastfeeding Supplies
Breastfeeding Nice-to-Haves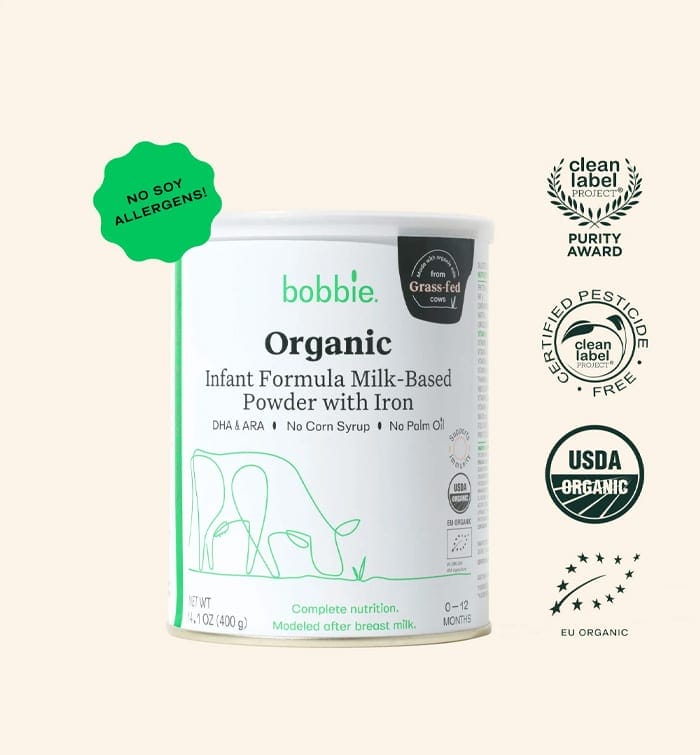 Shop Bobbie Organic Infant Formula
Bobbie Organic Infant Formula is a USDA Organic, EU-style infant formula that meets all FDA requirements. It is a complete nutrition milk-based powder modeled after breast milk and is easy on tummies. It is non-GMO and doesn't have corn syrup, palm oil, or maltodextrin. Learn more about Bobbie.
What supplies do I need for bottle feeding?
If you are exclusively bottle feeding and/or combo feeding, there are some essentials you will need. Have multiple bottle sizes with multiple nipple sizes/flows available to see what works best for your baby at different stages. If you are using formula, you can choose the one that is best for your family. Our moms recommend an organic US made baby formula.
Pro-tip: We recommend having at least 6-8 bottles on hand. It's much easier to use bottles as needed and wash them all at one point in the day/night versus having to wash a bottle after every single feeding.
Bottle Feeding Supplies
Bottle Feeding Nice-to-Haves
FAQ's About Products for Combination Feeding:
What feeding items do you need for a baby?
Even if you're a minimal mom, if you're combination or formula feeding you will need baby bottles and nipples, a brush to clean the bottles, burp cloths and a trusted baby formula.
What essentials are needed for breastfeeding?
If you're breastfeeding, you may need nothing more than burp cloths. However, if you're combo feeding (which may include pumping), you'll need at least a pump, breast milk storage bags, baby bottles and a brush to clean the bottles.
How many bottles do you need to buy for bottle feeding a newborn?
Whether you're combo feeding or full formula feeding, you need at least 6-8 baby bottles for practicality and for bottle safety. Remember you may be using these bottles for top-offs only (a bit of formula after breastfeeding) or you may want to make a few prepared bottles at a time and have them ready in the fridge for late night feedings.
How many times a day do you feed a newborn?
This number varies, but it's fair to say feedings are every 2-3 hours, so assume there will be 8-12 feedings per day with a newborn. The feedings will spread further apart as the baby gets older, however there will be more formula/breast milk used per feeding.
How do you prepare a bottle for feeding?
Making sure bottles are clean and dry are very important! As are your hands and the work station you use to prepare bottles. If you are using formula, it's important to follow the manufacturer's directions when making a bottle.
What should I keep in my breastfeeding station?
Even if you feel comfortable breastfeeding wherever you are around the house, it's really nice to set up a breastfeeding station. Perhaps this is a glider or a corner of the sofa you feel supported in. We love having the Brest Friend Nursing Pillow at the ready for good back support (it also has a pocket for your phone!). This is a spot where you can keep clean burp cloths for baby as well as a supply of water for you mom (a large insulated tumbler with a straw is a must.)
What do you need easy access to during feedings?
Hands down, an outlet to charge our phones wins here. But having access to any device that plays music or meditations or podcasts is the answer. Feedings are long and can feel lonely, so it's nice to call our moms or feel connected to others during feeding times.
What formula feeding supplies are needed?
In addition to the bottle feeding supplies listed above, you need a good quality formula. Our moms vote for organic baby formula that is US made.
Conclusion:
There are a lot of different products you'll need for breastfeeding and/or combination feeding. You can start with the basics, then add in extras over time. The little things often do make all the difference when it comes to your comfort mom, and that of your baby, during these essential feeding months.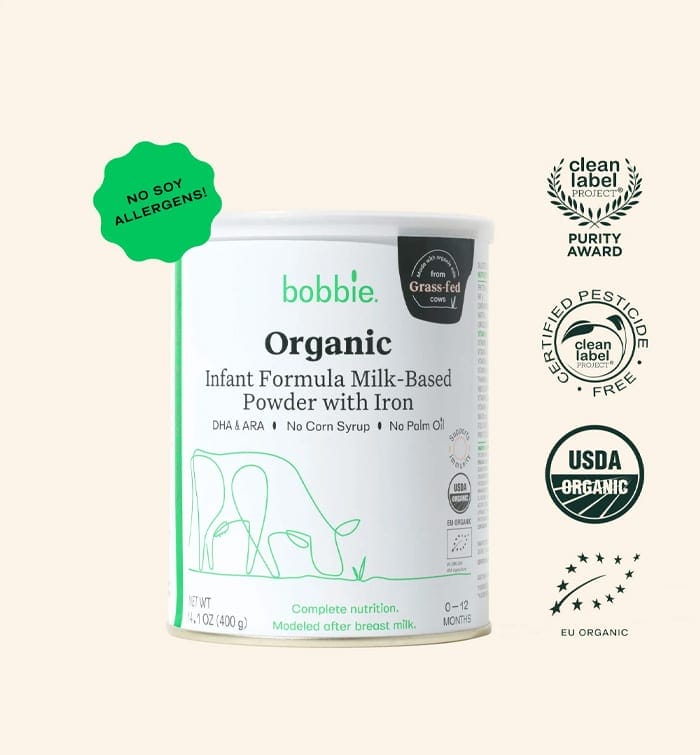 Shop Bobbie Organic Infant Formula
Bobbie Organic Infant Formula is a USDA Organic, EU-style infant formula that meets all FDA requirements. It is a complete nutrition milk-based powder modeled after breast milk and is easy on tummies. It is non-GMO and doesn't have corn syrup, palm oil, or maltodextrin. Learn more about Bobbie.
The content on this site is for informational purposes only and not intended to be a substitute for professional medical advice, diagnosis or treatment. Discuss any health or feeding concerns with your infant's pediatrician. Never disregard professional medical advice or delay it based on the content on this page.