Our editorial team personally selects each featured product. If you buy something through our links, we may earn an affiliate commission, at no cost to you.
This post was previously published on The Formula Mom's website.
Hi friends! What an exciting month this is— did you know that there hasn't been a new formula brand in the U.S. in FIVE YEARS? We haven't seen a newcomer to the field in over half a decade. I'm so excited that Bobbie is one of the brands providing a new option for families in the U.S. More choices = better for families in my opinion.
I'm going to break down my thoughts about this new formula but before we begin, here's a friendly reminder…there is no best baby formula.
There is No Best Baby Formula
The very best baby formula is the one that works for your baby and for you. No single formula will be best for all babies or for all families. If you're using a formula that works for your baby and you feel like it's a good fit, keep at it! Remember, all formulas have the nutrients a baby needs to grow and thrive. Every single one of them.
That said, if you're looking for a new formula or want to switch baby formula because you're not sure that what you're using is a good fit for your baby or for your priorities, this blog may be helpful.
About Bobbie baby formula
Bobbie is a formula company based in the U.S. that is mom-founded and led. I love this! I appreciate that their mission is informed by their own experiences; namely, their desire to create something for their own babies that they personally feel good about. If you follow @bobbie on Instagram, you'll notice that their messaging resonates because their story is our story— they struggled with breastfeeding, switched to formula, and felt frustrated by the lack of options and lack of support.
In taking matters into their own hands, they've created a new formula (of course) but are also creating a culture of acceptance around formula feeding through their #bottleboldly campaign. These ladies are right up my alley in this regard!
And yes, they've created a high-quality product. Let's get into the good stuff— the ingredients, cost, availability, and a discussion of who could be a good fit for Bobbie (and who may not be).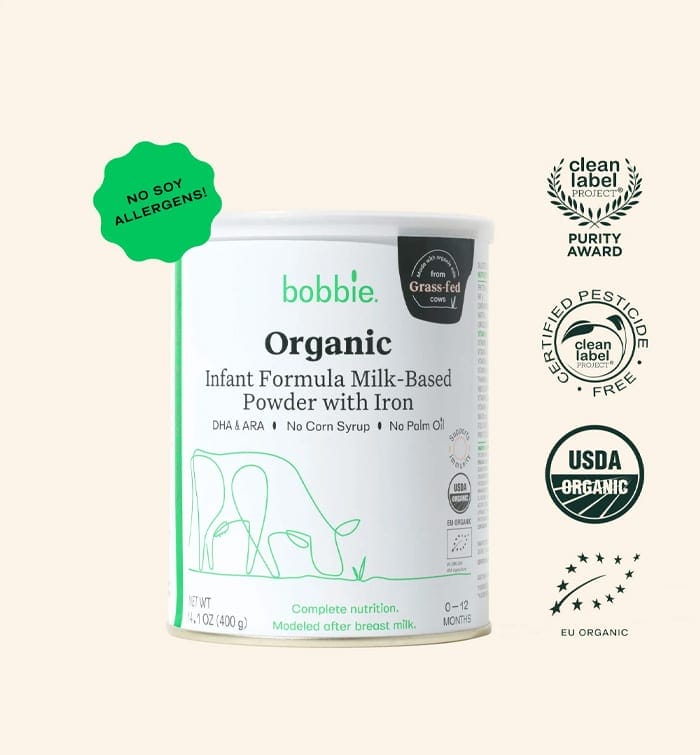 Shop Bobbie Organic Infant Formula
Bobbie Organic Infant Formula is a USDA Organic, EU-style infant formula that meets all FDA requirements. It is a complete nutrition milk-based powder modeled after breast milk and is easy on tummies. It is non-GMO and doesn't have corn syrup, palm oil, or maltodextrin. Learn more about Bobbie.
Bobbie Infant Formula Ingredients
Bobbie uses a "European-style" recipe. Not familiar? Formulas in Europe are regulated by the European Commission (their equivalent of the FDA). This Commission often has more prescribed regulations than that we see in the U.S. For example, the European Commission prohibits the use of corn syrup or corn syrup solids in formulas, limits the use of sucrose (table sugar), prohibits GMOs, requires DHA, and more. The FDA requirements for infant formula is different here.
NOTE: This does not mean that U.S. formulas are bad! It just means that the FDA provides more leeway in how our U.S. manufacturers create their products.
Bobbie's goal was to craft a European-style formula— a formula that meets many of the European Commission's strict requirements— that's FDA-registered and manufactured in the U.S. And they did!
Here's what their European-style recipe means in practice…
Lactose
The carb source in Bobbie is lactose, the same carb source found in breastmilk. I always recommend lactose-based formulas when possible as we know that babies are biologically and physiologically designed to digest lactose and it has a lower glycemic index value.
Pasture-raised milk
Like most formulas, the protein in Bobbie formula comes from cow's milk. In addition to being organic, Bobbie uses milk from pasture-raised cows. These cows have not received antibiotics or hormones and they feed primarily on grass. Grass-fed cows tend to produce milk that is higher in 'good' omega-3 fatty acids and lower in 'bad' omega-6 fatty acids.
Added whey
The protein composition of cow's milk is very different from the protein composition of breast milk. Mature breastmilk features a 60/40 ratio of whey (liquid, easier to digest protein) to casein (solid, harder to digest protein). As such, I always recommend that parents look for a formula with added whey, and Bobbie's recipe has added whey to mimic the 60/40 protein ratio found in breastmilk.
No palm oil
All formulas require vegetable oils to provide needed fat, calories, and essential fatty acids, and most formulas use a blend of several oils. The use of palm oil is one of those touchy subjects in the formula world. In addition to being a concern for environmental sustainability, research shows that palm oil may inhibit calcium absorption in some infants and may cause constipation. I typically recommend against formulas that use palm oil as a primary ingredient for this reason, though I was personally fine with both of my children using formulas that contained palm oil as part of a larger blend.
To avoid some of the concerns with palm oil, Bobbie uses a blend of organic sunflower/safflower oil, organic soy oil, and organic coconut oil instead.
"But wait!" you may be thinking, "Isn't soy always bad?" And my answer is no* with a caveat. While there is some legitimate concern about soy protein (due to phytoestrogens), this concern does not extend to soy oil or soy lecithin, both of which have been separated from the protein.
DHA
DHA, an omega-3 fatty acid, is important for babies' brain function and eye health! While many U.S. formulas voluntarily include DHA and ARA, the FDA does not require it. On the flip side, the European Commission recently updated and increased its DHA requirement. Bobbie's formula meets the updated EU requirement for DHA and includes more DHA than any other U.S. formula.
Additionally, their DHA is extracted using water, not hexane (a toxic solvent that is commonly used for DHA extraction, though the hexane residue is removed from the final product before it's added to formula).
A Note on Prebiotics and Probiotics
You might have noticed that Bobbie does not include a prebiotic (many formulas include oligosaccharides) or a probiotic (a smaller number of formulas include one or more Lactobacillus strains). I discussed the choice to leave these out with the Bobbie team and their response was that they wanted their formula to be as clean and simple as possible— only including what a baby needs— and to provide parents the choice to customize the formula with prebiotics or probiotics if desired.
While I typically recommend formulas that contain prebiotics, I can appreciate Bobbie's approach here. If you plan to add pre- or probiotics to your baby's formula, please always consult with your pediatrician first.
Cost of Organic Baby Formulas
There's no getting around it that baby formula is expensive and that organic formula is even more so.
Bobbie formula retails at $26 per 400g can. These European-size cans may be smaller than what you're used to! It's important to know that the size of the can doesn't dictate the value; instead, we assess value by looking at the price per fluid ounce. Here's how Bobbie compares to other formulas in its niche:
Bobbie: $0.24 per fluid ounce with free shipping on subscription orders
Conventional U.S. organic formulas: $0.20-$0.22 per fluid ounce
Imported European formulas: $0.21-$0.34 per fluid ounce, plus shipping in some cases
You'll note that Bobbie's price point is very much in-line with other U.S-based organic formulas and is in-line or cheaper than some imported options.
Availability of Bobbie Baby Formula
Bobbie is a direct-to-consumer brand, which means they sell directly to their customers via their website.
To prevent an "I'm running out, what do I do now?" dilemma, Bobbie offers a subscription service that includes guaranteed on-time shipping. Subscribing before you need your next batch ensures that Bobbie can get ahead of and accommodate for carrier delays and other issues. As someone who used a subscription program for my first child's formula, I loved the convenience of being able to "set-and-forget" my formula deliveries. The only downside for me was making room in the pantry on delivery day, and that was a worthwhile trade-off for the peace of mind!
Bobbie is now also available at Target and on Target.com which means it's also an option to pick up a can or two in-person when necessary or desired.
Who May Benefit from Bobbie Formula
As I mentioned before, there's no single formula that will be a good fit for every baby or every family, and all formulas have the nutrients a baby needs to grow and thrive! Bobbie formula may be a good fit for you if:
You're looking for a formula that uses cow's milk as a base
You want a formula that uses lactose for the carb source
You want a formula that has added whey for easy digestion
You want a formula that uses an oil blend without palm oil
You want an organic formula
You're willing to pay more for an organic formula (and hear me say that it's okay if you're not!)
You prefer an FDA-regulated formula and want one that meets the quality of an EU-style product
If these things resonate with you, Bobbie baby formula is a great choice!
Who Bobbie May Not Work For
There's a lot of excitement about Bobbie, particularly because it's new and they have a strong social media presence. I get it! That said, be aware that if you fall into any of these categories, Bobbie may not be a good fit:
Your baby has a milk protein intolerance or allergy
Your baby needs hydrolyzed (broken down) milk proteins
You want staged formulas that are specific to your baby's age
You want a goat milk-based formula
You want a formula that has prebiotics and/or probiotics included
Families who are currently using a European formula that offers these options, such as HiPP or Holle, may decide that continuing with their EU brand makes sense or they may feel confident switching to U.S. based Bobbie.
Bobbie Formula Review Wrap-Up
Overall, Bobbie formula gets The Formula Mom stamp of approval! It's a great option for families who want an FDA-regulated, organic formula that has a clean recipe.
Have you tried it? If so, did you like it? Let me know! I'd love to hear what you guys think @theformulamom.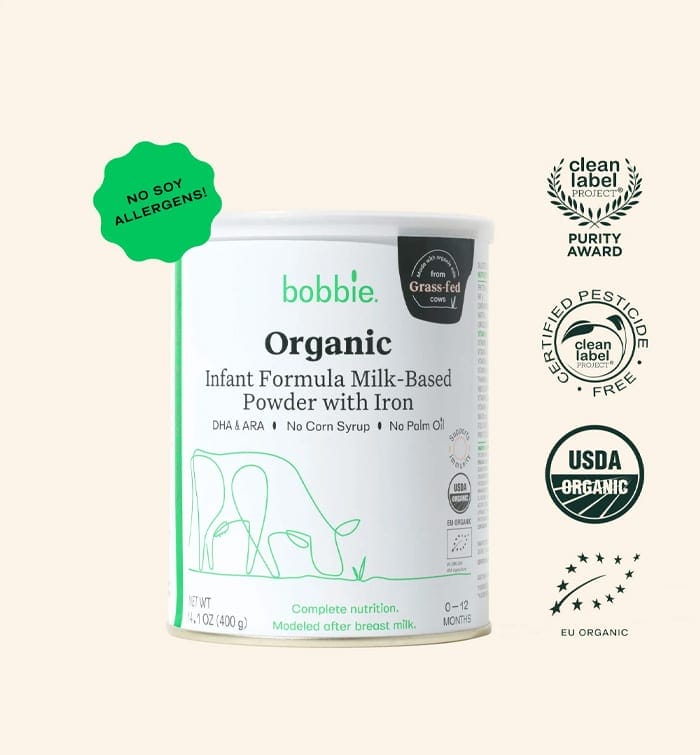 Shop Bobbie Organic Infant Formula
Bobbie Organic Infant Formula is a USDA Organic, EU-style infant formula that meets all FDA requirements. It is a complete nutrition milk-based powder modeled after breast milk and is easy on tummies. It is non-GMO and doesn't have corn syrup, palm oil, or maltodextrin. Learn more about Bobbie.
The content on this site is for informational purposes only and not intended to be a substitute for professional medical advice, diagnosis or treatment. Discuss any health or feeding concerns with your infant's pediatrician. Never disregard professional medical advice or delay it based on the content on this page.