Our editorial team personally selects each featured product. If you buy something through our links, we may earn an affiliate commission, at no cost to you.
Bobbie baby formula began when one mom, Laura Modi, quit her dream job at a fast-paced tech company to pursue a personal dream of creating a one-of-a-kind organic infant formula. As a new mom, Modi had just experienced her first disappointing, maddening, and down right frustrating feeding journey. After extensive research and development, she created the first version of Bobbie with a manufacturer in Germany. But as it turns out, manufacturing formula overseas, selling in the US and blurring the lines between toddler and infant formula will land you smack dab in the middle of a voluntary FDA recall for labeling qualifications. While it was a tough lesson for a first time founder and her partner, Sarah Hardy, it ultimately led to finding an infant formula manufacturer in Vermont, the road to compliance with the FDA and Bobbie's now flagship EU style infant formula— that meets all FDA requirements for babies 0-12 months in the US. Bobbie's voluntary recall around labeling was a lesson in resilience.
Is Bobbie organic infant formula FDA approved? Let's discuss Bobbie's voluntary recall and the ins and outs of the FDA when it comes to regulating infant formula in the US.
Why was Bobbie recalled in 2019?
Shortly after the launch of their high quality product, it became apparent that certain FDA requirements were not being met— namely that the Bobbie label did not meet the labeling requirements for infant formula. The founders realized that doing their own recall was the only way to fix this issue.
Knowing that the path to selling an infant formula in the US was through the FDA would mean putting in a lot more work. Luckily, Perrigo, a respectable infant formula manufacturer here in the US, was interested in working with Bobbie to make an organic infant formula that was modeled after EU products.
How does the FDA regulate infant formula?
The FDA has been regulating infant formula under the Infant Formula Act since 1980. In general, this law defines what infant formula can and cannot contain, how they must be manufactured and what steps infant formula makers must take. This law has made infant formula the most highly regulated food product in the US for one reason— to make sure infant formula is safe and nutritious for our babies.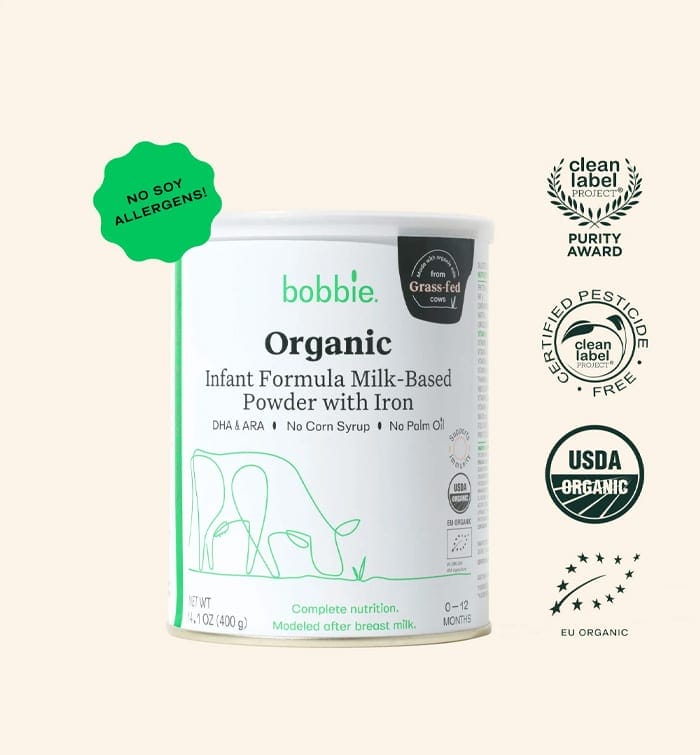 Shop Bobbie Organic Infant Formula
Bobbie Organic Infant Formula is a USDA Organic, EU-style infant formula that meets all FDA requirements. It is a complete nutrition milk-based powder modeled after breast milk and is easy on tummies. It is non-GMO and doesn't have corn syrup, palm oil, or maltodextrin. Learn more about Bobbie.
What are the FDA requirements for baby formula?
There is confusion when it comes to talking about what FDA actually does. FDA approved is often the term used to let us know a product will work and has been tested for safety. This is actually the case for new medicines, where the FDA has to use studies to decide if it is effective and safe before it is able to be sold to the public. For infant formula, a food, the FDA doesn't need to decide if it is effective. We already know that babies need nutrition to grow. The role of the FDA is to determine if a new infant formula meets all of the requirements of the infant formula law. Once the FDA says it does— then it can be sold.
When does the FDA recall baby formula?
Most recalls are voluntary, meaning the manufacturer chooses to conduct the recall either because it has discovered a problem with the product or FDA has raised concerns. Rarely will the FDA request a recall. In the case of infant formula, if the FDA finds that it does not meet the regulations and poses a risk to human health they can require the formula to be recalled.
How did Bobbie formula become FDA compliant?
Interestingly, only three big companies sell most of the infant formula sold in the US. It's so challenging to break into the formula market that there hasn't been a new brand on the scene for more than five years—until Bobbie came along.
For many small businesses, this recall would have signaled the end of the road. Instead, the Bobbie team addressed the recall head on, working hand and hand with the FDA to alert customers and remove product from the market as quickly as possible.
Is Bobbie formula safe for newborns?
The forced pause became a blessing in disguise as it helped Bobbie build relationships with partners in the US and set it up for success. Bobbie became the first new brand to launch an FDA compliant infant formula in the US in 5+ years.
How did Bobbie recover from the FDA recall?
In the months after the 2019 recall, Bobbie was able to persevere by taking these actions:
Partner with Perrigo Nutritionals, a 40 year veteran in US infant formula production, as a manufacturer.
Secure a new investor who supplied additional resources to revamp the product and ensure that it would meet all FDA regulations.
Add a regulatory expert with experience in the baby formula world and experience working with FDA.
Is Bobbie FDA approved?
Perrigo Nutritionals and the investor initially passed on the opportunity to work with Bobbie, but both were impressed at how responsible and transparent Bobbie was in handling the voluntary recall.
Once the dust settled, the Bobbie team worked with Perrigo and the FDA to map out exactly how to meet regulatory standards, including finding suppliers for the ingredients that matched the ethos of the product. Bobbie was able to submit the updated product to the FDA, and 14 months later, the new formula was green-lighted and Bobbie was back in business.
What are the safety precautions Bobbie takes to make baby formula?
Bobbie knows safety and quality are vitally important to choosing an infant formula, which is why they produce the product with Perrigo— an experienced infant formula manufacturer that has been making infant formulas for over 35 years. This manufacturer meets USDA Organic, Kosher and FDA quality standards and each batch of Bobbie goes through over 2,000 quality checks to ensure it meets all the safety requirements necessary for infant formula.
Where is Bobbie today?
The founders of Bobbie wanted to have a great infant formula product for US parents and change the conversation around feeding in this country. But to get to the place to be able to do this they made a serious commitment to do it the right way— making a fully compliant product that meets the requirements for infant formula with a registered, experienced and trusted manufacturer.
Now with more than one year in the market, Bobbie is expanding and looking to add new products and services for its ever-growing community of parents who rely on Bobbie for an organic infant formula they can feel good about.
Going from a voluntary recall to feeding more than 20,000,000+ bottles in all 50 states (in less than two years!) takes focus and vision to what is truly important…feeding babies and supporting families.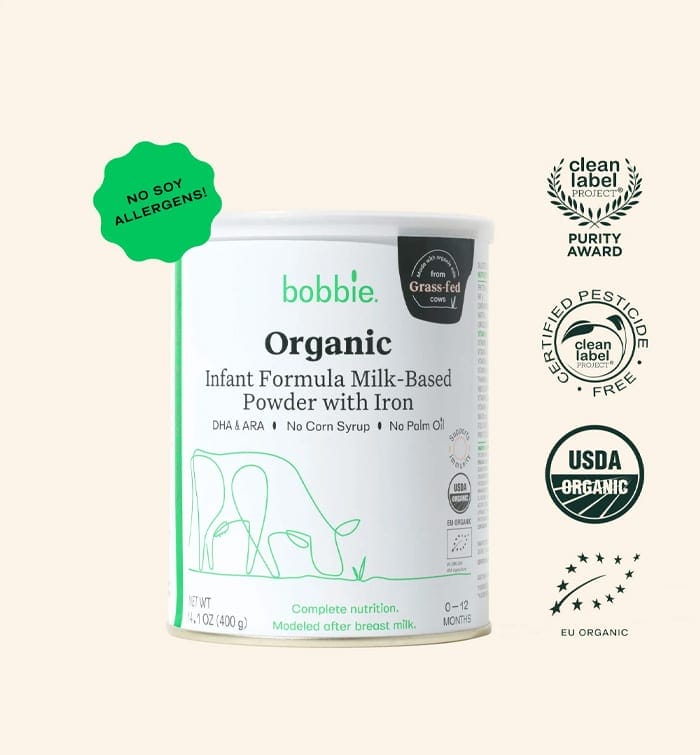 Shop Bobbie Organic Infant Formula
Bobbie Organic Infant Formula is a USDA Organic, EU-style infant formula that meets all FDA requirements. It is a complete nutrition milk-based powder modeled after breast milk and is easy on tummies. It is non-GMO and doesn't have corn syrup, palm oil, or maltodextrin. Learn more about Bobbie.
The content on this site is for informational purposes only and not intended to be a substitute for professional medical advice, diagnosis or treatment. Discuss any health or feeding concerns with your infant's pediatrician. Never disregard professional medical advice or delay it based on the content on this page.