Our editorial team personally selects each featured product. If you buy something through our links, we may earn an affiliate commission, at no cost to you.
One of the most common misconceptions people have about parents that exclusively breastfeed is that they don't have to use baby bottles. While it's certainly possible for a parent to exclusively feed their baby from their breasts, most breastfeeding parents do pump their own breast milk so that other caregivers can offer a bottle, whether due to the parent's need to work, an illness or simply to give them a well-deserved feeding break. Also, sometimes you're combo feeding— doing a mix of formula feeding and breastfeeding— which makes using a bottle all the more necessary.
Bottles for breastfed babies come with their own unique set of necessary features, mainly because these babies are more accustomed to feeding from the breast than babies who are fed bottles exclusively or more frequently. These bottles tend to have an ergonomic design that are modeled after the breast itself. They often have a wider neck and a softer nipple along with customized air vents to cut down on the amount of gas a baby might take in during a feed. While you may be successful with whatever bottles you have on hand, we have done the research to find our favorite 10 baby bottles for your breastfed baby.
When to Introduce a Bottle for a Breastfed Baby
Most lactation consultants, along with the nurses on the postpartum floor, will advise nursing parents to wait at least two weeks before introducing a bottle to minimize the potential for what's known as nipple confusion, or when a baby has difficulty switching between the breast and a bottle. That being said, you also don't want to wait too long before introducing a bottle to a baby, as they may become too accustomed to the breast that they have trouble taking the bottle.
How to Introduce a Bottle to a Breastfed Baby
When it comes to introducing a bottle to a breastfed baby, timing is important. Amy Peterson, IBCLC for Evenflo Feeding and author of Balancing Breast and Bottle, recommends introducing a bottle to a breastfed baby between 3-4 weeks of age. "Baby's suck changes from reflexive (will suck on anything) to voluntary as the baby grows," she says.
When introducing a bottle to a breastfed baby, Peterson recommends letting the baby latch onto the nipple before tipping it in the direction of milk flow. "Some bottles drip a bit at first, and most babies are reluctant to latch onto a dripping nipple," she says. "Letting baby latch onto an empty nipple will let you see a true latch." She also recommends using freshly expressed milk for bottle introduction, as sometimes the flavor of milk changes during storage.
Cleaning Baby Bottles
It's very important to sanitize your baby bottles whether you are feeding with breast milk or baby formula. Following steps to sanitize your bottle is of utmost importance for newborns and babies. There are many types of bottle sterilizers available, some using steam, some using the microwave.
10 Best Bottles for Breastfed Babies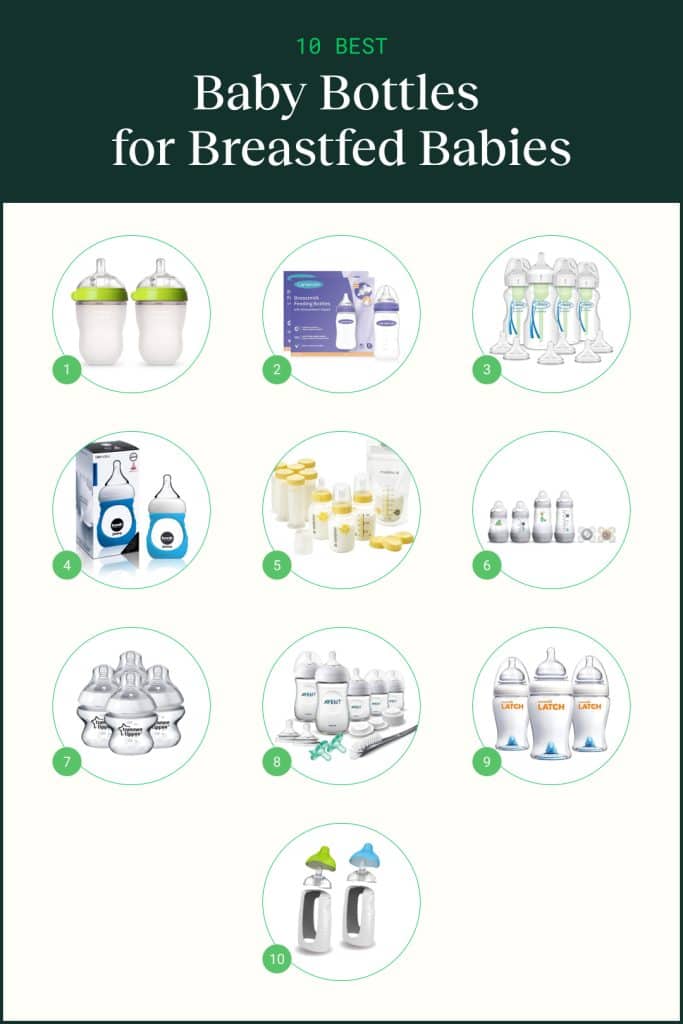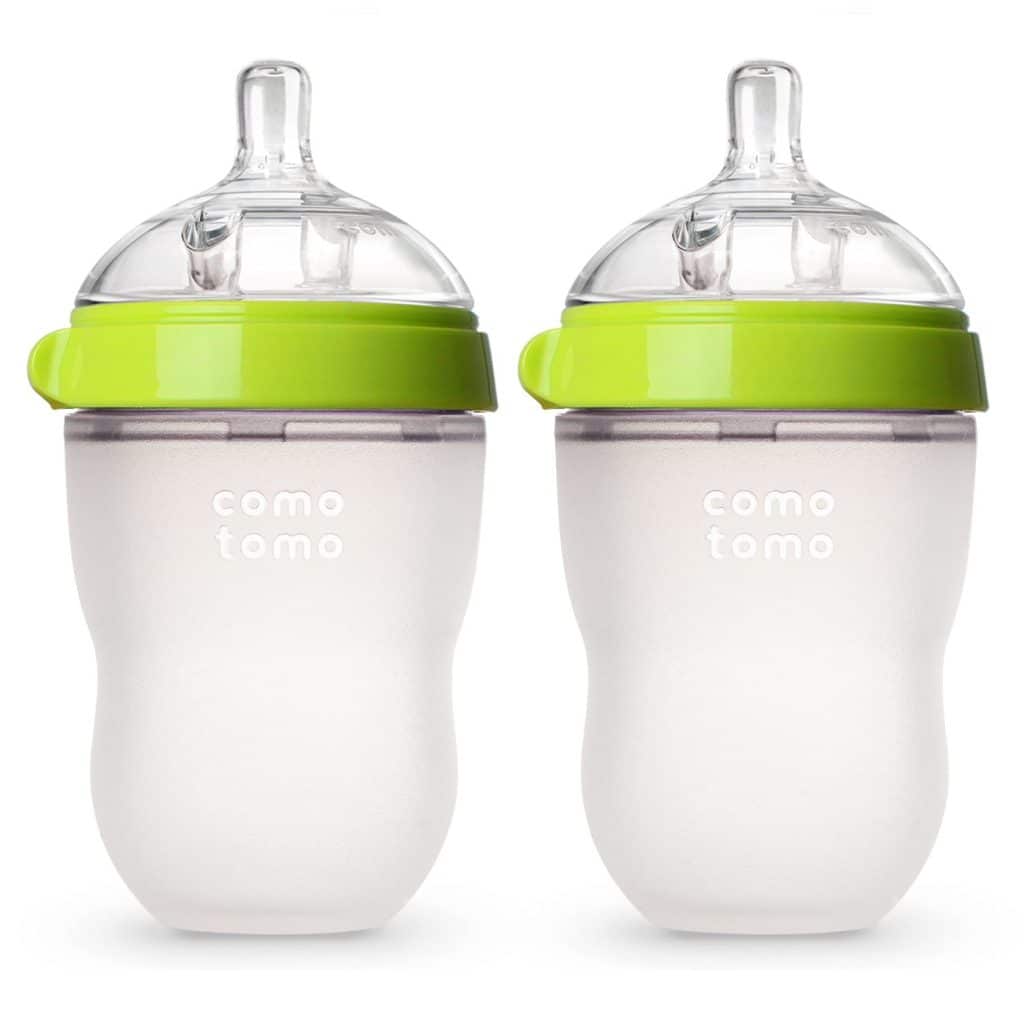 If your baby is breastfeeding, whether exclusively or supplementing with formula, you're going to want a baby bottle that closely resembles the experience of breastfeeding for your child so that you don't have to deal with dreaded nipple confusion. Como Tomo baby bottles do just that—they're made of soft silicone and have a wide-neck design that is round like a mom's breast. This same design makes it super easy to clean, which most parents will appreciate. These bottles also feature non-leaking anti-colic vents to cut down on the amount of air that travels to baby's tummy.
More than 42k parents have reviewed these on Amazon, including Samantha who raves, "Got these for my daughter after coming home from the NICU at the recommendation of the doctor. Absolutely love the bottles themselves, no issues with leakage, very easy to clean, baby loves them because they're similar to the boob (which she still loves more but use these when My husband feeds her)."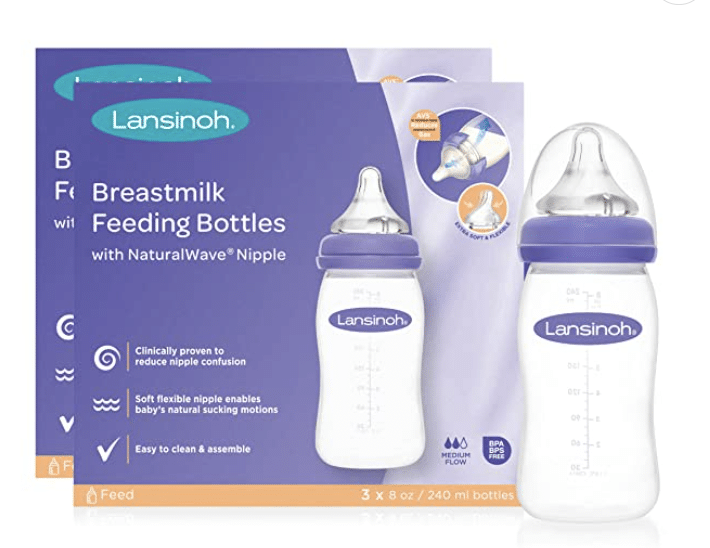 Lansinoh as a brand is known for their breastfeeding products, including their breast pumps, breastfeeding pads, breastmilk collectors and more, so it only makes sense that they would have a line of bottles that is specifically designed for breastfeeding babies. These soft and flexible silicone bottles feature a matte surface that encourages a strong latch and seal to make feedings more seamless.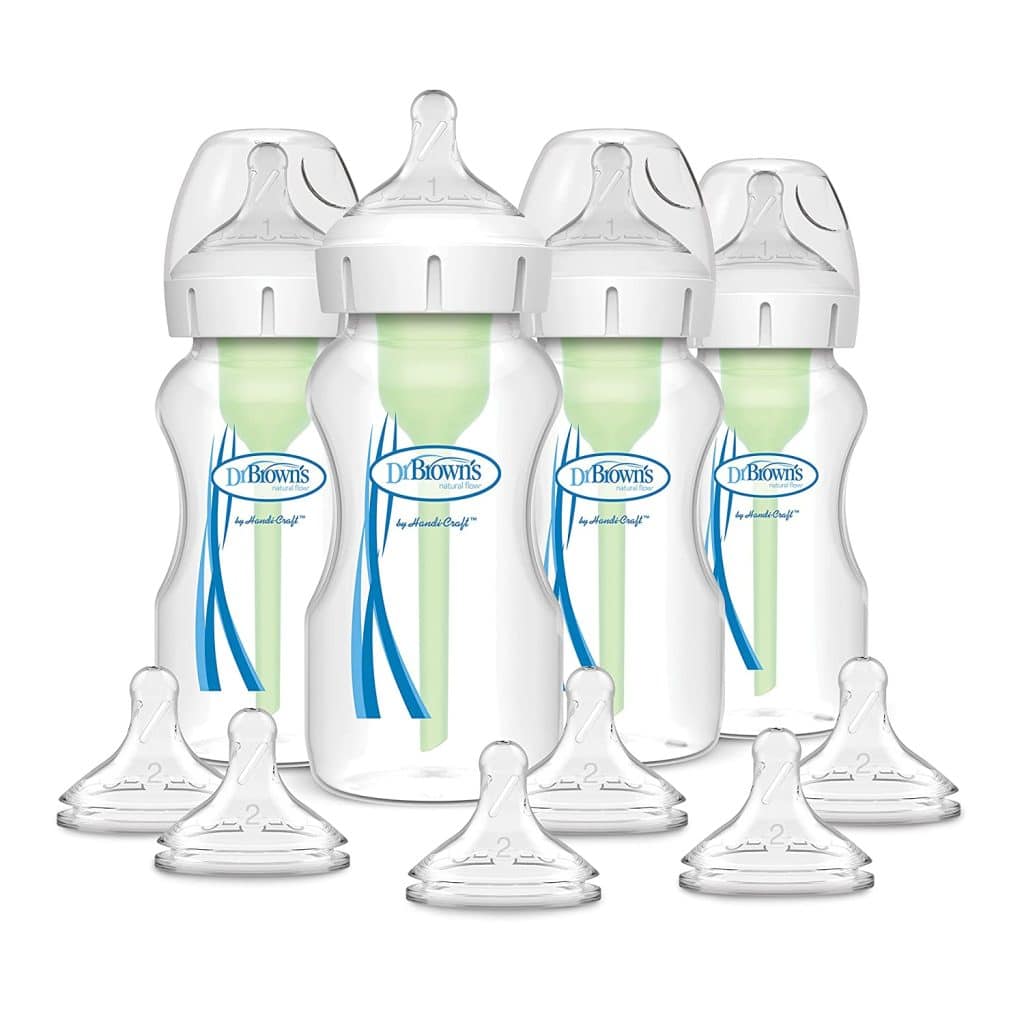 Colic is no fun for anyone—not you or your baby. If your baby has colic, these bottles feature an anti-colic design that helps cut down on the gassiness and fussiness that accompanies colic. In terms of its likeness to the breast, this bottle has a consistent flow rate that ensures the milk doesn't come out too fast or too slowly, but rather at a pace that a baby can tolerate. The nipple shape is also more natural and helps facilitate a strong latch.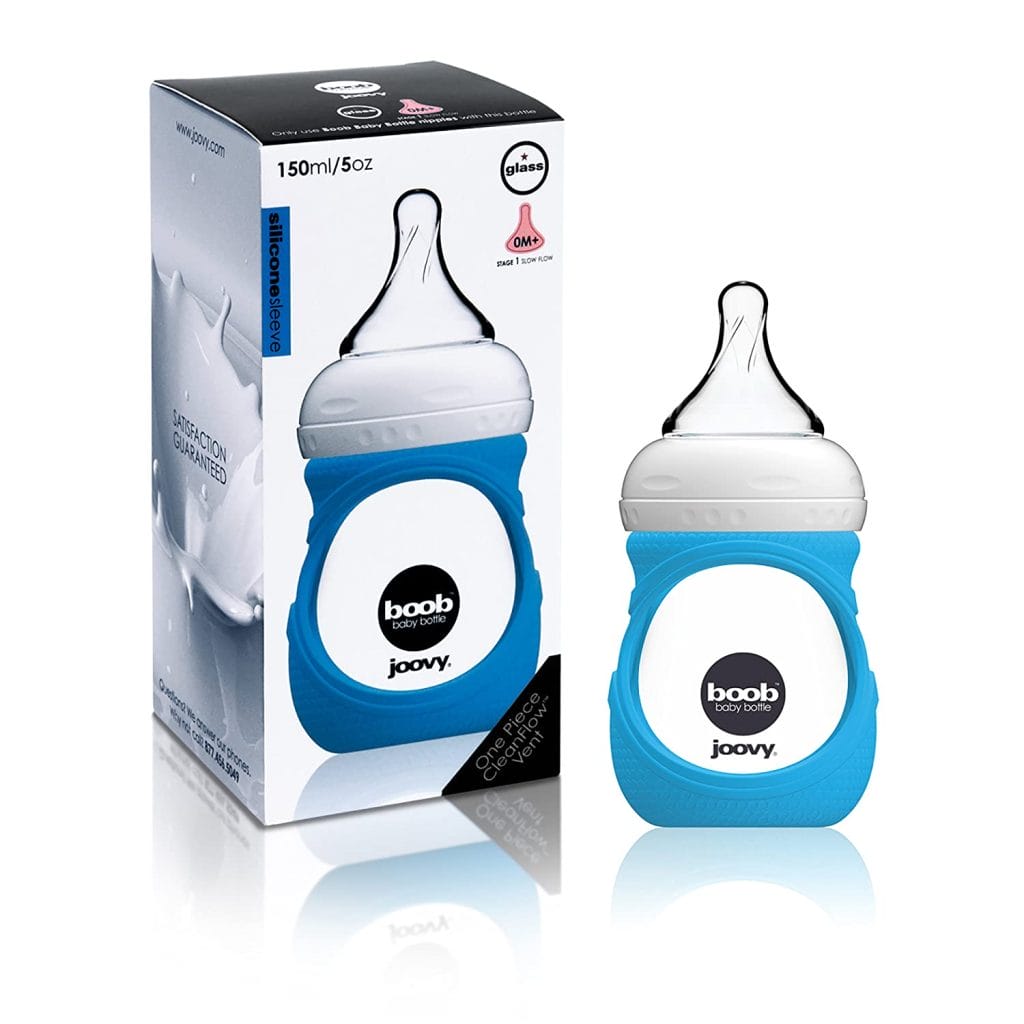 If you're worried about potential chemicals lurking in your baby bottles, you might prefer opting for glass bottles. Normally with glass you might have to worry about it breaking around baby. Luckily, these bottles are made from glass but come with a silicone sleeve that cuddles the bottle. They have a unique design that helps keep the nipple from collapsing into the bottle, compromising feeds, and helps ensure a proper latch. It includes a stage 1 nipple for slow flow and the lass bottle does not absorb odor, color or taste (it's BPA and PVC free).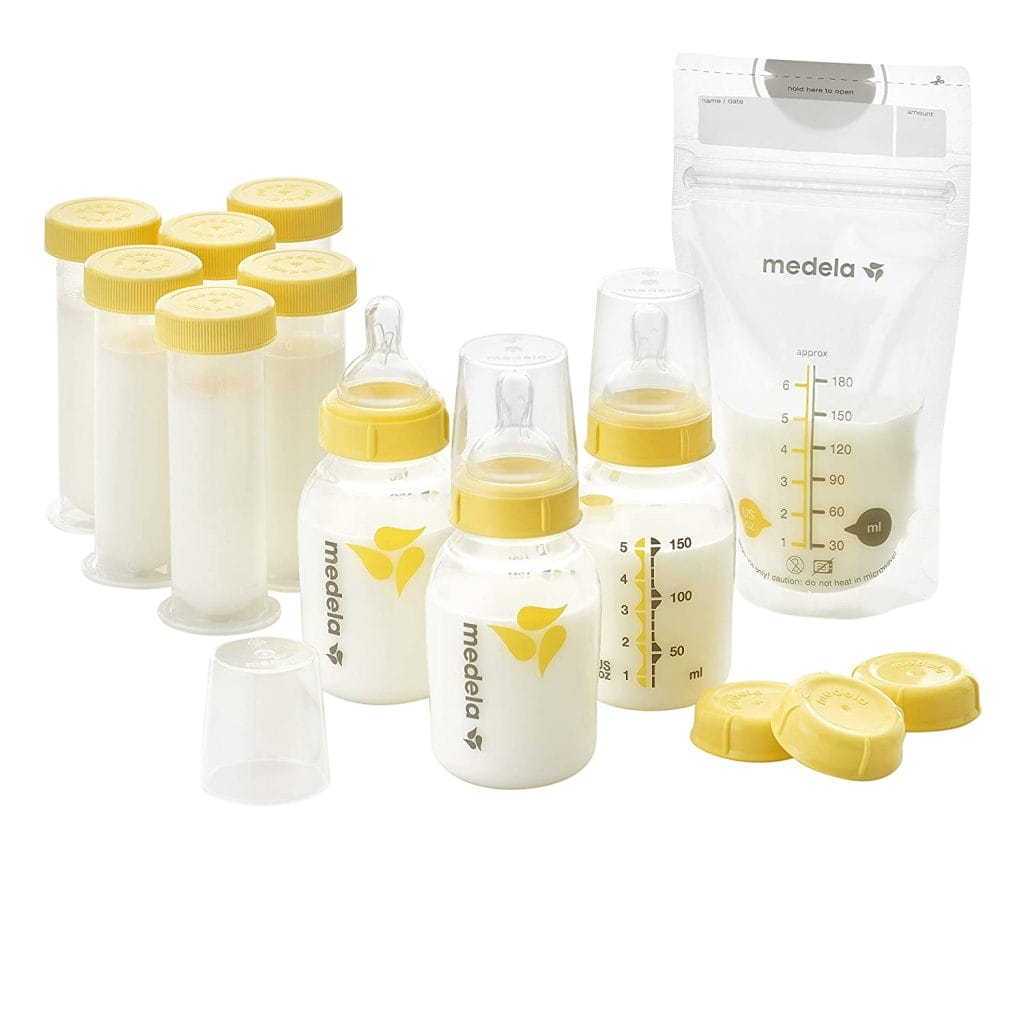 If you plan on pumping and are already using a Medela pump, purchasing this set of bottles is a no brainer. They are compatible with all Medela breast pumps and allow you to actually pump right into the bottles themselves, which saves time and prevents the need for disposable storage bags. These bottles come with screw-on lids that are convenient for travel and freezing and all the plastic is BPA-free.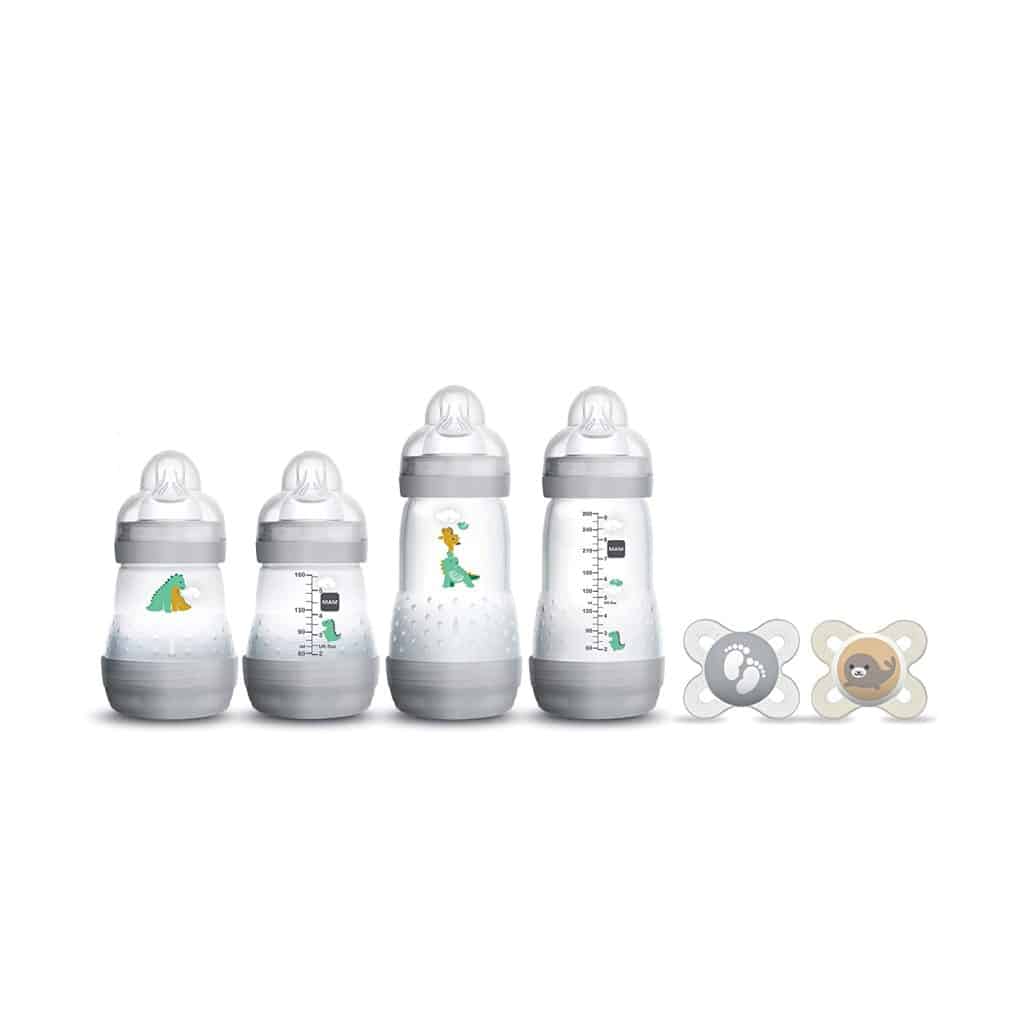 If your baby has reflux, you know how painful the experience can be for you both (there are best feeding positions for reflux to know about!). There's no worse mom guilt than watching your hungry baby spit-up more milk than she's able to take down. If your baby has reflux, you're probably willing to try anything to ease their discomfort. Start with these bottles by MAM. They feature anti-colic vents that cut down on the amount of air bubbles that get into baby's mouth during a feed. They're also easy to clean and dishwasher safe.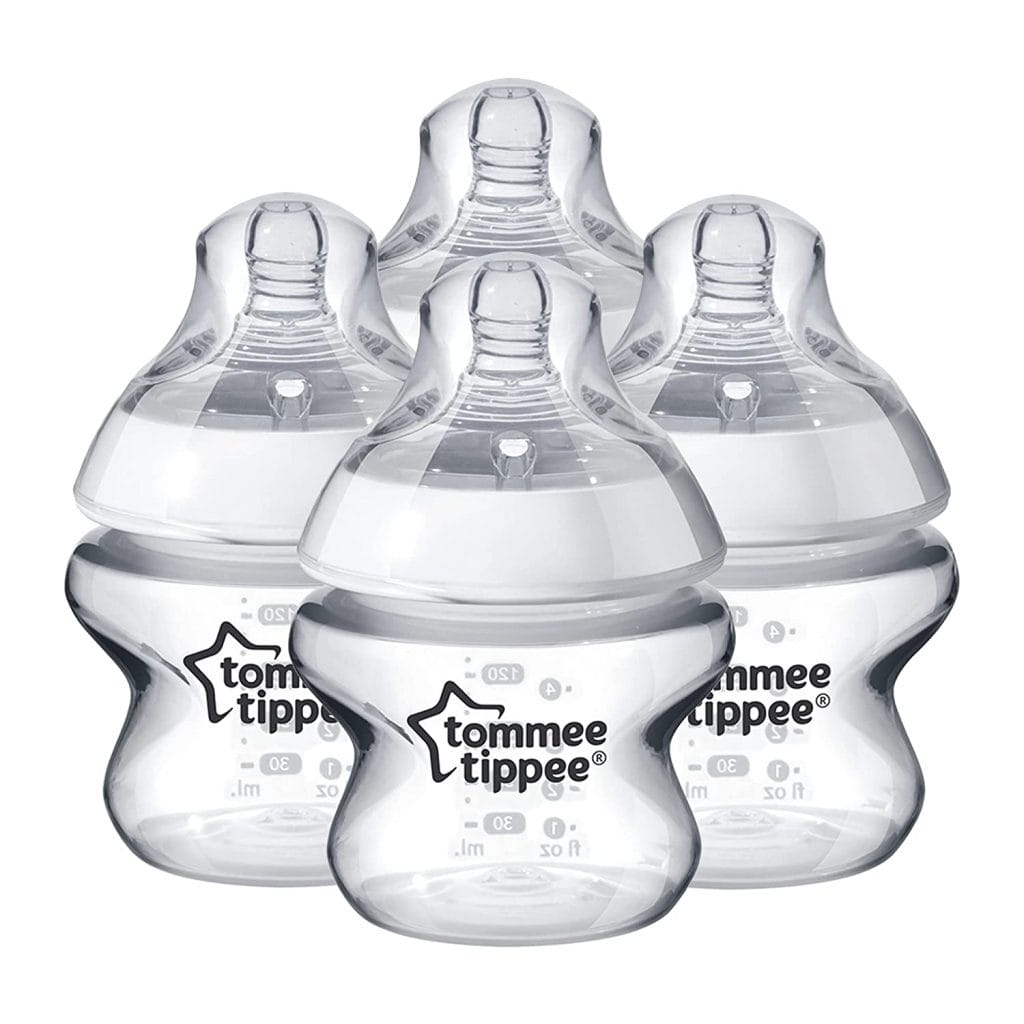 Breastfed babies are especially sensitive to the flow of milk, which is why it can be helpful to purchase bottles that come in varying flow speeds. In the early days of breastfeeding, you'll want a set of bottles with a slow flow like this one from Tommee Tippee. The nipples are made from silicone and flex comfortably during a feeding to feel more like the actual breast. The anti-colic valve on the nipples help reduce air flow to cut down on the digestion of air rather than milk. The bottles themselves have a wide neck that encourages baby to feed in a more natural position.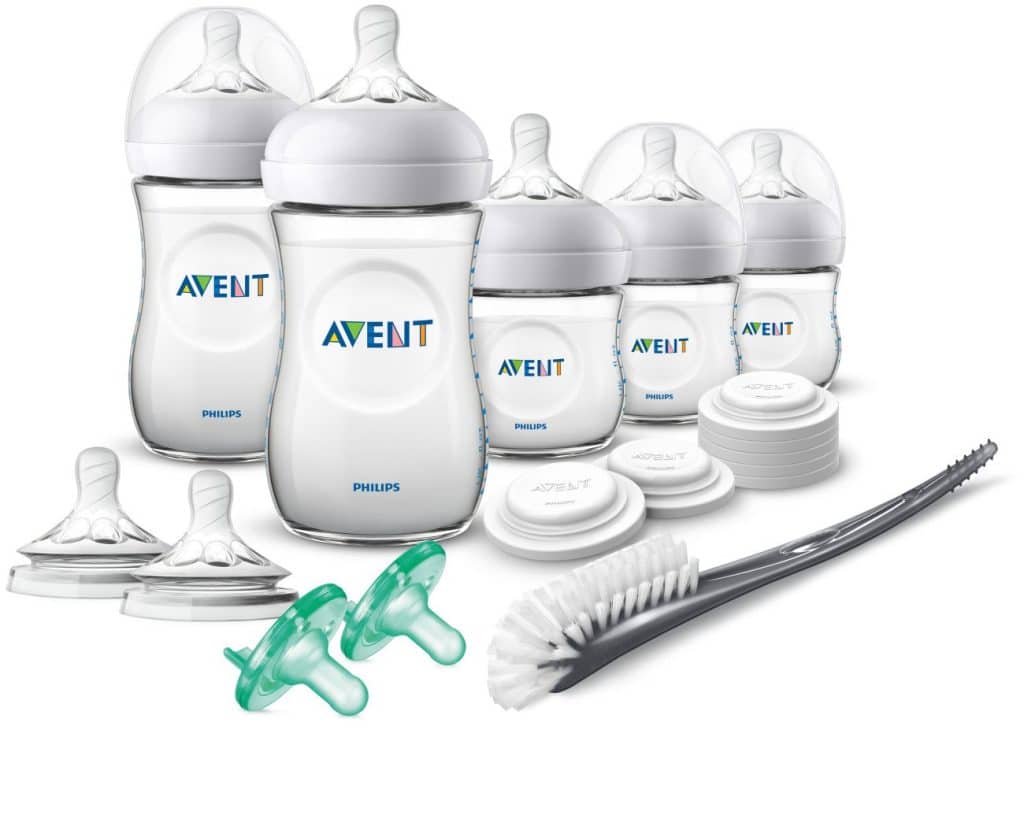 If you're combo feeding your baby a mix of breastmilk and formula, also known as supplementing, you still want a bottle that mimics the experience of breastfeeding. This line from Philips AVENT features a natural wide nipple shape that's super soft, so it's not too far off from the experience your baby has when she feeds from you. The bottles are made from hospital-grade silicone and are made with a unique Airflex vent technology that prevents air bubbles from getting into your baby's tiny tummy. This set comes with it all—three 4-ounce bottles with newborn nipples, two 9-ounce bottles with slow-flow nipples, two additional nipples, a bottle brush, 7 sealing disks and even two pacifiers for 0-3 months.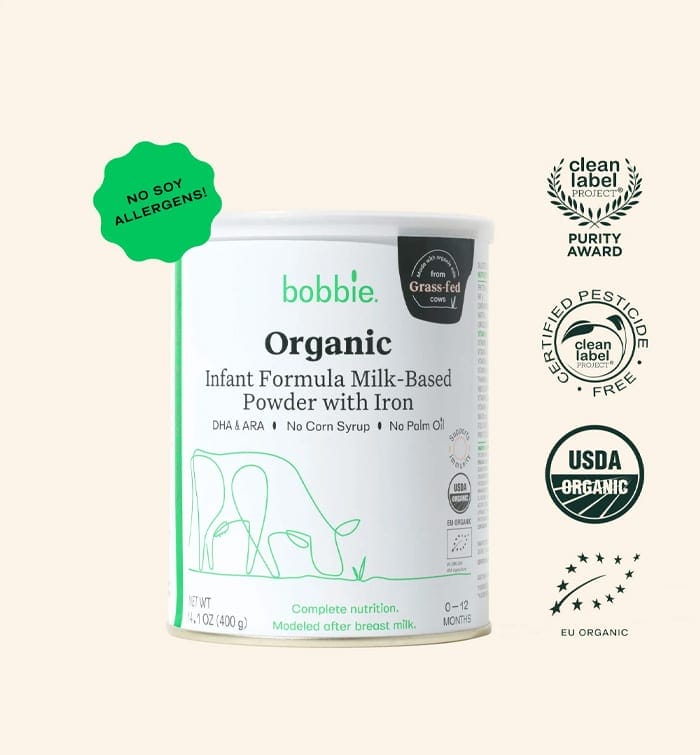 Shop Bobbie Organic Infant Formula
Bobbie Organic Infant Formula is a USDA Organic, EU-style infant formula that meets all FDA requirements. It is a complete nutrition milk-based powder modeled after breast milk and is easy on tummies. It is non-GMO and doesn't have corn syrup, palm oil, or maltodextrin. Learn more about Bobbie.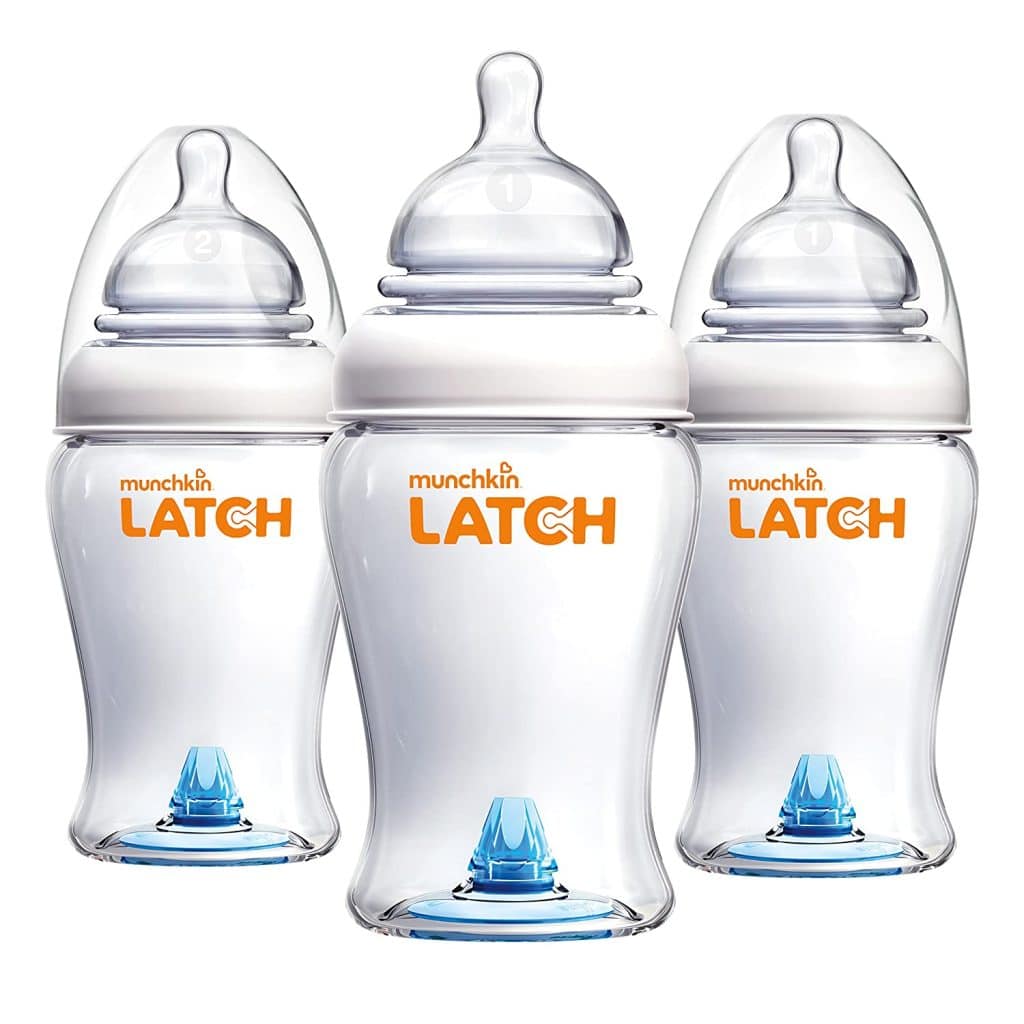 As the name suggests, this baby bottle helps ensure that your baby latches well during bottle-feeding sessions, which is a huge plus, especially for babies who are accustomed to breastfeeding. The nipple is flexible and pumps in a similar way to the breast. The bottle features an anti-colic valve at the bottom the helps cut down on trapped air that can cause gas and fussiness. If you're pumping, these bottles are compatible with most Medela, Lansinoh and Evenflo pumps.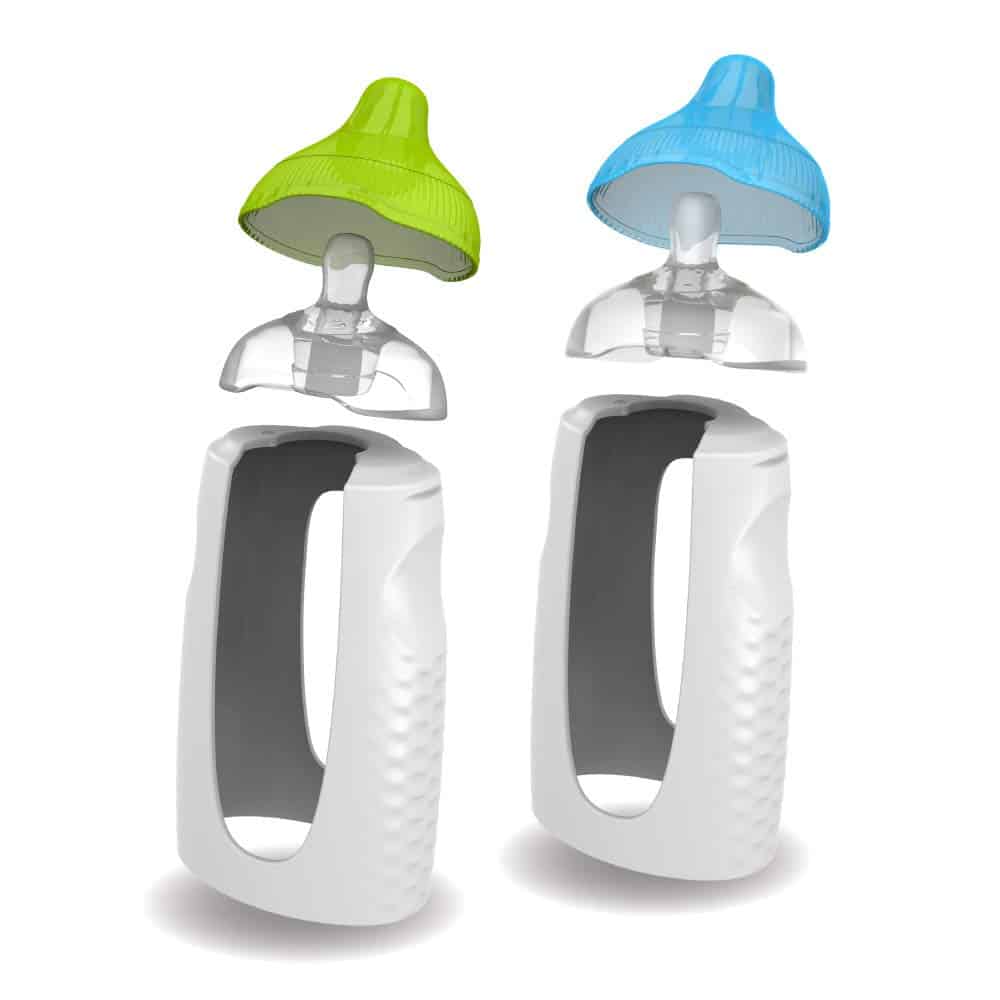 Cleaning baby bottles is no parent's idea of a fun time. It's arduous and tedious work. Luckily, these baby bottles make the process a bit more streamlined, thanks to the fact that you can pump right into their innovative Twist Pouches—you just need the additional Kiinde Pump Adapter. This makes it so you naturally have fewer parts to clean, but are still stashing away milk for your baby. These bottles are also top-rack dishwasher safe, which also saves time.
This has a 5 star rating on Amazon, with mom Marcy saying, "I didn't think I would love this bottle, but I really do. First, the milk storage bags make pumping at work and sending milk to daycare SO easy. Second, the nipples are the BEST, no leaking all over and my breastfed baby will switch between this nipple and mine with no problems. Third, you literally only have to wash the nipples as you use them, it reduces dishes a TON."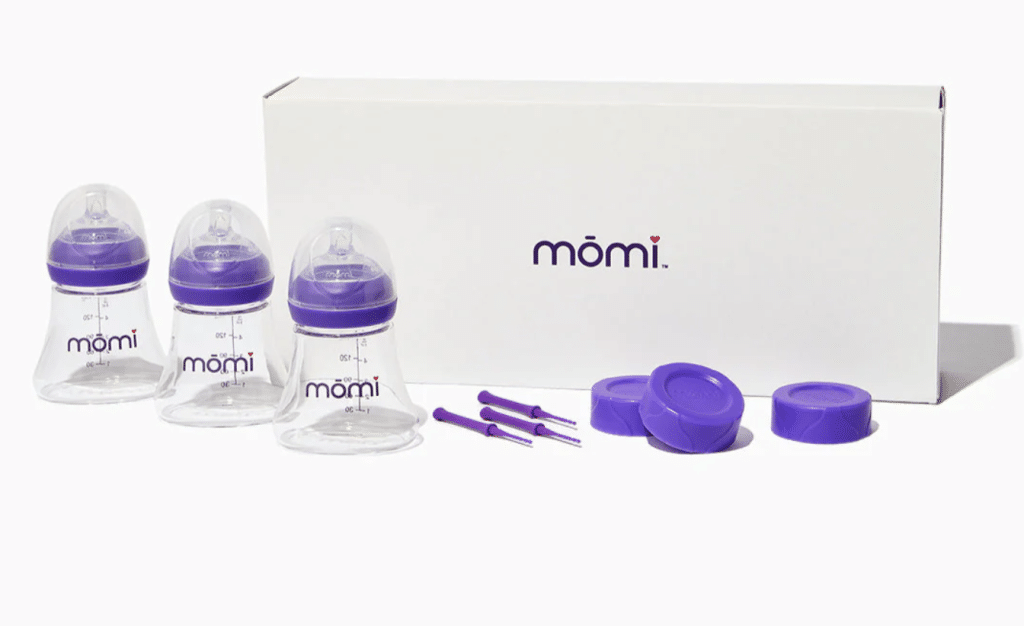 These bottles from mōmi are designed to mimic a mother's body— the extra soft silicone nipple stretches and squeezes like natural tissue, enabling babies to regulate milk flow with their tongue in the same suck-swallow-breathe cycle learned with natural breastfeeding. Not only does this make the transition between breast and bottle easier, but it also allows parents who choose bottle feeding to avoid colic and gas issues. The three bottle set comes in BPA-free plastic or glass, it's just enough to get you started in your bottle transition.
What Type of Bottle is Best for breastfed babies?
When choosing a bottle for a breastfed baby, nipple shape is important. Peterson recommends choosing a bottle nipple shape that gently widens will help keep the baby's lips propped open during feeding, similar to breastfeeding. "Conversely, if baby only latches on the narrow nipple length, try a different nipple, she adds.
Pay attention to nipple flow, too. Most bottles comes with nipples in varying flows—1, 2 and 3, with one being the slowest and three the fastest. "If your baby seems to be struggling with a slow flow nipple that is too fast, you may need to try a different brand," Peterson says.
Which Bottle Mimics Breastfeeding?
It's all about the bottle shape, feel and texture, if you're looking to mimic breastfeeding. This is why many of our top recommended bottles are more breast shaped than oblong.
Best bottle for breastfed baby who refuses bottle
Jadah Parks Chatterjee, RN, Lactation Consultant and Bobbie Medical Advisor, appreciates the Medela Calma Bottle to mimic breastfeeding. "When baby pauses, milk pauses as well, supporting baby led feeding," she says.
Which Dr Brown's Bottles are Best for Breastfed Babies?
Chatterjee likes to start newborns that are also breastfeeding on Dr. Brown's nipple size premie or level 1, depending on how mature the newborn is. "Mindful eating begins at birth, a larger nipple feeds the baby really quickly, increasing the risk of gas and a fussy baby," she says.
What Bottles do Pediatricians Recommend?
Pediatricians recommend any bottle with a slow-flow nipple, according to Chatterjee. The slower pace is most ideal for younger babies, as babies three months and older tend to prefer the milk to come out of the nipple at a faster speed; additionally, their digestive systems are more capable of handling a faster flow.
Conclusion on Bottles for Breastfeeding
The seemingly never-ending list of baby bottles available on the market might be overwhelming at first glance but, with a little know-how and a bit of research you'll be able to find a set that works best for your breastfed baby and compliments your breastfeeding or pumping efforts.
The content on this site is for informational purposes only and not intended to be a substitute for professional medical advice, diagnosis or treatment. Discuss any health or feeding concerns with your infant's pediatrician. Never disregard professional medical advice or delay it based on the content on this page.