Our editorial team personally selects each featured product. If you buy something through our links, we may earn an affiliate commission, at no cost to you.
When making your baby registry, you're probably flooded with dozens of items that everyone—from friends, family members, colleagues to perfect strangers—told you you had to buy or you wouldn't survive baby's first year. The reality, however, is that there are only a few essentials you really need to kick things off when you bring baby home from the hospital. For most parents, having the right bottles top the list— especially when it comes to the best baby bottles for newborns.
Whether you're formula feeding or combination feeding, bottles will be something you'll be using a handful of times a day (even up to 8-10 times in the early days). Even if you plan on breastfeeding exclusively, chances are, you'll need to pump and use bottles when you're back to work or simply so that you can get some rest while another caregiver feeds your babe. Needless to say, baby bottles are a seriously important purchase and one you shouldn't make lightly.
Like most baby products, baby bottles come in all shapes and sizes and with a varying amount of features that make them more or less ideal for your baby's very specific needs. To help guide you towards the best baby bottle that works for you and your baby, we're sharing our list of the best baby bottles of 2023.  
Types of Bottles
For baby bottles, you can choose between glass, silicone or plastic. Our favorites for each are listed below, but this is definitely a personal choice. Glass may seem cumbersome, but many parents choose glass bottles as they are more naturally safe for babies. If you're looking for plastic or silicone, choose bottles that are PVC and BPA free.
Bottle Nipples
Bottle nipples come in slow, medium and fast flow. This may be a preference for your baby, talk to your lactation consultant if you feel the flow is not working well for your baby.
Bottle Sizes
Bottle sizes can range in ounces, some parents prefer smaller bottles for newborns and larger bottles for babies as they grow older. We love sets that have multiple sizes, like the Comotomo set featured below.
10 Best Baby Bottles of 2023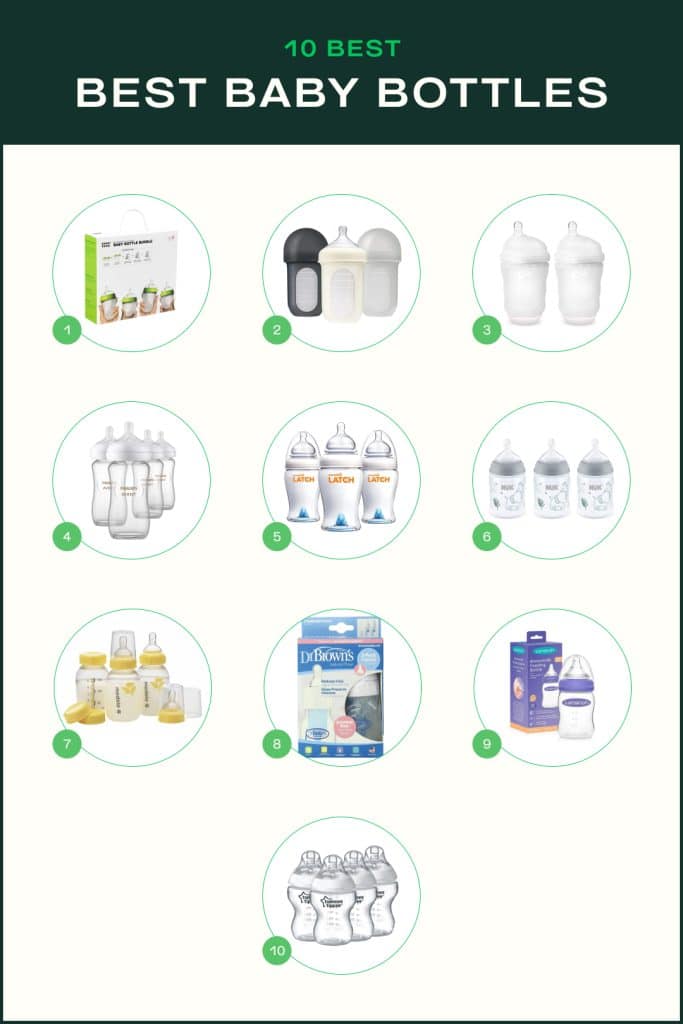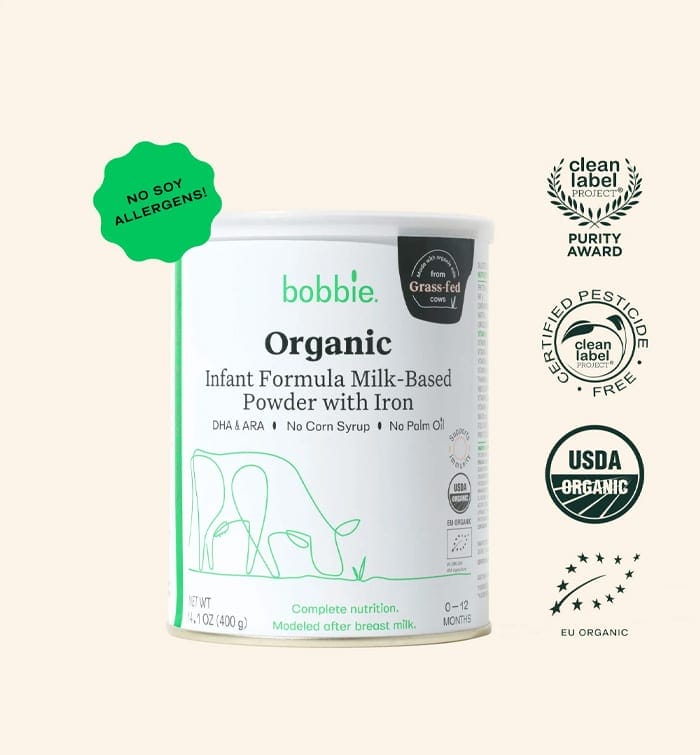 Shop Bobbie Organic Infant Formula
Bobbie Organic Infant Formula is a USDA Organic, EU-style infant formula that meets all FDA requirements. It is a complete nutrition milk-based powder modeled after breast milk and is easy on tummies. It is non-GMO and doesn't have corn syrup, palm oil, or maltodextrin. Learn more about Bobbie.
Silicone Bottles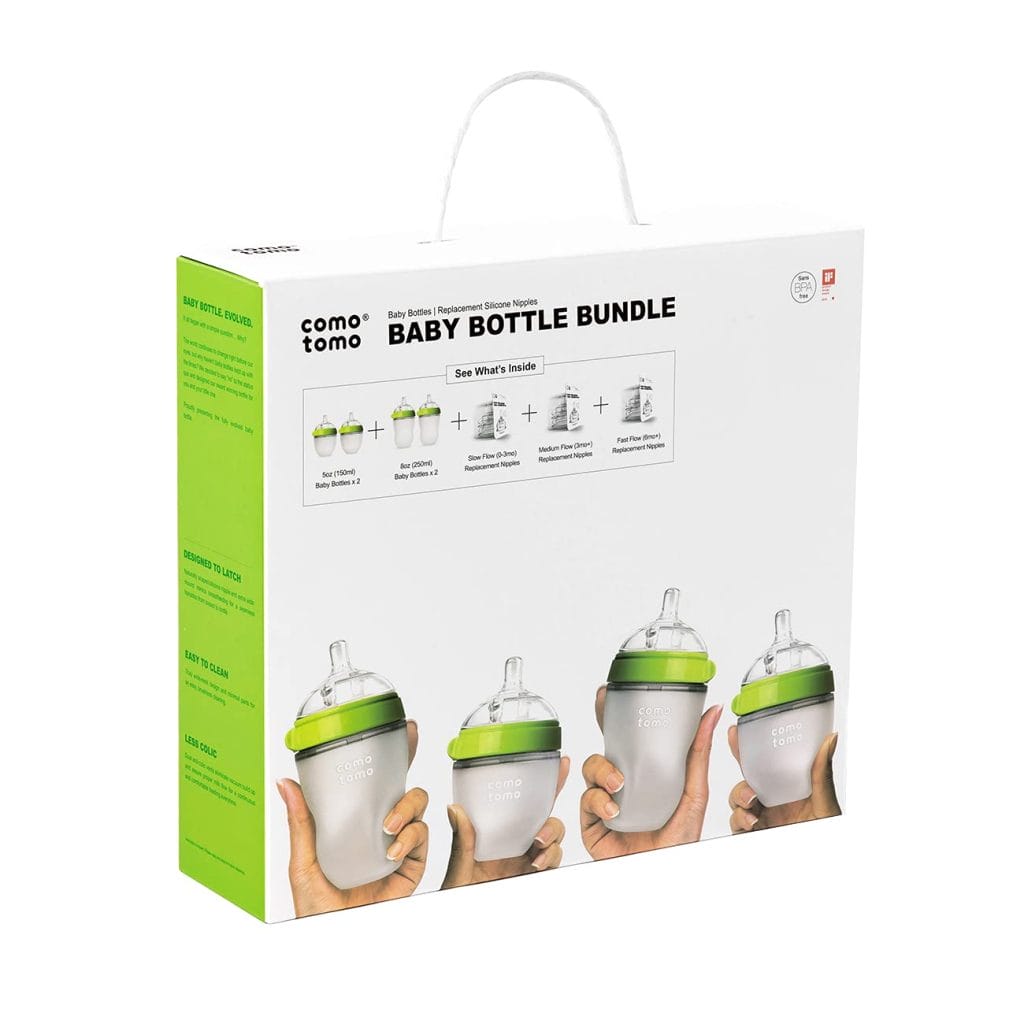 Whether you're looking for the best baby bottle for newborns or simply a silicone option that certainly won't disappoint, consider Comotomo baby bottles. This full set comes with pretty much all you'll need to survive baby's first year—two 5-ounce bottles, two 8-ounce bottles and a package of their slow, medium and fast flow replacement nipples to keep up with your baby's ever-changing feeding needs. These bottles are so easy to clean thanks to their wide-neck design and they have anti-colic vents to cut down on gas and spit-up.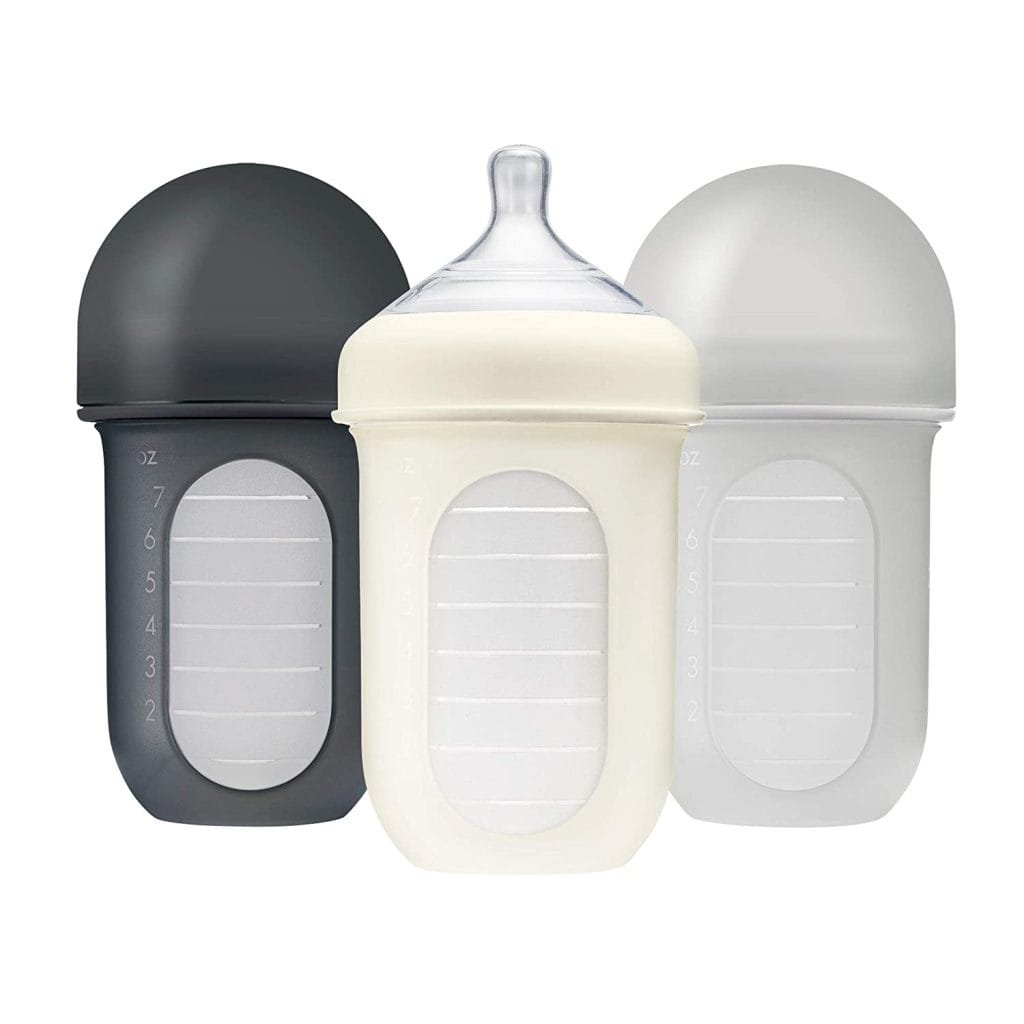 Boon is another great silicone option that offers a unique and innovative silicone pouch that starts to collapse and shrink as your baby chugs away. This not only cuts down on gas, but also mimics how your breast starts to deflate during a feeding, making this brand ideal for nursing parents. Since they're made from PVC- and BPA-free silicone, they are easy to clean and 100 percent dishwasher safe.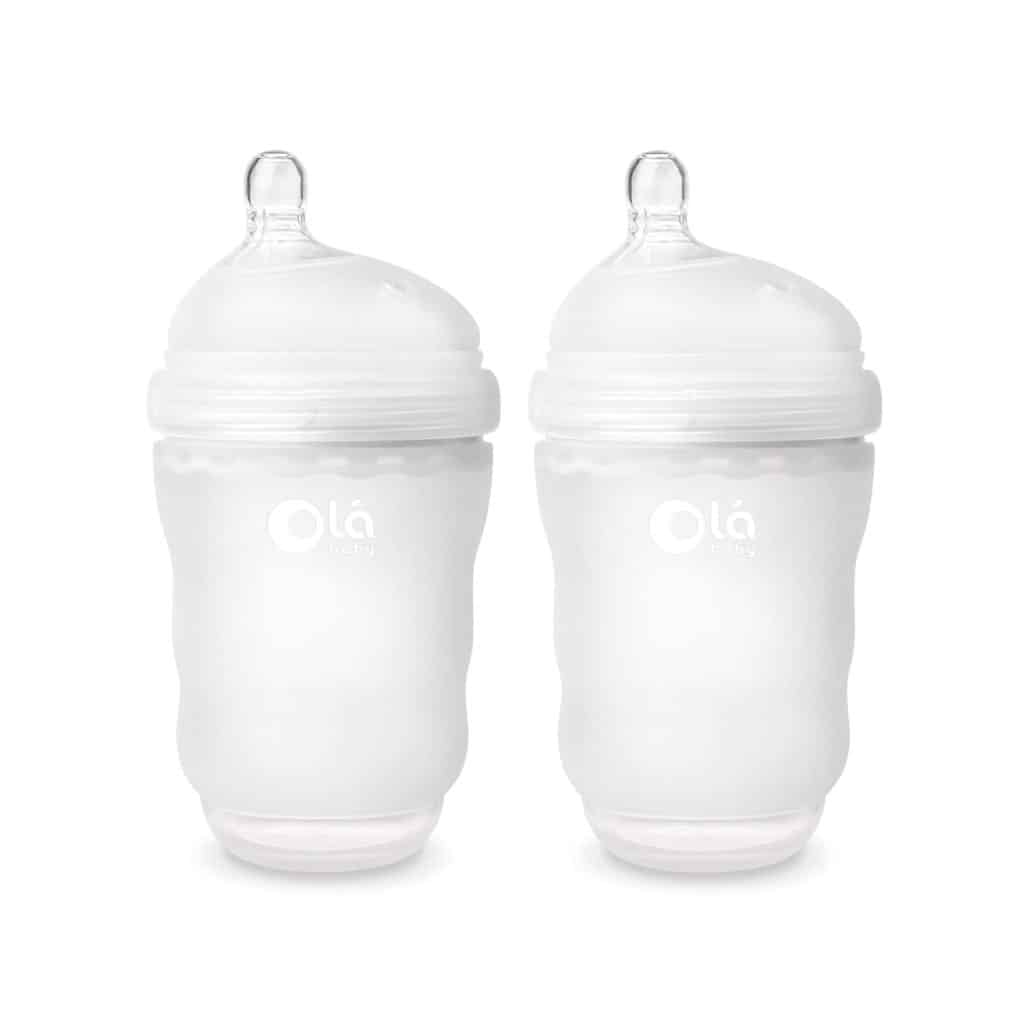 If a baby bottle is made out of silicone, you can almost guarantee that it will be easier to clean than other baby bottles—and this is simply because the silicone material is bendable and can wrap around a bottle brush more easily. This brand of baby bottles gets rave reviews for how easy it is to clean, but also for some of its other cool features like its off-centered nipple design that mimics mom's breast, its dual-venting anticolor system and its soft texture that allows the perfect grip for feeding.
Glass Bottles
Plastic Bottles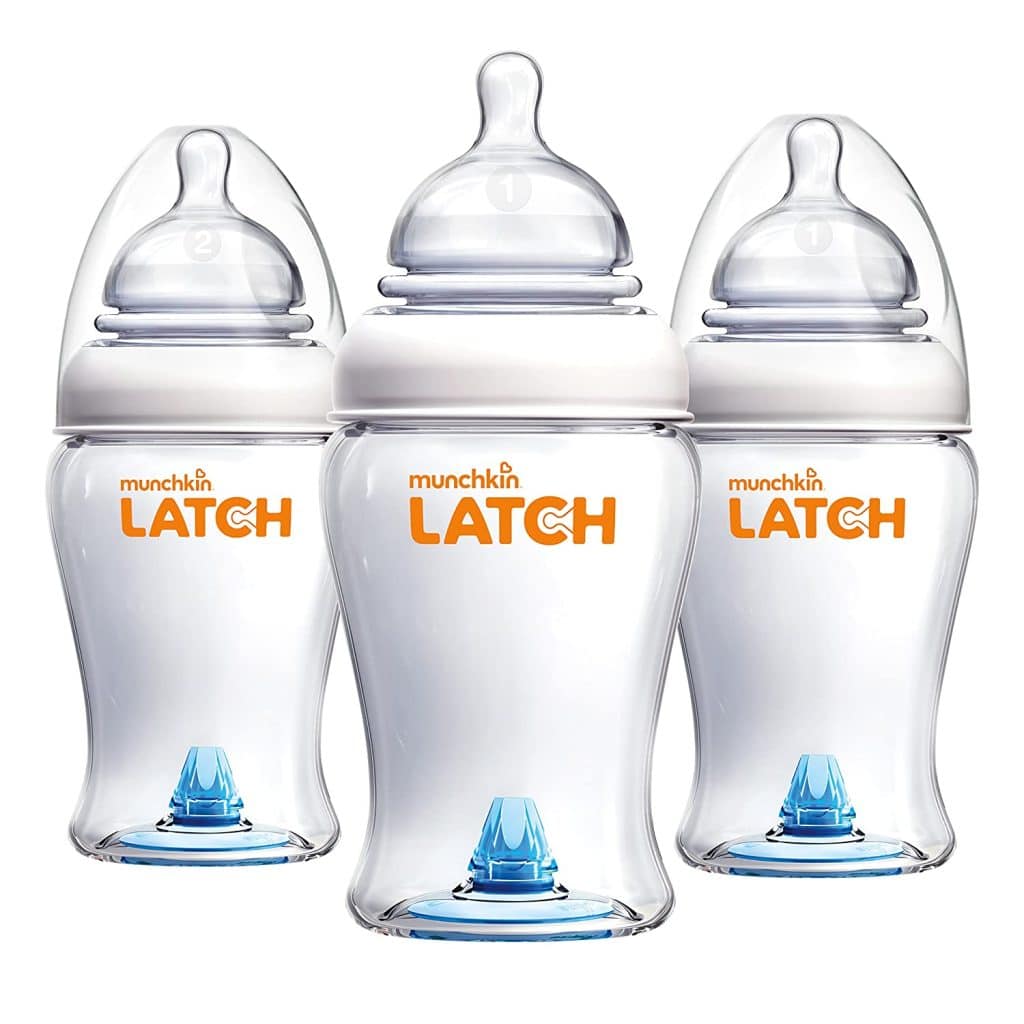 These latch bottles from Munchkin are specifically designed to reduce colic thanks to a valve at the bottom that prevents air from getting in or out. Since they are compatible with most leading breast pumps (Medela, Lansinoh and Evenflo), this set is ideal for nursing parents or those supplementing. This pack comes with three 8-ounce bottles, so it may be better suited for older babies who are drinking more milk at a time.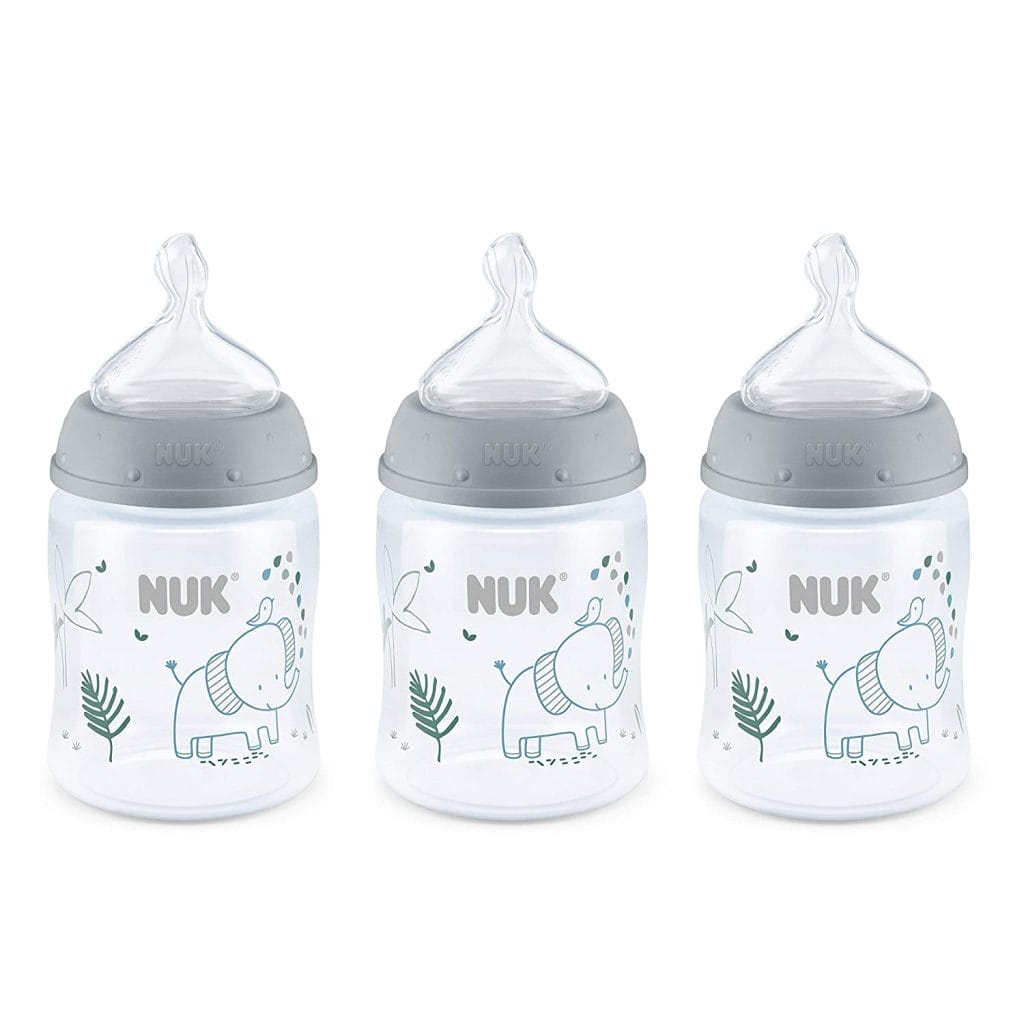 While many bottle brands offer features that help reduce colic, this is one of the best. The magic is in the unique slow-flow design of the bottle nipple that lets milk out slowly at a pace that baby's sensitive digestive system can handle. Another cool feature is their SafeTemp indicator that showcases an icon on the bottle that changes color depending on the temperature of the milk so you don't have to constantly test on your wrist. (How to properly warm up a baby bottle).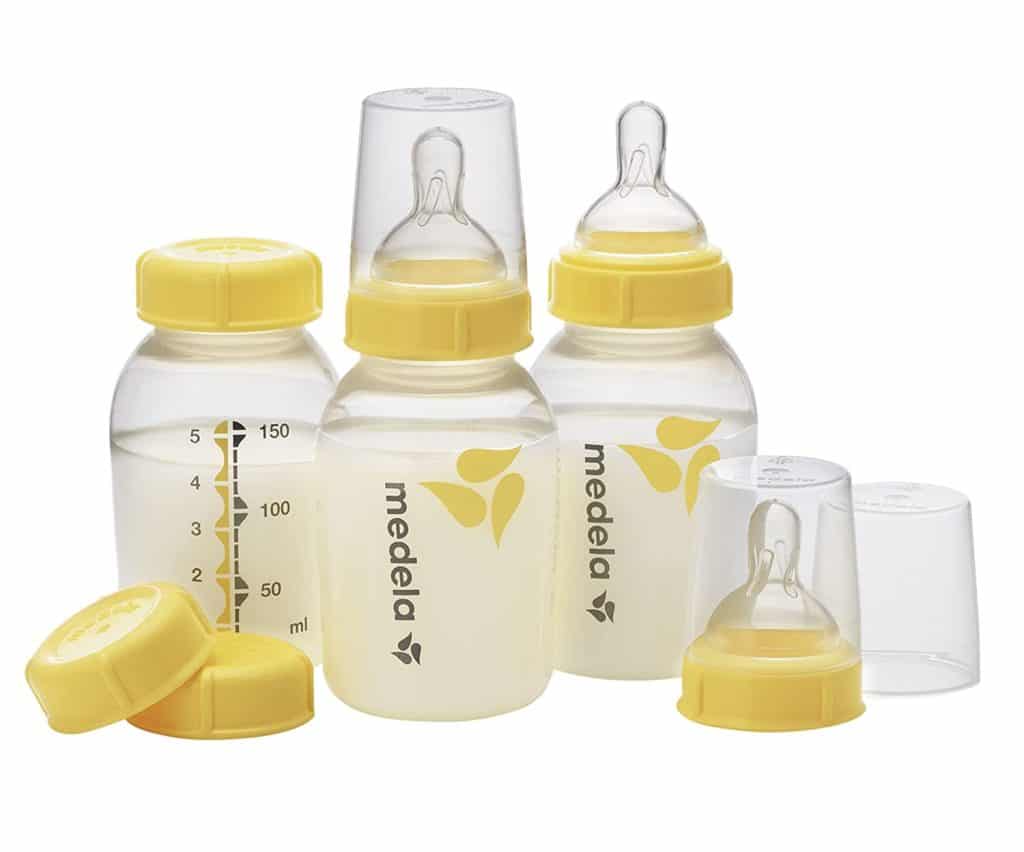 Pumping is a full-time job in and of itself, so there's no need to add any extra steps. This bottle system from Medela makes the process easier by allowing you to conveniently pump right into these bottles and even store them in the same container. The bottles are compatible with all Medela breast pumps and each set includes three bottles with slow flow nipples and a Quick Clean Micro-Steam Bag so you can easily disinfect your bottles and accessories—even on the go.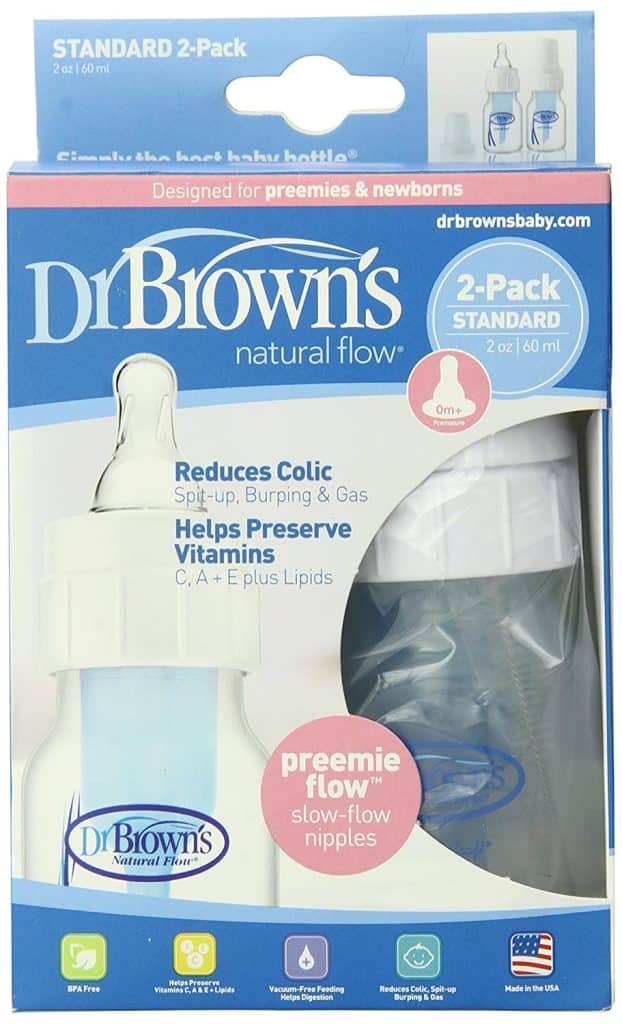 If your baby was born premature, you might have a harder time finding the right bottle. This is because babies born before 37 weeks tend to have a more difficult time swallowing milk, as their digestive systems are underdeveloped. They also have smaller mouths, so finding the right nipple can also be tricky. Dr. Brown's is considered one of the best bottle brands for preemies because they limit the flow of milk to an amount that can be more easily digested by smaller babies. Their anti-colic design also helps prevent air bubbles and trapped gas.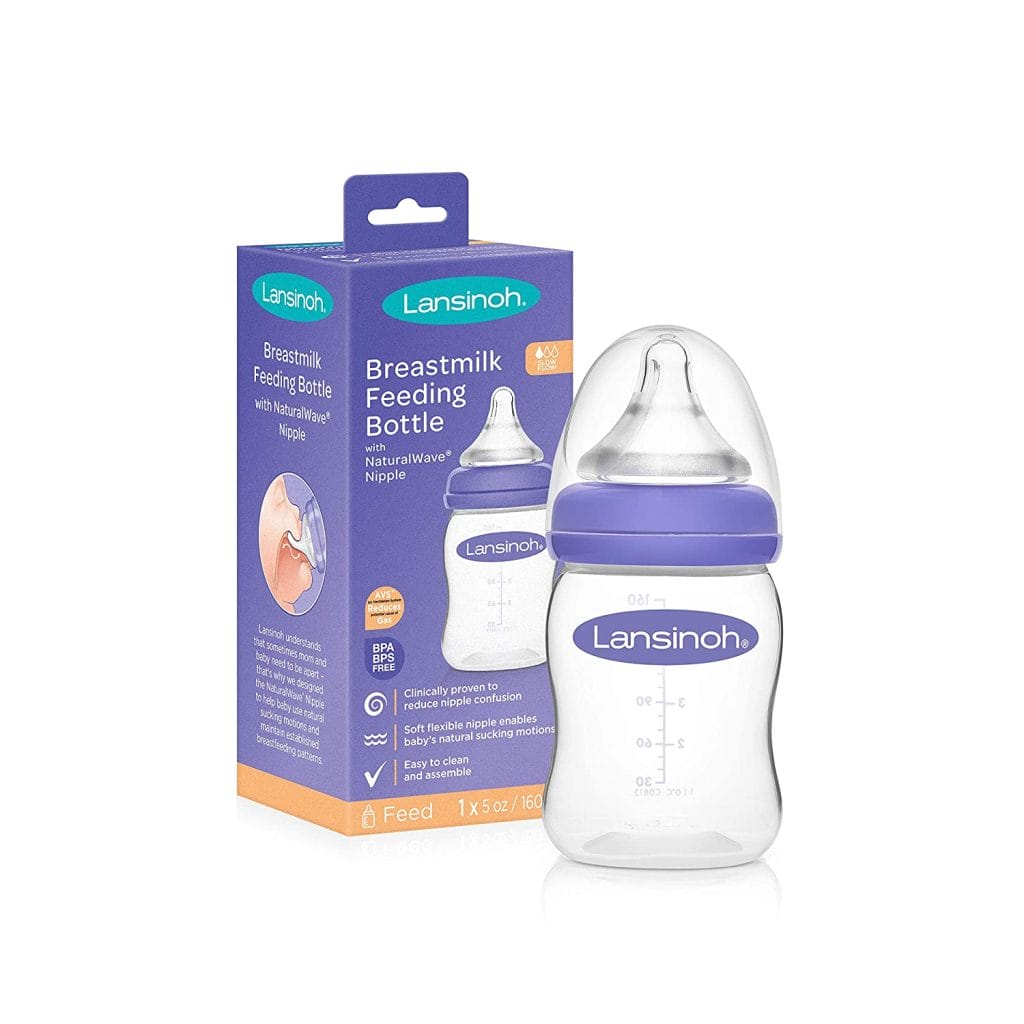 These bottles by Lansinoh are actually designed for babies who are exclusively breastfeeding. They created a NaturalWave Nipple that is made of soft, flexible silicone and has a matte surface to allow for a stronger grip and a more secure latch. This helps cut down on dreaded nipple confusion, which can be a problem during the early days when you're introducing the bottle. All of their bottles are BPA free and compatible with Lansinoh breast pumps.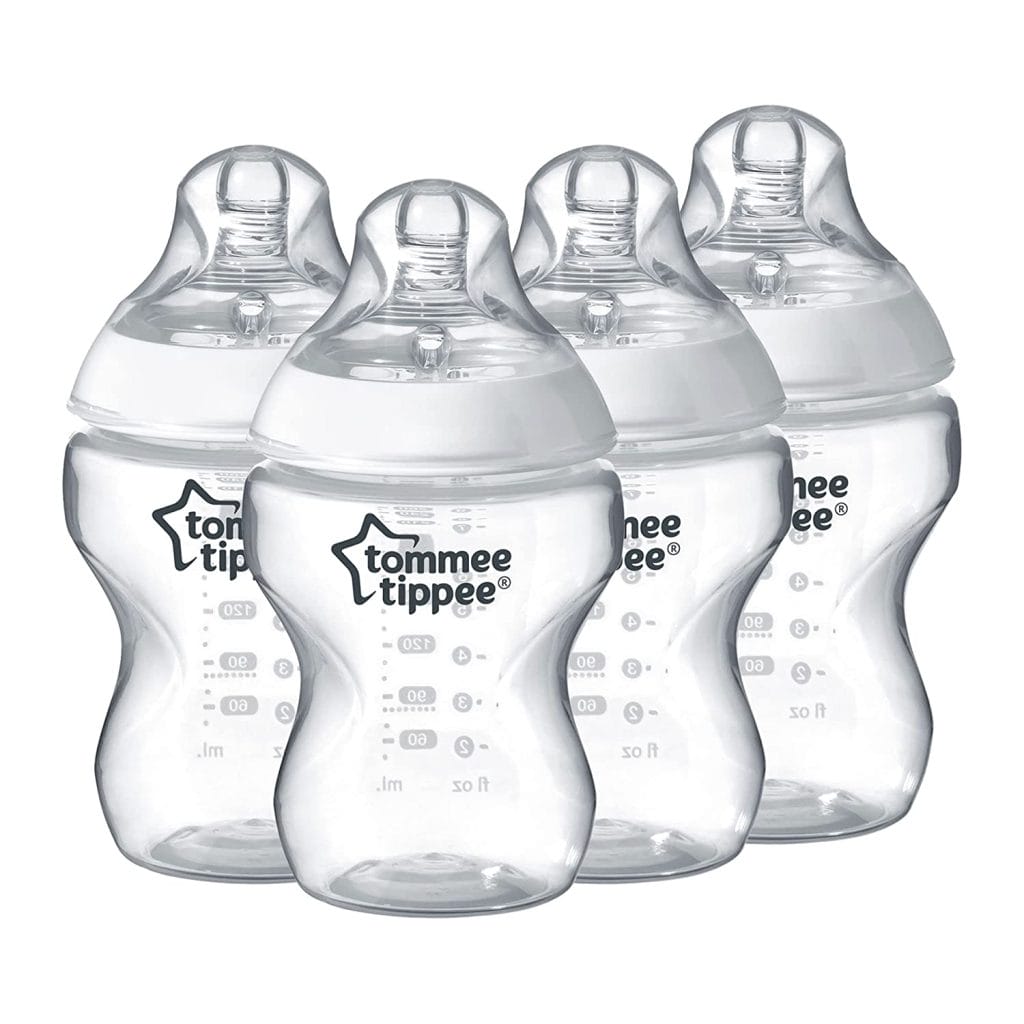 Breastfeeding and formula-feeding parents love the shape of these baby bottles, which mimic the breast thanks to their soft, silicone material and wide-necked nipple. This unique shape also makes it easy for caregivers to hold while they are feeding baby. These bottles have an anti-colic valve to cut down on excess air flow and they are super easy to clean—you can pop them right into the dishwasher as well.
How many baby bottles should I buy?
This really depends on how frequently you plan on giving your baby bottles. For example, if you're exclusively feeding your baby formula, you're going to go through 8-10 bottles a day to start versus if you're only supplementing with formula or a pumping parent who may only go through half as many bottles a day. To make things easier on yourself and so that you're not confined to your kitchen sink cleaning baby bottles, it's a good idea to err on the side of caution and purchase more than you think you might need. Most parents find 5-8 baby bottles is the magic number.
What bottle brand is best for baby?
This really depends on your baby's needs and preferences. As with most baby products on the market, your baby may prefer one brand over another. The best baby bottle for your baby may also be dependent on your baby's needs; for example, if your baby has tummy troubles, as many do, you might find that anti-colic bottles are better suited for your babe. If your baby is breastfeeding, a nipple and bottle that mimics the shape of your breast may be more appropriate for your baby. All in all, the best bottle brand is really up to you and your baby—no one can make that call but you!
What are the best baby bottles 2022?
Many of the best baby bottles of 2022 are the same winners of our list for 2023. Some features are more refined and advanced, however, the concepts are the same. The best baby bottles of 2022 are those that offer multiple flow levels, anti-colic features that cut down on gas and spit-up and heat indicators that let you know if the milk might be too hot.
What is the closest bottle to breastfeeding?
If you're looking for a baby bottle that mimics the act of breastfeeding, you might want to opt for a softer, silicone bottle that has a more natural feel. The nipple also makes a big difference, so look for a bottle set that comes with varying nipple flows, from soft to fast to adjust to how your baby is taking your breastmilk flow.
What is the best and safest baby bottles?
Most baby bottles on the market today are formulated to be safe for your baby's consumption. Arguably the safest options out there are those that are BPA-free and glass bottles, since they naturally do not contain potentially harmful chemicals that can break down over time or leach at high temperatures.
Choosing the best baby bottle
As you can see, there is no shortage of baby bottles on the market today, many of which might be an ideal fit for your baby. Figuring out which one is best might take some time and a little trial and error, but soon enough you'll find a brand that suits both your needs.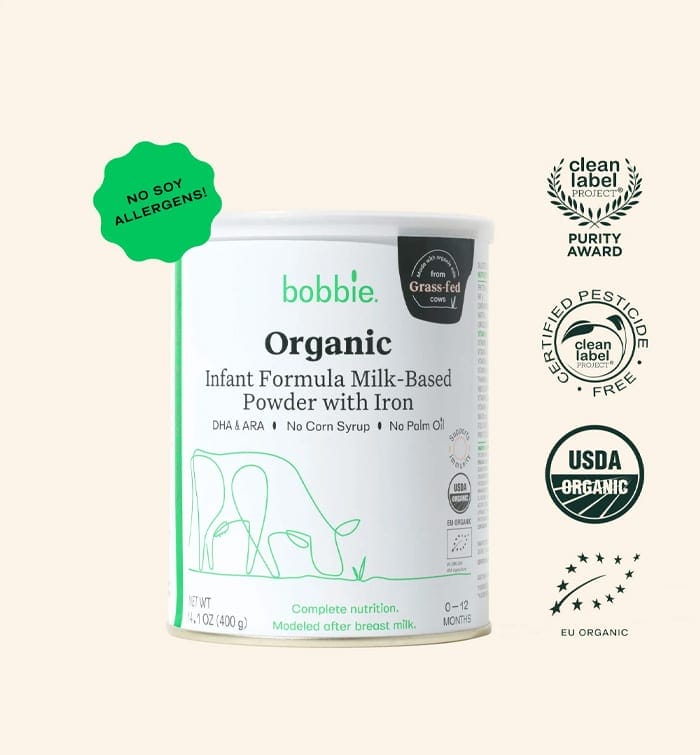 Shop Bobbie Organic Infant Formula
Bobbie Organic Infant Formula is a USDA Organic, EU-style infant formula that meets all FDA requirements. It is a complete nutrition milk-based powder modeled after breast milk and is easy on tummies. It is non-GMO and doesn't have corn syrup, palm oil, or maltodextrin. Learn more about Bobbie.
The content on this site is for informational purposes only and not intended to be a substitute for professional medical advice, diagnosis or treatment. Discuss any health or feeding concerns with your infant's pediatrician. Never disregard professional medical advice or delay it based on the content on this page.