Our editorial team personally selects each featured product. If you buy something through our links, we may earn an affiliate commission, at no cost to you.
If your family is full of beach and pool lovers like mine, then I recommend a quick visit to Puerto Rico any chance you get. Traveling with kids to Puerto Rico is a great Winter Break or Spring Break idea. Heck, if you're an east coaster, it's such a short flight you can go for any long weekend. You can easily travel here with a newborn, too! The great part about going to Puerto Rico is that you're getting a Caribbean vacation without even needing a passport— welcome news if you haven't kept your passports up to date.
For this Puerto Rico family vacation, we decided to head east towards Fajardo versus staying near the airport or San Juan. It made for a fantastic family friendly beach trip! If you're wondering when is the best time to visit Puerto Rico or places to visit in Puerto Rico, we've got the rundown from one family to another. Enjoy the gorgeous beaches, the beautiful weather and the water slides!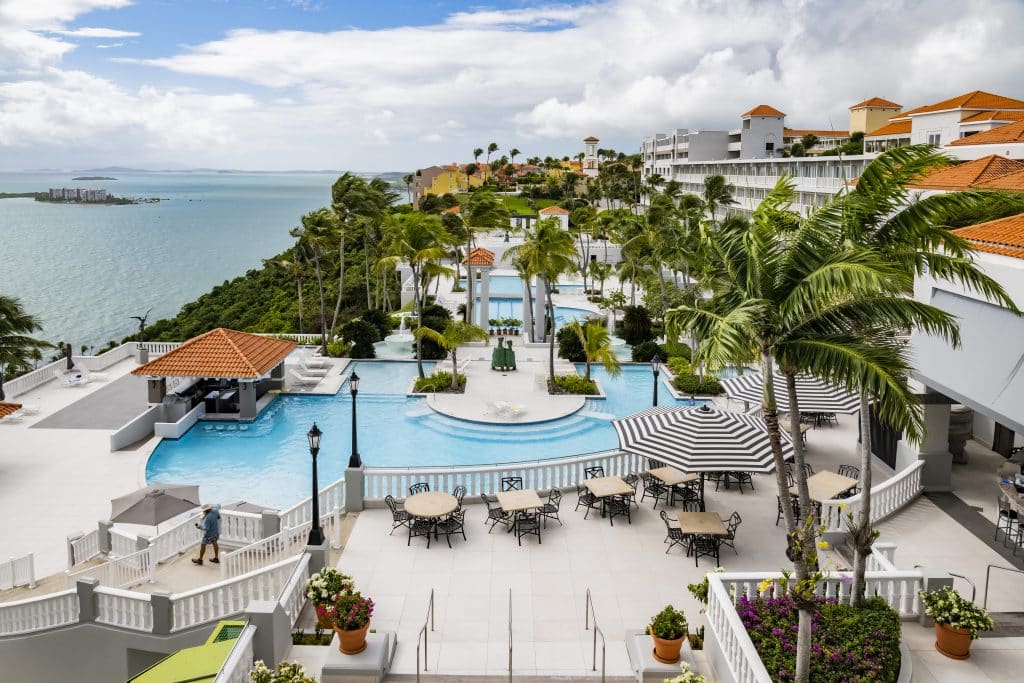 Family Friendly Hotels in Puerto Rico
If you're looking to stay very close to the PR airport (Luis Munoz Marin), the good news is that there are resorts within minutes! These hotels are family friendly and don't require any driving after the initial 10-15 minute taxi ride. They have pools, beaches, multiple restaurant choices.
San Juan Marriott Resort & Stellaris Casino
On this trip we decided to head away from the airport and see what the Fajardo area was all about. We read all about El Conquistador Resort and its water park, El Coqui, and really wanted to try it with the kids. El Conquistador Resort is well worth the hour drive— it's a win win for parents. It's one of the few places I've been that was fun enough for the kids yet still nice enough for parents. It's wasn't too fancy, but it was a great combo of pools and waterslides plus good food and atmosphere. The rooms were spacious and beautiful!
It was recommended we stay in the lower level of hotel, near the marina, which was close to El Coqui water park. The water park was amazing, it had three incredible sides (one with a full drop) that kept the kids busy all day. You could hear screams of excitement across the park, letting you know that everyone was having a great time. Parents, too!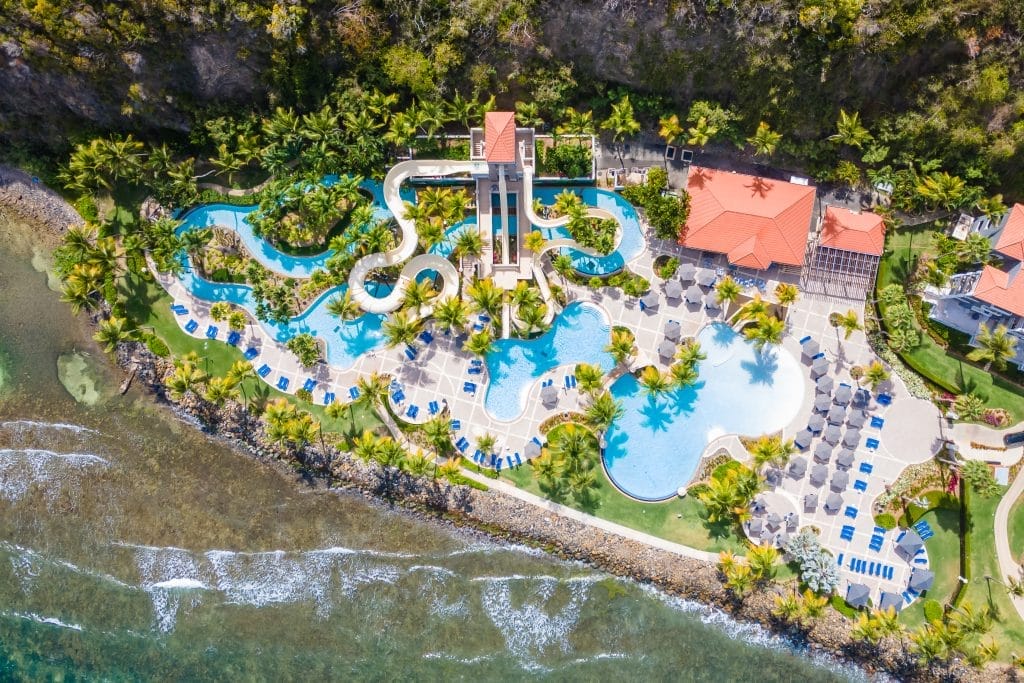 Separate from El Coqui's water park, there are also quieter pools at the upper level of the hotel, where there are additional hotel rooms as well as the resort's main lobby and restaurants. This pool was like a maze of pools, with different areas and levels, and a few hot-tubs, too. To get from the lower to upper level of the hotel, you take a funicular which is an elevator built into the side of the mountain with views for days. Believe me, the kids love the ride every single time.
Everything at this hotel is crafted beautifully for families, but the best part, by far, is Palomino Island. The hotel has private use of the island which is a 20 minute boat ride away. You do need to make reservations to ride the boat (plan in advance), but the limited number of people on the island is what makes it so special. That and the most stunning, clear water we've seen in a long time. The kids snorkeled for hours at a time and saw stingrays, lots of cool fish and even a pod of dolphins. Shell collecting was great, too. The restaurant here was fantastic (seafood!) and the views— STUNNING. All we needed was a tent and a hammock, and we may have missed the boat back intentionally in order to spend a few days in paradise. El Conquistador Resort is a place we'd all recommend for family travel in Puerto Rico.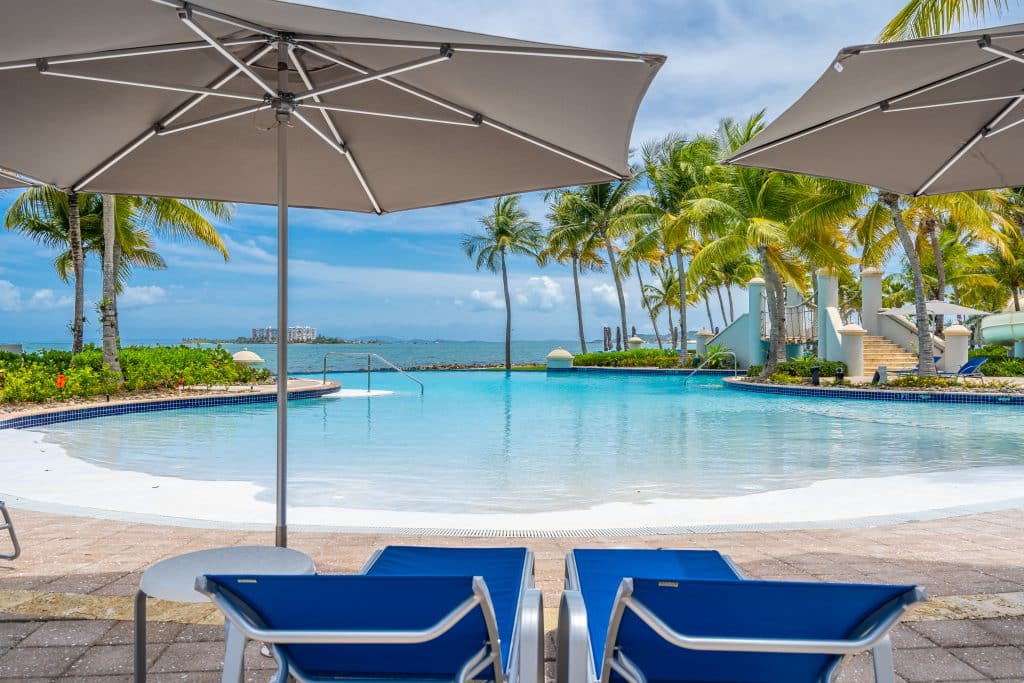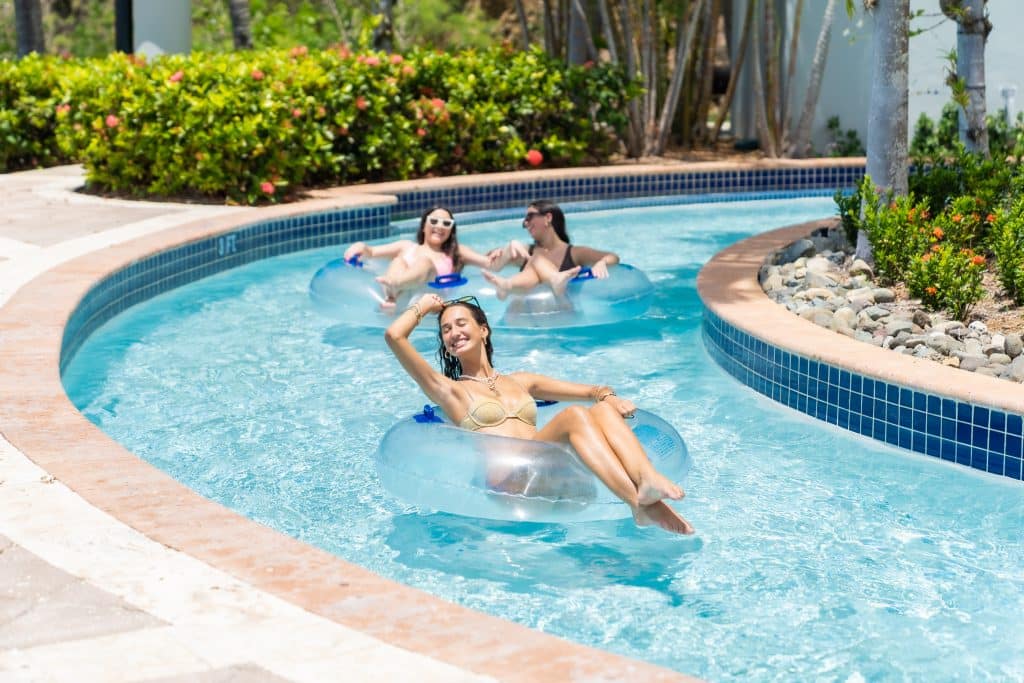 5 Best Things to do in Puerto Rico With Kids
Outside of the resort, there are so many fun places to visit with kids in PR, why it's great to have your own car! If you're staying in the Fajardo area, you are within an hour of so many fun adventures. Here are our recommendations on best places to visit with kids in Puerto Rico:
Guided Adventure in El Yunque Rainforest
Snorkeling Tour to Vieques Island
Cayo Icacos Private Island Tour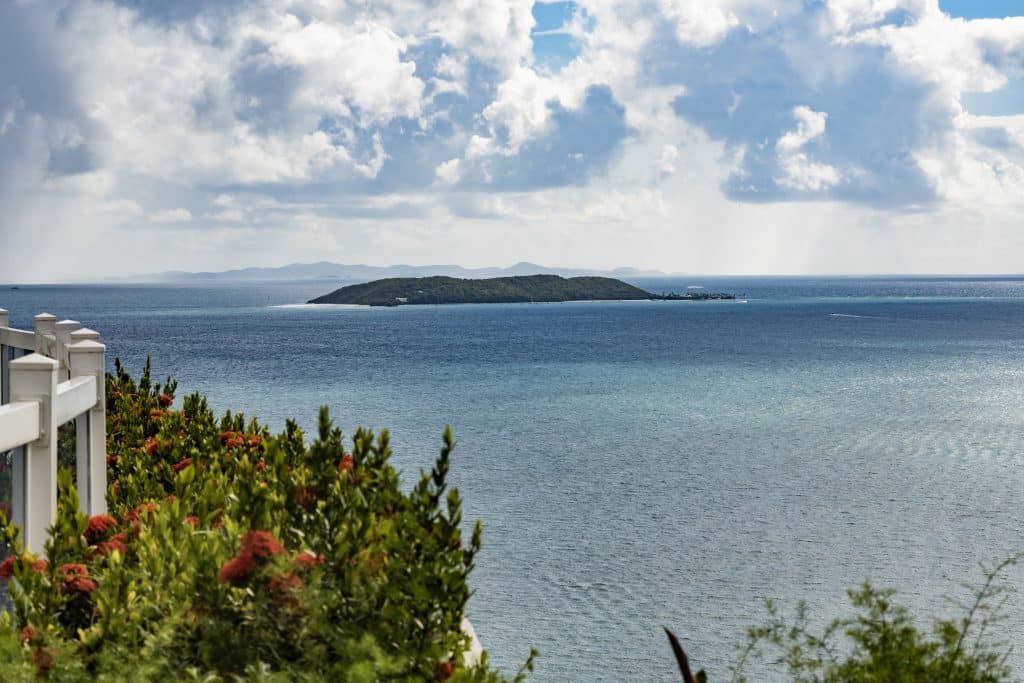 Best Time to Visit Puerto Rico
The weather is phenomenal in Puerto Rico— most of the year. During our winter, Puerto Rico is filled with sunshine and warm, humid temps. There are tropical rains, but they pass quickly and often come at night. Average temps December through May are 70-90 year round. It's best to avoid Puerto Rico from June-November, which is hurricane season. Puerto Rico has been hit hard in the past by hurricanes, so it's not worth taking a risk of traveling then.
Driving in Puerto Rico
Driving in Puerto Rico is easy! If you're traveling to PR with your family, it's a great idea to rent a car and explore the island. It's also a great way to venture off of your hotel grounds to have some good, local food. One big recommendation is to rent a car from one of the car rentals that are located INSIDE the Luis Munoz Marin airport. For others, you have to take a bus off site which is very time consuming, but if you can grab and go at the airport, less time for the kids to whine and cry about when they'll get there. From our experience, you need proof of coverage from your credit card and insurance company in hand in order to rent a car without hefty surcharges in PR. Have this without you ahead of time.
Each of these rental car companies are located inside the terminal area:
Visiting Puerto Rico With Kids
We can't say enough about what an easy, awesome experience it was traveling to PR with kids. There was so much to experience! It tied in history (visiting the Forts), science (hello Bio Bay!) and culture with snorkeling and loads of beach and waterslide fun.
The content on this site is for informational purposes only and not intended to be a substitute for professional medical advice, diagnosis or treatment. Discuss any health or feeding concerns with your infant's pediatrician. Never disregard professional medical advice or delay it based on the content on this page.