Our editorial team personally selects each featured product. If you buy something through our links, we may earn an affiliate commission, at no cost to you.
Welcome to Bobbie's State of The Shelves. We've created this minute long instagram series to explain the baby formula crisis in bite-size pieces. There's a lot going on. It's changing day by day and we all have questions.
The formula crisis— how did we get here?
Two companies own 80% of the industry; This is a duopoly dilemma.
When one of those companies had a recall in late February, nearly 30% of US infant formula was taken off of shelves overnight.
For an essential good that serves our nation's most vulnerable population –the 3.8 million babies in the U.S. that rely on formula for their daily nutrition– this is unacceptable.
That recall, coupled with historic inflation and supply chain issues, left the rest of the industry to meet the demand of this gaping hole in the market.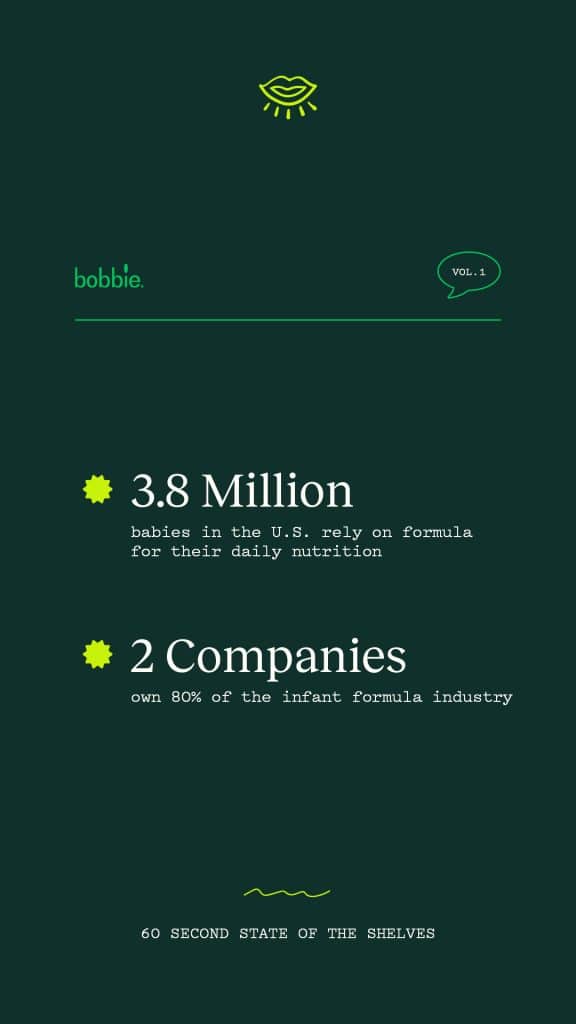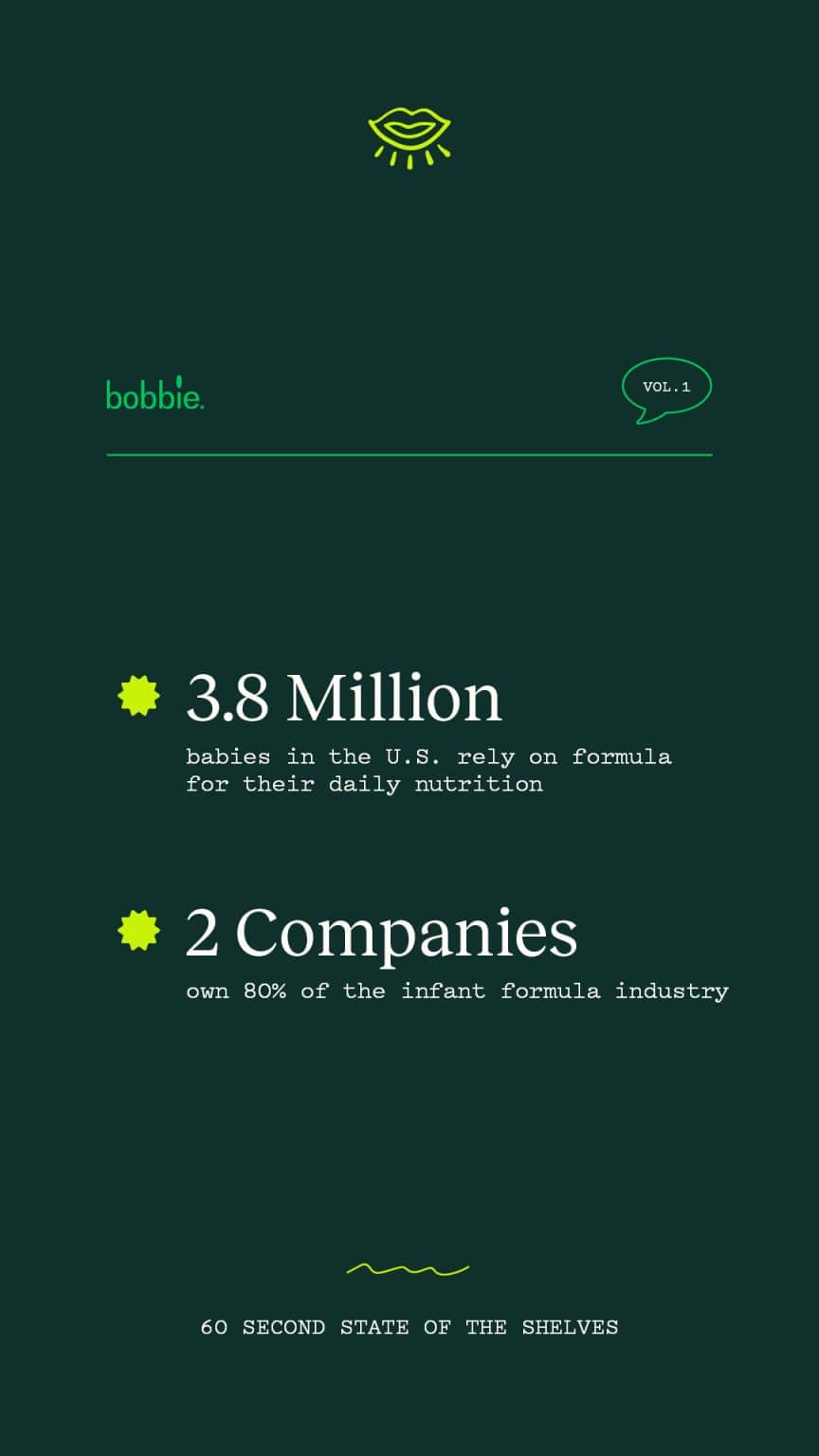 Why can't we make more baby formula in the US?
There are only SEVEN approved manufacturers in the US who can make infant formula. This doesn't mean we can't get the raw ingredients to manufacture more formula, but that the bottleneck is at the production level.
How did the recall affect Bobbie?
Within a week of the recall, we immediately saw an impact on our business. That's why we made the decision to continue to serve existing customers and pause growth during this time. We closed our online store to new customers while we give current Bobbie families the peace of mind that they won't run out of the formula they're using. We are doing all that we can to make Bobbie available to more babies that need it.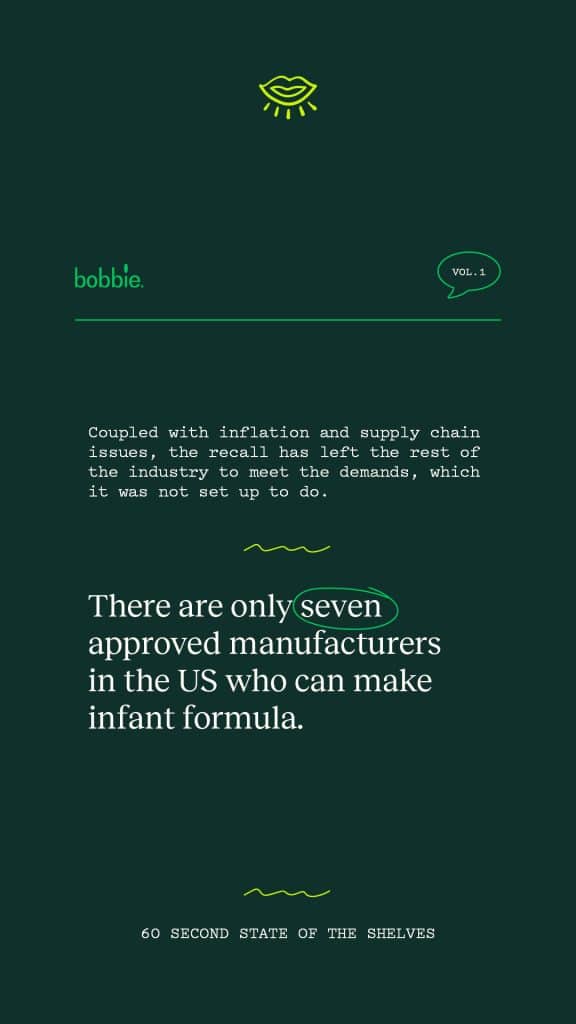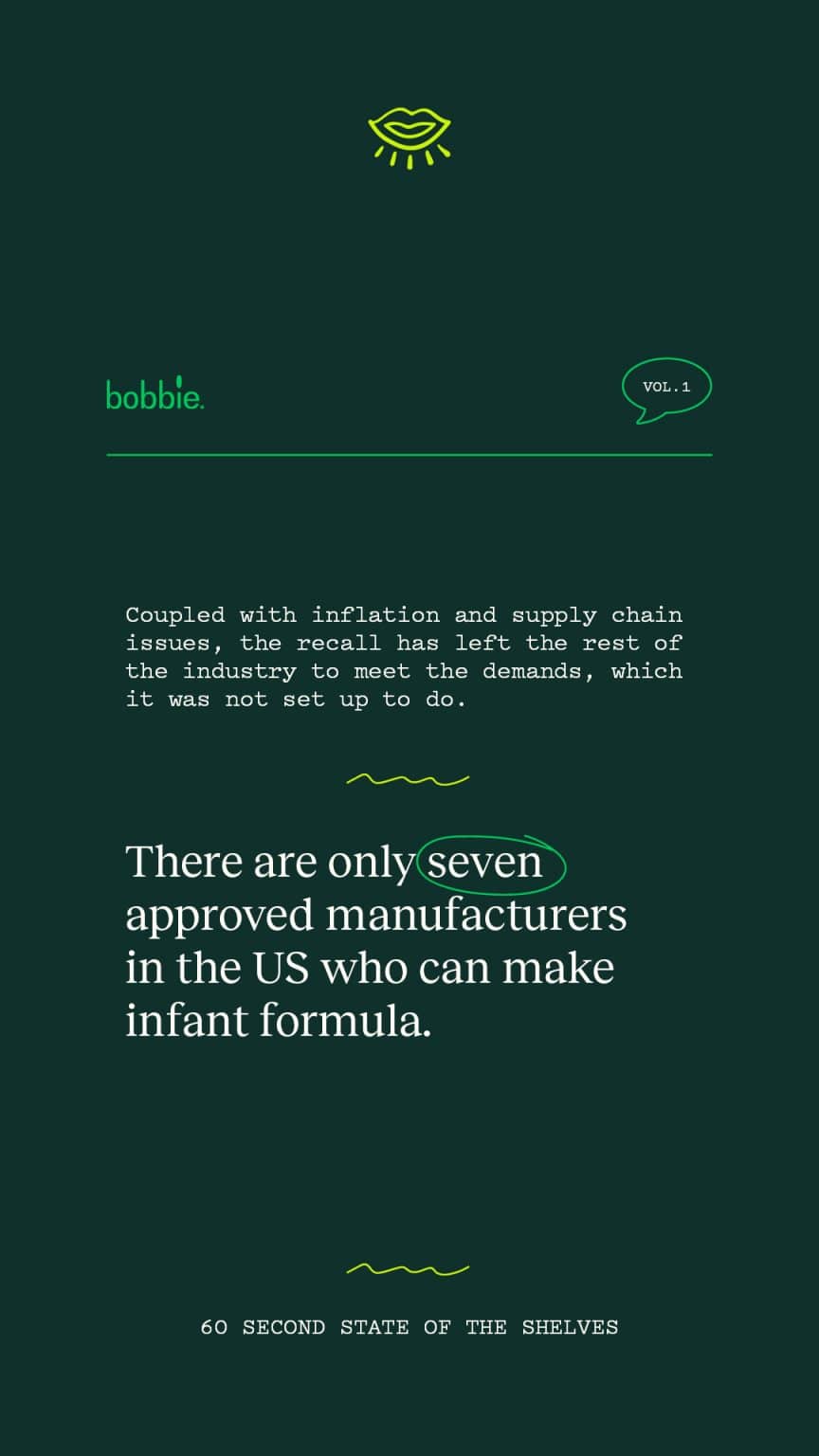 What's next for the formula crisis?
Congress meets Wednesday 5/25 to talk about the formula crisis. They will meet with industry leaders and government regulators. To understand what's going on, you have to know how we got here.
Ultimately, this crisis goes beyond any one brand or government agency. It will take action to resolve this issue for the 75% of babies that rely on formula for daily nutrition. We will continue to keep you updated as the situation evolves, including more info on Biden's Operation Fly Formula and any news we have after Congress meets tomorrow.
We launched Hungry for Change to advocate for our babies and for the changes we need. Call our vent line at 1-805-2-LISTEN to share your emotions, voice concerns, or leave hopeful messages for parents.
The content on this site is for informational purposes only and not intended to be a substitute for professional medical advice, diagnosis or treatment. Discuss any health or feeding concerns with your infant's pediatrician. Never disregard professional medical advice or delay it based on the content on this page.