Our editorial team personally selects each featured product. If you buy something through our links, we may earn an affiliate commission, at no cost to you.
Brian Ong grew up in the 90s and early 2000s and didn't have a lot of gay parent role models.
"For me," he says, "the idea of being a dad kind of never existed in my mind until I met my now husband, Brad."
Ong and Brad met, fell in love, got married, and while on a trip to Bali, decided that they did in fact want to become parents. Despite not having a clear road map of how to do it, they persisted. Fast-forward six and a half years later and the couple have just welcomed baby girl Bali Rose into their lives this past March.
It wasn't easy. From failed egg cycles to the pressures — and biological impossibilities — of breast feeding their child, the Ongs navigated their way through the many unknowns of early parenthood.
We had a heartwarming conversation with Ong, who opened up about planning for a baby in COVID, facing the 'breast is best' rhetoric, and finding peace — and a powerful bond — in formula feeding his daughter.
Finding a surrogate, during Covid
It was a bumpy ride trying to have a biological child through surrogacy— not knowing many people in the community who had done it, and starting from scratch. We had some ups and some downs. We went through the egg donation process where we cycled egg donors who didn't produce any eggs and that was very disappointing.
We had a surrogate, luckily, who we matched with and we loved. We were supposed to do IVF right when COVID hit in March and everything kind of shut down, so it was just the last road block we hit. Our IVF center in San Diego gave us the go ahead in June [2020], and thank god we got pregnant on the first try with the first transfer. Back in March [2021] is when we had our baby girl.
When our surrogate became pregnant
When we found out she was pregnant, I had this nervous energy like, 'Okay, we're pregnant and we now have to wait nine months'… Being in COVID during those nine months allowed us to do a lot of research and allowed us — as a couple — to get in sync with each other being home all the time. When we got the news, we were just so excited.
We drove out to the beach in Santa Monica and we both wrote [our baby's] name in the sand and let the water wash it away. It was just me, Brad, the ocean, and Bali Rose's name in the sand and it was just like… wow. Six and a half years of work and dedication coming to fruition.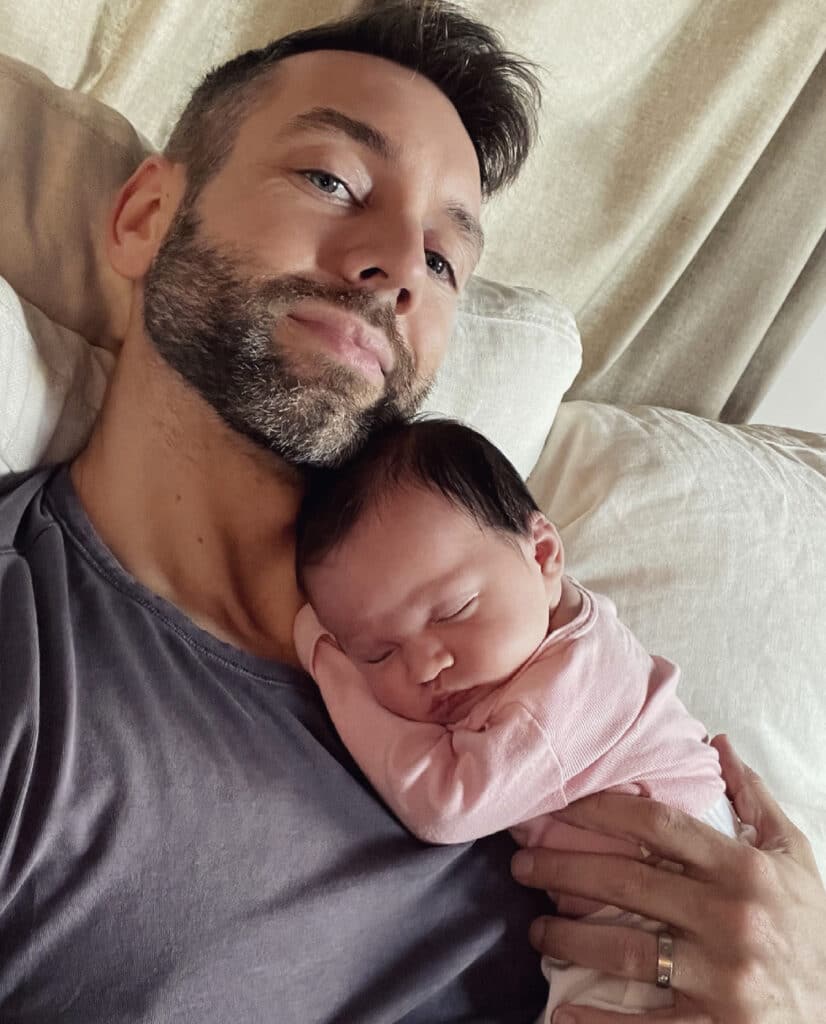 Their feeding journey began with finding an organic baby formula
About three months before she was born, myself, Brad and my good friend Beth started to research formulas and a lot of the stories that came up were about Bobbie. We were searching for an organic formula that was made in the USA that was FDA-approved and we remember coming across this article in Vogue. We saw that Bobbie was a company founded by women. We just felt that Bobbie's mission and dedication really aligned with our values of how we wanted to raise our little girl. We don't want road blocks to stop her, we want her to push forward and just to do whatever she wants to do, whatever she was blessed to do here on this earth.
The organic formula with the European ingredients just stuck with us and we were so excited to start our journey with Bobbie.
Why 'Breast Is Best' isn't the best message for two new Dads
Before we started the journey of looking into different formulas, there was a lot of pressure to go to a milk bank and get breast milk… We'd heard the slogan "breast is best" and a lot of 'Oh, you need to make sure your baby is on breast milk for the first x amount of weeks'. Even my straight friends that have babies were like 'How are you going to get your breast milk?'.
Those questions can be stressful because I physically can't produce breast milk. I had to go back to that feeling of self-acceptance, and celebrating that. I can't [breastfeed], so for me, I choose formula. My sister raised her baby on formula, and he's a beautiful, amazing, lovely three-year-old boy and that's what really got me started on my journey to find formula.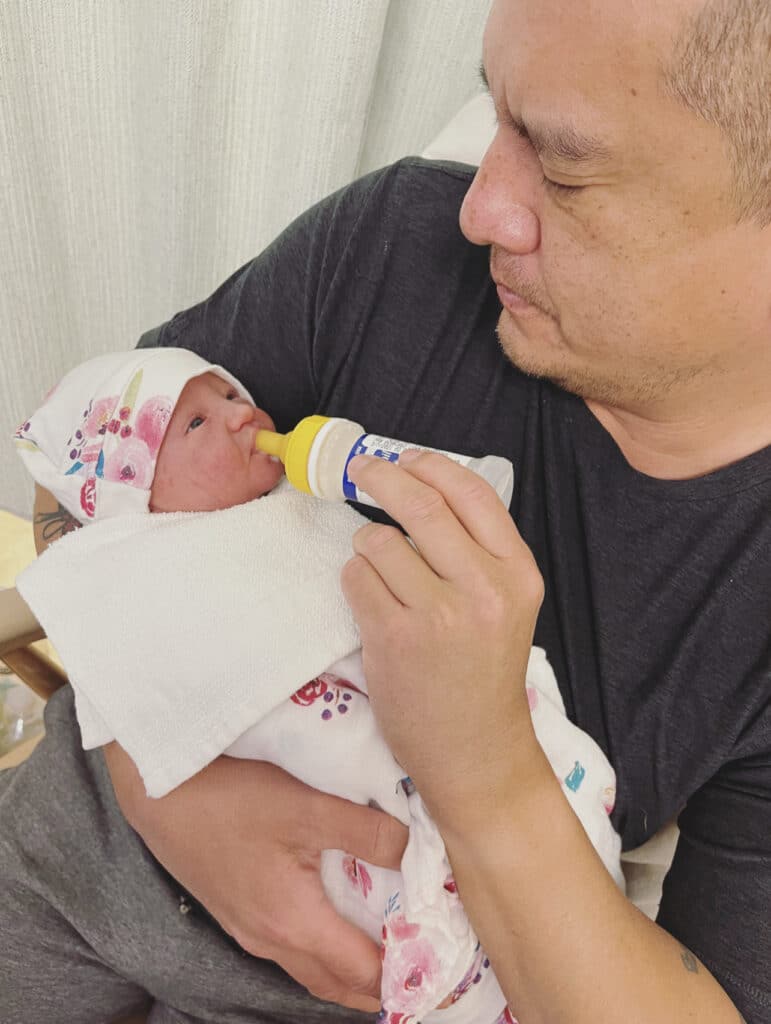 Our formula was not hospital approved
There were hurdles in order for us to feed our newborn Bobbie, as it was not one of the "hospital-approved" formulas (none of which were organic formulas). We had to speak with the dietician in the hospital to get it approved and she then had to mix it for us every time there was a feeding.
My mind was made up. I chose Bobbie before we even got to the hospital and there wasn't anything anyone was going to say for me not to feed my baby Bobbie. So we had the dietician prepare the bottles. That led to the first bottle being fed to our beautiful baby Bali Rose. They made the bottle, they handed it to Brad, and within two seconds she had the bottle in her mouth and it's been like that ever since.
Everyone bonds during feeding times
Bali Rose is growing. She's being nourished. It's so funny because any time someone comes over to the house we go, 'You have to feed her. You have to feed her.'
It's such a powerful connecting moment with her when you're feeding her, because she just looks at you and she knows that she's safe. She's being nourished and she's drinking an organic formula that tastes good to her and she loves it. The most amazing thing, for us, we've noticed she doesn't spit up! I don't know what it is, she loves it and doesn't want to waste a drop of Bobbie. It all goes down!
Baby's first West Hollywood Pride celebration
I see us having just a small amount of people here at the house this year and celebrating who we are as a family and celebrating everyone else who comes to our house and their individuality, and just Pride in general. I think it's going to be more tame, a little bit more pulled back from the typical West Hollywood Pride celebration.
Before she was even born, I got this heather gray tracksuit with rainbow stripes down the arm, and I was like 'This is her Pride brunch jumpsuit'.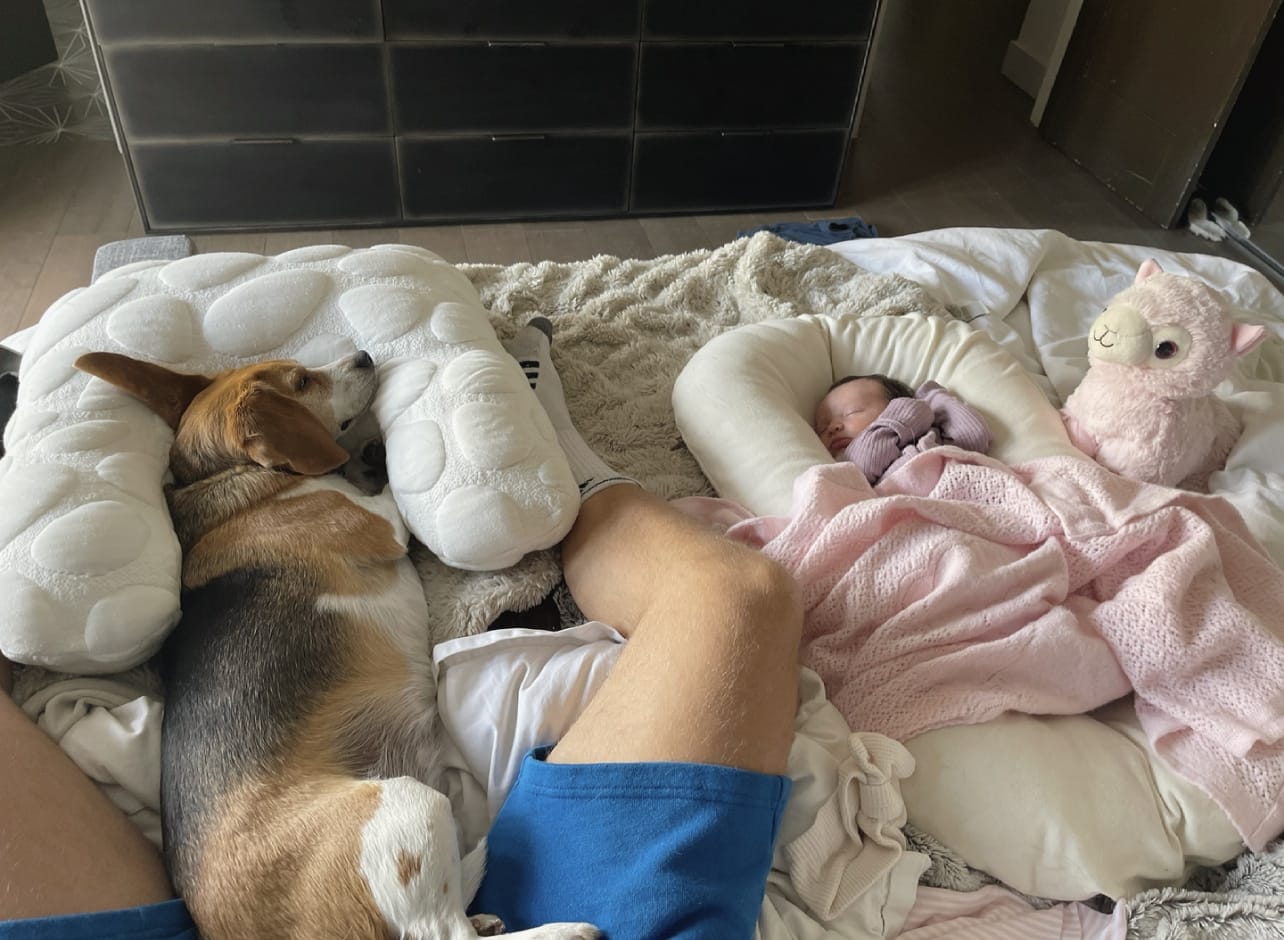 What Pride means to me as a new dad
I'm proud that I stuck with all the hurdles we went through over the last six and a half years, because there was nothing more special than holding Bali Rose 10 minutes after she was born and watching Brad feed her her first bottle. There was something so magical about that, this little human being and her first breaths of life and then feeding her a bottle and now watching her grow over the past three months. I'm just so proud to be her Dad.
Embedded within the Bobbie DNA is the notion of inclusivity. Our formula allows parents and caregivers to confidently feed and bond with their babies — free of judgment and worry. During Pride month, the tenet of inclusivity feels all the more relevant. This was a great opportunity to share the stories of same-sex couples who have successfully started their biological families and have turned to Bobbie on their feeding journey. We share the story of Trans Dad, Trystan Reese, gay father, David Reed, and others we truly admire.
The content on this site is for informational purposes only and not intended to be a substitute for professional medical advice, diagnosis or treatment. Discuss any health or feeding concerns with your infant's pediatrician. Never disregard professional medical advice or delay it based on the content on this page.