Our editorial team personally selects each featured product. If you buy something through our links, we may earn an affiliate commission, at no cost to you.
As a team of Bobbie moms, we live for sharing product reviews. As soon-to-be parents and new moms, we are constantly wear-testing the best pregnancy and postpartum essentials and trying out the best new baby gear. Now we're sharing our authentic product reviews with you. We may receive affiliate commission from any purchases, however our reviews are for real.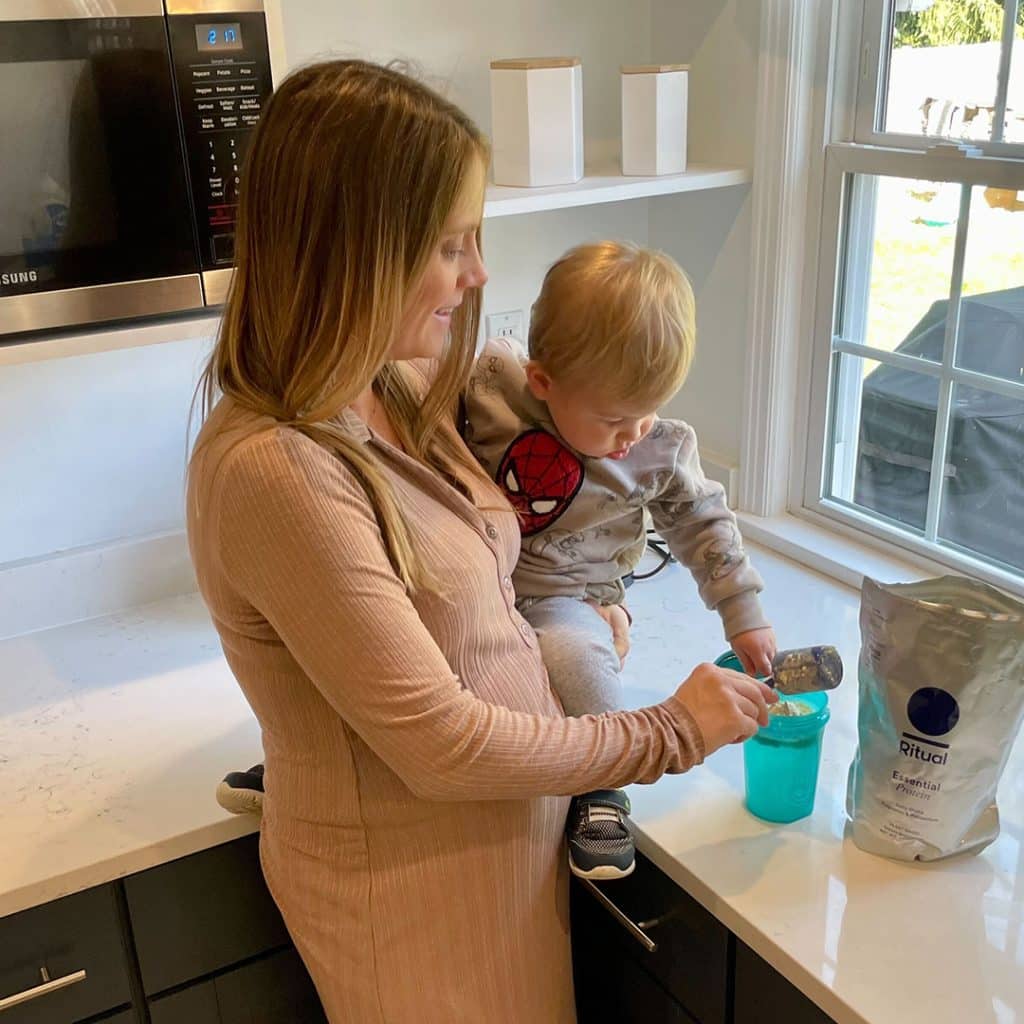 Reviewer: Jenna Mersch, Product Manager at Bobbie.
Product: Ritual Daily Shake Pregnancy & Postpartum Essential Protein Powder
Meet our Mom: My name is Jenna — mom to Michael and Baby M (coming in January 2023). I have used Ritual vitamins throughout my first and second pregnancies and love how their ingredients support both mom and baby. During my second pregnancy, I've had a hard time getting enough protein in my diet due to nausea and food aversions, specifically meat. I wanted to try the Ritual Daily Shake Pregnancy & Postpartum Essential Protein to help ensure that I am getting the nutrients and protein needed to support my pregnancy. See below for my Ritual prenatal vitamins reviews.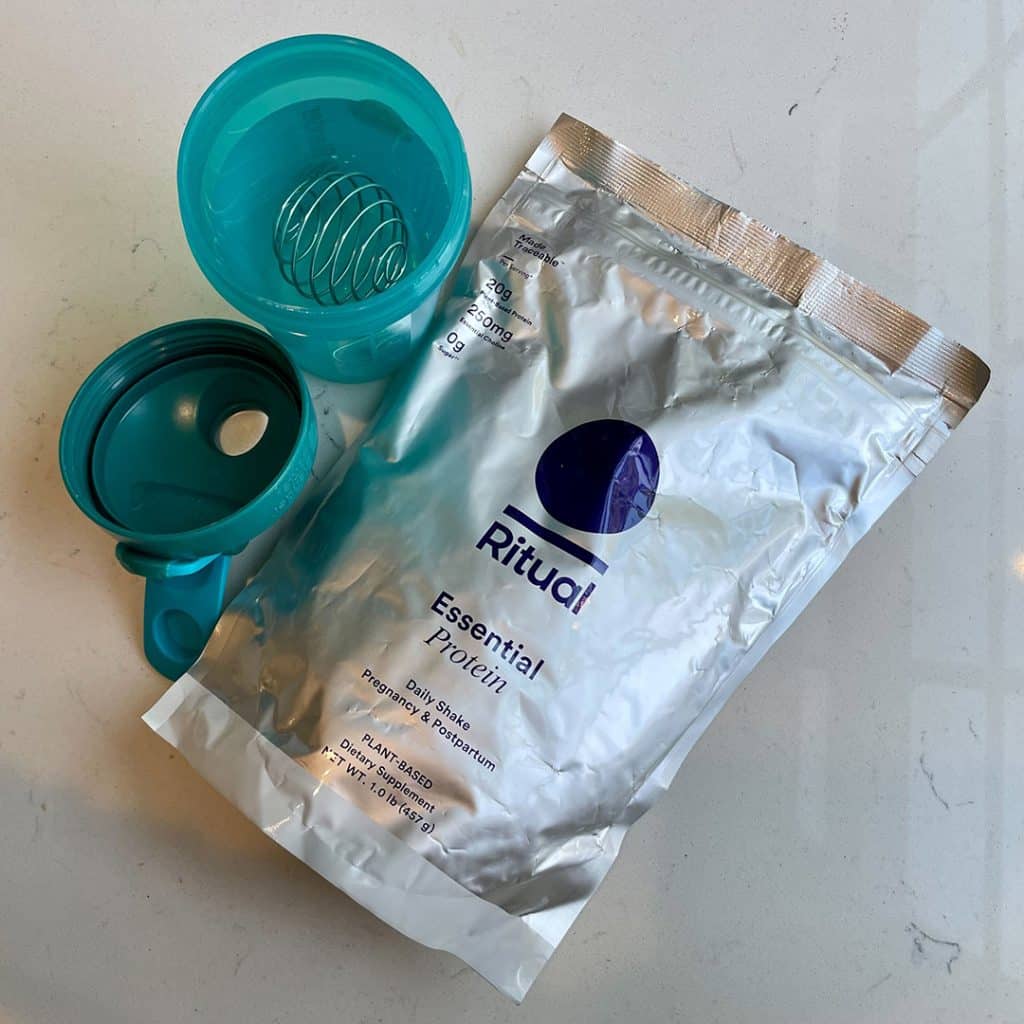 Ritual Vitamins Review
The Ritual Daily Shake Pregnancy & Postpartum Essential Protein provides a complete amino acid profile, an excellent source of Choline (250mg per serving), plant-based protein (20g per serving), and no sugar. This protein powder is sweetened with a combination of fermented sugarcane (Reb-M) and monk fruit, enhancing the natural vanilla taste. Their protein is delivered in BPA-free packaging, so you can feel confident about where your powder comes from and is being stored. Ritual's Daily Shake Pregnancy & Postpartum Essential Protein is clean, traceable and helps support new nutrient needs and bone health during pregnancy, postpartum, and lactation.
Price of the Ritual Daily Shake Pregnancy & Postpartum Essential Protein Powder
When you choose the subscription offer, you save 10% off the price – it comes out to $40 per month – and has free shipping. If you make a one-time purchase, it's $44 per bag. It is on the pricey side compared to other products, but I felt good using it knowing about Ritual's ingredient transparency.
5 Things I Love About Ritual's Protein Powder:
Great taste – I normally don't love the taste of protein powders, but this one has a natural vanilla taste that isn't overpowering and doesn't leave the grainy feel in my mouth after finishing it.
Reliable deliveries – Every month, the subscription renews without me having to do anything. I know that I can always move up or push back the delivery date if I need to adjust. They are very flexible to allow you to choose the date that works for you if you need to change it.
Safe, traceable ingredients – I can see where each ingredient is sourced from, why Ritual chose to include it in their product, and studies that show the benefits of the ingredient/why it's safe for pregnancy/postpartum.
Pregnancy/Postpartum Focused – When pregnant and/or breastfeeding, everything you put into your body can potentially go to baby, which is why I love that this specific protein powder has been formulated for pregnancy and postpartum stages with 250 mg of Choline, 0g of Sugar, and 20g plant based protein. It is also soy-free, gluten-free, vegan-friendly, non-GMO, and doesn't use stevia, sugar or sugar alcohols, and artificial colors, flavors, or sweeteners!
Mixes well – I have mixed the Ritual Daily Shake Pregnancy & Postpartum Essential Protein powder with almond milk, oat milk, coffee, whole milk, and water. They all mix together with the powder without being clumpy or grainy. I like how I can incorporate protein into my diet with this option using a variety of options.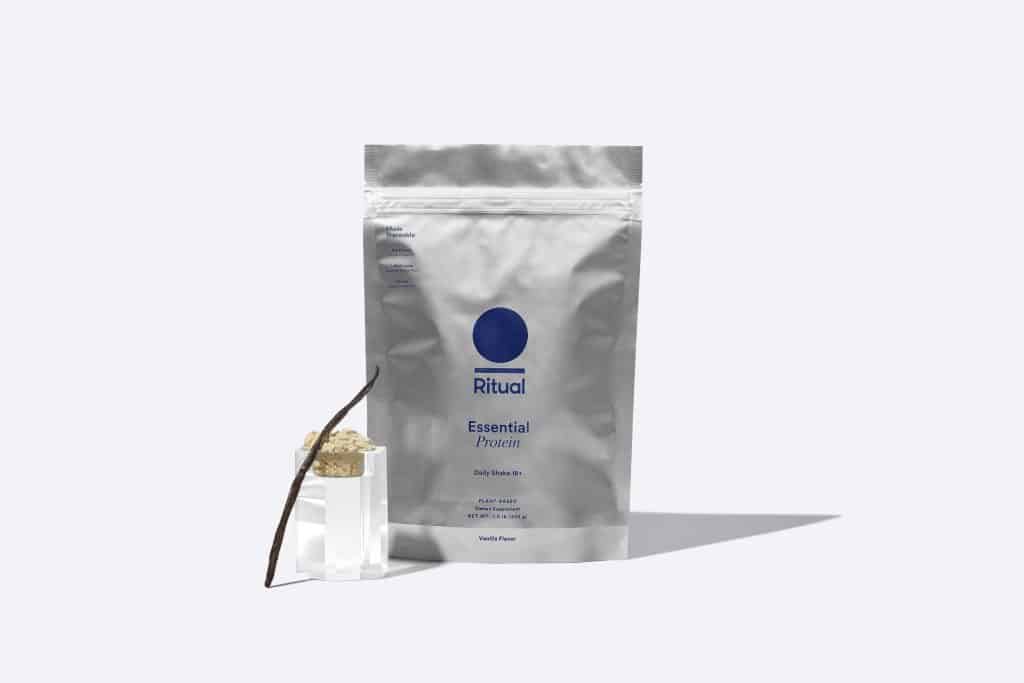 Is Ritual worth the price?
In my opinion, this product is worth every penny. I will continue to use this protein powder past my pregnancy and postpartum journeys. Ritual Daily Shake Pregnancy & Postpartum Essential Protein gives me peace of mind that I am providing myself and my baby with trustworthy ingredients. I love the 'set and forget' subscription option for this product – it takes away another checklist item for me throughout the month. As a plus, the subscription price is $40 and includes free shipping, which is also a discount from the one time purchase of $44.
Any cons to Ritual's Essential Protein Shake?
Other than the high-end price, I did notice that the zip lock on the packaging did get clogged with powder so it made it hard to seal without cleaning it first. Once you brushed it off, it was fine, though.
Overall conclusion of Ritual's Protein Shake:
Overall, I loved this product! I've started recommending Ritual Daily Shake Pregnancy & Postpartum Essential Protein to my family and friends. Not only is the taste great, but the safe and traceable ingredients are a huge value add to using this product. I will continue to use this product past my pregnancy and postpartum stages of my life!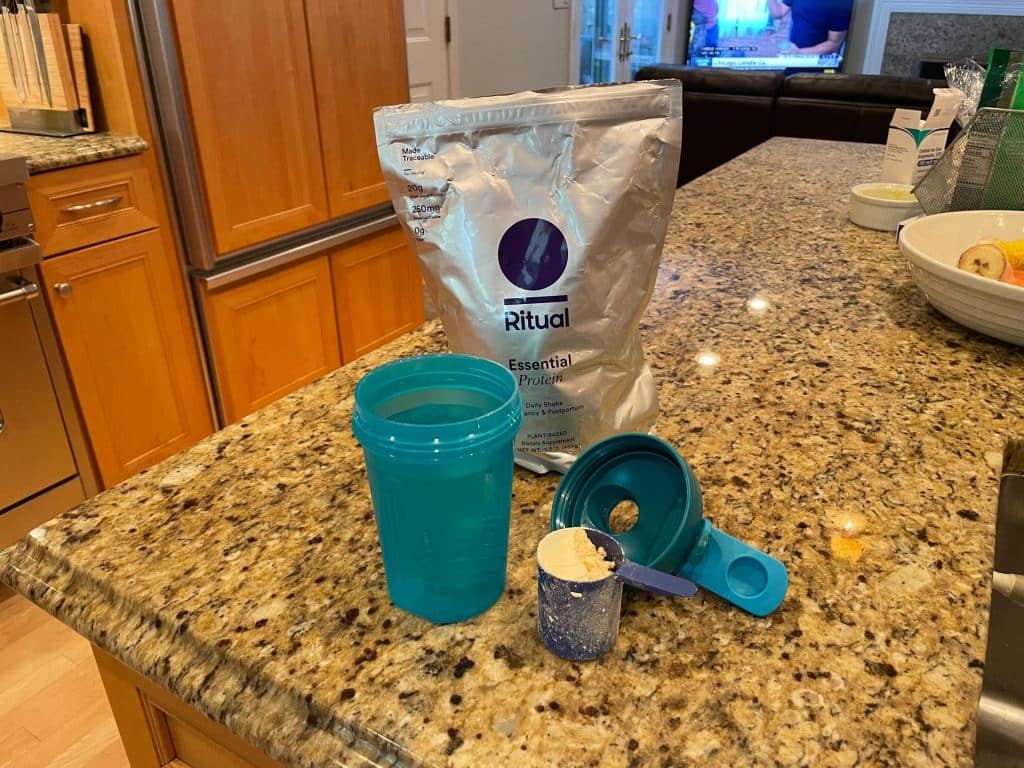 The content on this site is for informational purposes only and not intended to be a substitute for professional medical advice, diagnosis or treatment. Discuss any health or feeding concerns with your infant's pediatrician. Never disregard professional medical advice or delay it based on the content on this page.