Our editorial team personally selects each featured product. If you buy something through our links, we may earn an affiliate commission, at no cost to you.
You know when there's something you REALLY want to buy for your house but you're afraid to make the commitment? That's how I've always felt about a Dyson vacuum. I've seen all of their super-cool ads and I've envied the women floating about their homes with these lightweight, super efficient machines— but to get one for myself???
I finally did take the plunge. It was a few years ago and I went for the Dyson V11 Cordless Vacuum. It was all the things I hoped for: CORD FREE (I can't stress that enough), lightweight, easy to charge, long lasting and a great clean. The attachments were addictive (which one do I need for the sofa? the area rug? the bathroom?)— almost as addictive as dumping the canister and seeing ALL the things that came out.
We had a solid two years together before my mom decided that she needed to have my vacuum. I mean, she's my mom, right?
How to choose the best vacuum
So….I decided to take the plunge again. I went to the Help Me Choose page on the Dyson site to figure out which new and exciting cordless vac would work the best for me. From their menu, I selected a house size of 2-3 bedrooms with the need for Grab-N-Go Quick Cleans (hello, kids). I have mostly hardwoods, but a few area rugs, so I chose a combo of wood/carpet. I added the need for lightweight with powerful suction and was matched with the Dyson V12 Detect Slim.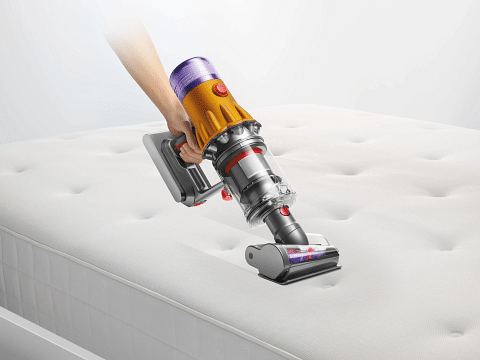 Comparing Dyson's V11 to Dyson's V12
Almost immediately, I appreciated the similarities to the V11, yet loved the differences. First of all, the V12 has an on/off button versus a trigger. The trigger (on the V11) you have to hold in, which can be cumbersome for a long vacuum sesh. The button felt easier to use for sure. Second of all, two pounds may not sound like a lot, but when you're vacuuming every step on your staircase (17 steep ones to be exact) it feels heavy by the time you reach the top of the stairs. The Dyson V12 is only 5.2 pounds (the V11 is only 6.6 lbs, so not a huge deal). A breeze for moms (and kids) to carry and use.
The attachments are similarly amazing, giving you different pieces like tubes, brushes and more. You can use it with a long tube (like a standard stick vac) or you can remove the tube and use it as a handheld (it reminded me of a Dustbuster from the 80's, but with strength) which is great for the sofa, car, and the chairs after the kids' dinner.
Reviewing Dyson's V12 Cordless Vacuum
The most exciting thing about the new V12 Detect Slim is the ILLUMINATION. If you were wondering how much dirt and dust was really living on your floors (especially with a baby), the Dyson literally lights the path with an LED light to reveal microscopic dust and then counts and measures the size of dust particles with a piezo sensor. If you're OCD like me, you want to see and catch everything. And since it's so lightweight, and the light is novel/fun, you don't even have to beg for your kids to pitch in and help. My daughter vacuumed for an hour+ the first night. She was having fun! Cleaning!
The vacuum went easily between wood floors and area rugs and didn't even get jammed up after sucking up all the hair on my daughter's bathroom floor. It has built-in technology that automatically de-tangles long hair or pet hair caught on the cleaner head.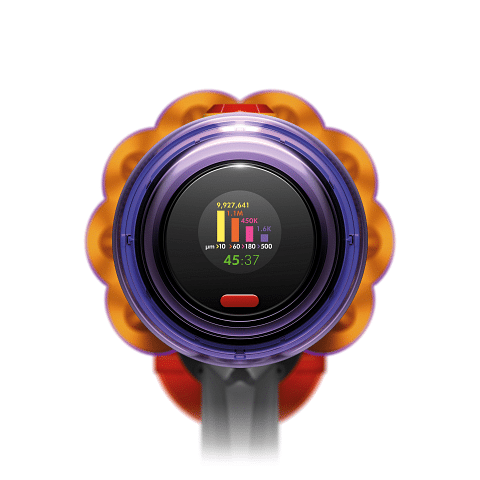 Should I buy the Dyson V12?
Basically, Dyson had thought of everything with the V11 and yet still managed to improve on that model. I loved the Dyson V11 (which is why it went to mom) but I REALLY love the Dyson V12 (don't tell her).
Overall, this Detect Slim+ Cordless Vacuum Cleaner is the lightest yet most powerful cordless vacuum I've ever had. Definitely worth the commitment.
The content on this site is for informational purposes only and not intended to be a substitute for professional medical advice, diagnosis or treatment. Discuss any health or feeding concerns with your infant's pediatrician. Never disregard professional medical advice or delay it based on the content on this page.