It's true that I strolled into motherhood without an actual baby stroller. You see, before I gave birth, I imagined calm, restful days spent at home napping and nursing my infant with all my glorious nursing accessories, so why would we need to leave the house with all that cuteness going on? But, as I'm sure you can guess, real life with a baby looks a lot different. Sleeping didn't happen, burping was inconsistent, and breastfeeding was, well…hard, and as a new mom with a new baby, I craved some normalcy. Running errands or a walk around the block with my son connected me to the outside world at a time when my baby felt like my only world. Yup, I needed a stroller.
As my sleep-deprived brain researched the best baby stroller, I did what any tired mom would do— I fell asleep. This is why I tapped Bobbie Moms to share their own list of the best baby strollers —so you can read this first and then plan your nap for afterward.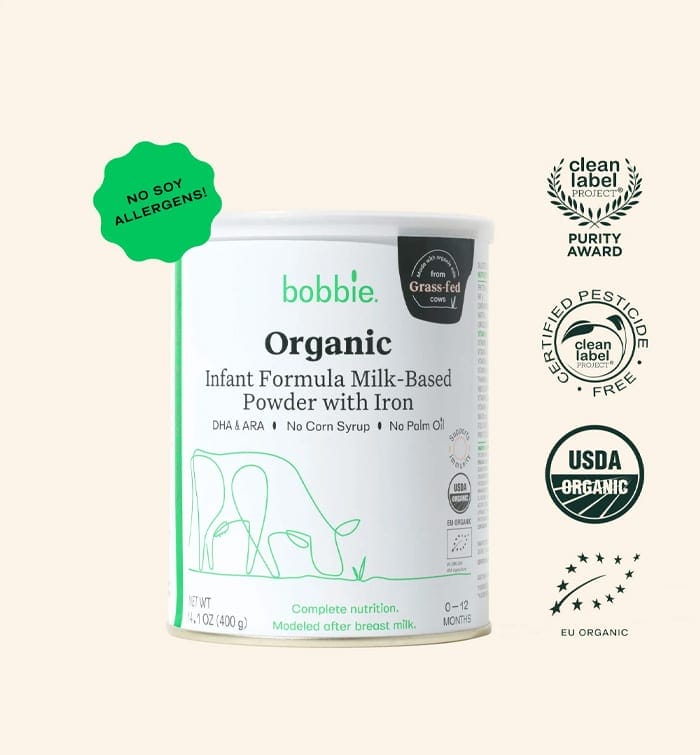 Shop Bobbie Organic Infant Formula
Bobbie Organic Infant Formula is a USDA Organic, EU-style infant formula that meets all FDA requirements. It is a complete nutrition milk-based powder modeled after breast milk and is easy on tummies. It is non-GMO and doesn't have corn syrup, palm oil, or maltodextrin. Learn more about Bobbie.
16 Best Baby Strollers of 2023
Types of strollers
When it comes to finding your best match in a stroller, there are many out there to consider. Are you looking for one that's lightweight and easy to pack up? Or a tough yet maneuverable stroller for jogging or long walks around Target? Here's the lowdown on each type of stroller.
Full-sized stroller: This is your stroller of strollers. This type is great for everyday use and has four wheels (two smaller in front and two larger in back) which give it maximum stability. The full-sized stroller usually comes with a storage basket below the seat and cup holders for all your baby bottles, sippy cups, or your adult caffeinated beverages. It's also usually good to go for newborns until toddlerhood.
Compact Stroller: This stroller is similar to the full-sized in many respects but is, you guessed it…smaller. It still comes with baskets and cup holders but is generally shorter and narrower than your full-sized stroller. It's simple to fold and unfold and is easier to carry and put away for quick storage when you're on the move.
Lightweight/Umbrella Stroller: These strollers lack the bells and whistles of your full-sized or compact stroller—which means no cupholders, baskets, or actual bells. But the upside is most of these strollers weigh less than 10 pounds and are extremely easy to carry. Oh, and it may come with an overhead umbrella to keep your kiddo shaded from the sun.
Travel System Stroller: A combination car seat and stroller, this is made for easy transitions from car to stroller or vice-versa. The infant seat snaps into the stroller frame, and then you're ready to get rolling. This stroller is fabulous for those early months when car naps are frequent because you can move your sleeping baby to the stroller while still in their seat.
Jogging Stroller: If you're ready to get moving with your little one, a jogging stroller is built specifically for rugged terrain and long distances all while keeping your baby comfortable. It's perfect for all of your outdoor time and often has three wheels (instead of four), so it maneuvers well while you're off-roading.
Double (or triple) stroller: These strollers allow your two+ babies, or your baby and toddler, to stroll together. They have two (or more) seats and come in different shapes in sizes. Some have seats situated side-by-side while others come front-to-back. Even others have movable seats that can be adjusted with all the possibilities for you and your kiddos to enjoy.
What kind of stroller is best for a newborn?
When searching out strollers for your newborn, Brigham And Women's Hospital suggests looking for a stroller that meets these criteria:
A wide base to prevent tipping
A seat belt and crotch strap attached securely to the frames
A seatbelt buckle that's easy to use
Brakes that securely lock the wheels
Don't forget to always fasten your baby's seatbelt when in their stroller and never leave your child unattended. You know your baby best, so your baby might prefer a Travel System for easy transfer, while another baby might love their bassinet. Popular strollers like the Mompush Stroller and the Doona Infant and Car Seat Stroller are two solid choices.
What is the best baby stroller 2022?
Every stroller has its benefits, but the Doona Infant and Car Seat Stroller and the Colugo Compact Stroller are two of the great contenders coming out with rave reviews from 2022 and still in 2023.
What is the top-rated stroller?
Chicco was founded in 1958 and has been a trusted brand offering parents options in everything from baby gear, to nursing, to toys. The Chicco Bravo 3-in-1 Trio Travel System Quick-Fold Stroller is a highly trusted multipurpose stroller that works with your baby as they grow. Chicco is top-rated and top trusted in the world of baby. But, let's not forget the Summer Infant 3Dlite Lightweight Double Stroller or the Babyzen YoYo² Bundle, both highly rated in their own categories.
What strollers do the Kardashians use?
If you're wondering what kind of strollers celebs are sporting these days, the Kardashians have been seen using the Orbit Baby Stroller. Reviewers for this stroller use words like "luxurious," "love," and even "magical." You can purchase stroller styles such as travel systems, single strollers, double strollers, and even jogger strollers–all to keep up with the Kardashians.
Do I need a stroller?
The long and the short of it is, yes. Yes, you need a stroller. A stroller can save your arms and back from the fatigue of carrying your little one and also allow them to explore their own independence while you're still an arm's length away. A stroller is awesome for carrying all the things babies come with, too—while you and your baby explore the world together.
Feature picture by Bugaboo.