Our editorial team personally selects each featured product. If you buy something through our links, we may earn an affiliate commission, at no cost to you.
Being a new mom requires a ton of time, energy, and seemingly two sets of hands at all times. Enter baby bouncers, which can keep your little one safely in place as you're sterilizing baby bottles or folding that adorably tiny laundry. The best bouncer for baby and for you depends on what you think will work for your little one — and of course, the features mama's looking for as well. Check out the 11 best baby bouncers below. (But don't be surprised if you fall in love with more than one.)
What type of baby bouncer is best?
Choosing the best bouncer for baby and you — whether you're a new parent or seasoned pro — requires advanced consideration of a slew of factors. Think:
Where will the baby bouncer hang out in the house?
Does the nursery have enough space for the bouncer you're considering?
Are you planning on traveling with the baby bouncer?
How important are the overall aesthetics of the baby bouncer to you?
Does it have slick extras such as a removable toy bar, vibration, or play nature sounds?
Do you want it to be a swing or rocker combo?
Asking yourself those kinds of questions up front will help you select the best bouncer for baby.
What's the best baby bouncer for a newborn?
Here's the thing about newborns: They sleep a lot. Like, a lot a lot. The American Academy of Pediatrics says that baby bouncers aren't safe for sleeping. Same goes for baby swings, car seats, and anything beyond a crib, bassinet, or playard. If your baby ever falls asleep in any kind of bouncer or swing, it's recommended to transfer the baby to a sleeping space like the bassinet or crib.
Are baby bouncers good for babies?
The American Academy of Pediatrics has extensive safety guidelines for bouncers worth knowing in advance. Some topline recommendations:
Always use the bouncer on the floor, never on a countertop, table or other elevated surface.
Never place the bouncer on a bed, sofa or other soft surface because babies have suffocated when bouncers tipped over onto soft surfaces.
Always use restraints and adjust restraints to fit snugly.
Stay near and watch the baby during use.
Stop using the bouncer when a child can sit up alone, weighs 20 pounds, or reaches the weight limit on your baby bouncer's label.
At what age should a baby use a bouncer?
Generally, baby bouncers are designed for the 0-6 month crowd, helping to soothe and keep baby busy while mama gets a few things done. And while age doesn't equate with weight, it's important to stick to the weight limit any given manufacturer sets forth. Consumer Reports cites that the upper-weight limit for a baby bouncer usually ranges between 18 and 30 pounds. And once baby has gone over its bouncer's weight limits, the seat is far more prone to tipping.
By the time they're mobile, though, it can be presumed they're not gonna wanna be strapped into a baby bouncer anymore. Can you blame them? Of all the baby bouncers on the market, we found the 11 best bouncers for baby that'll keep your sweet one cozy while you sneak in some chores.
The 11 best baby bouncers of 2023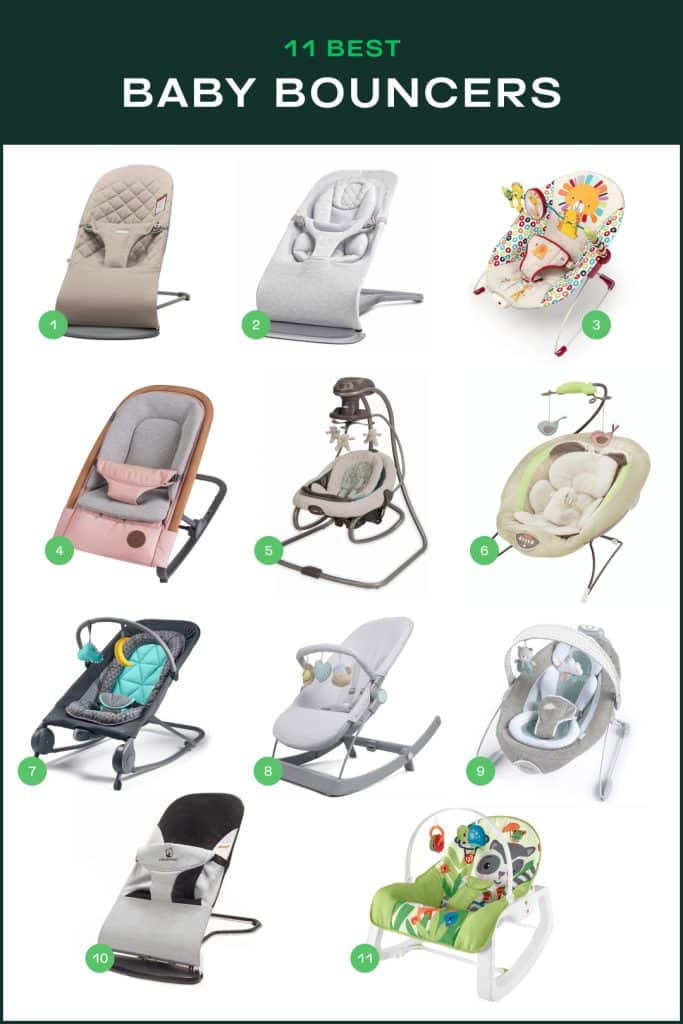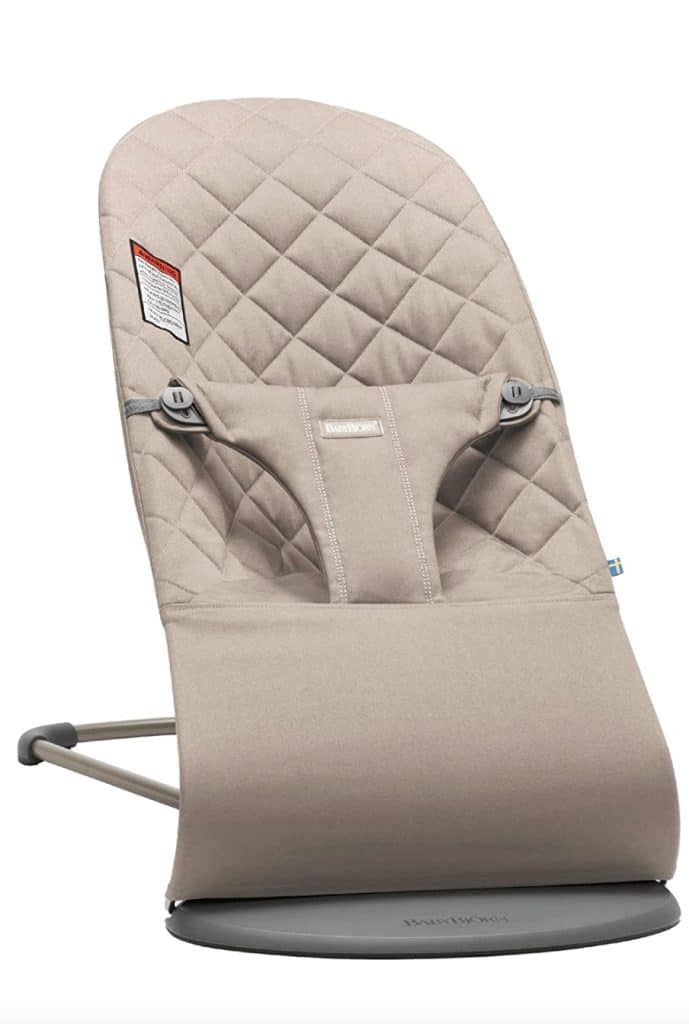 Arguably the most famous baby bouncer brand, Baby Bjorn Bouncer Bliss has a sleek design and is equipped with a three-point harness to keep baby safely strapped in. Because of the body-contouring design, baby's head and neck are properly supported. Not only is the cover removable — and can be easily machine washed — but there's also a slew of other covers, such as an anthracite landscape or a dusty pink, petal-quilt cotton. Note that the baby bouncer's motion is triggered by baby themselves, so you'll need to manually bounce the seat yourself until baby is big enough to start kicking. The removable toy bar is sold separately and is worth the price for the sheer amount of wooden (aka Montessori-style) toys on the bar alone.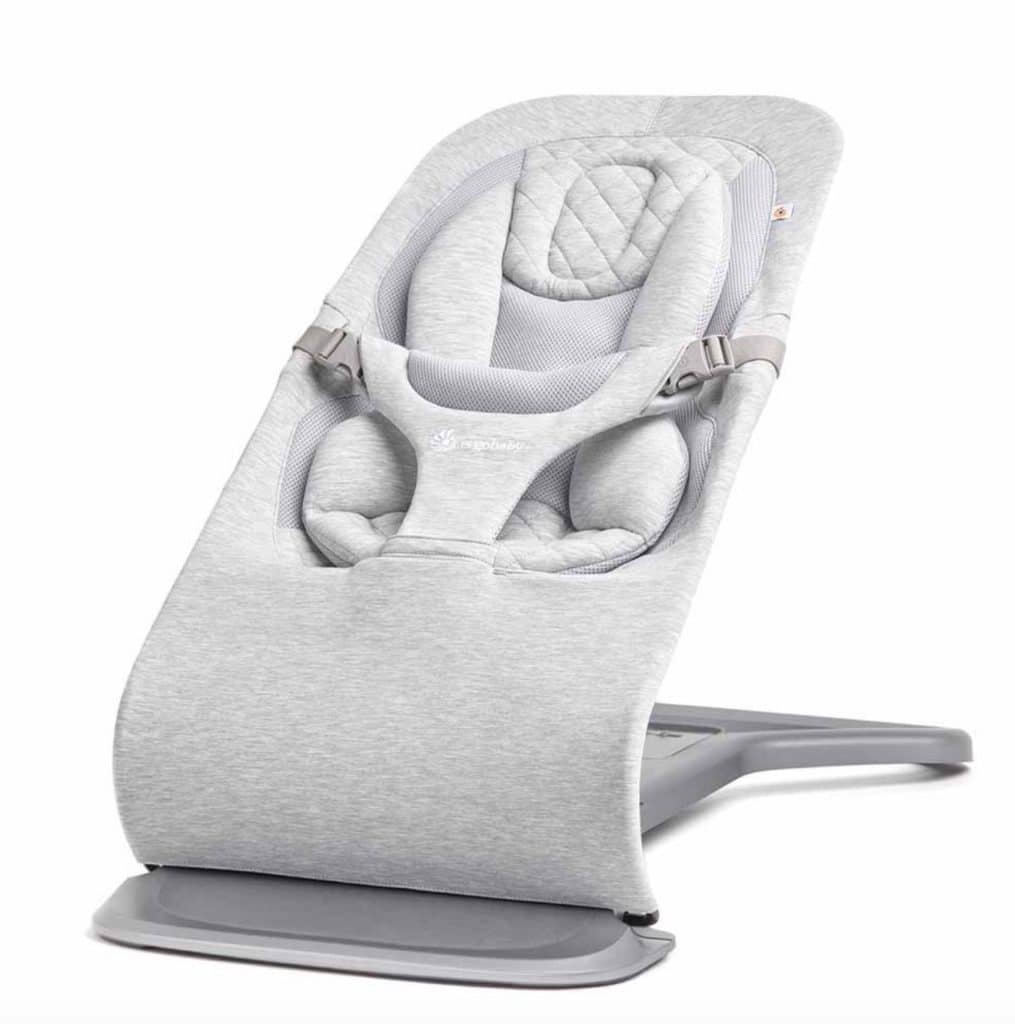 Ergobaby products (particularly their well-known carrier) are beloved because they do what they say: Ergonomically and safely hold baby. Featuring a newborn insert that provides head support and molds to their body, this baby bouncer seat — designed with guidance from a pediatric orthopedist — can be used as soon as they are just 7 lbs. As baby grows, you can pop out the insert and then choose from one of the three reclining positions — all the way to the toddler years and an impressive 29 lbs. With four neutral but chic color ways (two grays, one blue, and a pink), it's also a great option for the aesthetically-minded mom.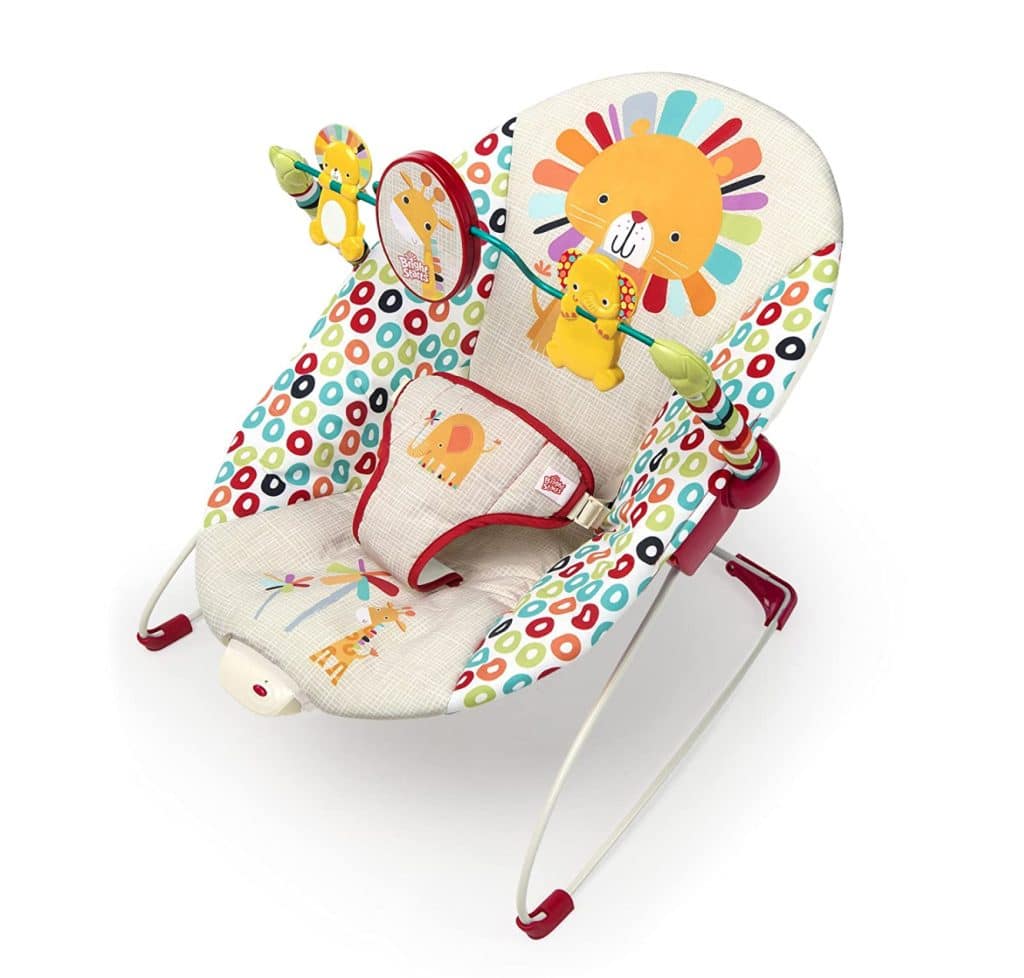 This bold-looking baby bouncer offers plenty of arresting visual entertainment for baby with several patterns and colors. It comes with optional, battery-powered gentle vibration and a removable toy bar. The three different spinning toys — including a mirror for self-discovery — help baby practice motor skills like reaching and batting. It also happens to be an incredible affordable pick and a fan favorite, with over 8,000 five-star reviews on Amazon.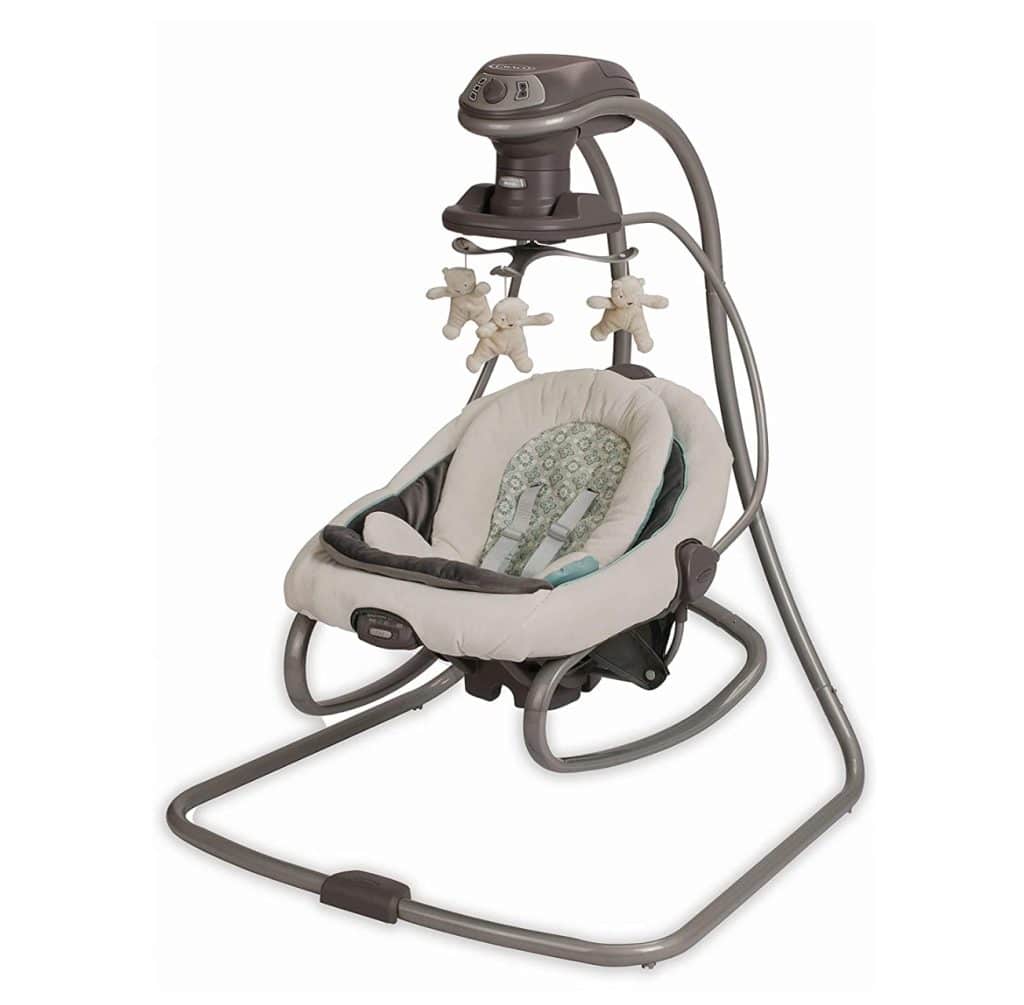 Can't make up your mind between a baby bouncer and a baby swing? Don't blame you — both are soothing options that baby may or may not like, so having the ability to try both before committing to one is a pretty sweet deal. (Because what if you splurge on that big fancy baby swing only for baby to hate it, right?) It offers six speeds and three swinging directions so baby can sway side to side or front to back. The best part of this duo, though, is that the rocker is easily removable — and therefore totally portable, making it easy to carry from room to room as needed.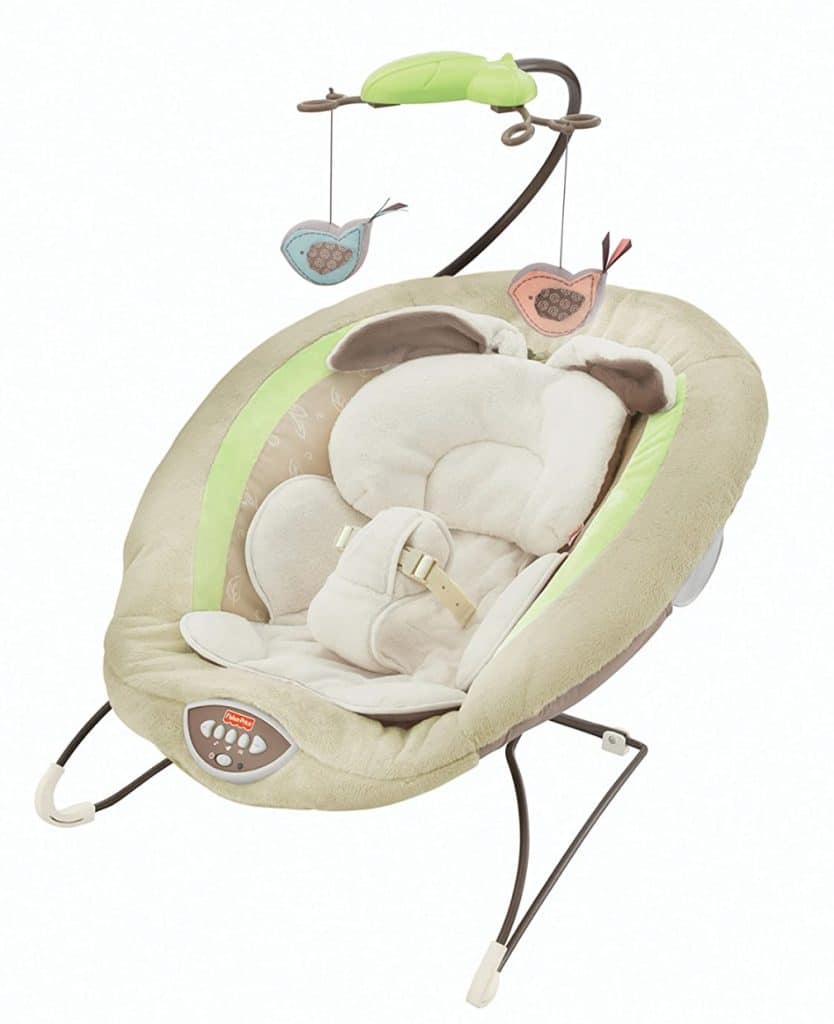 IMO the most soothing of the bunch, the iconic Snugabunny Deluxe Bouncer offers optional vibration, a seat that contours to baby's body, and soothing sound options — including incredibly bucolic nature sounds — that you can set for up to 20 minutes of play time. The adorable included bird mobile only enhances the woodsy feel and relaxing vibe.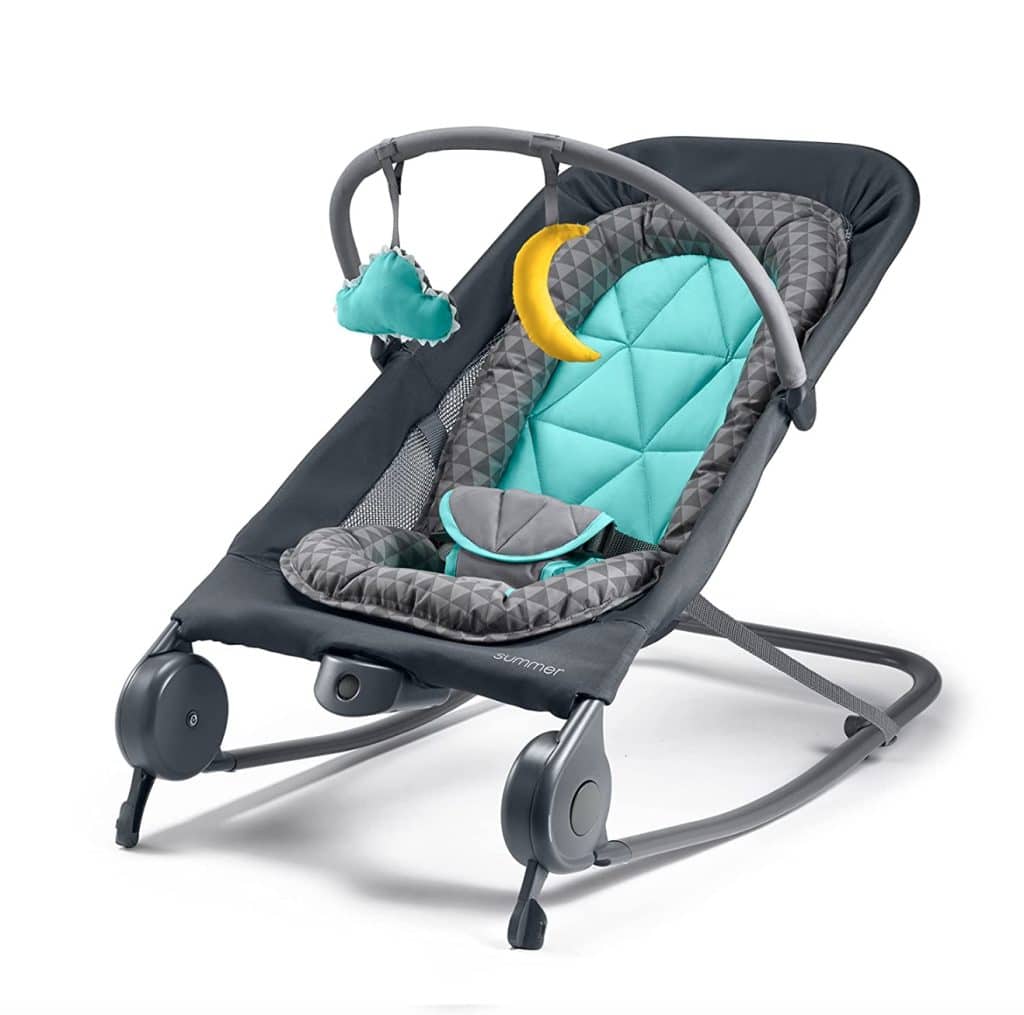 For some reason, I'm a sucker for anything moon and stars for babies. But forget my own aesthetic: This baby bouncer and rocker combo earns top marks for being lightweight and travel-ready with a flat fold, along with other bells and whistles such as a a removable toy bar — feel free to swap out the celestial decor for whatever baby likes — and vibrating motions to help soothe baby while giving you your hands back, even if just for a little bit.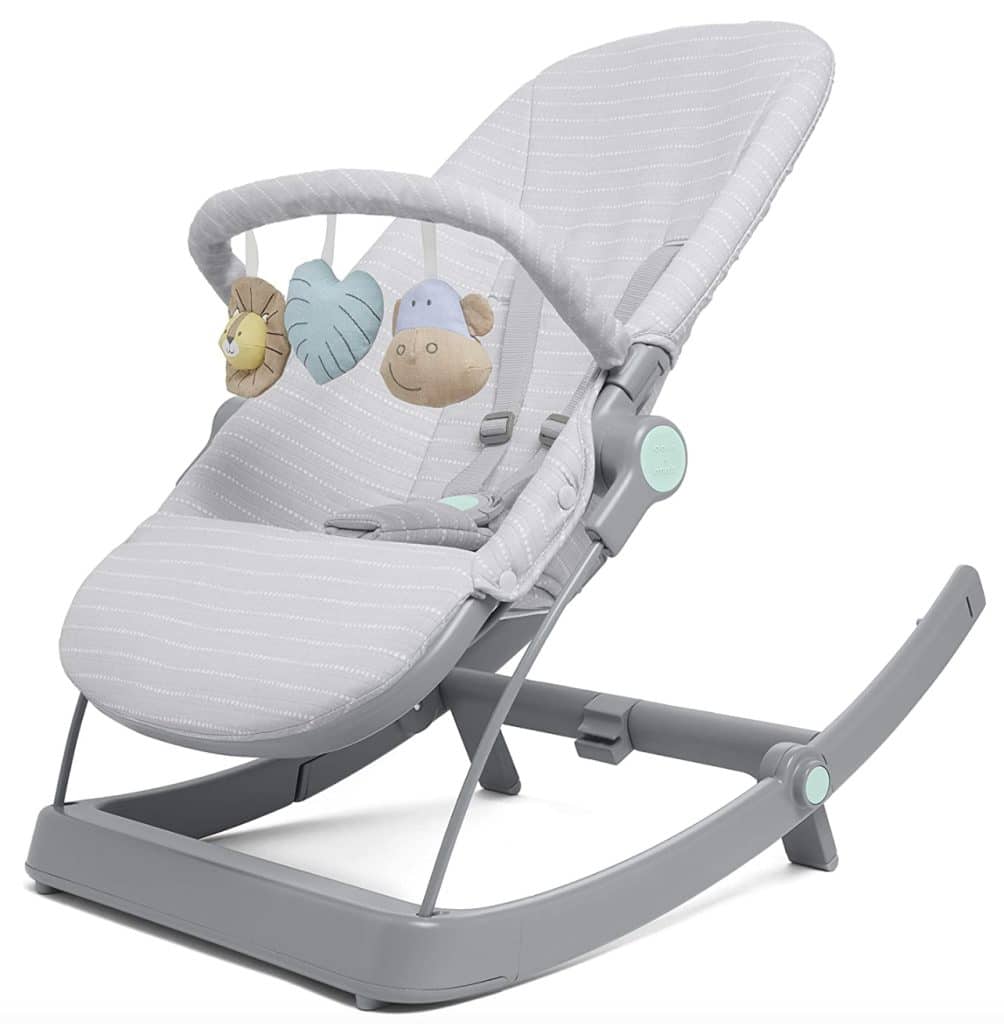 If you're the type of person who prefers to manually swaddle (as opposed to one of the ones in which baby can be safely velcro'ed in), you're likely familiar with the stylish brand Aden + Anais. Their muslin swaddles were my lifeline in the early days as both of my littles had super-sensitive skin. So it's exciting to see the label entering the crowd of baby bouncers on the market, with theirs featuring that iconically comforting, soft muslin — yet is 100% wipeable for easy cleanup. Both the removable infant inserts and trio of toys on the removable toy bar are made with the fabric, too.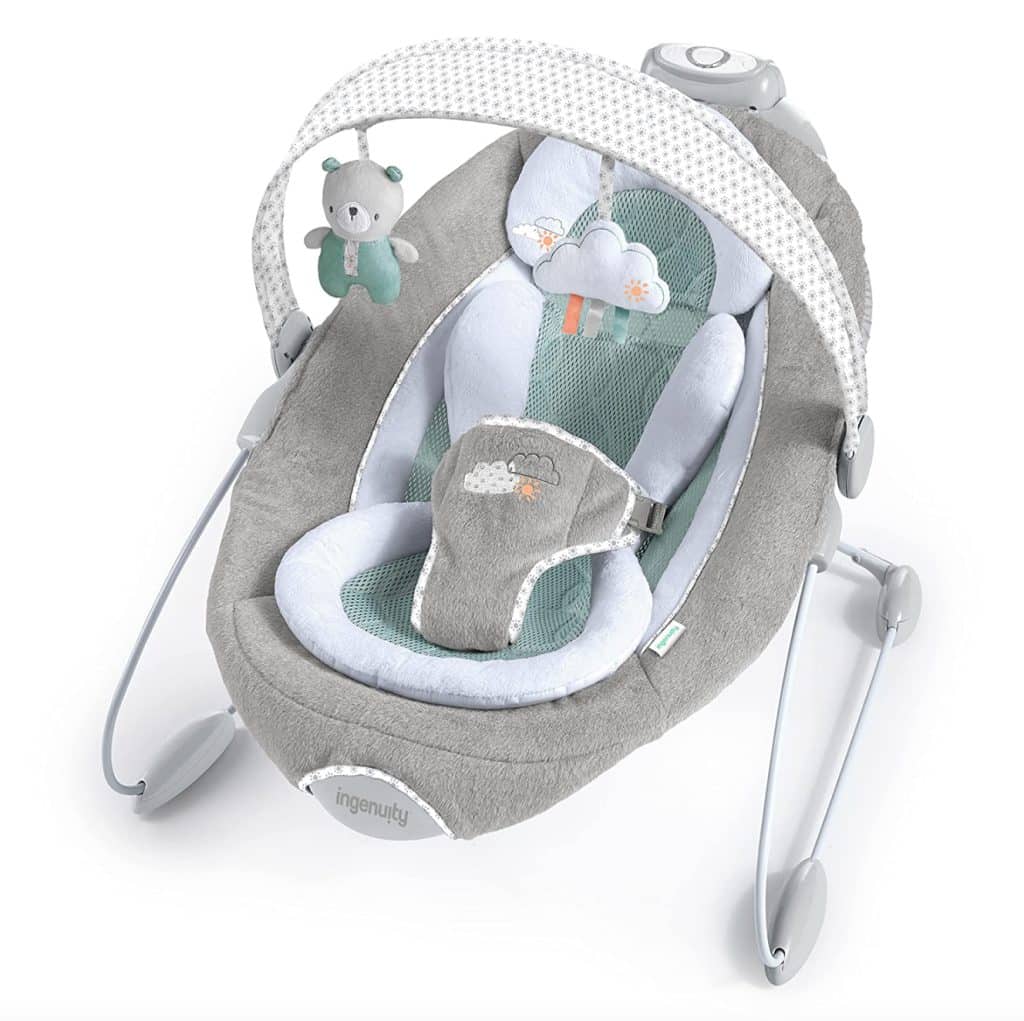 It's more than possible you've probably had a moment or two where you can't seem to soothe your L.O. despite every effort. (Definitely been there.) This baby bouncer mimics mama's natural movements for up to 30 minutes, and helps to quiet with white noise or entertain with 12 melodies and a built-in toy bar. It also shuts off after the 30 minutes to help conserve battery — and just maybe a bit of your brain space, too.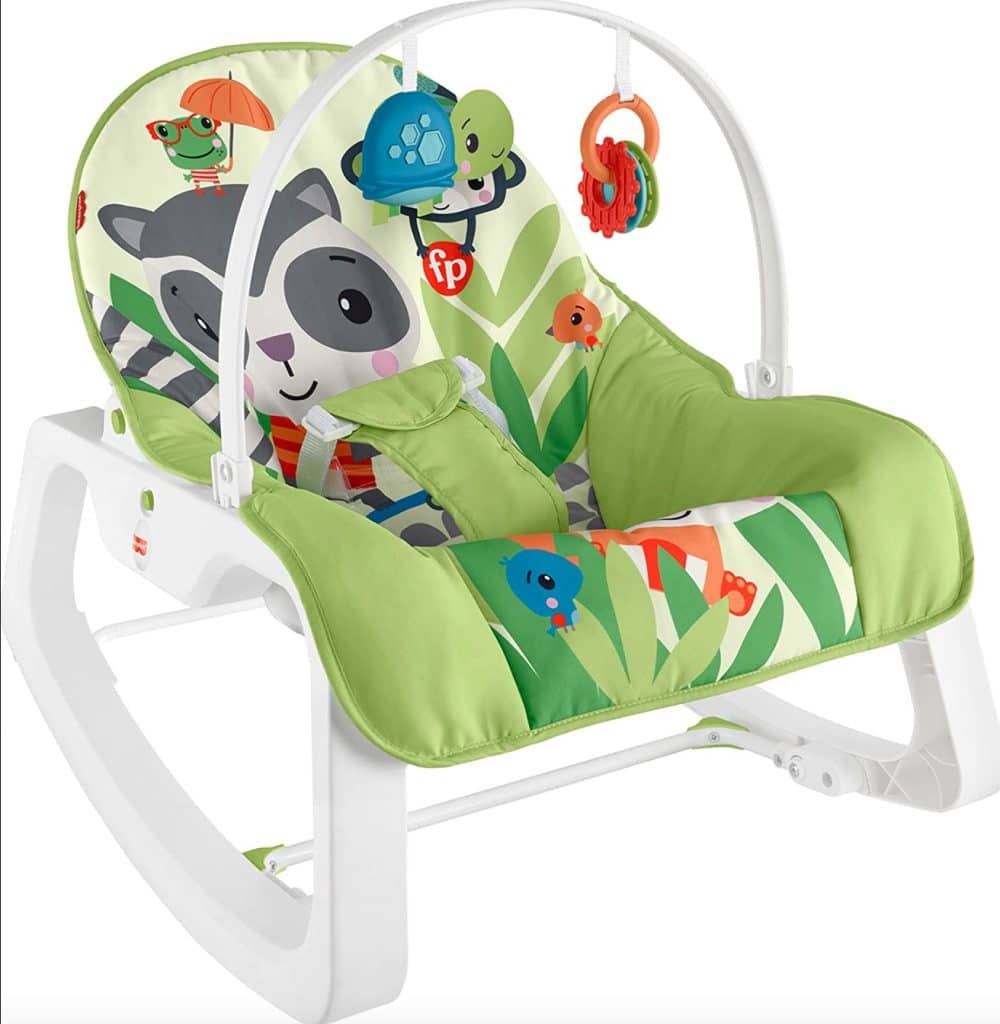 A simple search will show you that the most universally recommended and highly rated baby bouncer seat is the Fisher-Price Infant-to-Toddler Rocker. With over 19,000 five-star reviews on Amazon, people adore this model for its durability, simplicity to machine wash, and ultimate conversion to adorable toddler rocker to chill out with a sippy cup in. With a 40-lb weight limit, you'll get a lot of miles out of this chair. One amazon reviewer loves it for its affordability saying "it's half the price of most others," while also shouting it out for being machine washable in a flash.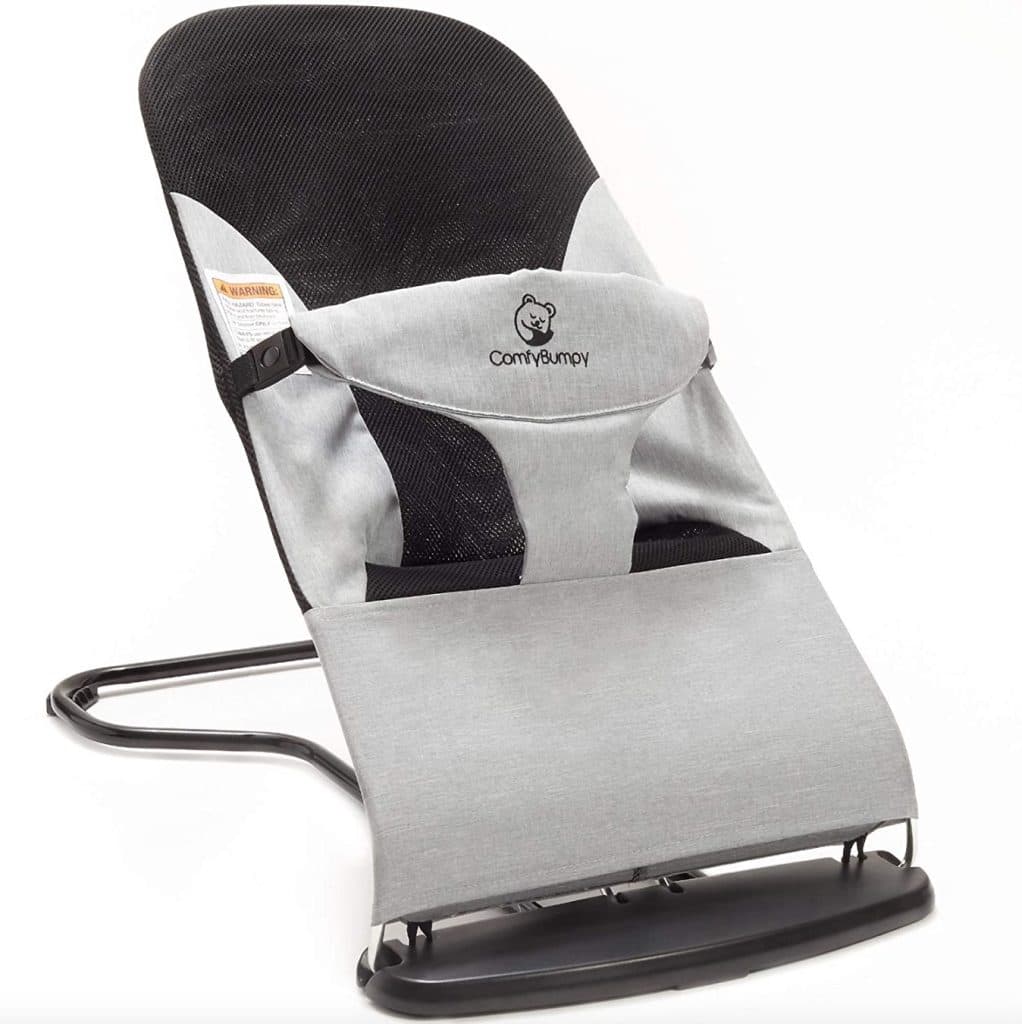 Are you living your best life and spending quality time traveling with your little one? Consider an ultra-lightweight bouncer seat such as this one, which weighs in at just 5.5 pounds. It has a machine washable seat cover — a must for messes on the go — and is made from a breathable mesh material, which is super-gentle on babies' skin. Plus, you can fold it flat and place it in its own little travel bag for stowing overhead or at home.
Finding the best baby bouncer for your little one
Picking out the best baby bouncer requires consideration of so many factors: think everything from a removable toy bar and ambient nature soundtrack to luxe accessory add-ons and portability. But ultimately, every family and every baby is different. Mother's instinct is a pretty brilliant thing, so go with your gut before picking out the best baby bouncer for your little one, whichever that may be.
Now that you've got your guide to the best bouncer for babies, cruise through our picks for the best gifts for new parents, best baby mattresses, and the best baby-bottle sterilizers — despite the inevitable loads of dishes you'll end up doing.
The content on this site is for informational purposes only and not intended to be a substitute for professional medical advice, diagnosis or treatment. Discuss any health or feeding concerns with your infant's pediatrician. Never disregard professional medical advice or delay it based on the content on this page.