Our editorial team personally selects each featured product. If you buy something through our links, we may earn an affiliate commission, at no cost to you.
There's no arguing that baby formula is expensive. Depending on the dietary needs of your baby and how much they eat, you could be spending over $50 per week on formula for the first year of your baby's life. Feeding your baby is expensive, no matter how you decide to do it.
We have compiled 10 money-saving tips for formula feeding families. Hint: you may want to consider buying baby formula in bulk or ordering subscription baby formula. Ready to look for a discount on baby formula? Let's dive in!
10 Ways to Save Money on Baby Formula
1. Join Your Formula Brand's Reward Program or Baby Formula Subscription Service
If available, look up your preferred infant formula's brand online to see if they have a rewards program for baby formula discounts. Some brands offer discounts on a baby formula subscription. Other brands offer free shipping or rewards points, coupons or 'checks' for discounts on future purchases for joining their loyalty program. Others offer free samples or a discounted 'starter bundle' when you first sign up. Do some research into your preferred formulas, ask some questions of the manufacturer and see where you can save.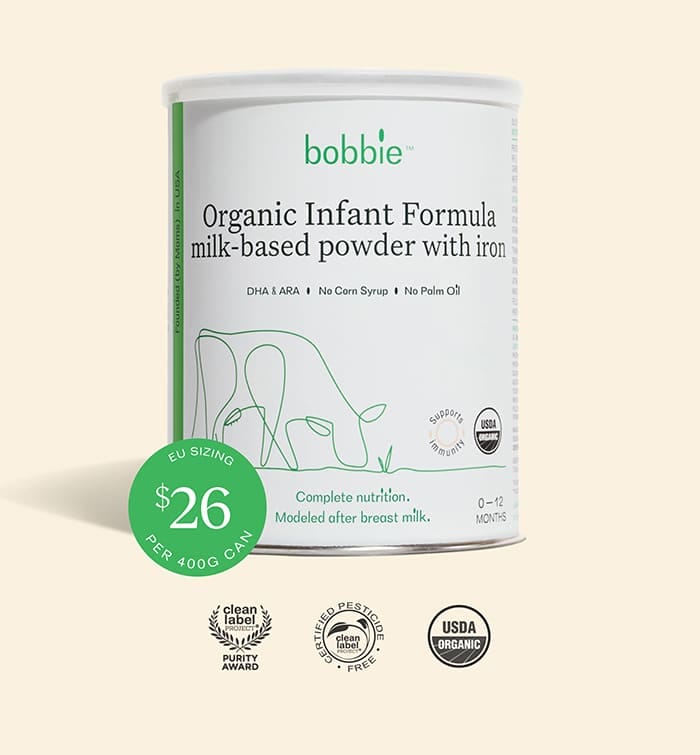 Shop Bobbie Organic Infant Formula
Bobbie Organic Infant Formula is a USDA Organic, EU-style infant formula that meets all FDA requirements. It is a complete nutrition milk-based powder modeled after breast milk and is easy on tummies. It is non-GMO and doesn't have corn syrup, palm oil, or maltodextrin. Learn more about Bobbie.
2. Use Amazon's Subscribe and Save Program for Baby Formula Subscriptions
Add your formula to the Amazon Subscribe and Save program and save big over time! Generally, baby formula brands have anywhere from 5%-15% discounts when using Amazon Subscribe and Save. This can also be a great way to minimize your risk of running out of formula, as the automated system will remind you of upcoming orders and allow you to change the frequency and quantity of formula in your deliveries as needed. (Do yourself a favor, add diapers and wipes, too!)
3. Browse for Resale Formula
Facebook has many groups that resell sealed, undamaged cans. Obviously there's risk here– only pursue if this is something you feel comfortable with! When purchasing baby formula from a resale group, there are a few precautions to consider that can help protect you and your baby. First, always use a trusted payment method (like PayPal Goods & Services) as this provides purchase protection if the product is damaged or never arrives. Next, always inspect the cans/bottles and boxes they arrive in for any signs of damage (dents, broken seals etc.). Request expedited shipping to minimize the amount of time the baby formula is exposed to the elements during shipping. Always stick with US FDA regulated brands (that are not shipped from overseas) and check the expiration dates! If you are not comfortable with formulas from resale groups— that's okay! There are other options out there.
4. Buy Baby Formula in Bulk
Many brands offer discounts or free shipping on bundles! Ordering online from big box retailers, nationwide chain stores, and directly from the formula company can often give the best discounts on bulk purchases. Before you buy bulk baby formula, be sure that you've found the formula that your baby tolerates best. It is much easier to toss or donate 1-2 cans of formula than it is to return a bulk online order!
5. Explore Baby Formula Referral Programs
See if your formula company has a referral program if you refer friends. Typically with referral programs, if a friend makes a purchase using your unique referral link, you both get a discount on your next order!
6. Tap into Sales and Holidays
Marking your calendar for standard holidays is good practice for sales and savings! Keep an eye out for Mother's Day, Labor Day, Black Friday, etc to see if your formula brand or usual retailer is running any discounts.
7. Sign up for Brand Emails
Consider signing up to be on the email list for your formula brand or follow their social media accounts so you can be the first to get email alerts of any upcoming sales or promotions. You want to be in the know!
8. Consider Buying Generic
Generic, also known as "store brand" infant formulas, are as safe and functional as name brands! Remember, all FDA regulated infant formulas on the market are required to meet the same strict nutrient requirements. Most large national chains and big box stores have their own generic brand of baby formula at a much lower price than their name brand counterparts.
9. Look into Grocery Store Rewards
Visit your local grocery store's customer service window and ask about their reward card options. Accruing points every time you grocery shop can add up over time and eventually save money on baby formula purchases. Ask if your store has an app that you can download to receive coupons on your frequently purchased items, qualify for in store sales, or join their loyalty program.
10. Buy Smaller Cans of Formula
Because formula cans are only good within a month of the formula being opened, buying small baby formula cans may be helpful if you are not using formula full time (for example, if you are combo feeding or supplementing). Purchasing smaller cans can be especially helpful with new babies who are drinking fewer ounces per day, and babies nearing the age of 12 months, who are less interested in formula and more interested in eating solids. Formula safety guidelines can be confusing— check out this detailed explanation for more on how long formula lasts.
Other Potential Money Saving Tips for Buying Formula
If you are planning to formula feed from the start, add baby formula to your Amazon Baby Registry or Target Baby Registry.
Make baby formula purchases with a credit card that offers cash back rewards on purchases. Often with these credit cards, you will receive a statement credit at the end of the month, or if attached to your Amazon account, you will see a 'rewards points' total as a payment option in your account!
Join baby formula buy/sell/trade groups on social media. Sometimes families that have moved on from formula or have switched formulas will have unused coupons or rewards checks they are no longer using.
FAQs on How to Save Money on Baby Formula
How much do you spend on baby formula a month?
The general answer is that baby formula can cost anywhere between $20-$250+ per month. The actual dollar amount will depend on a few factors:
Ready-to-feed formulas and liquid concentrate formulas will be more expensive than powdered formulas, with greater potential for formula waste. Remember, ready-to-feed and liquid concentrate formulas are only good in the refrigerator for 48 hours after opening, while cans of powdered formula are good for 30 days after being opened.
Generic formulas tend to be much cheaper than name brand formulas and often come in larger packages from big box retailers.
Exclusive formula feeding vs combo feeding
If you are supplementing with formula, you are likely to be spending significantly less per month on formula than a family that is exclusively formula feeding.
Individual Factors
Individual factors are a big consideration. While on average, most babies consume between 24-32 ounces of formula in a 24 hour period, not all babies fit into this range. Some babies may drink more, while others may drink less.
Does insurance help with baby formula?
Typically health insurance will only help with the cost of baby formula if your baby requires a specialized formula that is deemed medically necessary by your child's healthcare provider.
Can you buy baby formula with EBT or food stamps?
Both SNAP (The Supplemental Nutrition Assistance Program) and WIC (Special Supplemental Nutrition Program for Women, Infants, and Children) can offer assistance with the cost of baby formula if you qualify for their programs. Not all brands are subsidized under these programs. Please connect with the local benefits office in your state to see if you qualify.
Overview of Saving Money on Formula
Finding the right formula for your baby can be tough— we know! Our hope with this guide is that we can provide some tips and strategies to help make the formula that works best for your baby also work for your family's budget. If you are struggling to afford your baby's formula, there are resources out there that can help you. Please speak with your pediatrician.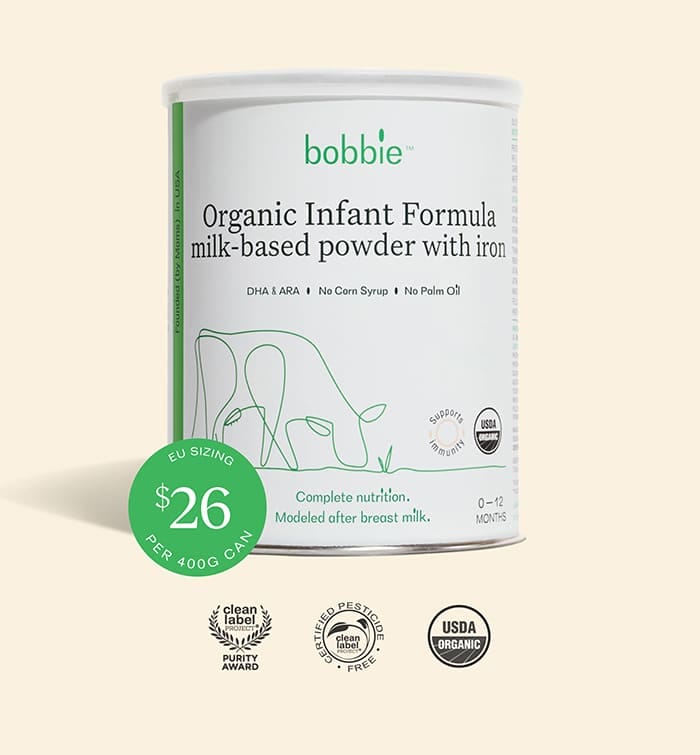 Shop Bobbie Organic Infant Formula
Bobbie Organic Infant Formula is a USDA Organic, EU-style infant formula that meets all FDA requirements. It is a complete nutrition milk-based powder modeled after breast milk and is easy on tummies. It is non-GMO and doesn't have corn syrup, palm oil, or maltodextrin. Learn more about Bobbie.
The content on this site is for informational purposes only and not intended to be a substitute for professional medical advice, diagnosis or treatment. Discuss any health or feeding concerns with your infant's pediatrician. Never disregard professional medical advice or delay it based on the content on this page.