Our editorial team personally selects each featured product. If you buy something through our links, we may earn an affiliate commission, at no cost to you.
The 2022 baby formula recall of Abbott products brought up a lot of concerns over whether baby formula is safe. Although certain formulas have been recalled by the FDA1, baby formula is generally one of the most regulated, safe foods on the market here in the US.
If you're wondering, is Bobbie organic baby formula safe? The answer is yes. Bobbie is a safe, FDA regulated, US baby formula founded and manufactured here in America. The recipe for Bobbie was formulated with nutrition experts from John Hopkins, the ingredients and suppliers were hand selected for their focus on quality and safety standards and the organic, grass-fed milk is sourced from Organic Valley Farms, which exceeds the standards of USDA Organic certification.
While we at Bobbie know how concerned many of you are over the safety of your formulas— know that we are, too. We are a team of parents who are also formula feeding our babies with Bobbie, and we want to assure you that Bobbie formula is manufactured in a safe, FDA regulated manufacturing facility. Each batch of Bobbie undergoes more than 2,000 safety and quality checks. In addition to fulfilling all FDA requirements, Bobbie has gone through expert independent testing and was the first baby formula brand to receive both the Clean Label Project Purity Award and Pesticide Free Certification. Quality and safety are our top concerns, as we know it is yours. This is why we offer transparency into our products, sourcing and manufacturing.
Below you can find the most frequently asked questions regarding Bobbie's manufacturing process and safety regulations:
Who manufactures Bobbie baby formula?
Perrigo is Bobbie's manufacturer who makes their unique, European Style Recipe infant formula. While Bobbie created the recipe, Perrigo is the co-manufacturer. Perrigo is one of the most reputable American manufacturers who produces infant formula products for the US and many international countries with various other brands. Their experienced team of manufacturing, quality, and safety experts are focused on delivering a best in class infant formula with a rigorous and intensive process for certifying each batch of Bobbie meets their standards. They were the first manufacturer in the US to make USDA organic formula, 30 years ago, and have been leading the way ever since.
Where is Bobbie made?
Bobbie is made at Perrigo's FDA regulated infant formula manufacturing plants in the USA. Perrigo has multiple locations and the Bobbie formula is manufactured in their Vermont and Ohio facilities.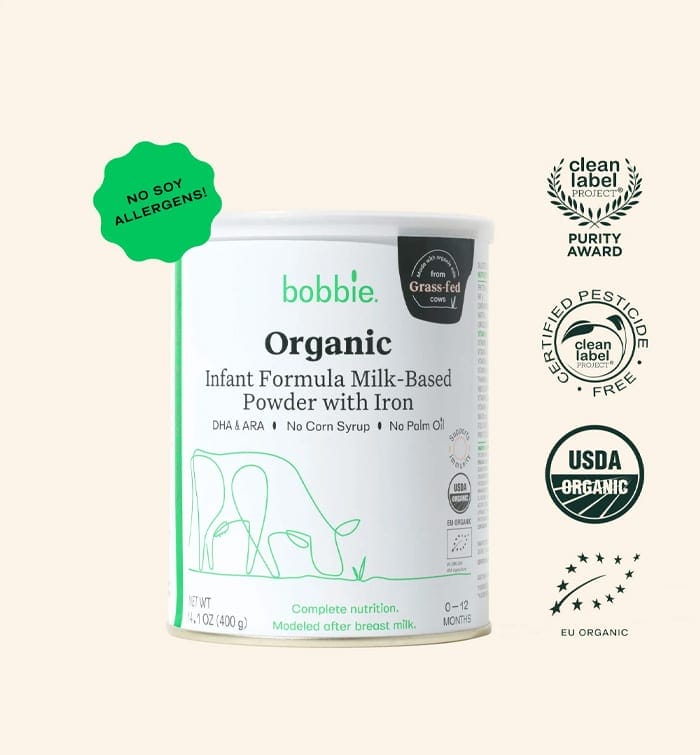 Shop Bobbie Organic Infant Formula
Bobbie Organic Infant Formula is a USDA Organic, EU-style infant formula that meets all FDA requirements. It is a complete nutrition milk-based powder modeled after breast milk and is easy on tummies. It is non-GMO and doesn't have corn syrup, palm oil, or maltodextrin. Learn more about Bobbie.
Why did Bobbie partner with Perrigo?
Bobbie chose to work with an expert manufacturer who has decades of experience making high quality, organic infant formula that meets rigorous safety and quality standards. Bobbie believes in partnering with experts in manufacturing since nothing is more important than the safety of what you put in your baby's bottle. Perrigo's facilities meet the standards of both the FDA and the Safe Quality Food Institute. They hold themselves to the highest standards and never compromise safety for speed of manufacturing.
Bobbie's manufacturer has more than 2,000 quality checks in each can of Bobbie. No can or batch of Bobbie will leave the manufacturing facility until it passes every quality and safety check. Perrigo's in-house team of experts includes 93 employees. This group is an extended part of the Bobbie team that comes to work every day to focus on the safety of our formula.
Is Perrigo FDA regulated?
Yes, each Perrigo manufacturing plant must be FDA compliant in order to manufacture baby formula here in the US. The FDA conducts regular routine inspections to ensure that each manufacturing facility meets the safety standards.
The FDA audits each facility on an annual basis and ensures that all factories are meeting FDA requirements. Additionally the FDA investigates all reported consumer complaints of any formula manufacturer with the manufacturer to ensure compliance and ensure that there is not a risk to public health or safety.
Is Bobbie formula FDA approved?
No. Infant Formula in the US is "approved" by the FDA, however in order to be an infant formula for babies 0 to 12 months, all companies must show the FDA how their infant formula product is manufactured, what it is packaged in and what it is made of before it can be sold on the US market. Formulas are allowed to be sold once the FDA has determined they meet all the applicable regulations. Bobbie is FDA regulated, yes. Bobbie is the first European style baby formula to be FDA regulated here in the US.
How can we trust Perrigo for safety?
Perrigo is audited, not only by Bobbie, but by several other independent organizations and they maintain a rigorous internal audit program designed to improve safety and quality of their products and services. Perrigo has been manufacturing infant formula for decades and has produced billions of ounces of safe formula.
Perrigo is SQF certified: Perrigo is certified by Safe Quality Food Institute (SQFI). The SQF program is a rigorous and credible food safety and quality program that is recognized by retailers, brand owners, and food service providers world-wide. Recognized by the Global Food Safety Initiative (GFSI), the SQF family of food safety and quality codes are designed to meet industry, customer, and regulatory requirements for all sectors of the food supply chain.
Perrigo is ISO certified: Perrigo maintains Quality ISO (International Standards Organization) certification. The ISO program is an independent, non-governmental, international organization that develops standards to ensure the quality, safety, and efficiency of products, services, and systems.
Perrigo is FDA registered and approved for infant formula: Perrigo's facilities have been audited and cleared by the FDA to manufacture infant formula as they have systems and programs in place to meet infant formula Good Manufacturing Practices (GMPs) that are specifically regulated by the FDA.
Perrigo also maintains an effective HACCP (Hazard Analysis Critical Control Point) program: This universally recognized tool identifies, controls, and eliminates potential hazards in the food manufacturing process.
How can we trust Bobbie for safety?
Bobbie's internal quality control team is a team of formula experts who are parents themselves (who use or have used Bobbie!). In fact, over 30% of Bobbie's employees have used Bobbie for their own babies. The Bobbie regulatory and quality team has a combined 20+ years of experience focusing on quality and safety of infant formula here in the US. Their job each day is to ensure that every detail of the manufacturing process is followed according to Bobbie standards.
How do Bobbie and Perrigo work together to make sure they are selling a safe, quality product?
Bobbie's quality control team works closely with the Perrigo team. Bobbie's quality team is well versed in the production and quality systems of Perrigo. Perrigo's equipment and controls are designed to ensure food safety for the products they produce. There is an open line of communication between the two groups as both groups share the same goal of bringing safe and high quality products to market.
Bobbie and Perrigo actively collaborate to make sure that consumer feedback (including complaints) received by either party have been collected, documented, evaluated and reported to the FDA per regulations to ensure consumer safety.
What does Bobbie do to ensure customer safety?
In addition to manufacturing controls, each production batch is inspected and tested to ensure requirements are met for food safety, quality, and nutritional claims. Bobbie reviews test data from each batch to assure specifications are met and additionally each can is individually inspected prior to shipment.
1-Tamper evident cans
Bobbie's can design has features that make it apparent if the container has been opened, unsealed or broken. Once the lid is opened the can cannot be resealed. This tamper evident device assures the customer that the formula they purchase is fresh, safe, and hasn't been handled by anyone after being packaged at the factory.
2-Bobbie's lot code tracker
We take extra steps to ensure the product we make is exactly the product you receive. We track all products through manufacturing, packaging, and shipping to your door. You can use our lot code tracker to see when your product was packaged, its expiration date, and quality test results.
3 – Complaint Surveillance
Complaints raised through our hosted social accounts are actively reviewed for potential complaints to ensure consumers are safe and receiving a high quality product.
Is Bobbie formula tested for heavy metals?
Bobbie has received the Clean Label Project Purity Award. External organizations, like the Clean Label Project, set standards for heavy metal content and testing. Proactive companies can target to achieve the standards set by the Clean Label Project, offering their consumers maximum transparency when it comes to metals in baby food.
Does Bobbie test for pesticides?
Bobbie was the first baby formula brand to receive the Clean Label Project's Pesticide Free Award. The Clean Label Project identifies the most commonly used pesticides for different ingredients and then samples and tests products seeking compliance to ensure the absence of these chemicals in the finished product. Bobbie is the first baby formula to receive this certification.
Is Bobbie manufactured in a safe environment?
Perrigo's facilities meet the standards of both the FDA and the Safe Quality Food Institute. They hold themselves to the highest standards and never compromise safety for speed of manufacturing.
Safety and quality checks are performed on each production to assure:
Correct ingredients and quantities
Production Processing parameters
Packaging integrity
Food Safety checks
Nutrient levels
Microorganisms compliance
Factory Environmental Conditions
Batch Record reviews
How is Bobbie formula sampled?
In addition to regular interval checks performed on the product during production and packaging of the formula, a statistically adequate number of samples are pulled from each batch and evaluated for compliance to specifications for food safety, quality, and label compliance. The statistical theory will ensure a high likelihood of detection of any non compliant product.
Perrigo also maintains an effective hygiene and sanitation program that requires sampling and testing of the environment to ensure the absence of pathogenic bacteria, foreign matter and other potential health hazards. This monitoring program is a proactive approach to ensure products and materials are safe for consumers.
How would Bobbie customers know if there was a recall?
Bobbie and Perrigo would work closely together in the event of a recall. In addition to working with the FDA, Bobbie would reach out to customers and retailers that would have received affected product. Bobbie and Perrigo maintain detailed records on traceability of our products. Both Bobbie and Perrigo regularly perform practice exercises on recall activities to ensure that robust processes and systems are in place if there ever happens to be a recall event.
As we are closely in touch with our Bobbie subscribers, we can reach out through email in the unlikely event of a recall.
Additionally, the FDA has strict regulations for recall of product as it pertains to Infant Formula Recalls.2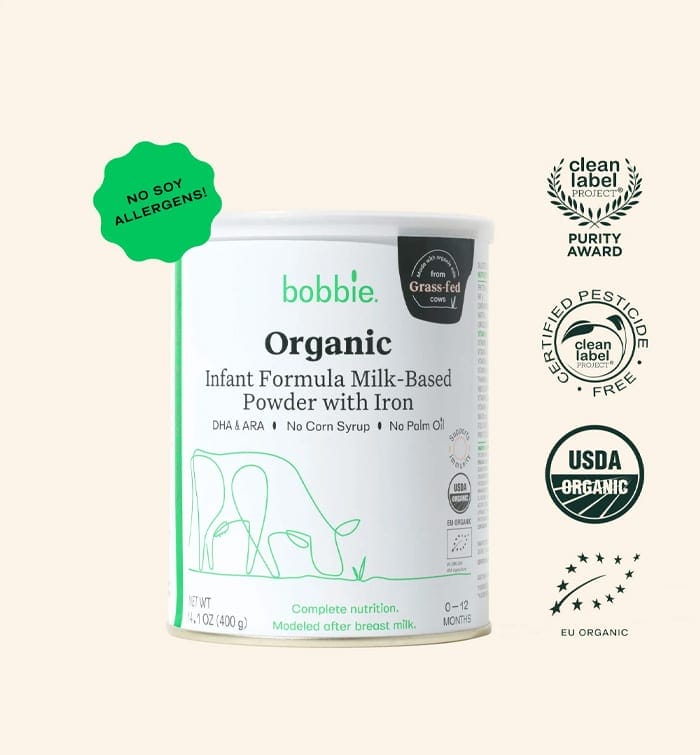 Shop Bobbie Organic Infant Formula
Bobbie Organic Infant Formula is a USDA Organic, EU-style infant formula that meets all FDA requirements. It is a complete nutrition milk-based powder modeled after breast milk and is easy on tummies. It is non-GMO and doesn't have corn syrup, palm oil, or maltodextrin. Learn more about Bobbie.
Sources:
1- FDA Investigation of Cronobacter Infections | US FDA
2- Code of Federal Regulations | National Archives
The content on this site is for informational purposes only and not intended to be a substitute for professional medical advice, diagnosis or treatment. Discuss any health or feeding concerns with your infant's pediatrician. Never disregard professional medical advice or delay it based on the content on this page.