Lauren Ellison Fox sat down with us to share her story about the heart wrenching moment she realized she had been giving her baby boy watered down formula for weeks.
by Michelle Li, Milk Drunk Contributor and mom to JJ
On Instagram, Lauren Ellison Fox models motherhood in a way that makes us all love and envy her at the same time. She is witty, intelligent, and engaged. She's a mom of two, an infertility warrior, a lawyer, a real estate broker, and the owner of a children's clothing store in South Carolina. Lauren seamlessly wears many hats and checks off countless boxes.
Yet, Lauren's most endearing quality–by far–is her brutal honesty.
She tells her truth even when it offers little self-flattery, but she does it when she believes others can learn from it.
"I'm hopeful that my story will spread like wildfire to faze others from my mistake," said Lauren. "It was such a disaster."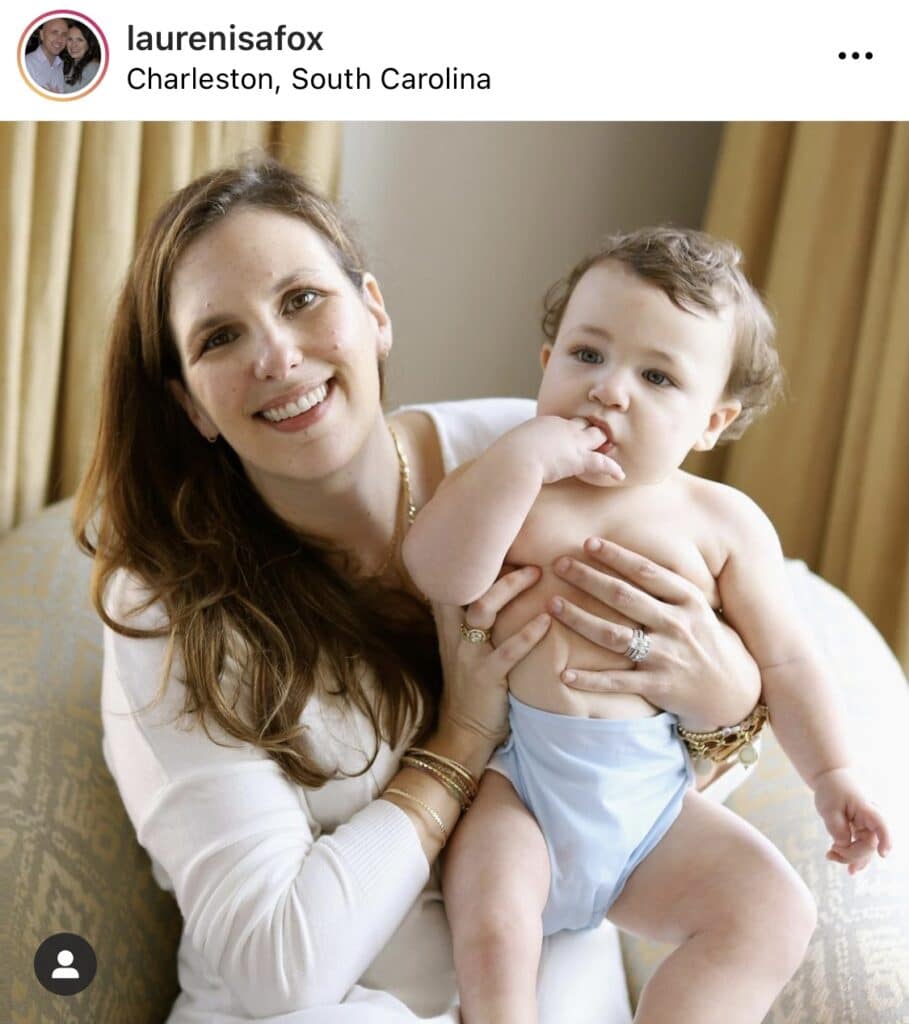 Even My Pediatrician Got It Wrong
Years of nannying and first-time motherhood did not prevent this inquisitive mom from making the common mistake of diluting formula for her second child. When Lauren and her husband started supplementing with formula for their son, Mo, they opted for a German-made product because of its simple and clean ingredient list and the hype in the mom community online about how these formulas were "better." However, the couple's good intentions were nearly canceled when they inadvertently diluted the formula so much that Mo lost a frightening amount of weight.
"He had literally fallen off the chart," said Lauren. "He was underweight, always fussy, and just not super easy. Turns out he was starving."
Lauren had simply miscalculated the ratio of water to formula. European brands typically have a ratio of 1 scoop to 1 ounce of formula and water. American-made formulas are mostly prepared with one scoop of powder to 2 ounces of water. Since Mo's formula also came with German instructions, and this mom did not speak German, Lauren consulted her son's pediatrician for approval.
"Before I even started him on this formula, I ran it through our pediatrician," recalled Lauren. "And she did some fancy calculation and confirmed that one scoop to two ounces of water was right."
Turns out, both women were wrong. Which meant Lauren had been unintentionally diluting her baby's formula with half the amount of powder necessary for more than a month.
"I don't blame the pediatrician for one second for this," said Lauren. "I can't even think of how many formulas are out there and how many different ways there are to mix them."
The Black Market of Foreign Formula Has Its Risks
More American doctors are treading through these unchartered waters as a growing number of parents seek out European formula. Buying it online is easy, but the product is being sold opened, dented, damaged and very often times with a label in a foreign language. Understanding the directions in German is a little more complicated. There's also a concern about the legality of the sale of these formulas in the United States since popular German brands like HiPP and Holle are not registered with the Food and Drug Administration. The formula is being sold on a black market of third party distributors and is technically illegal- there just hasn't been any enforcement yet. And with that there are undoubtedly risks like not knowing if the product has been recalled, no customer support through the brand creating the formula, no way to know if the product is being stored or transported safely, and of course the foreign language labels can be concerning for parents, caregivers, babysitters, and in Lauren's case- even pediatricians. These risks are easily overlooked as mom bloggers and the like believe European Union food quality standards lead to superior products, so much so they are willing to risk safety for quality.
Lauren's choice of using German formula was as simple as starting her son on a path to better health. Because she and her husband struggled with fertility, Lauren her son to have a synthetic-free start at life, as more research shows our interaction with chemicals contributes to issues like declining fertility. 
She unknowingly underfed Mo for several weeks before posting her experience in an Instagram story. Thankfully, one of her loyal followers took notice, and flagged the formula issue in an empathetic way. 
"She was so gingerly," recalled Lauren. "She was like, 'I hope I'm not offending you, but I just want to make sure you knew that it's a one-to-one ratio.'"
Lauren says she was absolutely mortified. And she posted that on social media, too.
If it hadn't been for an honest post, and a sincere comment, Lauren may have had several more weeks of agony or worse.
"Diluting formula may lead to poor growth and development," wrote Dr. Jacqueline Winkelmann, a board certified pediatrician and Bobbie Medical Affairs Team member. She adds it also can lead to water intoxication, which leads to an imbalance of electrolytes that could in turn lead to seizures or even death.
On a side note, Winkelmann says studies show roughly a third of caregivers admit to knowingly dilute formula to save money or help a baby's digestion with US-based formulas–none of which is recommended by the American Academy of Pediatrics.
And even though some watchdog groups accuse the federal government of putting the interests of companies ahead of children's health by allowing synthetic ingredients in infant formulas, American pediatricians stress there is nothing nutritionally wrong with formulas produced in the US.
In Lauren's case, it was a regrettable mistake with short-term pain. Months later, she switched to a US brand of formula that meets FDA requirements and is modeled after EU nutritional standard and he is thriving in the 85th percentile. She says he's exceeding all his milestones and is now over a year old.
"Infant formula is one of the most regulated substances in the food industry," wrote Winkelmann. "The FDA has set parameters for nutrient level minimums and maximums." 
Nonetheless, she wants to continue sharing her story–not only to peers but to those who sell the product.
"It is a great cautionary tale," said Lauren. "In retrospect, I should probably reach out to the US distributor that I bought it from and say, 'Hey, you might want to put a disclaimer on your website that this is the recommended dosage.'"
And Lauren knows her story is probably not uncommon, that there have surely been others who have accidentally diluted foreign formula. She's just one of the very few who has been brave enough to share that mistake publicly. 
The content on this site is for informational purposes only and not intended to be a substitute for professional medical advice, diagnosis or treatment. Discuss any health or feeding concerns with your infant's pediatrician. Never disregard professional medical advice or delay it based on the content on this page.